The 25 Best Burgers In Missouri
From mouth-watering to stomach-warming, it is difficult to better a burger, but we want to go beyond the obvious and help our readers find the best burgers in Missouri.
Finding the best burgers isnt easy, as the State has so much to offer, from the classic to the gourmet, from high-quality standard ingredients to creative (and sometimes innovative) toppings. Prepare to feast your eyes as you work your way through the 25 best Missouri burgers…
The Best Burgers in Missouri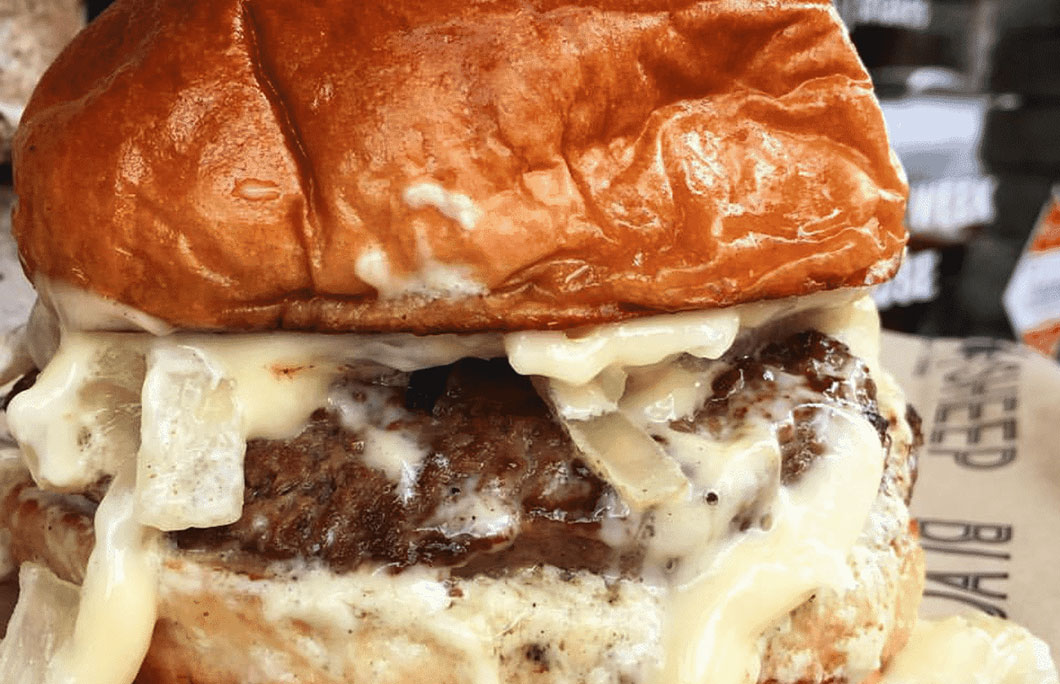 1. Black Sheep Burgers and Shakes, Springfield
Aside from having the cutest mascot in the history of burger joints, Black Sheep Burgers and Shakes is home to some of the absolute best burgers in Missouri. It starts with their own blend of Angus beef. It's the base on which they add other mouth-watering ingredients such as slow-cooked brisket, marinated filet mignon and more. Oh, and their shakes? The perfect sweet treat to round out a superb meal.
---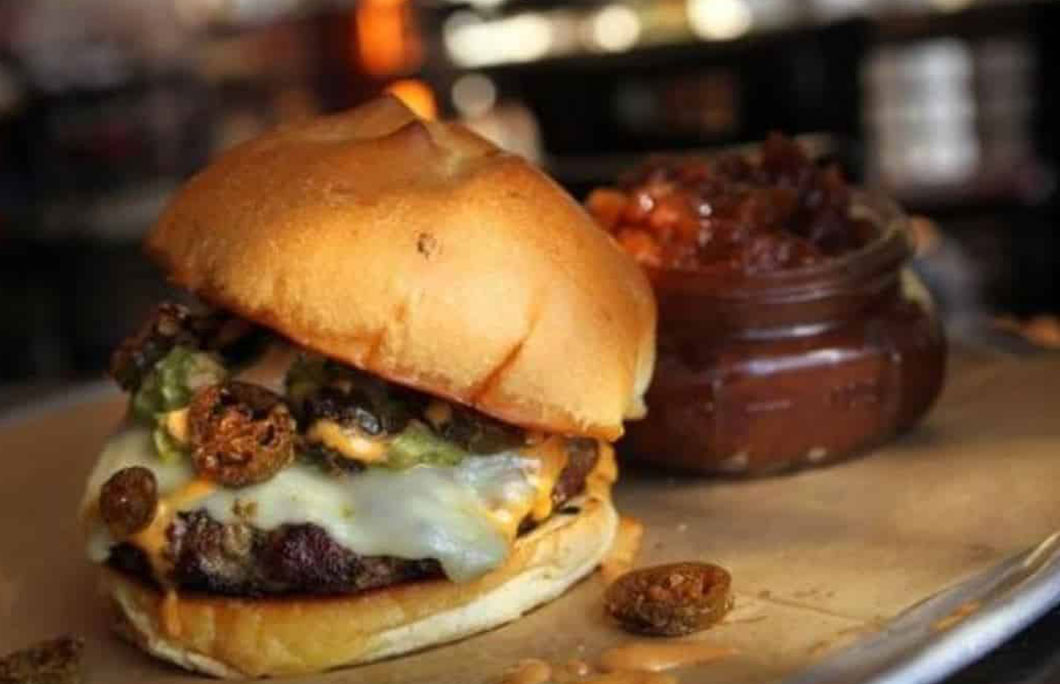 2. Stacked STL, St Louis
Stacked STL creates some of the best and most creative burgers in St. Louis. The burgers here are filling and include meat and lots of meat. Ever had brisket in your burger before? Now you can at Stacked STL. For a little extra beef, get the burger that comes drenched in beef brisket. Twice the beef fun and just a delicious burger.
---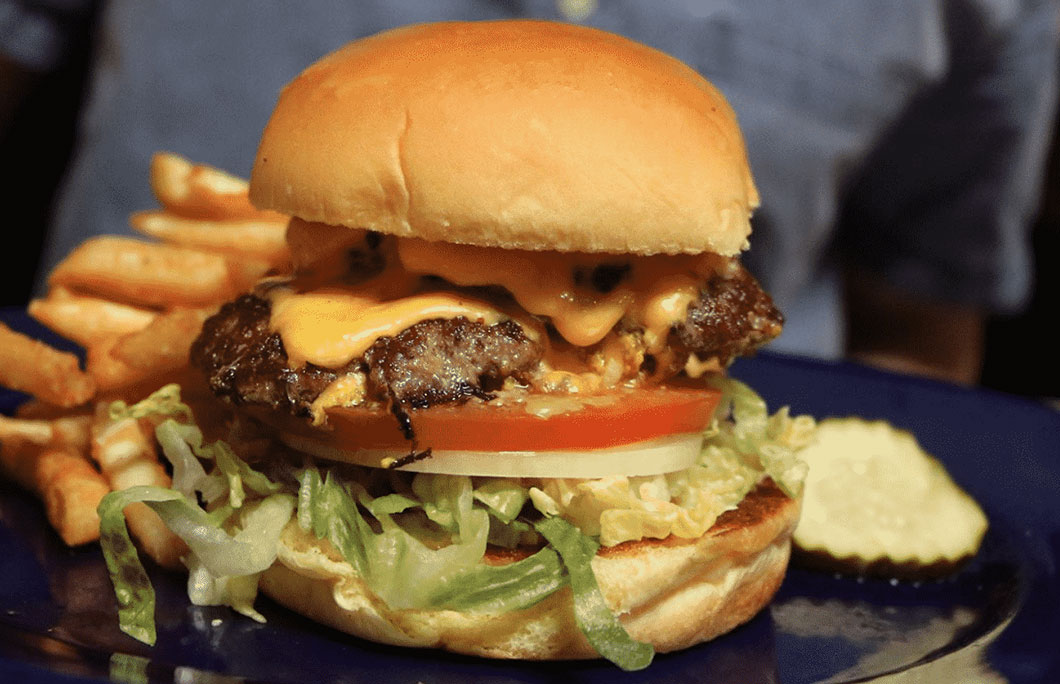 3. Third Street Social, Kansas City
With an All-American vibe menu that is driven by the chefs' imaginations, the burgers here are super high end, with out-of-this-world flavour. Whether you go for the jalapeno spicy BBQ burger or their legendary Animal Style (Thousand Island spread, mustard grilled patties, and extra pickles), you'll be wiping drool off your face for days afterwards. You'll find Third Street Social just outside KC, in Lee's Summit.
---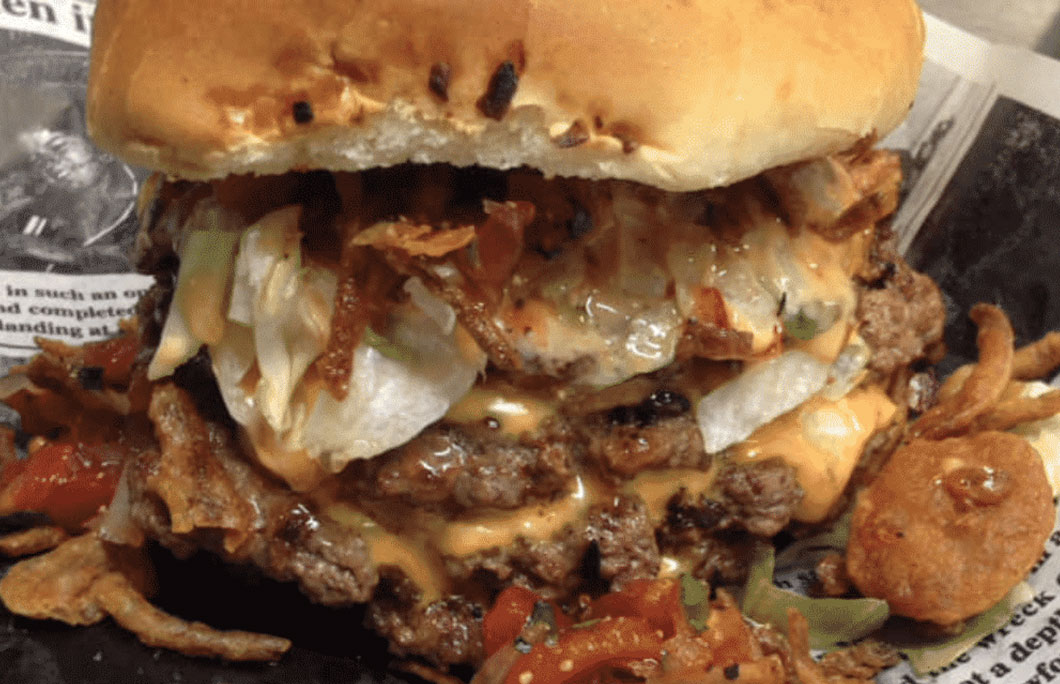 4. Taboo Grill Gourmet Burgers, Gravois Mills
Tropical decor covers the walls at this quirky burger joint. Taboo Grill Gourmet Burgers is a place where people from all over come to convene and enjoy fine food and delicious burgers. The burgers are piled high with mouthwatering meat and some of the freshest ingredients you can find. In search of a no-frills place where you can enjoy real hometown cooking with class? This is the spot.
---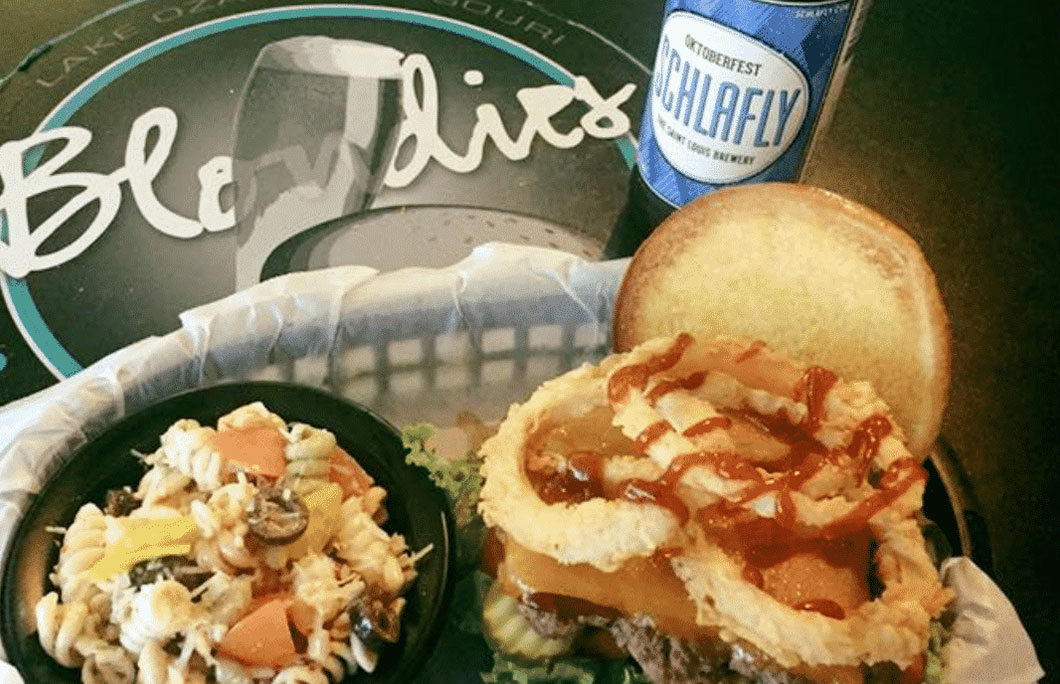 5. Blondie's Burger Bar, Lake Ozark
Heading to Lake Ozark is always a good idea. And, while you're there, you'll want to stop off at a spot where you can find some of the best Missouri burgers. Blondie's Burger Bar was voted as having the best burger on the lake, and it shows. The lakeside patio is a great place to sit and enjoy some Missouri sun as you chow down on what's perhaps one of the best burgers in, dare we say, the entire country.
---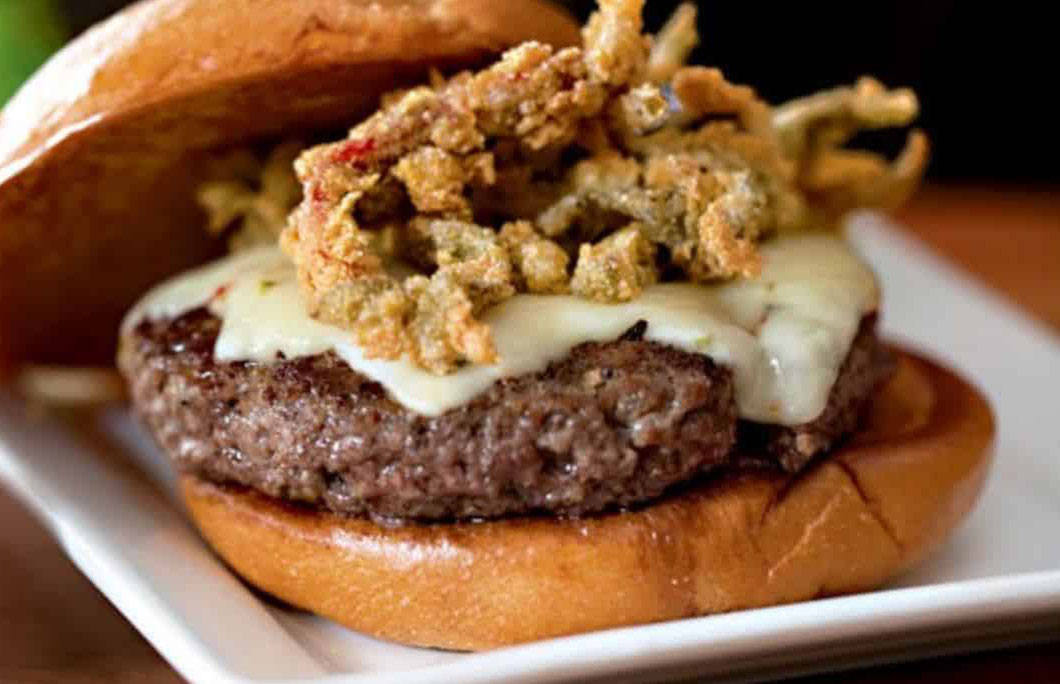 6. Five Star Burgers, St Louis
You better be able to bring your A+ burger game when you name your shop Five Star Burgers, and best believe, these guys bring it! The variety of burgers that are on the menu here are great for those who are looking for something more than just your regular cheeseburger. Try their Magic Mushroom Burger as it's very tasty and juicy!
---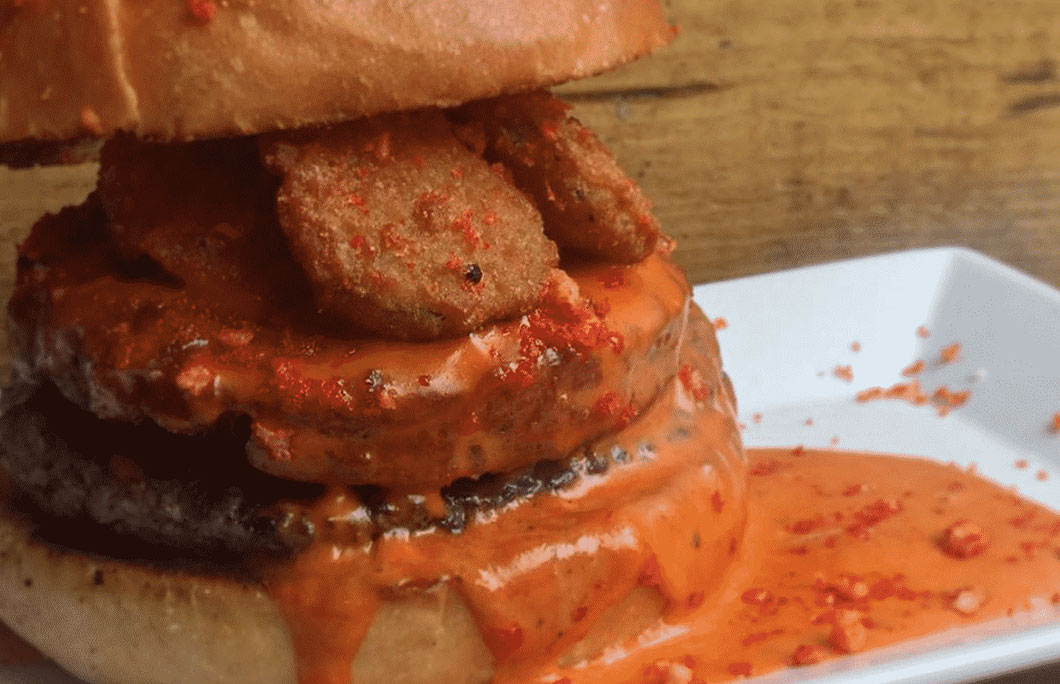 7. Burger Stand at the Casbah, Kansas City
Hop in the car to this Lawrence hotspot for gourmet burgers and 35 craft beers on tap. Order their crazy Flamin' Hot Mac Attack: 4oz beef patty topped with fried mac and cheese, Flamin' Hot Cheetos cheese sauce, pickle chips, and Flamin' Hot Cheeto crumbles. We're obsessed.
---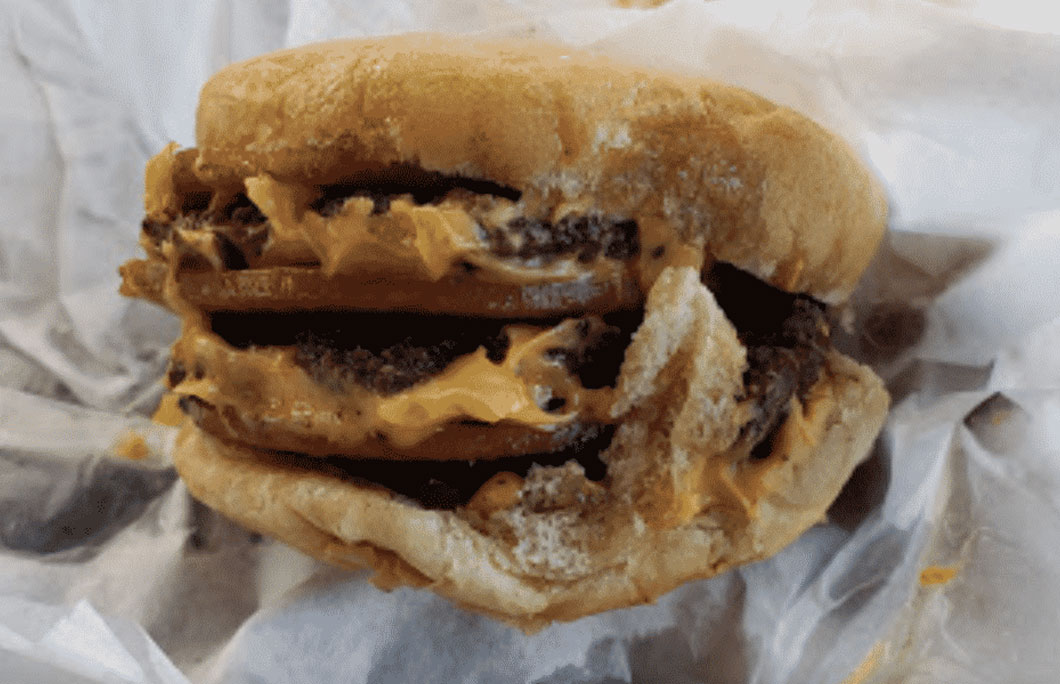 8. Whisler's Drive-Up, Carthage
A single classic hamburger here will only set you back $1.50, which means you'll be able to use all your pocket money to load yourself up on mouthwatering burgers, unlike anything you've tasted. Classic prices reflect classic flavours, as their burgers taste like the old-fashioned kind of quality burgers you'd order at a soda fountain in the 1950s. However, their recipe seems to be updated with modern, fresh flavours, and we're obsessed with it.
---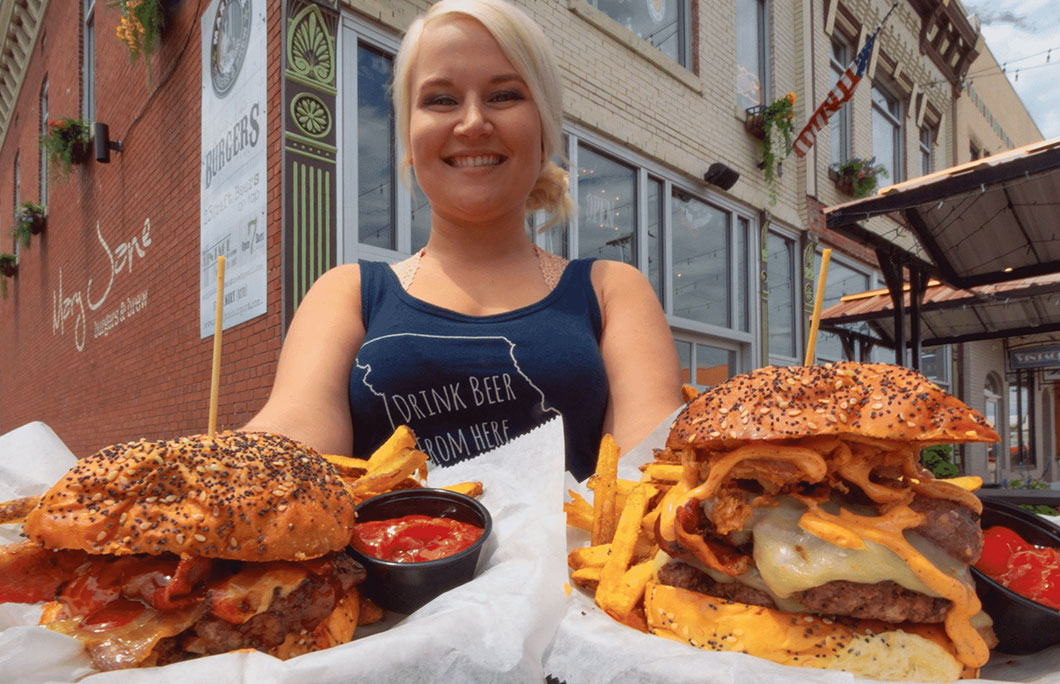 9. Mary Jane Burgers & Brew , Perryville
Mary Jane is a neighbourhood restaurant with delicious, local foods prepared in-house and served with a smile. As a traveller passing through Missouri, what more could you really ask for? The focus on going local is reflected in both their delicious, oversized burgers as well as their local craft beer offerings. For a truly Authentic Missouri burger experience, plan on making a stop here. You won't regret it.
---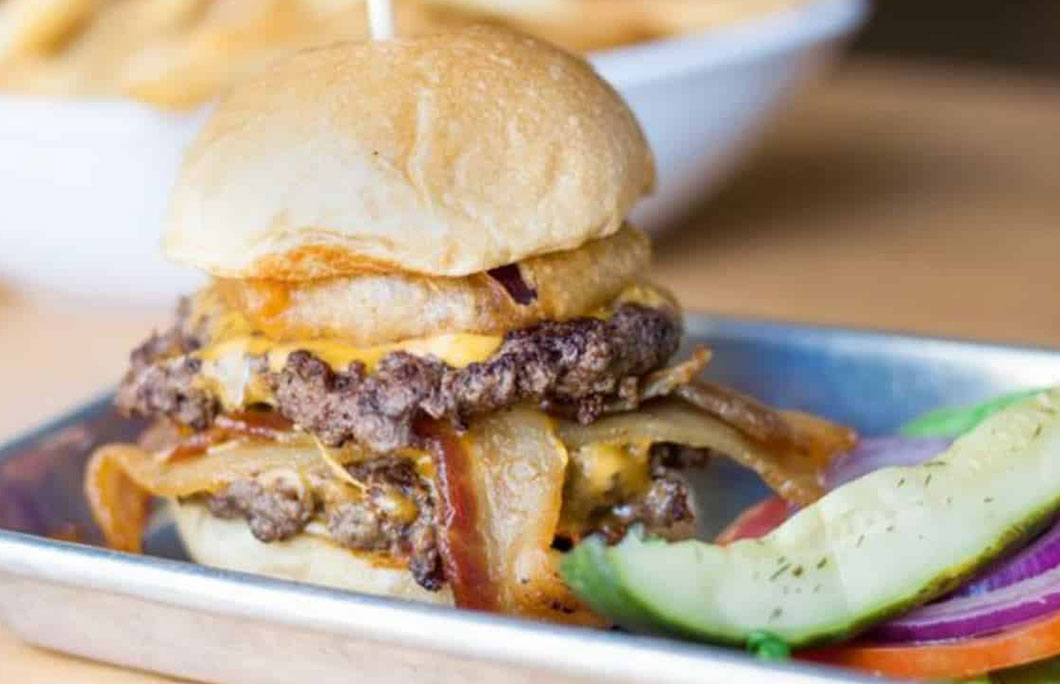 10. Bailey's Range, St Louis
At Bailey's Range, you'll definitely get your burger and milkshake fix here. At this multi-level restaurant, there are burgers here for everyone. Beef, chicken, or vegetarian, whatever your preference, Bailey's can make it for you. Bailey's is the place to come for some awesome burgers and is especially great for those that want something else than a beef burger.
---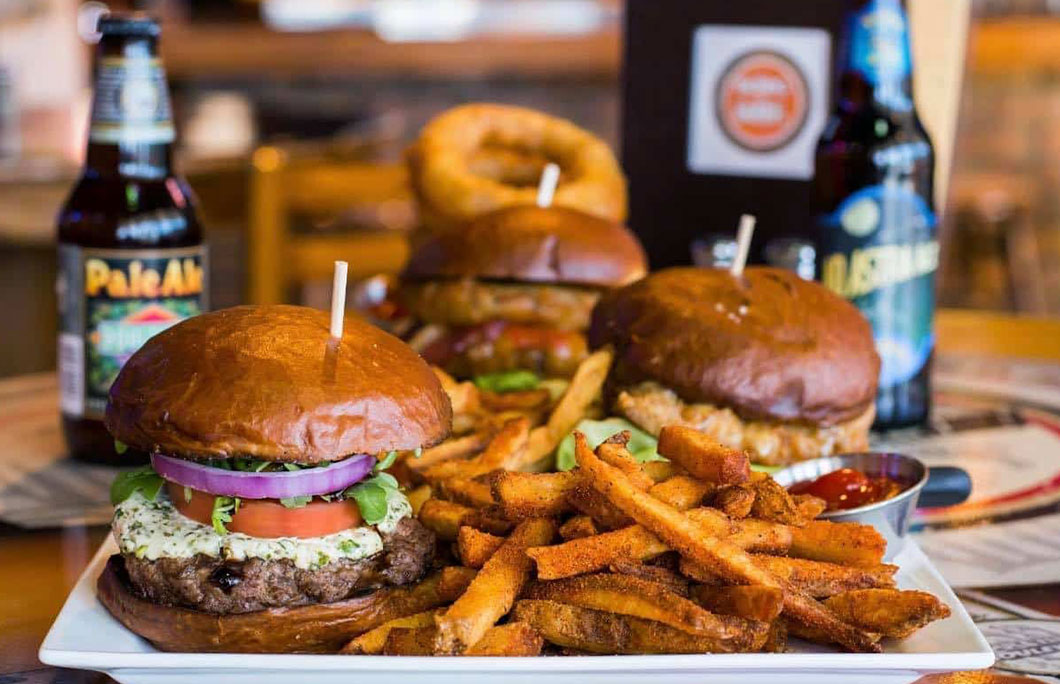 11. Burg & Barrel, Kansas City
This perfect neighbourhood pub has even more perfect burgers – certified Angus beef in fresh, squish buns and a range of delicious toppings. The best thing about burgers being made with such premium beef? At Burg & Barrel, you can ask for your burger to be cooked pink for extra juiciness.
---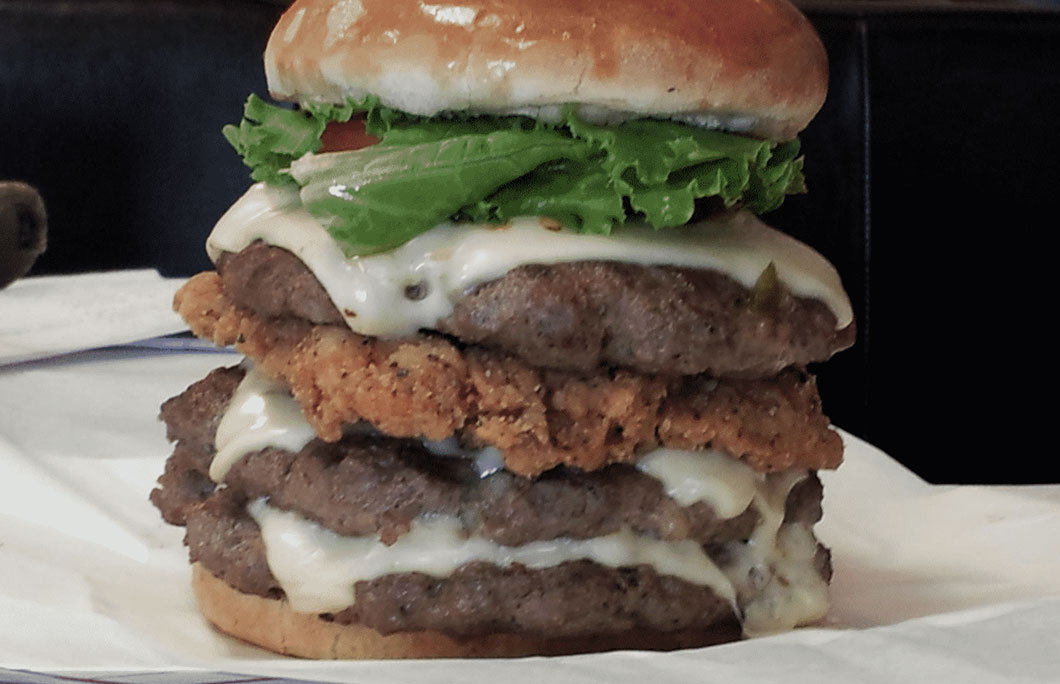 12. Unk's Burgers, Lee's Summit
If you're looking for a juicy, tasty, and succulent burger, then Unk's is the place for you. Each burger features a 1/3 pound patty that they make fresh every single day. Aside from the freshness, however, diners seem to drool over the premium mix of seasonings they roll into each patty. Tack on some tasty ingredients that they pile high on top of the meat and it's easy to see what makes these some of the best burgers in Missouri.
---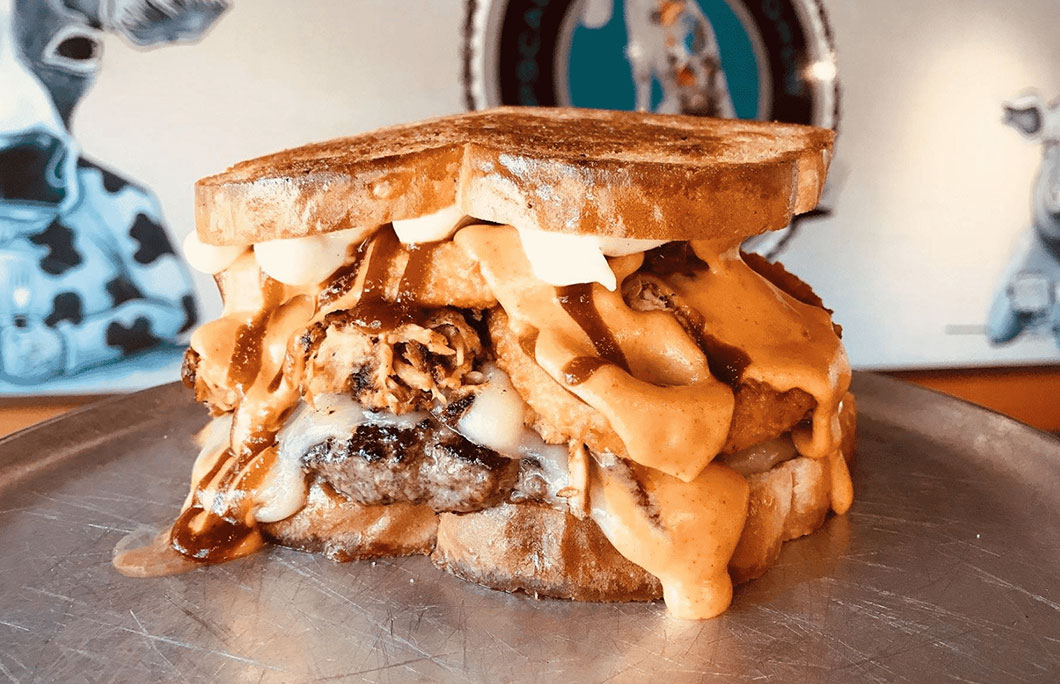 13. The Tattooed Dog, Wentzville
Upscale dive grub is what The Tattooed Dog is known for, serving up some of the most inventive burgers in Little Dixie. And, sure, their famous loaded dogs might be worth a taste test (or two, or three…), but we're here for the fantastic lineup of juicy burgers. The Dubliner Burger is a big hit with its stout-braised onions, gorgonzola creme, and white American cheese served on a pretzel bun. We're drooling already.
---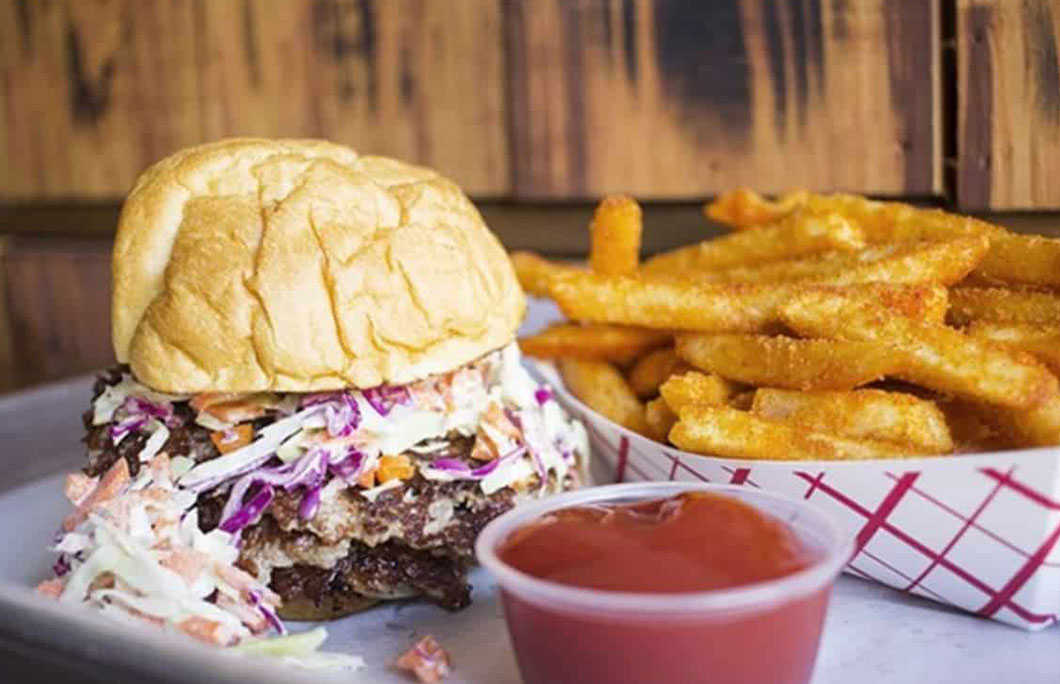 14. Mac's Local Eats, St Louis
Mac's Local Eats is a locals favourite go-to spot for burgers. All the ingredients used in this restaurant are local with their farm-to-table concept. In sourcing local ingredients, Mac's is able to stay true to local producers in feeding citizens the best local products around. Mingle with the locals here at Mac's and try some of the best beef St. Louis and Missouri have to offer!
---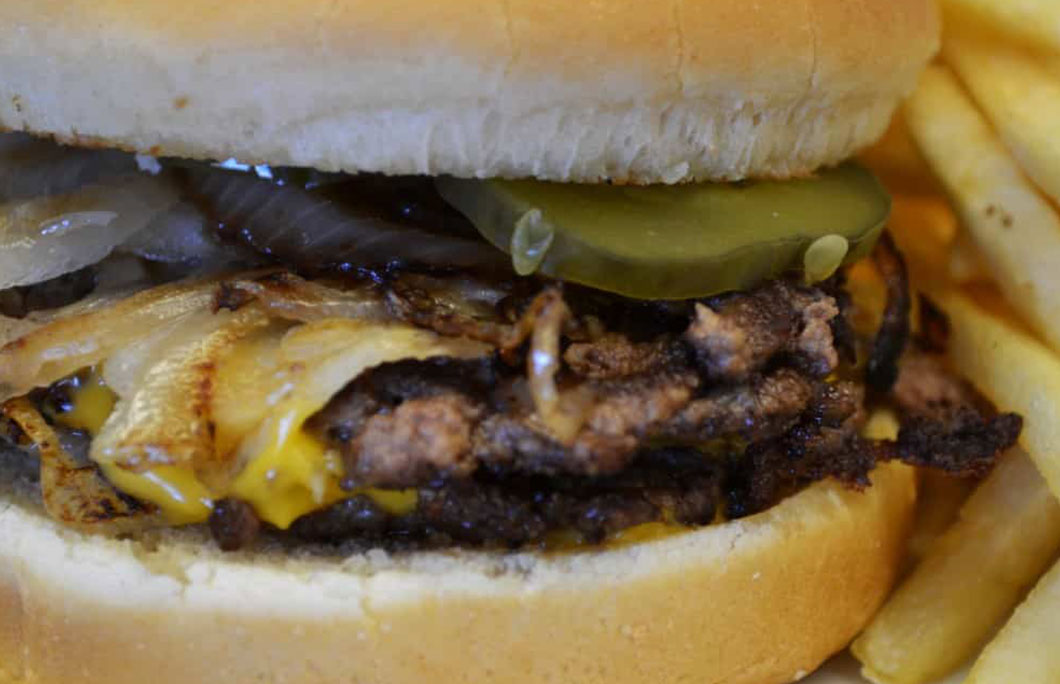 15. Town Topic, Kansas City
Ever since this Downtown diner began selling burgers for five cents apiece in 1937, Town Topic has been a Kansas City institution. There's nothing fancy here but it proves that sometimes simple is best. A juicy, griddled beef patty with Swiss cheese, caramelised onions, pickles and mustard. What more do you need?
---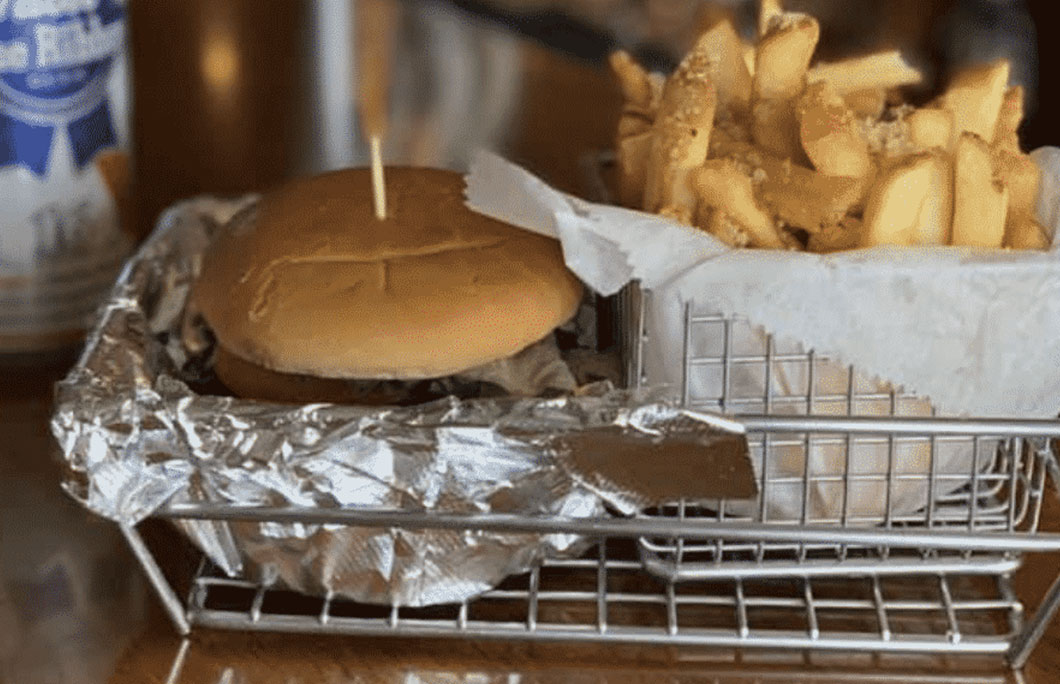 16. Grad School, Springfield
This little hole-in-the-wall restaurant is at the edge of the Missouri State campus. It can get pretty crowded, but the minute you sink your teeth into their burgers, none of that matters.
Try the Full-Ride burger and don't forget the homemade fries!
---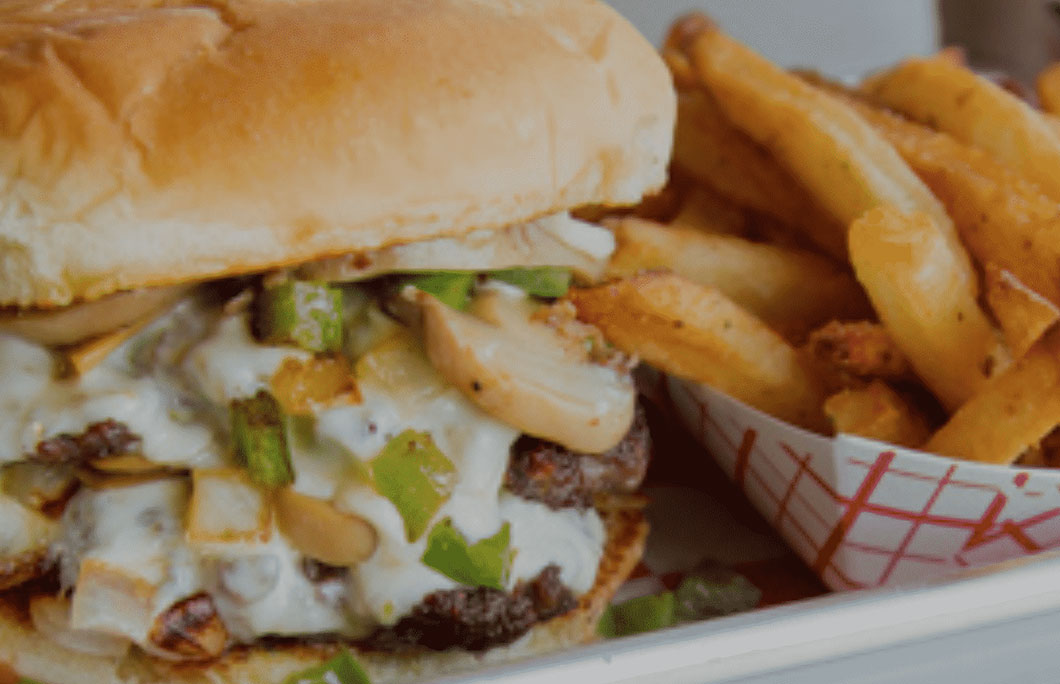 17. Bus Loop Burgers, St. Ann
Bus Loop Burgers has been a staple in the Wellston community since 1996. And, they take pride in providing top quality handcrafted burgers to locals and visitors alike. The cheddar melts are truly representative of traditional American flavours while the Sourdough Swiss Supreme is a delicious beast of a burger you'll have to try at least once in your life.
---
18. Westport Flea Market, Kansas City
Like Trivia contests? Check. Pool, shuffleboard, video games? Yes, yes, and yes. Burgers?! YES. Westport Flea Market is a funky burgers 'n' beers dive with live music and the famous 'Super Flea': five 10 oz. burgers, with bacon, cheese, and two pounds of fries. Order a regular-sized burger and make a pit stop at the salad bar to add all the pickles and lettuce toppings you like.
---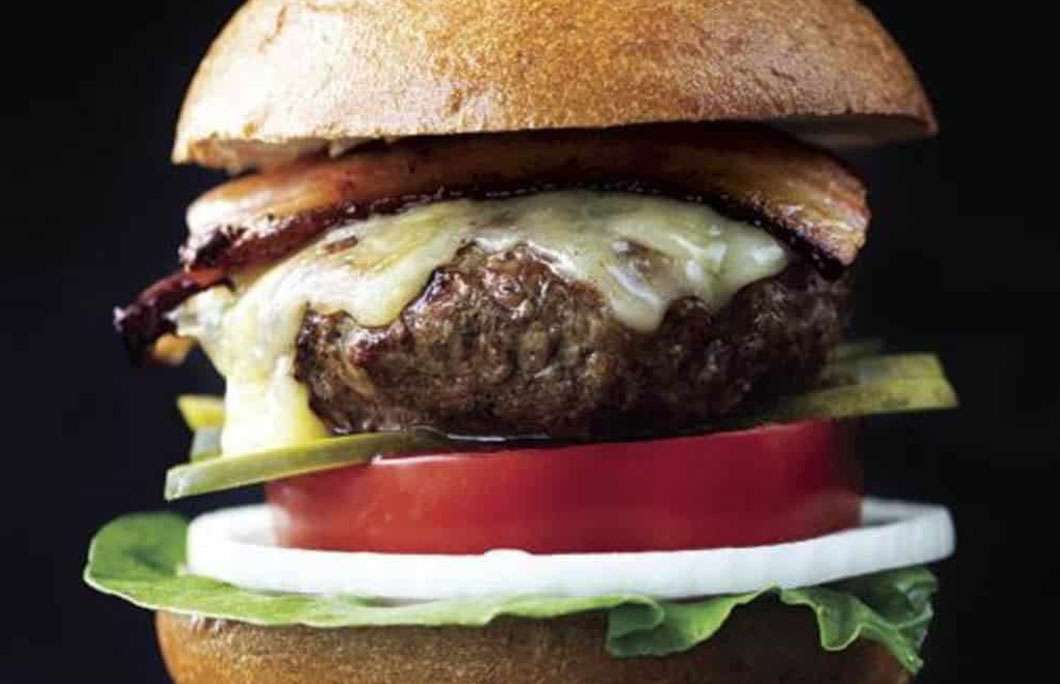 19. Annie Gunn's Restaurant, St Louis
Annie Gunn's has been around in St. Louis for quite a while now and one of their most popular dishes is their hamburger called The Classic. The beef patties are a blend of ribeye, striploin, Angus tenderloin and brisket making it the most heavenly combination of meats in a burger. The Classic Burger at Annie Gunn's uses this meat blend to go with mustard aioli and smoky hog belly. Gluttonous and satisfying at the same time!
---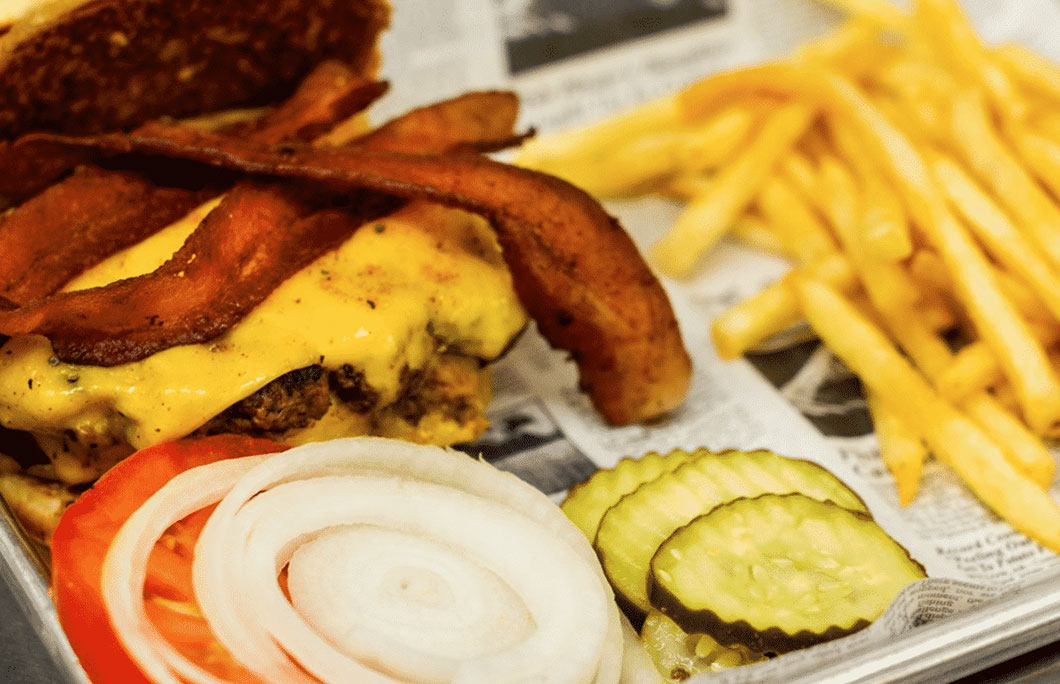 20. Rich's Famous Burgers, Steelville
At Rich's Famous Burgers they've been stackin' patties high since 1955. This Steelville staple slings classic American favourites in a spot known for its classic American digs. Fresh, never-frozen ingredients are the focus here. And, their hand-formed patties are made with 100% Certified Angus Beef to ensure top-quality. Simply put, dining here is like dining at a small, local neighbourhood restaurant but with all of the flavour and attention to detail you'd expect out of a fine dining establishment.
---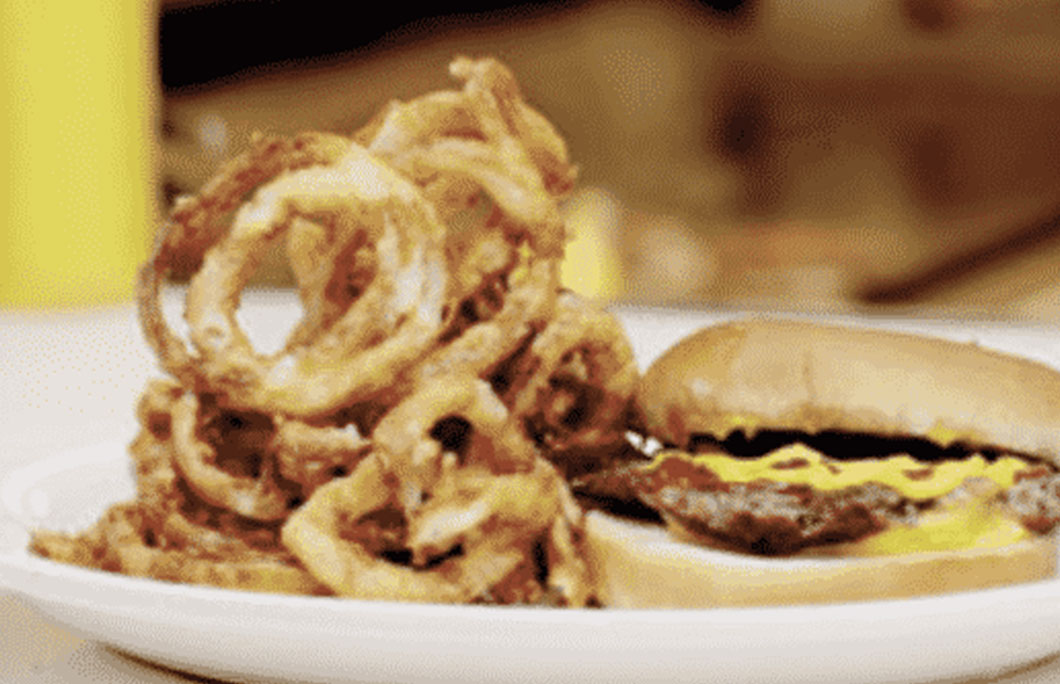 21. White Grill, Nevada
The White Grill is a classic diner in every sense of the word. With a half-dozen table, a long counter with spinning stools, and an open window where the short order cooks do their stuff, the White Grill feels like you've stepped back in time 50 years. That goes for the burgers too—hearty portions and fresh ingredients are prepared right in front of you. Paired with an order of Suzie Qs and a vanilla Coke, it's a classic American meal.
---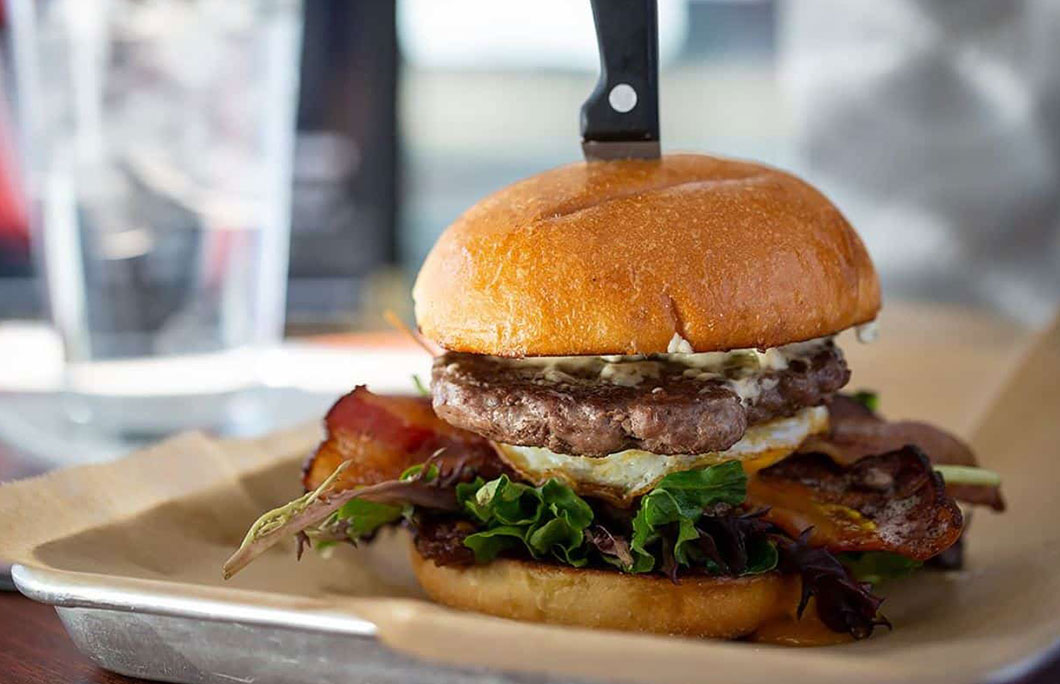 22. Layla, St Louis
For some of the best gourmet burgers in St. Louis, come to Layla's. Everything that is made at Layla's is of the highest quality and using top-notch ingredients. Not many places in St. Louis serve a fried egg in their burger but at Layla's, they incorporate it seamlessly into their burgers. Give any one of Layla's burger a shot here and you'll be blown away by the quality of their gourmet burgers.
---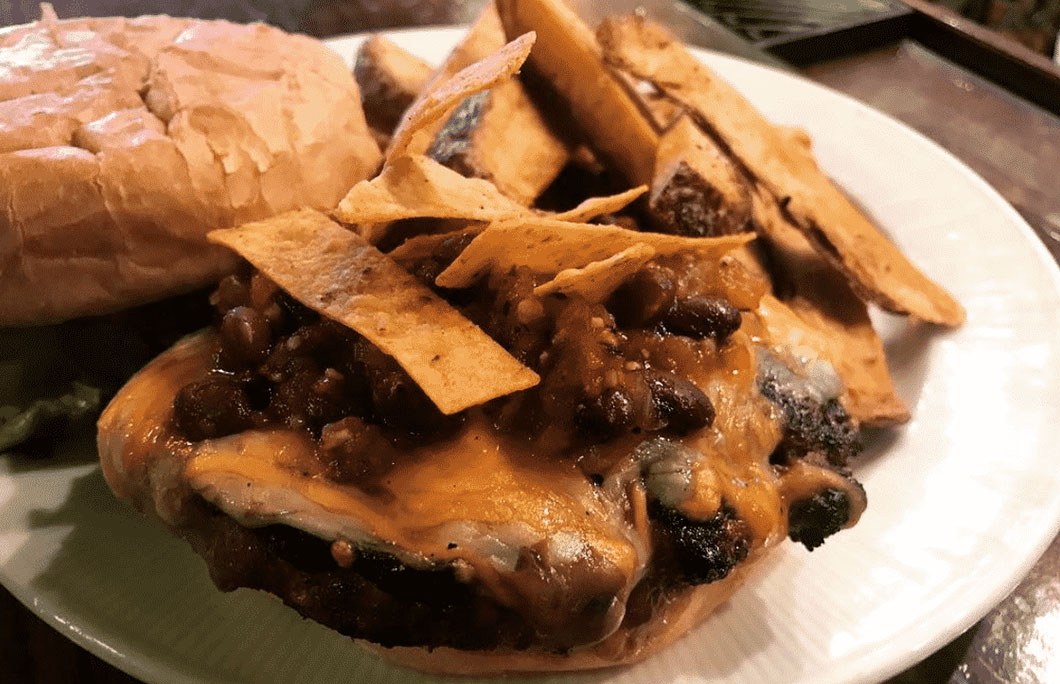 23. Ecco Lounge, Jefferson City
This old-school tavern has got some rich history in Jefferson City. They offer a lot of scrumptious dishes and delightful libations. But, you'll find that just about anything you order here is filled with flavour. However, their burgers earn them top honours. Order the Moose Burger, which comes with shaved prime rib as an extra special treat.
---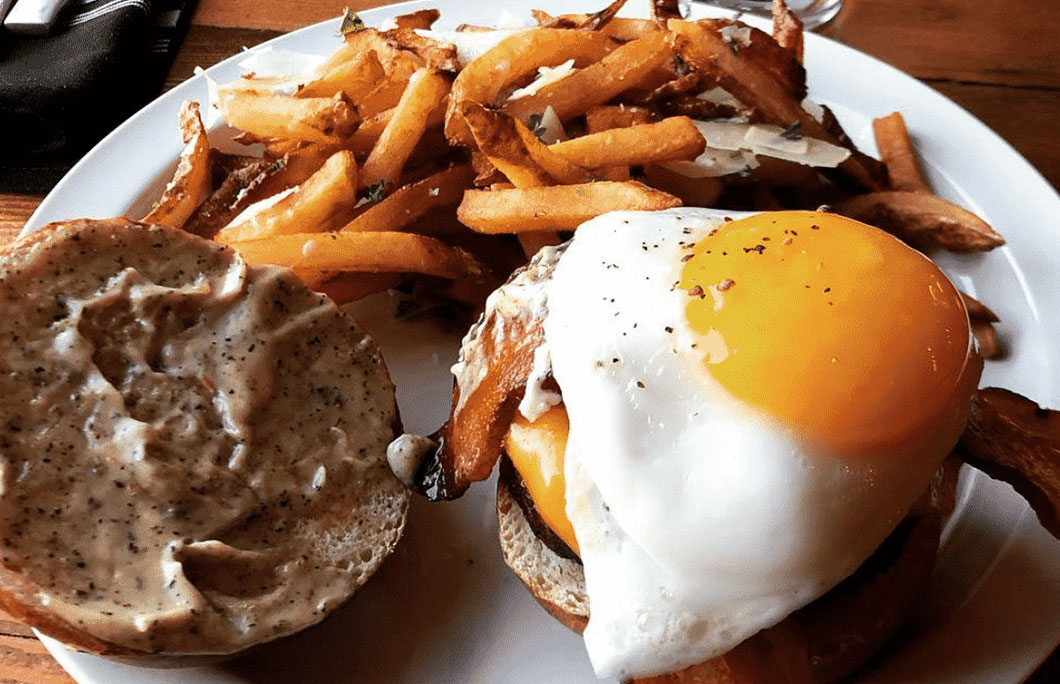 24. Blvd Tavern, Kansas City
Blvd Tavern is right in the heart of the Kansas City Crossroads Art District, making it an ideal burger stop-off point. More upmarket than your average burger joint, this classy tavern adds a few unique flavours to its burger. The Daily Grind burger has cheddar, bacon and – here's where it gets wild – red wine shallot jam and peppercorn mayo and an optional fried egg. Delicious.
---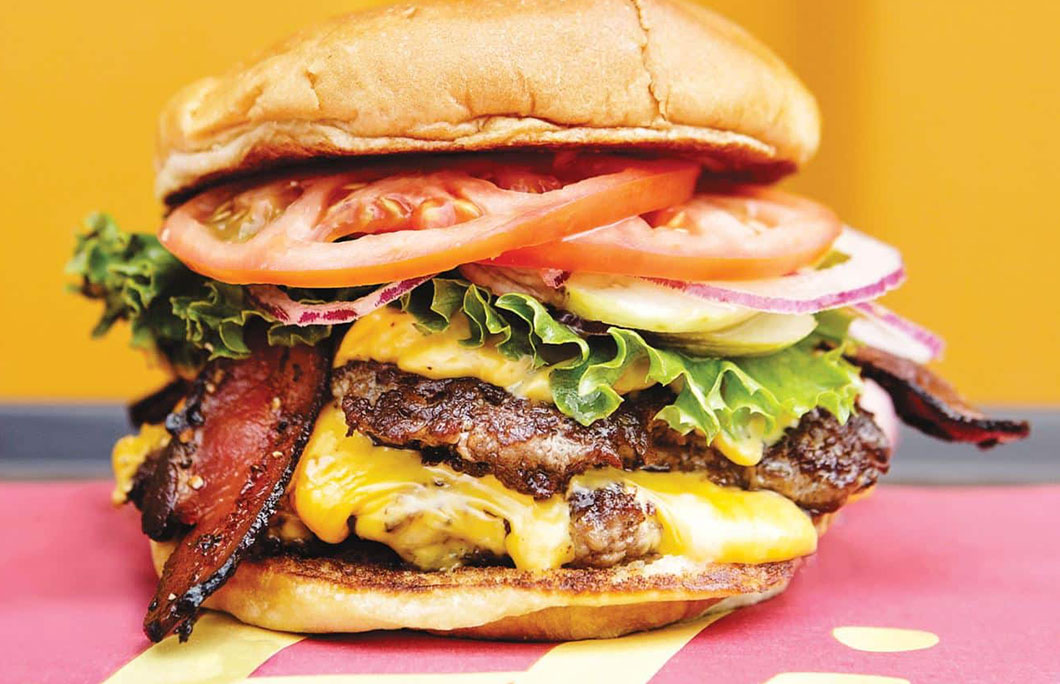 25. Hi-Pointe Drive-In, St Louis
The burgers at Hi-Pointe Drive-In are seriously on point and offer your classic, greasy, sloppy, and juicy burgers. While you can just roll-up in your car to grab a burger here, there also is some seating inside. Sit in a shipping container-turned seating area at Hi-Pointe to enjoy your tasty burgers.
If you are a big hamburger fan check out The 50 Best Burgers In The World for some serious eats.
---