Flying Home? Best Dining & Shopping Options at Midway Airport
Whether you are just passing through, have a tight connection or have a long layover, there are plenty of eating, drinking and shopping options at Chicago Midway Airport.
One of the best things about dining at Midway Airport is that a lot of places give you a taste of Chicago. Midway Airport has lots of local dining options which brings Chicago to you including Arami, Billy Goat Tavern and DeColores.
You'll also find a few choice stores and kiosks where you can pick up travel essentials as well as gifts and mementos of the Windy City.
You'll find dining and shopping facilities at concourses A and B and in the Midway Triangle Food Court.
Looking for something quick to eat at Midway Airport?
Nuts on Clark
Chicago's world-famous "Nuts on Clark" creates delicious popcorn like caramel corn and cheese corn and also sells chocolate covered nuts, honey butter covered nuts and nut mixes.
Location – Midway Triangle Food Court
---

---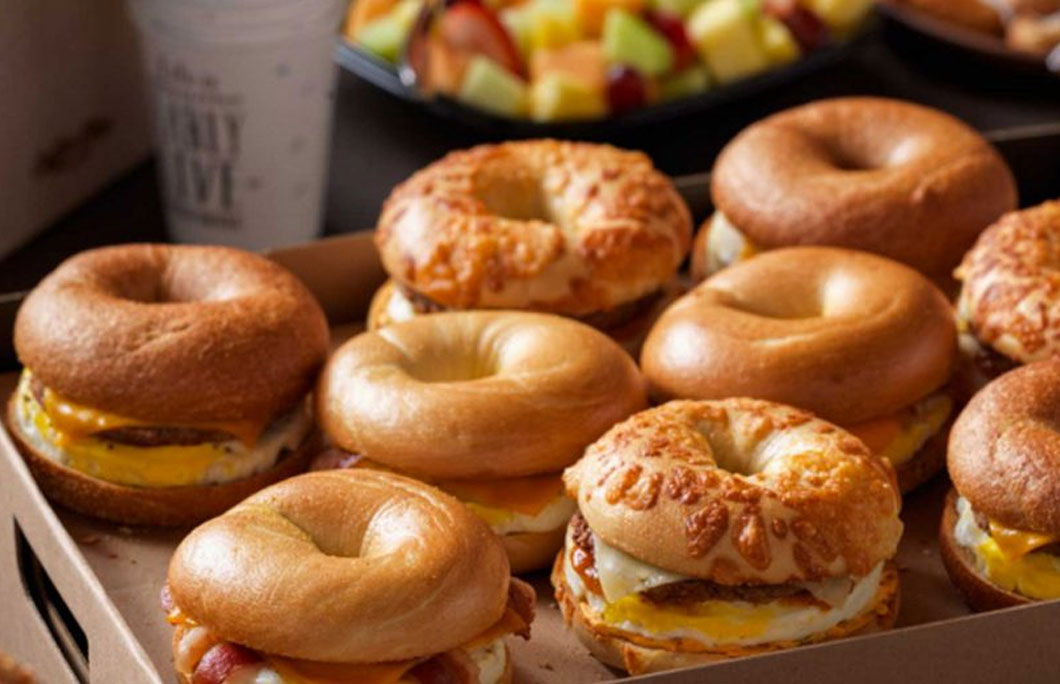 Einstein Bros. Bagels
This bagel chain is a great place to grab some carbs in the form of freshly baked bagels, signature egg sandwiches and big breakfast burritos. You'll also get piping hot coffee and tea here.
Location – Concourse A, Gate A7
---
The Market
Another great option for those in a hurry, The Market is where you can grab a breakfast bagel, panini or hearty sandwich as well as ice cream and tea and coffee. This place is good for families as there is a kid's menu.
Location – Concourse B, Gate B14
---
Dunkin' Express
Get your caffeine fix at Dunkin' Express. Apart from coffee, you can get tea, hot chocolate, smoothies and coolattas. Enjoy a classic donut too or buy a box, they make a delicious gift.
Location – Concourse B, Gate B19
Grab a bite at these dining options:
---
Have some time to linger? Here's where you can dine in at Chicago Midway Airport
Grab a bite at these dining options:
---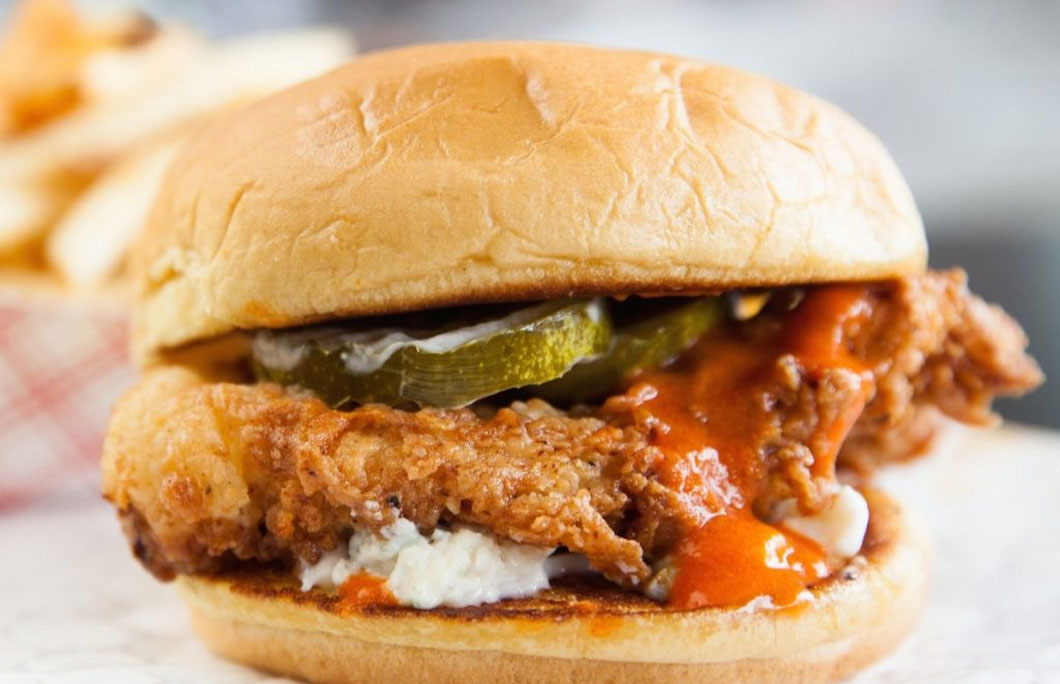 Big City Chicken
For some of Chicago's best fried-chicken, this fast-food restaurant serves up a choice of original or spicy chicken pieces, sandwiches and strips. Make it a full meal by getting a side of crispy fries and a soda or a beer. This is a great dining option if you need something a bit more substantial than a snack but are short on time.
Location – Concourse B, Gate B7
---
Gene's Bistro
Don't know what you want to eat? Take a look at the menu at Gene's Bistro. It is wide-ranging and should have something to suit your food mood. Choose from appetisers, handheld sandwiches including hamburgers, a chicken club and shrimp po'boy, as well as fresh salads. There is a full bar too with some terrific cocktails.
Location – Central Market
---
Reilly's Daughter
If you are looking for comfy food and hand-pulled pints of Guinness, you'll love this faux-Irish Pub with a cosy neighbourhood tavern vibe. The menu features classic pub fare like fish and chips, Rueben sandwiches, corned beef and cabbage and wings and salads.
Location – Central Market
---
Arami
If you can't make it to Arami in the city, this concession is a great alternative. This sushi spot serves up poke, rice bowls and salads made with beef, tofu, salmon, seaweed and edamame. Food is fresh and flavoursome and you can also sip sake and creative cocktails.
Location – Concourse A, Food Hall
---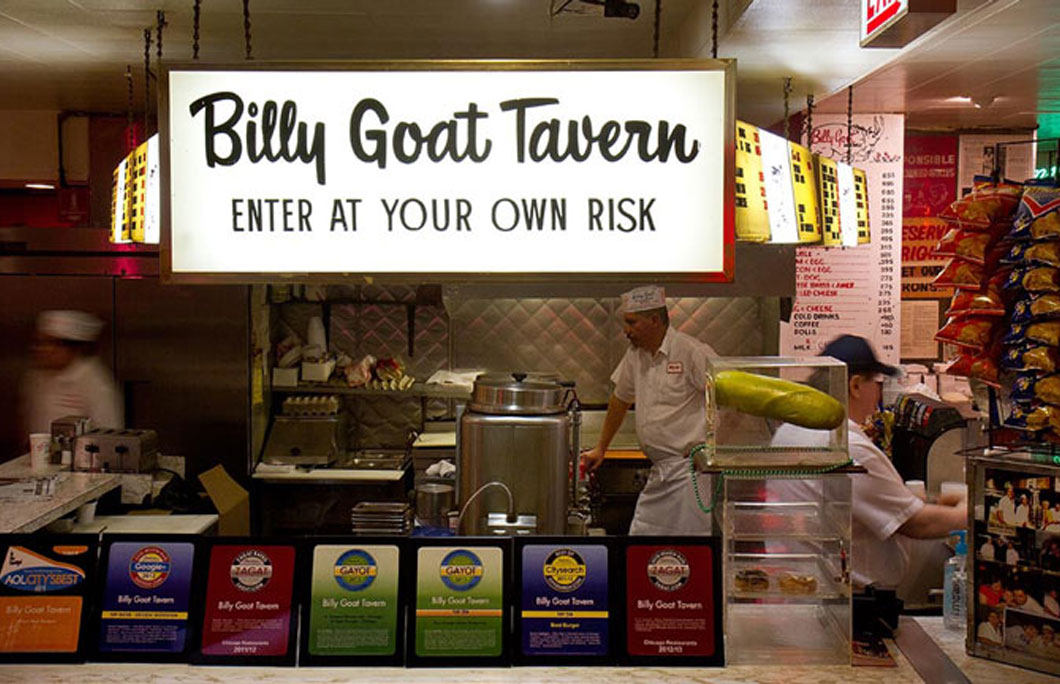 Billy Goat Tavern
A Chi-Town landmark, the Billy Goat Tavern and Grill is where you can the famous Cheezborger and Chicago-style sandwiches. Go for the corned beef, it's delicious.
Location – Concourse A, Food Hall
---
DeColores
With a menu packed with chips, fresh guacamole, burritos, tacos, and margaritas, DeColores is the place to go for a taste of Mexico and the Pilsen Art District, without leaving the airport.
Location – Concourse A, Gate A7
---
Harry Caray's Shortstop
This concession is a great place to come for breakfast as it has an extensive offering with everything from hearty oatmeal to healthy wraps. It also has some vegan, vegetarian and gluten-free options alongside classic dishes like ravioli, wings and sandwiches.
Location – Concourse A, Gate A9
---
Hubbard Inn
A firm favourite in Chicago, this is one of the more relaxing and quiet dining options in Midway Airport. Great if you have a bit of work to do or want to read! Dine on burgers, sandwiches and salads and sip a great selection of wine, cocktails and beers.
Location – Concourse B, Gate B7
---
Windy City Tap Room
This full-service bar also has a great menu of firm-favourites like chicken tenders, loaded fries, burgers and salads. You'll also get a wonderful Rachael sandwich loaded with smoked turkey, Swiss, coleslaw, Russian dressing served on marble rye.
Location – Concourse B, Gate B11
---
Home Run Inn
Home Run Inn is a South Side staple that makes personal pizzas. With options for meat lovers to veggies as well as comforting appetisers like wings and fries, Home Run Inn is a hit with travellers.
Location – Concourse B, Gate B17
---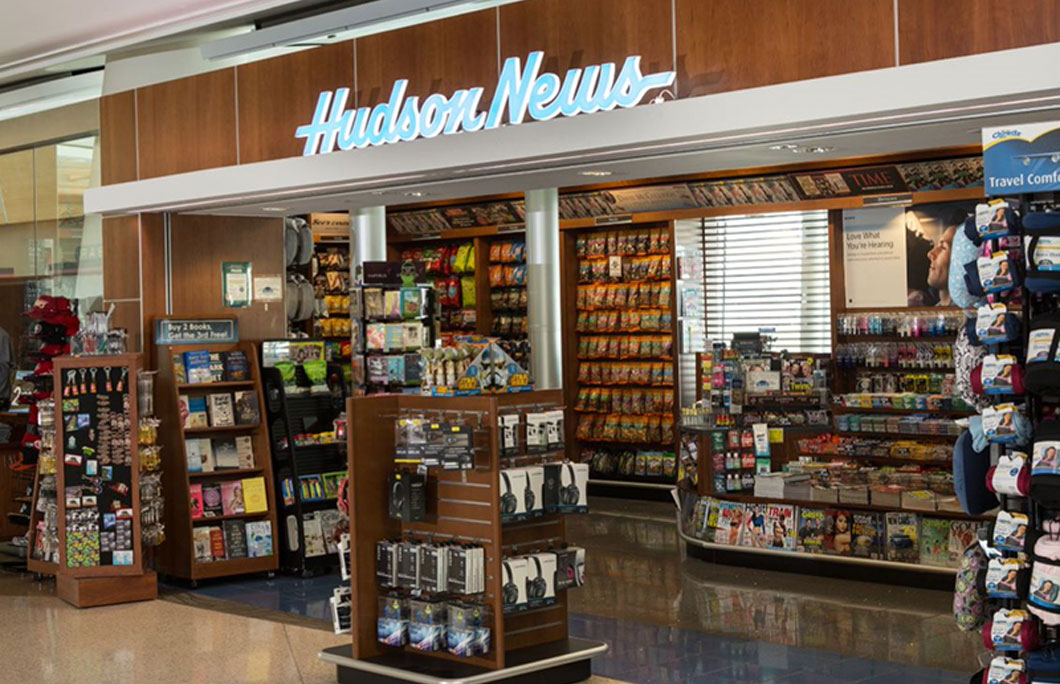 Shop 'til you drop, or at least you'll your flight is called, at these Midway Airport stores
Hudson, Ink by Hudson & Chicago News
For all your reading material needs, these ubiquitous outlets have got you covered. You can also stock up on snacks, candy, drinks, travel essentials, toiletries and small gifts and trinkets.
Location – Concourse A, Gate A5, Concourse B, Gate B5 and B17
---
Chicago Market
This convenience store stocks an array of handy items for travellers. The snack and grab-and-go food options are great, especially if you are looking for something healthy, vegan, vegetarian or gluten-free. You can also buy portable electronics, so stuff like charging cables and headphones, as well as travel accessories and local souvenirs. If you are short on time and have a few things to pick up, this is a great one-stop-shop.
Location – Central Market
---
Discover Chicago
Need a Chicago-themed mug or piggybank? Of course you do! And add Windy City glassware, keyrings and t-shirts too. This is the place to shop for all your souvenirs. It's nice to know that most of the merchandise in the store (95% of it) is manufactured in Chicago. Make sure you pick up some local Kay's Candy and Fannie Mae Candy. It's scrumptious.
Location – Central Market
---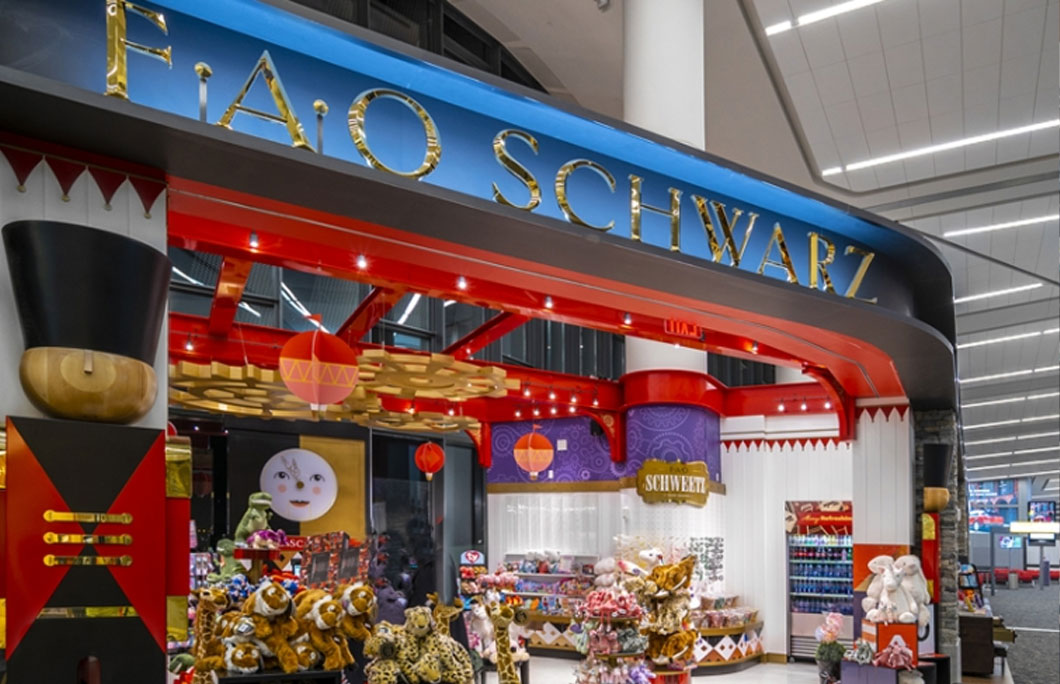 FAO Schwarz
Perhaps the best shop in Chicago Midway Airport to splash the cash, and just hang out, is this iconic toy store. The bright and colourful store is brimming with soft toys, games, playsets, decorations, mugs, water bottles and all manner of playthings. You can't go wrong with a gift from FAO Schwarz, for kids of all ages.
Location – Concourse A, Gate A5
---
iStore
This Apple authorised reseller and tech store is the best place to buy accessories for your phone as well as earphones, cameras, cases, chargers, smartwatches and gaming tech. Friendly and knowledgable staff are prompt and will get that item rung up before your gate closes.
Location – Concourse B, Gate B17
---