Top 10 Road Trips from Maryland
Baltimore MD to Michaux State Forest PA.
Bel Air MD to Lambertville NJ.
Newburg MD to Charlottesville VA.
Frederick MD to Lancaster PA.
Easton MD to Bethany Beach DE.
Aberdeen MD to Newport RI.
Baltimore MD to Harrisburg PA.
Oakland MD to Columbus OH.
Annapolis MD to Washington DC.
La Plata MD to Culpeper VA.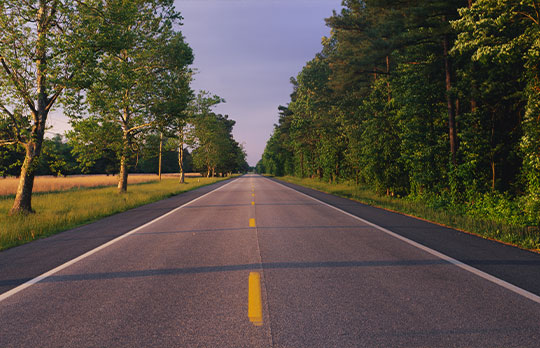 Top 10 scenic drives from Maryland
One of America's most fabled Mid-Atlantic states, Maryland is bordered by Delaware and the Atlantic Ocean to its east, Pennsylvania to the north, and the District of Columbia, Virginia and West Virginia to the south and west. There's history here by the bucketload. For starters, it's named after Queen Mary of England, Scotland and Ireland (wife of King Charles I) and nicknamed the Old Line State for its prominent role in the American War of Independence. In 1776, the 'Maryland 400', led by Scottish-American Major General Lord Stirling, repeatedly charged a superior British force at the Battle of Long Island, allowing George Washington to evacuate his troops and regroup in Manhattan.
And Maryland's diverse (and stunning) scenery has earned it the alternative nickname 'America in Miniature'. The awesome Appalachian Mountains in the west complement sweeping beaches in the east, and bustling port city Baltimore contrasts delightfully with idyllic Chesapeake County. Seafood lovers are in for a treat here too ‐ the state's famous blue crabs taste divine washed down with cold Natty Boh beer.
But if you're done discovering the state (at least for a while), hire a car in Maryland and strike out on a superb road trip to neighboring states or a little further afield to New Jersey, Rhode Island and elsewhere. Hit the road and roll out from Little America for some seriously big adventures.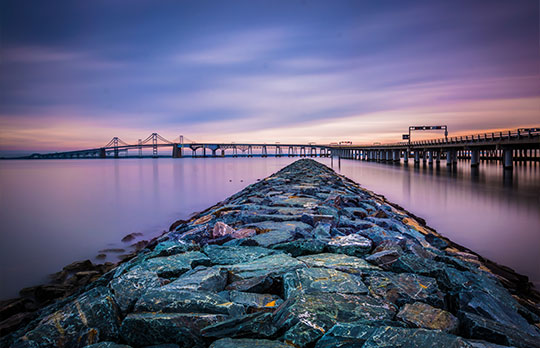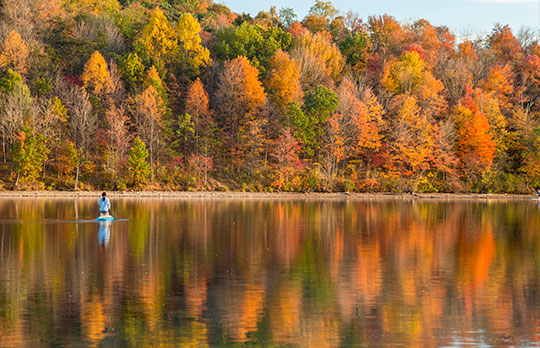 Top tips on driving in Maryland
Your top 10 road trips from Maryland will be here in two shakes of a Timber Rattler's tail. But let's pause for some quick driving tips. Firstly, be sure to strap on your seatbelts. Kids aged 15 or under should wear a belt no matter where they sit and those under 4 and those who weigh under 40 pounds should wear an appropriate safety restraint. You should always turn on your headlights when it rains and stop for pedestrians. Give way to the right at 4-way stop signs, yield the right of way to cyclists and beware the state drink driving laws ‐ the blood alcohol limit is 0.8.
Let's get rolling with those road trips.
Baltimore MD to Michaux State Forest PA
How does some seriously relaxing tree bathing in the Blue Ridge Mountains sound? Pennsylvania's Michaux State Forest is just 1 hour and 25 minutes from Baltimore via US-30 W and the road trip is a welcome switch from city vibes. There are tons of outdoor activities here if you love the great outdoors ‐ from camping, horseback riding and mountain biking in spring and summer to cross-country skiing and ice skating in the winter. What's more, there's also a scenic strip of the Appalachian Trail to explore!
Bel Air MD to Lambertville NJ
Want a fresh trip from Bel Air that takes you past west Philadelphia to some seriously chilled countryside? Course you do! Lambertville New Jersey is 2 hours 10 minutes away via I-95 N and offers sublime scenery and a laid-back rhythm of life. Stroll past the lovely Victorian houses. Explore the 19th century Lambertville Station. Grab goodies at the Golden Nugget Antiques Market. Treat yourself ‐ you deserve to switch off for a while.
Newburg MD to Charlottesville VA
The road trip southwest from Maryland's Newburgh to Charlottesville Virginia takes just over two hours via VA-3 W. And boy is it worth it. Historic Charlottesville is the home of US Presidents James Monroe and Thomas Jefferson, and there's always a sociable buzz because it's the University of Virginia hub. Stay overnight and make the most of your visit by soaking up the atmosphere in The Corner ‐ the city's coolest quarter is packed with fashionable cafes, bars and restaurants. The C'ville locals are pretty friendly too ‐ what's not to love?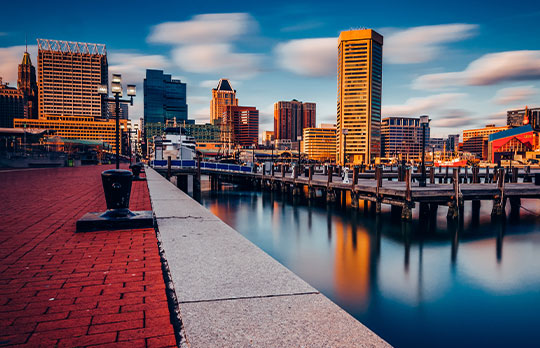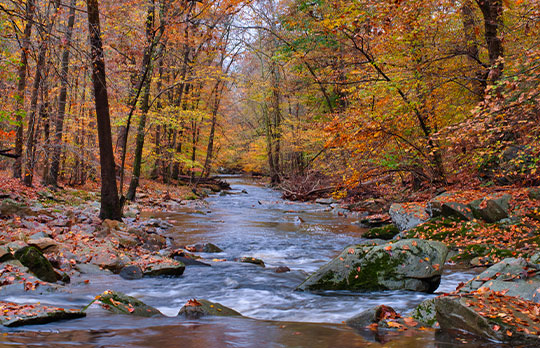 Frederick MD to Lancaster PA
How does heading northeast from Frederick to the heart of Pennsylvania's Amish country sound? If you're nodding your head, this road trip takes just under two hours via US-15 N and US-30 E, so it's manageable in a day if you leave early. Lancaster was originally called Hickory Town and when you visit this city, you can take a guided tour to get a feel for how Amish families live today, as well as enjoying other highlights like Fulton Theater, Dutch Wonderland and Central Market.
Easton MD to Bethany Beach DE
Want to get out of Easton for some sun, sea, and sand? Delaware's Bethany Beach is only one hour and 30 minutes away via DE-18 E and it's a road trip that's richly rewarding. There's always a nice buzz around this coastal town and plenty to see and do. The natural beach is beautiful, there's a traditional boardwalk with lots of cultural attractions, a lush nature center and lots of boutiques and eateries around Hollywood Street. When you want a cathartic break at the seaside, spend a day or more at Bethany Beach and recharge your batteries to the max.
Aberdeen MD to Newport RI
Game for a longer road trip to a wonderful weekend break destination? The journey from Aberdeen Maryland to Rhode Island's Newport takes 5 hours 30 minutes via I-95 N but it's well worth it. Newport is located on Aquidneck Island ‐ a haven for the sailing set, it's also home to the panoramic Ocean Drive, a collection of gorgeous mansions, dramatic cliffs and a host of interesting museums. Take a walk downtown and you'll enjoy popping into trendy independent boutiques and award-winning restaurants.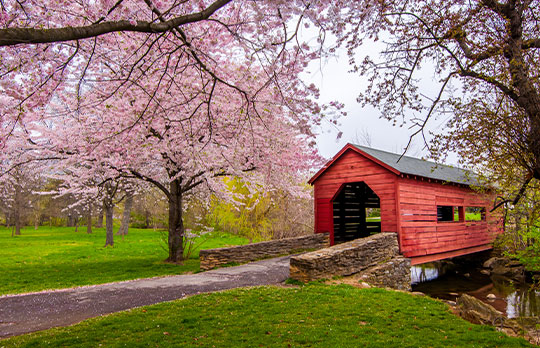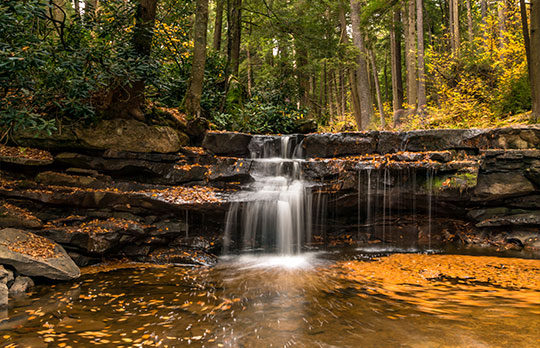 Baltimore MD to Harrisburg PA
How about a road trip north to some stunning scenery and unique history? If you're based in Baltimore, Pennsylvania's Harrisburg ticks all the right boxes and it's just one hour and 20 minutes away via I-83 N. PA's state capital has so many distractions that it merits a day trip at least. There's go-kart racing at Autobahn Indoor Speedway, eclectic shopping at Broad Street Market, and fine art and tasty food at Millworks. For something a little different, try a Pride of the Susquehanna Riverboat Cruise ‐ bliss.
Oakland MD to Columbus OH
Ready for a change of scenery from Oakland? Columbus Ohio is four hours west via I-70 W and it makes a great weekend break destination. Columbus is a hidden Midwest gem with lots of awesome attractions ‐ especially for families. Columbus Zoo and Aquarium is a great place to start, with more than 10,000 animals, the exciting Zoombezi water park and neighboring 18-hole golf course. The North Market Farmer's Market is also a magnet for foodies, interactive VR exhibition and alternative universe Otherworld is mind-blowing, and Franklin Park botanical gardens are gorgeous.
Annapolis MD to Washington DC
Need to get out of Annapolis for a first-class break? Washington DC is just 50 minutes west via US-50 W, but there's so much to do that you should stay for at least a couple of days. If you're into history and politics, it doesn't get any better ‐ sites like the Lincoln Memorial, Smithsonian National Air and Space Museum and Washington National Cathedral are inspirational. Don't forget to pop into the White House for tea with the POTUS and FLOTUS before you leave ‐ we hear their sandwiches are something special!
La Plata MD to Culpeper VA
Need a change from La Plata? Virginia's Culpeper is one hour and 40 minutes away via the VA-3 W and always makes a pleasant road trip. This is a hotspot for fans of US history as it played a key role in both the American Revolutionary War and Civil War, with many soldiers and civilians who died in both conflicts buried here in the National Cemetery. There are lots of lush vineyards in the city's outskirts and the local wine varieties are excellent ‐ Oldhouse Vineyard is recommended if a cellar tour sounds like fun. And if you want something novel to eat, treat yourself to some terrific Asian fare at Pinto Thai ‐ provided you've got a designated driver, they've got a fine selection of beers and cocktails too!