Top 10 San Diego road trips:
Located in the southern part of sunny California, San Diego is known for its idyllic climate, miles and miles of pristine beaches and numerous world-class attractions. While you'll love exploring this SoCal gem, did you also know that 'America's Finest City' is also a great starting point for many quintessential American road trips? To explore stunning natural attractions, quaint little towns, charming wine countries and more, read on to find out 10 epic road trips you can take from San Diego!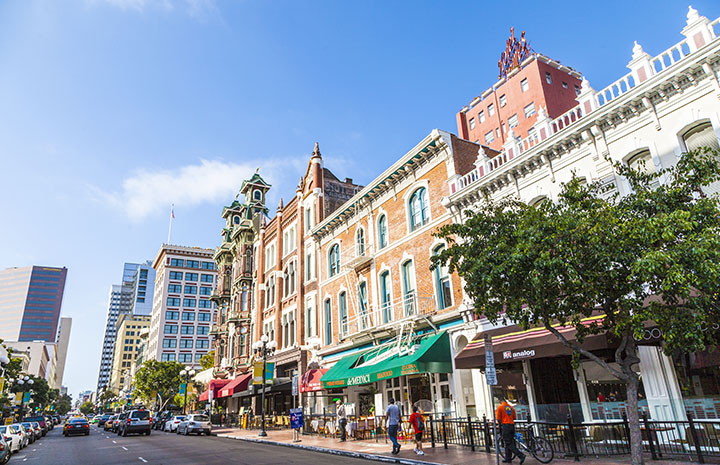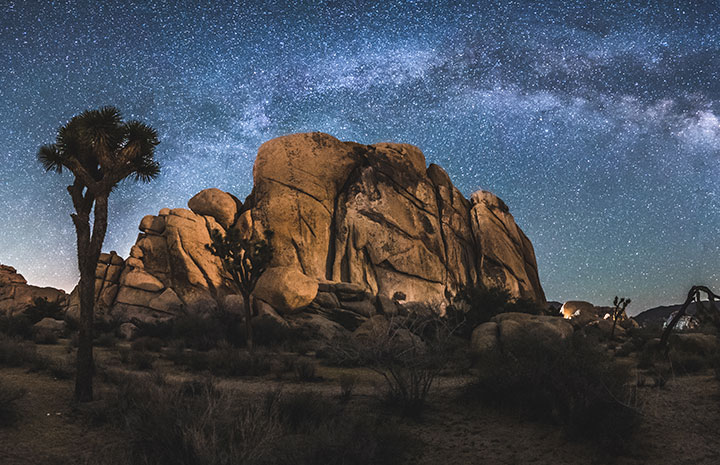 1. Joshua Tree National Park
If you're looking to hike through jaw-dropping scenery, stargaze extraordinary constellations, rock climb challenging vertical rock faces, stroll through fan palm oases, encounter rare birds and wildlife, and of course, take photos with incredible backdrops, Joshua Tree National Park may be the place for you. Named after the uniquely shaped trees resembling a person standing up with their arms stretched upwards, the national park features hiking trails and bouldering spots for every skill level. If you're a history or culture buff, you may like to explore the quirky town of Joshua Tree north of the park and pay a visit to the fascinating Noah Purifoy Desert Art Museum, an outdoor museum.
Getting there: Joshua Tree is the closest of the big California National Parks to San Diego and it takes around 3 hours to get there from the city. Visit between fall and spring to see the flowers in superbloom.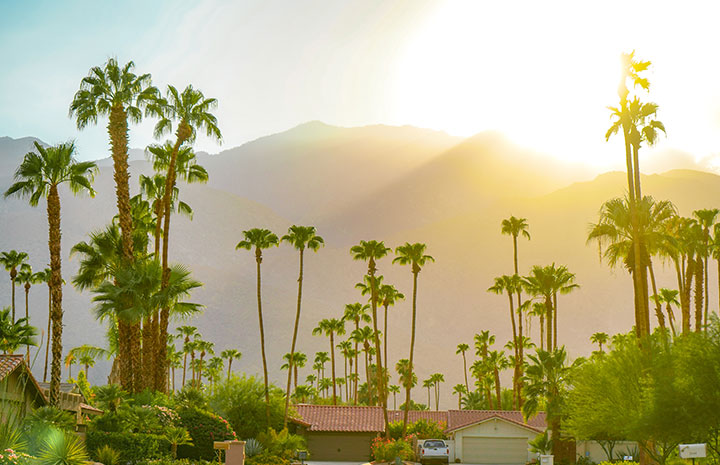 2. Palm Springs
The ultimate SoCal spa and resort destination, Palm Springs attracts well-heeled visitors from San Diego and Los Angeles looking for a relaxing escape from the hustle and bustle of the city. But poolside cocktail sipping isn't the only activity Palm Springs has to offer. You can cruise through Chino Canyon, one of the steepest desert canyons in America, on the world's largest rotating tram or blaze through the sands on an ATV. While Palm Springs has a well-deserved reputation for being bright and sunny all year round, it can also get scorchingly hot during the peak summer months of July and August. If you happen to visit this time, we suggest escaping to Mt San Jacinto's peak, the second-highest peak in southern California, and enjoying the cooler temperatures and breathtaking views.
Getting there: Palm Springs is around 126 miles from San Diego and will take you roughly 2 hours by car to reach.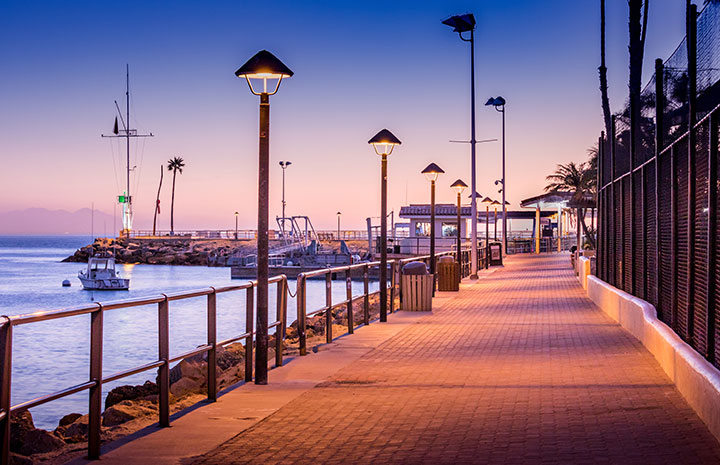 3. Catalina Island
Sitting just off the coast of southern California, Santa Catalina Island, or just Catalina Island as it's more commonly known, is the ultimate Maldives-like getaway from San Diego. There are coral reefs and shipwrecks that you can explore by glass-bottomed boat, snorkel, or full scuba gear. Alternatively, you also have the option to hike, sail, zip-line, paddleboat, spearfish, kayak, camp, parasail, dolphin watch, or just relax above ground with a cocktail in hand as you enjoy the gentle waves lapping the shore. Catalina Island is also home to numerous varieties of flying fish, seals and sea lions, and bison.
Getting there: From San Diego, drive an hour and 15 minutes north along the coast to Dana Point or Long Beach and catch a ferry across to the island.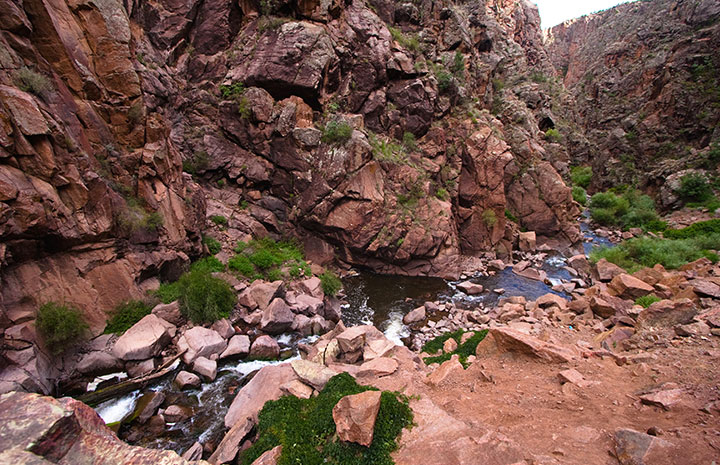 4. Guadalupe River Valley
Known for its vineyards and Baja Med cuisine, Guadalupe River Valley (more commonly known as Valle de Guadalupe locally) is just across the Mexican border in Baja California. The first thing on most people's itinerary is, of course, wine tastings. You can find everything from large wineries to boutique operations and they all serve world-class wines. Although Mexican wines don't make the news like their peers in nearby Napa Valley do, Baja California's mild climate and rich soils actually yield extremely sweet grapes with unique flavor profiles. For an unforgettable time, rent a 4WD high clearance vehicle to get to some of the harder-to-reach vineyards for a more private and exclusive wine-tasting experience or pay a visit to the Museum of Vine and Wine.
Getting there: San Diego is under a 2-hour drive from Los Angeles.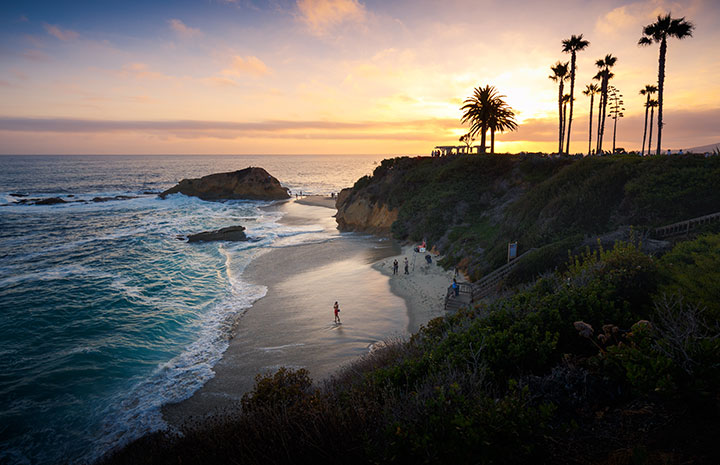 5. Laguna Beach
Laguna Beach is known for its pristine beaches, dramatic sunsets, bohemian-chic boutiques, attractive people, and eclectic beach town. Most people come to leisurely soak in the tide pools on the Main Beach or surf at the popular Aliso Beach Park. But if you've had enough of the ocean, head to Laguna Coast Wilderness Park, a 7,000-acre wilderness area in the San Joaquin Hills and featuring coastal canyons, ridgeline views, and the only natural lakes in Orange County. Alternatively, enjoy a sublime picnic in the gardens of nearby Heisler Park while admiring the artsy park benches, sculptures, rocky shores, and ocean views. If you're into backcountry wilderness and offshore underwater exploration, the nearby Crystal Cove State Park is an excellent spot to visit.
Getting there: From San Diego, drive north along the coast on the I-5 for about an hour and 15 minutes to reach Laguna Beach.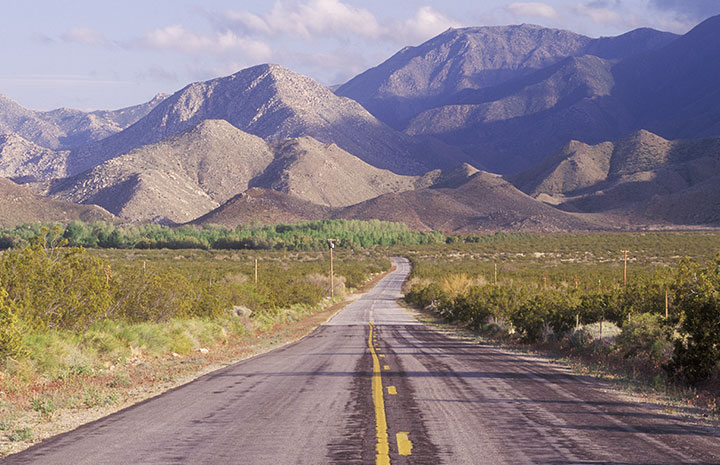 6. Anza-Borrego Desert State Park
One of California's most beautiful state parks, Anza-Borrego Desert State Park makes for a great weekend trip from San Diego. You can bike the dirt roads, hike through terrains that range from sand to rock and hilly to flat, catch the spectacular sunset at Font's Point, catch the wildflowers in full bloom as they form splendid multi-hued carpets, and admire mammoth sculptures of prehistoric creatures by Ricardo Breceda. If you're a novice hike, start with the Borrego Palm Canyon Trail, which features gentle palm groves. You may even spot a bighorn sheep if you're lucky. If you're a bit more experienced, we recommend the Slot Canyon hike near Borrego Mountain Wash or the challenging Wind Caves trail, both of which require a considerable workout but the payouts are more than worth it.
Getting there: Anza-Borrego Desert State Park is situated exactly halfway between Joshua Tree National Park and San Diego and takes approximately 1 hour 50 minutes by car.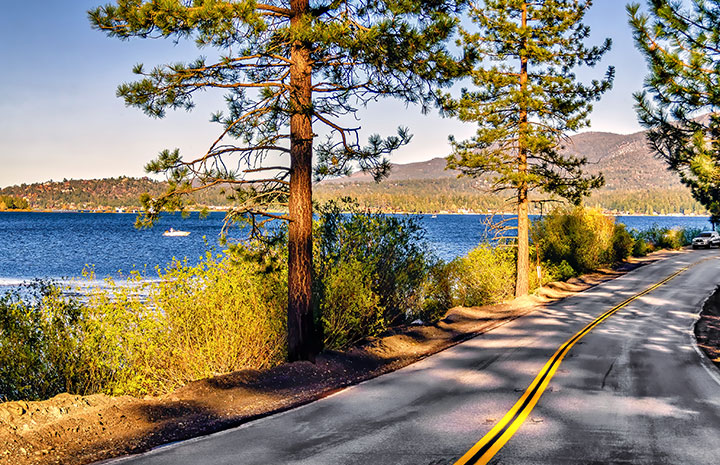 7. Big Bear
An all-year-round destination, Big Bear is one of California's most popular tourist attractions, and for good reason. During the summer, you can jet ski, kayak, parasail, hike, and fish. However, once the winter ushers in some snow, Big Bear draws in snowboarders and skiers from all across the country. At the very least, you'll see people tubing, sledding, snowshoeing, and drinking lots of hot chocolate. The winter months of January and February comprise Big Bear's peak season so you can expect a lot more entertainment and dining options as well as elevated prices overall. Aside from the plethora of outdoor activities, there's also a charming little village with cobblestone streets.
Getting there: Before you drive down, ensure your car tires are appropriate for the season. From San Diego, it's a 2.5-hour drive to Big Bear.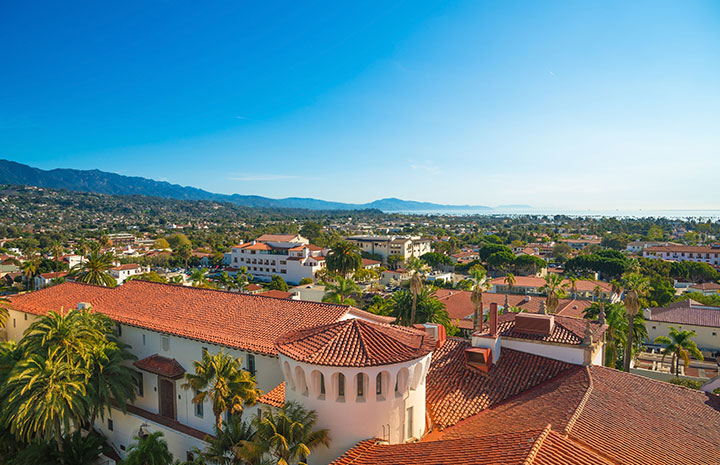 8. Santa Barbara
Home of quintessential old-school Californian glamour, Santa Barbara boasts palm tree-lined waterfronts, Spanish Colonial Revival-style architecture, lush botanical gardens, splendid beaches, mansion homes and Mediterranean rooftops for the moneyed crowds of the West Coast. Although much of the city was destroyed during a major earthquake in 1925, the way it was rebuilt highlights the best parts of the city's classic chic vibe of the early 1920s. For the complete Santa Barbara experience, wake up early to catch the ethereal morning mist in the Romero Canyon mountains, take a bike ride along East Beach, visit the open-house Casa del Herrero, stroll through the lively downtown, and keep an eye open to spot one of the many celebrities that live in the posh hillside suburb of Montecito.
Getting there: From San Diego, head north towards Los Angeles and hop onto US-101 N to reach Santa Barbara is about 3 hours 15 minutes.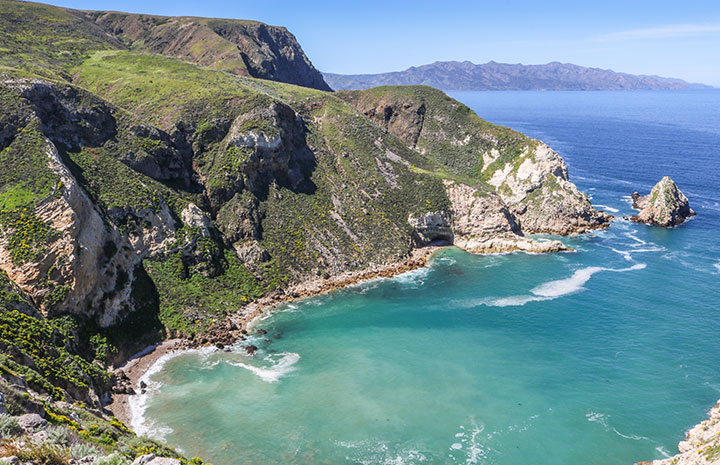 9. The Channel Islands
Around 20 miles off the coast of California, The Channel Islands National Park is nicknamed the 'Galapagos of North America,' for its unspoiled nature. From spotting migrating whales passing to swimming alongside dolphins, canoeing on the crystal clear waters, camping underneath spectacular constellations, and spotting the adorable yet elusive island fox, the Channel Islands are a perfect getaway from the city into the arms of nature. While the largest island of Santa Cruz is where most visitors start and end their trip, we recommend taking a boat to the smaller islets of Santa Barbara, Anacapa, and East Anacapa.
Getting there: Starting from San Diego, drive up to the port of Ventura before taking a ferry to The Channel Islands. It should take around 3 and a half hours.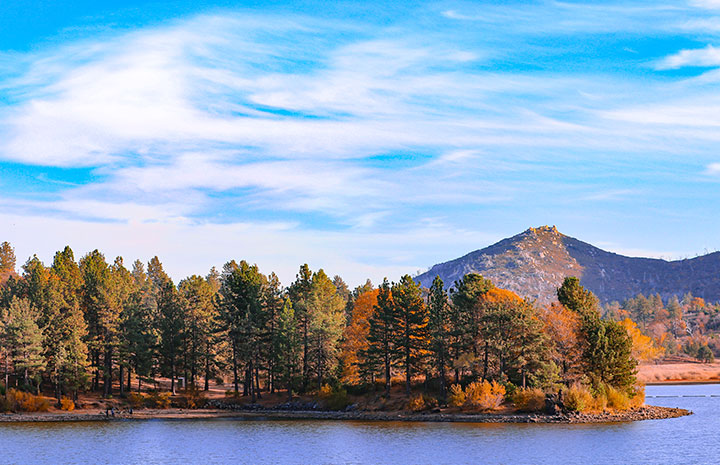 10. Julian
A pristine mountain town in the beautiful Cuyamaca Mountains within San Diego County and a slightly off-the-beaten-track destination, Julian is a hidden gem just an hours' drive from San Diego. Although just four blocks long, this tiny town packs a serious punch when it comes to making an impression on the unwary visitor. If you're a fan of the quirky, you'll like the gold mine tour, flights of uniquely flavored beers at Julian Beer Co., tarot reading to know if you and the cutie who caught your eye the other day are meant to me, and sinfully delicious apple pie. Some would say the pie alone is worth the trip. To reach Julian, take the winding stretch of Highway 78 from San Diego.
Getting there: While it's only a 1-hour drive, you may feel like you've traveled back many years in time. It's the perfect pit-stop on your way to Anza-Borrego Desert State Park.