Top 10 Road Trips from Idaho
Boise ID to Burns OR.
Preston ID to Salt Lake City UT.
Moscow ID to Moses Lake WA.
Bonners Ferry ID to Creston (Canada).
Coeur d'Alene ID to Seattle WA.
Amsterdam ID to Jackpot NV.
Fish Haven ID to Dinosaur CO.
Cliffs ID to Jordan Valley OR.
Pocatello ID to Rock Springs WY.
Island Park ID to Big Sky MO.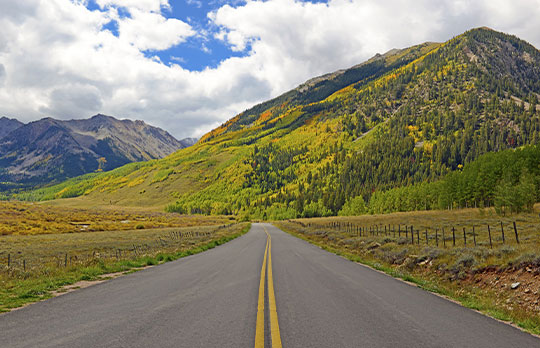 Top 10 scenic trips from Idaho
Nestled between Washington, Montana and Wyoming, Idaho is officially known as The Gem State and (aptly), it's a hidden gem that's a joy to discover and a great place to live. With 114 rugged mountain ranges and 3.9 million acres of wilderness, it's one of America's most unspoiled states, and top attractions in the great outdoors include the spectacular Sawtooth Mountains, the stark Craters of the Moon landscape, and Hells Canyon ‐ the deepest river gorge in the US.
State capital Boise is lush, cosmopolitan, and multicultural ‐ Grove Plaza is a gorgeous downtown gathering place and the city hosts the world's largest Basque population outside Europe. If you want to swap four wheels for two for a while, hire a bike and scoot around the Greenbelt ‐ a scenic 25-mile track that links various pretty parks and crosses the calm. Boise River. This is also the heartland of the Nez Perce indigenous people, and you can learn all about their rich history, arts and culture at the Museum of Nez Perce Culture in Spalding.
Idaho's great geographical position makes it the perfect starting point for a range of exciting road trips ‐ hire a car here and the Pacific Northwest is yours to explore.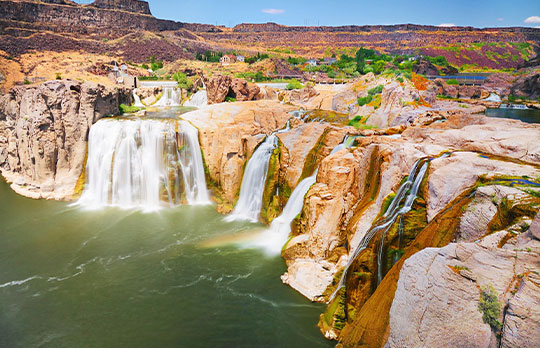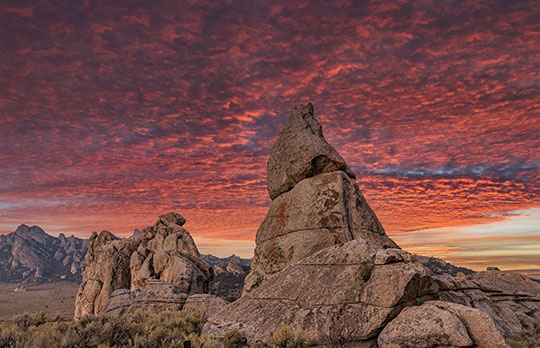 Top tips on driving in Idaho
Let's take a quick pitstop for some driving tips before putting the pedal to the metal for your top 10 road trips from Idaho.
Driving in Idaho is usually straightforward, but things can get a little tricky in snowy winter conditions. A collapsible shovel and snow scraper are wise investments and rather than donning a bulky jacket behind the wheel, layer up for warmth, comfort, and maneuverability.
Speed limits in the state are 25mph for school zones (during drop-off and pick-up times, 30mph in residential areas, 65mph on urban freeways, 70mph on undivided and divided roads and 80mph on freeways in the countryside.
Now let's roll out for those scenic road trips!
Boise ID to Burns OR
Yearning for a three hour road trip through some stunning scenery to an outstanding Oregon destination? The I-84 W and US-20 W route to Burns has your name on it. Attractions in and near your destination include the sublime Steen Mountains, the Alvord Desert, Malheur National Wildlife Refuge and tons of dramatic hot springs and fantastic fishing areas. The Harney County Historical Museum is always popular with history buffs ‐ it features lots of fascinating frontier and Native American artefacts.
Preston ID to Salt Lake City UT
Based in Preston and looking for a southbound sojourn to Utah? The road trip to Salt Lake City is one hour and 45 minutes via US-91 S and I-15 S and it's always rewarding. If you love snowsports, Utah Olympic Park is the perfect place to ski or snowboard, while the Redwood Drive-In Movie Theatre is a classic slice of Americana that's been entertaining fans since 1948. If you prefer splashing around, Great Salt Lake Marina is the Western Hemisphere's biggest saltwater lake, has almost as much salt as the Dead Sea and is ideal for sailing, paddle boarding and kayaking.
Moscow ID to Moses Lake WA
If you want to escape Moscow for a family weekend away, Washington's Moses Lake is 2 hours and 30 minutes away from Moscow via WA-26 W and there's plenty to see and do. The Surf 'n Slide Waterpark includes a large pool, three slides, a river and surfing simulator, while Blue Heron Park has beautiful sandy beaches, forest glades, a boat ramp and picnic tables. For something a little more serene, wander around the Japanese Peace Garden and experience Zen-like bliss amidst that well-ordered lawns and calming water features. All together now: 'ohmmm'.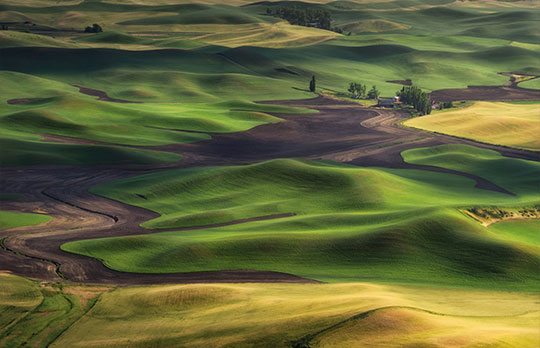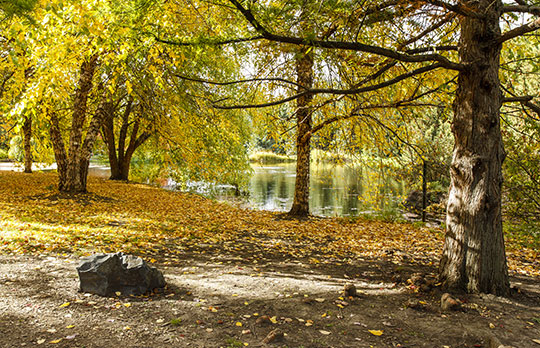 Bonners Ferry ID to Creston (Canada)
How does a cross-border road trip from Bonners Ferry sound? Creston in Canada's British Columbia is just 45 minutes northwards via US-95 N and ID-1 N, so it's a perfectly manageable day trip. The Creston Valley is always a joy to visit, and it boasts three vineyards producing excellent wines, as well as scenic hiking and biking trails in the Purcell and Skimmerhorn mountains, and canoeing, swimming, and bass fishing at Duck Lake. It's also a creative hub ‐ join the annual Creston Valley Art Drive to find out why!
Coeur d'Alene ID to Seattle WA
Want a weekend away from Coeur d'Alene in the city lights of Seattle? The Washington hotspot is around 5 hours away via I-90 W. Stop to refuel your vehicle (and stomach) at pretty Ellensburg in the Kittitas Valley on the way and take your time to cruise through the terrific terrain. At Seattle, there's so much to do that you might want to stay a week. Start with the stunning views from the 605-ft tall space needle, visit the Frank Gehry-designed Museum of Pop Culture (MoPOP) and enjoy the graceful show at Pacific Northwest Valley. Don't miss Pike Place Market if you want to pick up a bargain ‐ you'll find local fare and unusual souvenirs.
Amsterdam ID to Jackpot NV
Jackpot Nevada is just 25 minutes south of Amsterdam Ohio via US-93 S and it's a brilliant day trip for anyone who fancies trying their luck at the tables or roulette wheels. Top casinos here include Cactus Pete's Resort Casino, Horseshu Hotel & Casino and Barton's Club 93. If you want to give the gambling a miss, there's also some superb scenery at the verdant Jackpot National Forest and the frontier town of Jarbidge is always worth a visit.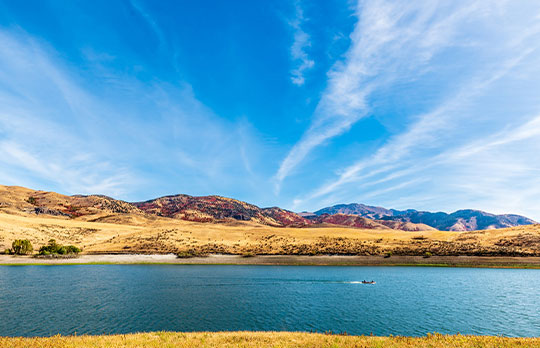 Fish Haven ID to Dinosaur CO
Want a road trip from Fish Haven that takes you back in time? The WY-414 S route to Dinosaur, Colorado takes around 4 hours 20 minutes, so you'll want to make a weekend of it to relax and unwind. The top attraction here is the Dinosaur National Monument, a 210,844-acre wonderland peppered with plant and animal fossils from the Jurassic period. While you're there, cruise the 18-mile Yampa Bench Road to take in canyon views and historic ranches ‐ there's something for everyone.
Cliffs ID to Jordan Valley OR
Oregon's Jordan Valley is only 45 minutes from Cliffs via Soldier Creek Road and Pleasant Valley Road, so it's always a popular day trip for drivers. A historical gold rush area, isolated and idyllic Jordan Valley was once the stomping ground of Native Americans who hunted and fished along the beautiful Owyhee River and its dramatic rock foundations and canyons are just as spectacular today. This is the ideal place to take a cathartic hot springs dip, try fly fishing and generally relax and unwind. Roll on down to Jordan ‐ you won't regret it!
Pocatello ID to Rock Springs WY
This 4 hour road trip from Pocatello Idaho to Wyoming's Rock Springs along US-30 E takes four hours but rewards you with unique scenery and riveting history. When you get there, you can take an off-road trip along the Pilot Butte Wildhorse Scenic Loop to see the elegant wild horses that grace this part of the world or tour the fabulous Flaming Gorge National Recreation Area. The Killpecker Sand Dunes are also superb, and you can find out all about the area at the Rock Springs Historical Museum downtown. This is a terrific trip for anyone who likes things that are a little out of the ordinary.
Island Park ID to Big Sky MO
Want to carve up the slopes and enjoy pristine pow? Montana's Big Sky Resort is just 1 hour and 30 minutes from Island Park and it's a must-visit for snowsports fans. As well as traditional snowy pastimes, you can mush your own dogsled team, sample a delicious dinner accompanied by a guitar-playing cowboy at Lone Mountain Ranch, and try top-rated coffee at Treeline Coffee Roasters. Good places to stay include the Rainbow Ranch Lodge, Natural Retreats and The Wilson Hotel. For fun on the slopes and a thriving apres-ski scene, Big Sky is a brilliant road trip destination.