Westchester County Airport Parking
Find the best parking deals at Westchester County Airport
With a massive choice from the biggest brands, Enjoy the best way to find the best prices for car hire in Westchester County Airport.
Huge choice car parks to suit every budget
Save up to 70% compared to buying on the day
Working with the best partners in Airport Parking
Parking at Westchester County Airport
Jetting off from Westchester County Airport (HPN) soon and needing a safe, suitable parking space?
You're in the right place, because this great guide has all the HPN parking info you could ask for – as well as free bonus tips on making your pre-flight experience as perfect as possible.
And if you've never been to this part of New York state and have some time to spare, why not have a pre-vacay sojourn before you jet off?
There are lots of fascinating attractions here, including the Lyndhurst Mansion, an attractive 19th-century Gothic pile with plush interiors, lush gardens, and sublime Hudson River views. And speaking of that famous waterway, taking a boat ride on the Hudson is a unique way to see the local area and learn the history.
Literature fans might want to visit Sleepy Hollow Cemetery, to pay homage at the grave of 'The Legend of Sleepy Hollow' author Washington Irving, while outdoor fans love hiking in Big Bear Mountain State Park, which is packed with camping, fishing, and boating areas as well as over 100 miles of hiking trails. And if you've got green fingers, take some tips from the gardening pros at the New York Botanical Garden, which has over 15,000 plant species.
Are urban attractions more your bag? White Plains is a super place for shopping, with over 200 diverse stores in its downtown area alone. Westchester Broadway Theater is the perfect place to catch a live stage show. And Tarrytown Music Hall has a calendar packed with dance recitals, plays and concerts.
How about Westchester County hotels? Turns out there are some superb choices, including the Opus Westchester, with its 5 stars, 2 onsite restaurants and rooftop pool. Alternatively, Westchester Marriot is a nice modern establishment with a 24/7 gym, 2 restaurants, spa area and business center.
Sonesta White Plains Downtown is another solid choice, and Castle Hotel & Spa is a 19th century castle with luxe suites, delicious French cuisine, and a lovely pool. Then there's the Hampton Inn White Plains/Tarrytown, with its fitness center, indoor pool and gratis breakfast.
What a wonderful place to spend some time – in a part of New York state often overshadowed by the Big Apple.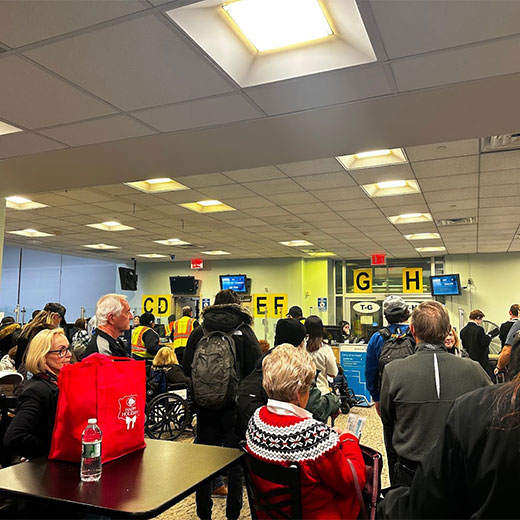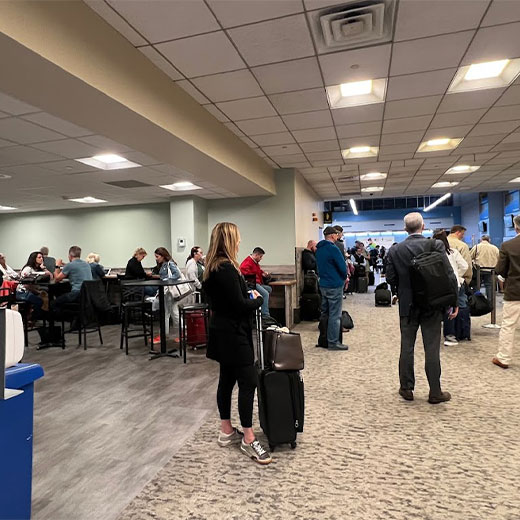 Find the best deals at Westchester County Airport
When you're really doing some detective work on your HPN parking deals, there are a few old pro tricks to try.
For instance, check whether your employer offers discount HPN parking and have a search for discount coupons online. You also might get cheap parking at one of the hotels near the airport. For some general tips, try to book your parking as far in advance as possible, avoid traveling at peak times if possible and try parking in a remote lot for a cheaper deal.
Compare parking at Westchester County Airport
How many parking spaces are there in total at Westchester County Airport? 4,700 actually, and they're divided between Economy, Long Term and the Main Terminal Garage.
Interestingly though, this airport started life as a military facility. First built as a WWII Air National Guard station in 1942 to protect New York City, it morphed into a joint civilian and military facility between 1949 and 1983.
The first scheduled passenger service from HPN was a Monday-Friday morning flight from La Guardia airport continuing to Syracuse Hancock and onwards, then returning each evening. United Airlines and Air Florida came to the airport in the 1980s and carriers like Carnival Airlines, Midway Airlines and AirTran Airways followed. Nowadays airline partners include American Airlines, United Airlines, Delta Air Lines and JetBlue Airways and HPN is a significant economic contributor to the region, pumping billions into the economy and employing thousands.
Located New York state's Rye Brook, this air hub is 25 miles from NYC and well connected to the road network via the New York State Thruway and Interstate 95, as well as by public transport systems such as the Westchester County Bee-Line Bus System and Metro-North Railroad.
What parking is there at Westchester County Airport?
Comparison sites can also be rewarding places to look for Westchester County Airport parking deals. For instance, Looking4Parking and APH usually offer discounted rates for groups such as serving military members and AAA members (for on- and/or offsite parking).
However, you can't go wrong with the HPN official parking provision, which is as follows:
Main terminal garage
Right next to the terminal, the Main Terminal Garage has 2400 spaces and rates are applied per half hour, per hour and per day. It's convenient, but not the cheapest parking option here.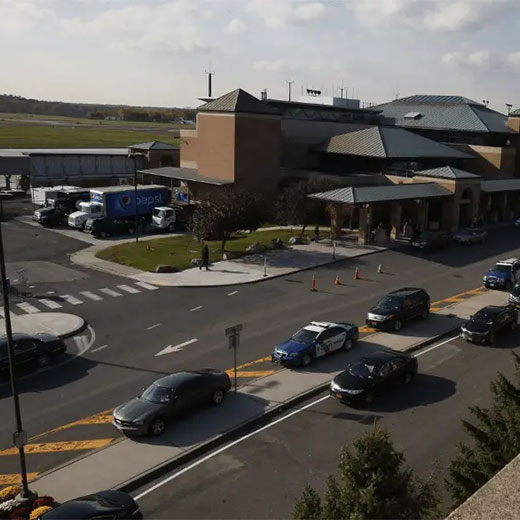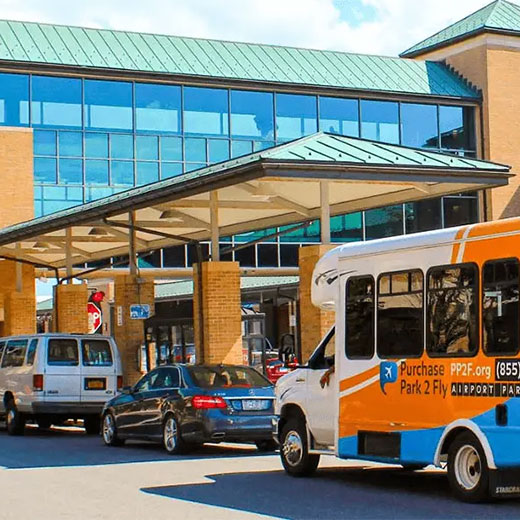 Long-term Lot
Sitting around half a mile from the terminal building, the Long-term Lot has 1800 spaces, and the daily rate is reasonable – particularly if you're away for over three days.
Economy Lot
1 mile from the terminal, the economy lot has 700 spaces, and the parking is very keenly priced, so it's ideal if you're price focused.
Cell phone waiting lot
Free for one hour (ideal for picking up and dropping off passengers), the cell phone waiting lot is located off Airport Road.
It's always recommended to reserve parking, but its not required at HPN in any area except the Main Terminal Garage.
Valet parking is also available in the Main Terminal Garage and there's parking for disabled passengers in the Long-Term Lot and Main terminal Garage – the bays are free for the first two hours. Last but not least, there's parking in the main terminal garage for FlyAway bus passengers.
Getting to Westchester County Airport
It's always best to check traffic conditions, but driving to Westchester County Airport is a breeze.
For instance, if you're motoring in from White Plains, take I-287 South to Exit 11 and follow Airport Road to the airport.
From New York City, take the New York State Thruway (I-87) North to Exit 11 and follow Airport Road until you reach the terminal. From Yonkers, drive on the I-95 North to Exit 12, then follow Route 119 East to the airport.
Traveling in from Tarrytown, take Route 9 North to Exit 11, then follow Airport Road.
From Greenwich, Connecticut, take the I095 South to Exit 12, then follow Route 119 East to the airport. And from Stamford, Connecticut, take I-95 North to Exit 11 and follow Airport Road to the terminal.
For the latest news on traffic and anything else in this area, tune into WVOX 1460am. It's know as Westchester's Hometown Station.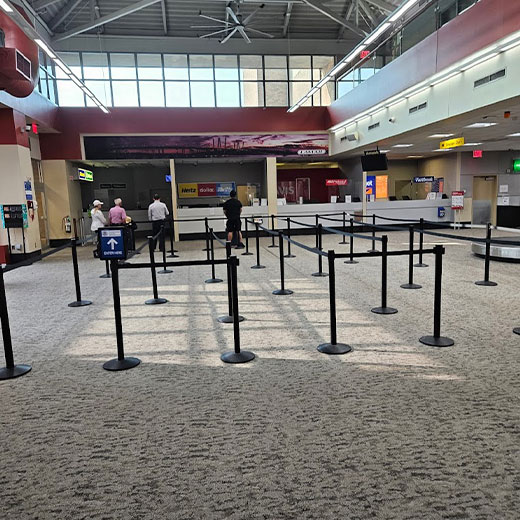 Facilities at Westchester County Airport
Facilities at HPN are of a good standard. For instance, there's a good selection of food and beverage options, including a bar, coffee shop, full service restaurant and snack bars (more of which soon). And the shops selection is appropriate for the size of the airport too, with all your essentials.
Other useful amenities include two ATMs, free Wi-Fi throughout the terminal building, baggage storage and currency exchange.
HPN is also a pleasant place to spend time thanks in no small part to its collection of public art. The centerpiece at the airport is 'Wavelengths' by James Carpenter – an expansive, abstract sculpture made of glass and stainless steel, which sits right in the middle of the terminal.
And there's also 'Flight Path' by Tom Otterness – a series of sculptures in the baggage area that represent airborne humans and animals. Then there's 'The Traveler' by John Ahearn – a brilliant bronze of a man on sat on a bench. As well as 'The Spirit of Flight' by Richard Hunt.
Westchester County Airport also features lots of murals, paintings, photos and other smaller art exhibits. It's a diverse collection that reflects the beauty of the airport and its surroundings.
If you're hungry, there are lots of places to fill your belly. Dunkin Donuts has classic coffee, breakfast treats and (of course) donuts. Alternatively, Sashimi State serves Japanese favorites like sushi and sashimi, while Wing Lady specializes in burgers, wings, and hearty bar food.
And when it's time to shop, Newsstand is the place to pick up snacks, drinks and magazines, the Gift Shop is the place to pick up travel essentials, clothing, and souvenirs, and there's also a convenience store for drinks and snacks.
So there you have it: the ultimate guide to parking at Westchester County airport, as well as top tips for a legendary pre-flight experience. Wherever you're heading, have a great time!
Got a Question? Chat with our US support team
Our online chat is available 8:30am to 5:00pm weekdays. Email: [email protected]
FAQs about car hire at Westchester County Airport
Most frequently asked questions about hiring a car at Westchester County Airport
To avoid incurring fees, it is necessary to modify or cancel your Westchester County Airport parking reservation at least 48 hours prior to your scheduled trip; however, changes made within the 48-hour period will result in a $5 charge.
Enjoy Travel suggests that the optimal and most effective method to obtain significant parking discounts at Westchester County Airport is by utilizing their online reservation system well ahead of time.
Westchester County Airport offers various parking choices, including short-term, long-term, economy, valet parking, reserved parking, and a cell phone waiting area for the convenience of travelers.
The simplest and most efficient way to locate a parking spot at Westchester County Airport is to follow the clearly marked signs that lead you to the various parking choices, facilitated by the well-developed road network within the airport premises.
Westchester County Airport ensures parking safety by implementing security patrols, surveillance cameras, well-lit lots, emergency assistance points, access control measures, and, in some areas, the presence of parking attendants and public safety officers.
At Westchester County Airport, short-term parking lots are conveniently located within a short walking distance from the terminal, long-term parking lots are slightly farther and may require a brief shuttle ride, while economy parking lots are the farthest and accessible by shuttle to the terminal building.
Westchester County Airport provides charging stations for electric vehicles (EVs) in certain parking areas.
Westchester County Airport offers long-term parking options, which are suitable for travelers parking for an extended period, including overnight stays. These long-term parking lots are designed to accommodate travelers going on longer trips, and they typically have a daily or weekly rate.
To ensure you have a parking spot available and take advantage of discounted rates, it is advisable to book your parking space in advance, especially during peak periods.
Arriving early at the Westchester County Airport parking lot may lead to additional charges, which vary based on the time of arrival, and these parking fees can be settled using a credit or debit card upon exiting the parking facility.
The most economical parking option at Westchester County Airport is typically the "Economy Parking" lot. Economy parking lots are designed to offer budget-friendly rates for travelers going on extended trips.
The daily parking rates at Westchester County Airport ranged from approximately $3 to $5 per hour for short-term parking, with a daily maximum of around $39 to $45, and approximately $10 to $18 per day for long-term and economy parking.
With Enjoy Travel the cost of parking for a week at Westchester County Airport could range from approximately $70 to $126 for both long-term and economy parking options, while short-term parking for a week may cost around $273 to $315.
Explore popular airports in the US