Roanoke-Blacksburg Regional Airport Parking
Find the best parking deals at Roanoke-Blacksburg Regional Airport
With a massive choice from the biggest brands, Enjoy the best way to find the best prices for car hire in Roanoke-Blacksburg Regional Airport.
Huge choice car parks to suit every budget
Save up to 70% compared to buying on the day
Working with the best partners in Airport Parking
Parking at Roanoke-Blacksburg Regional Airport
Flying out from Roanoke-Blacksburg Regional Airport and looking for parking?
You're in good hands here, because we've scoured the lengths and breadths of the internet and beyond to prepare what might just be the ultimate guide to ROA parking.
If you can spare the time and are coming from out of town, this is also a superb place to spend an extra day exploring before you fly.
One great local attraction is the Mill Mountain Park and Discovery Center, which affords sublime city and mountain views as well as boasting its own carousel, planetarium, and museum. How nice.
If you love the great outdoors, make a beeline for the Roanoke River Greenway, a scenic trail taking you through a stunning natural area, while Carvins Cove State Park comprises 20 miles of trails to hike, a boating and swimming lake and campground to sleep under the stars.
And visitors keen on transport history and photography are in for a real treat at the O. Winston Link Museum, named after the iconic photographer who recorded the end of the steam era Stateside.
For concert, musical and drama vibes in the outdoors, try Theatre in the Park, which has a packed calendar throughout the year, while downtown Roanoke has entertaining and welcoming clubs, bars and restaurants – take a leisurely stroll around to see which ones suit your overall vibe.
If all that exploring gets you hungry, there are plenty of tasty eateries to choose from. For instance, Lucky Restaurant is a fantastic farm-to-table joint that specializes in contemporary Southern cuisine, while Fork in the Alley is a lovely gastropub serving American classics with local ingredients.
Vegans and vegetarians love the Purple Onion's plant-based creations, while the Elmwood serves seasonal US favorites, and the Roanoke Chophouse specializes in succulent USDA premium steaks, seafood and chops – definitely a top pick for meat lovers.
Looking for a place to unwind with a few drinks in Roanoke?
There's always a buzz at The Hive – a rooftop bar with scenic city views and the Mill Mountain Tavern has a huge beer selection and great pub lunch menu. There's also The Whiskey Jar, which has over 100 different types of whiskey to sample (not on the same day though) and The Cellar, a swish wine bar that also serves tasty nibbles.
When you need to rest your head, Hotel Roanoke downtown is a classy choice, and The Roanoke Hotel and Conference Center is another good choice, while the Jefferson Hotel is a chic boutique choice.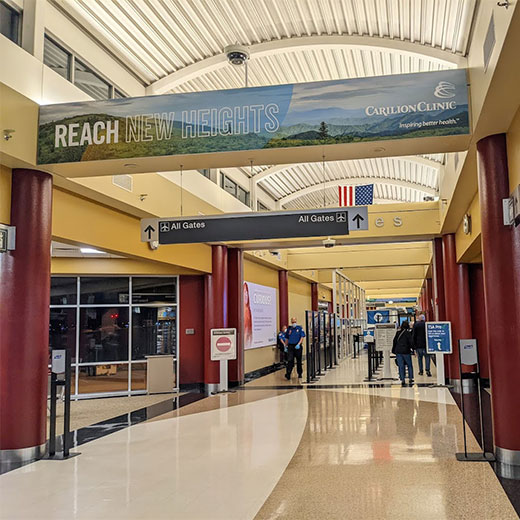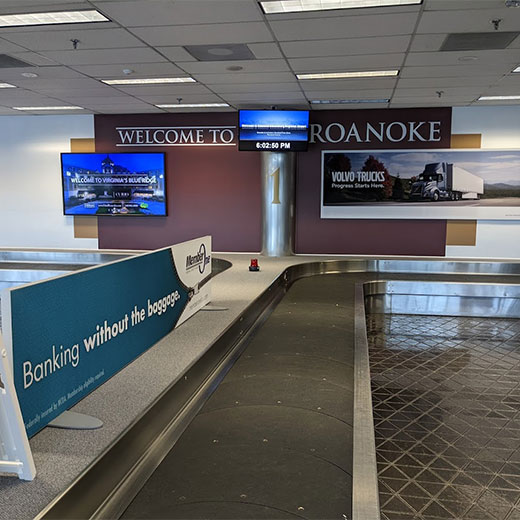 Find the best deals at Roanoke Airport
If you haven't already exhausted all options looking for Roanoke parking deals, there are a few pro tactics to take note of.
For instance, parking at the weekend is sometimes more expensive than during the week. So, if at all possible, adjusting your travel dates can unlock savings. You can also check whether your airline offers any parking deals, and there are several sites online offering ROA parking deals (recommendations to follow later).
By considering off-site parking, you also open yourself up to more deals, and if you're able to book in advance, this can also lead to savings.
Compare Parking at Roanoke-Blacksburg Regional Airport
With four parking areas and 1800 parking spaces, ROA is definitely one of the easier regional airports to park in.
First opened in 1929 as Roanoke Municipal Airport, it was initially planned as a small facility but expanded after being used as a pilot training base during WWII.
Renamed Roanoke-Blacksburg Regional Airport in 1952, it expanded further when a new terminal was added in 1987 and today the airport is a gateway to the Blue Ridge Mountains and a strong economic contributor to the regions.
What parking is there at Roanoke-Blacksburg Regional Airport?
ROA has an excellent official airport parking provision, but it's also worth considering parking comparison sites/apps like Looking4Parking and APH.
For instance, APH offers some great discounts for groups like serving military members and AAA members, while Looking4Parking can often offer discounts of more than 50%. Both these providers also work with secure parking facilities and offer free shuttle buses to and from your terminal.
Worth a thought then, but let's take a look at the official parking options at Roanoke-Blacksburg Regional Airport:
Short-term parking
The closest official parking to the terminal, ROA short-term parking is ideal when you're dropping off or picking up passengers. It's free for the first 15 minutes, after which you're charged every half hour.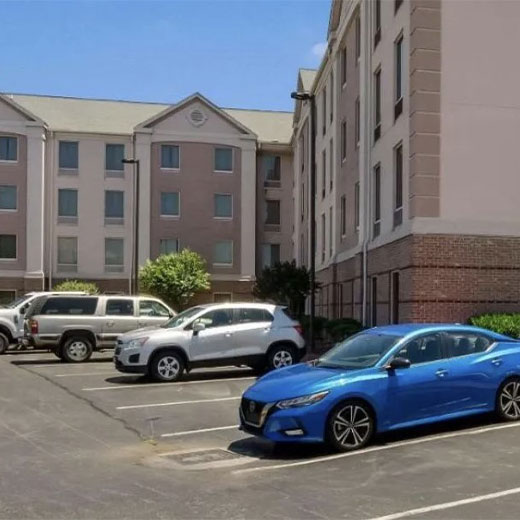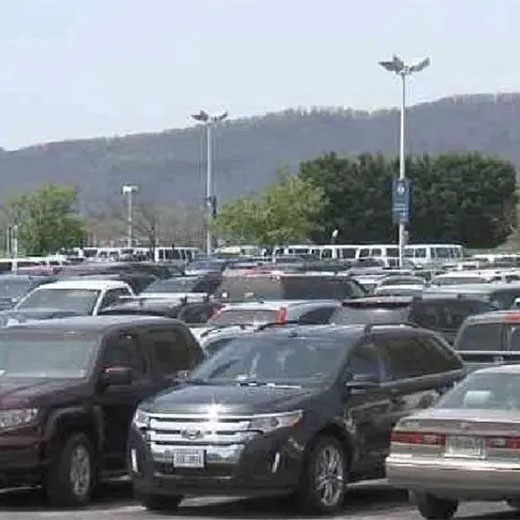 Long-term parking
Further from the terminal than short-term, long-term parking is a more affordable option and perfect when you're a way for more than a couple of days.
Cell Phone Lot
Located near the Arrivals Terminal, the cell phone lot is another good choice for pickups and drop offs and the parking is free for the first 30 minutes.
Overflow Lot
Located near the long-term lot, overflow is free for the first 15 minutes.
Getting to Roanoke-Blacksburg Regional Airport
ROA is easy to drive to from nearby locations, which is always reassuring when you're driving in.
You should plan your route as far ahead as possible and use GPS if available, but here are some basic driving directions.
If you're driving from Blacksburg, take US-460 East toward Roanoke, turn left onto Orange Avenue and the airport will be on your right.
Rolling in from Christiansburg? Take US-460 West toward Roanoke, turn right onto Orange Avenue and you'll soon see on your right.
Cruising in from Salem? Take US-220 South toward Roanoke, merge onto I-581 North, take Exit 4 for Orange Avenue and you'll soon see the airport on your right.
From Vinton, take US-220 North toward Roanoke, merge onto I-581 South, take Exit 4 for Orange Avenue and ROA is on your right.
Driving from Bedford? Take I-81 South toward Roanoke, then Exit 122 for US-220 East, follow US-220 East for 11 miles, turn right onto Orange Avenue and you'll soon see the airport on your right.
It should go without saying, but don't drink and drive and always strap on your seatbelt.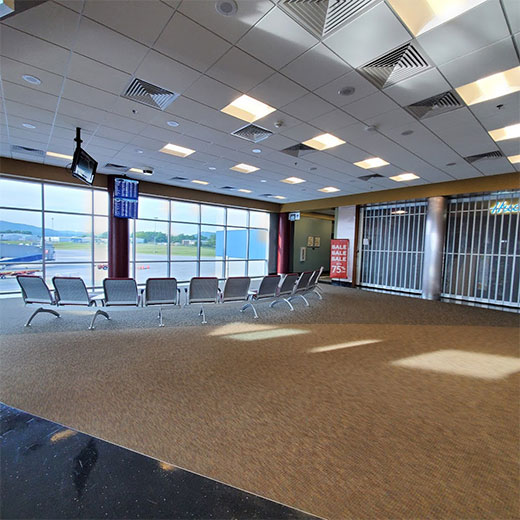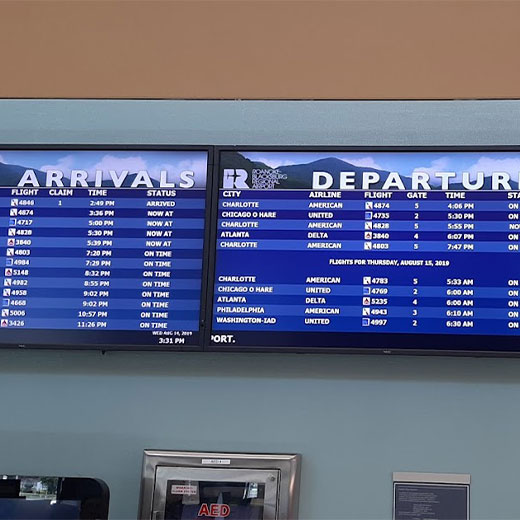 Facilities at Roanoke-Blacksburg Regional Airport
Everything's set up at ROA for a great pre-flight experience. And a well organized airport with great customer service is a bonus for any traveler and especially important when you're traveling with kids and/or elderly relatives.
Local transport links via bus and taxi are strong, and there's a wide variety of restaurants and shops (more details of which shortly).
You'll also find a family restroom with great changing table and childproof sink, while there are also nursing rooms with changing tables and comfortable furniture.
There's free Wi-Fi to check and send emails and keep up to date with your social channels, and other services include a nice children's play area, business center and lost and found.
If you need to pick anything up from the shops, there are plenty of places to flex your credit card. Get all the unusual and bestselling books you can handle at Books-A-Million, grab snacks, newspapers and magazines at Hudson News and pick up spirits, wine, and beer at The Perfect Pour. Meanwhile, Tailwind Concessions is worth looking into for souvenirs, snacks, and drinks.
When you're hungry, Starbucks has sandwiches, pastries, snacks and iconic coffees, and Pier 1 specializes in salads, pasta, and seafood.
Roanoke-Blacksburg Regional Airport is also notable for its public arts program. And when you're a slightly anxious flier or are simply feeling antsy because of unforeseen delays, taking in some of the airport's original pieces is very calming and rewarding.
One of the most memorable pieces is Aurora. This 20 ft Albert Paisley sculpture in the main terminal is inspired by the Northern Lights and certainly has an ethereal quality.
Meanwhile, The Sister Cities is a group of 12 bronze Betty Branch sculptures that depict Roanoke's sister cities, while The World is a village presents a world map with everyone on Earth represented.
And the Flight of the Spirit is also impressive : this David H Lewis stained glass window represents the world of travel with a bird created in flight.
As you can see, the parking at Roanoke is excellent and it's plainly obvious that this is an airport with excellent facilities and amenities. Whichever parking you choose, you'll be well taken care of, and your pre-flight experience will be calming and cathartic.
Wherever you're off to, park (and fly) safely and send us a postcard while you're away.
Got a Question? Chat with our US support team
Our online chat is available 8:30am to 5:00pm weekdays. Email: [email protected]
FAQs about car hire at Roanoke-Blacksburg Regional Airport
Most frequently asked questions about hiring a car at Roanoke-Blacksburg Regional Airport
In order to avoid any charges, it's important to modify or cancel your reservation for parking at Roanoke-Blacksburg Regional Airport at least 48 hours before your planned trip. However, if changes are made within this 48-hour period, a fee of $5 will be imposed.
According to Enjoy Travel's recommendation, the best and most efficient way to achieve substantial cost savings on parking at Roanoke-Blacksburg Regional Airport is to use their online reservation system well in advance.
Roanoke-Blacksburg Regional Airport offers a variety of parking choices, including short-term, long-term, economy, valet, reserved, cell phone waiting, and accessible parking options.
The easiest and most effective method to find parking at Roanoke-Blacksburg Regional Airport involves following clearly marked signs that direct you to the different parking options, aided by the established road infrastructure within the airport premises.
Roanoke-Blacksburg Regional Airport implements various safety measures, including surveillance cameras, proper lighting, security patrols, and access control, to ensure the security of parked vehicles and the safety of passengers using the parking areas.
The distances between the terminal and the different parking areas at Roanoke-Blacksburg Regional Airport vary, with short-term parking being conveniently close, long-term and economy parking located a bit farther and typically accessible via shuttle services, while valet parking is usually situated near the terminal entrance.
Yes, Roanoke-Blacksburg Regional Airport typically offers electric vehicle (EV) charging stations to accommodate travelers with electric vehicles. These charging stations allow you to charge your EV while parked at the airport.
Yes, Roanoke-Blacksburg Regional Airport generally allows parking for extended periods, including overnight stays. The airport provides various parking options, including long-term parking.
For the best results in securing a parking space and making the most of discounted rates, it's recommended to make an advance reservation for a parking spot, particularly during busy periods.
Coming to the parking lot at Roanoke-Blacksburg Regional Airport earlier than intended might result in extra fees, the exact sum of which depends on your arrival time. These parking charges can be paid using a credit or debit card when leaving the parking area.
The most economical parking option at Roanoke-Blacksburg Regional Airport is usually the "Economy Parking" choice.
The daily parking rates at Roanoke-Blacksburg Regional Airport range from approximately $6 to $14.
With Enjoy Travel the weekly parking costs at Roanoke-Blacksburg Regional Airport are around $42 to $98.
Explore popular airports in the US