Norfolk International Airport parking
Find the best parking deals at Norfolk International Airport
With a massive choice from the biggest brands, Enjoy the best way to find the best prices for car hire in Norfolk International Airport.
Huge choice car parks to suit every budget
Save up to 70% compared to buying on the day
Working with the best partners in Airport Parking
Parking at Norfolk International Airport
Flying from Norfolk International Airport (ORF)?
Whether you're off to Atlanta, Baltimore, JFK, or Tampa, it's the perfect launchpad.
And driving there's a smart move, because you can travel at your own pace and rock out to any playlist you like with no complaints (except perhaps from your teenagers).
The only thing left to organize is your ORF airport parking – and this guide reveals everything you need to know about stowing your car safely, plus extra info to help you plan a relaxed pre-flight experience.
If you're rolling in early from out of town, taking some time to explore Norfolk is a great idea, because there's so much to see and do.
For instance, the Battleship Wisconsin is a massive vessel which was crucial for U.S. Navy efforts during WWII. It's now a seriously cool museum where you can explore the engine rooms, turrets and ship decks.
If you're an art fan, the Chrysler Museum of Art is a world famous treasure trove which hosts 33,000 pieces including decorative arts, paintings, and sculptures from all four corners of the Earth. And for some cathartic nature, stroll around the 155-acre Norfolk Botanical garden with its Japanses garden, kids garden and herb garden.
Culture vultures also love taking in a show at the Virginia Stage Company, which performs several musicals and plays every year, while sports fans prefer to catch a ballgame at Harbor Park, home of the minor league Norfolk Tides.
To get your pulse racing, you can hike along the Elizabeth River Trail, which snakes for 13miles around the Elizabeth River and affords stunning cityscape views. And there's even more stirring action at the MacArthur Memorial and Museum, dedicated to the life and achievements of iconic WWII leader General Douglas MacArthur. And there's more military history at the Hampton Roads Naval Museum, which showcases the U.S. Navy's legacy in the Hampton Roads area, home of the world's biggest naval base.
If you're feeling peckish in Norfolk, Grace O'Malley's Irish Pub and Restaurant serves superb grilled cheese sandwiches, Varia is ace for Italian food, and Grain tops the list for vegetarian and vegan dishes.
Want to let your hair down a little? The Taphouse is a laid-back spot to watch sports and enjoy bar food and beer with friends, The Cellar is a swish wine bar, and The Birch has all your cocktails and craft beers covered. And don't forget Gershwin's – a high-end piano bar with an ace cocktail menu.
With all that excitement, you'll need somewhere restful to stay. The Residence Inn by Marriot Norfolk Downtown is perfect for families and The Glass Light Hotel is a chic boutique hotel with contemporary design. There's also the historic Hilton Norfolk and The Waterside Marriot, which has excellent river views.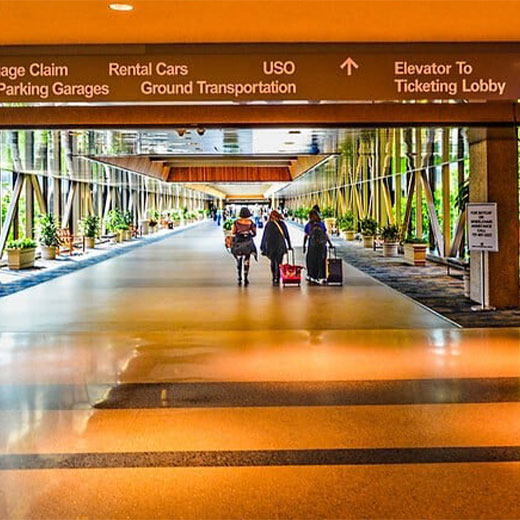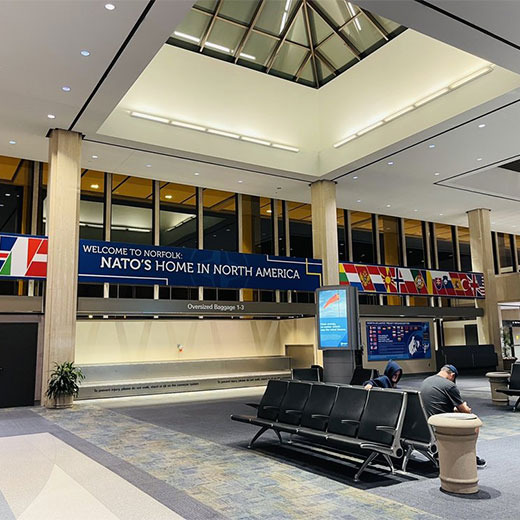 Find the best deals at Norfolk International Airport
Securing cheap ORF deals might not be as easy as many travelers presume, but there are a few standard tactics worth trying.
First off, simply ask your carrier – some airlines actually offer cut-price parking rates to their customers, which is great. If you're lucky enough to have a friend or family member near the airport, it's a no-brainer to ask if you can park at their house for free.
And if you've got time, check online to see which parking websites have offers (chances are, that's how you found this site). If you don't book there and then, you can sign up to parking provider emails so that you're notified whenever a great deal starts.
If you can be reasonably flexible with the dates you're traveling, you can perhaps avoid busy times like weekends and if you park for longer, you may save money too.
Compare parking at Norfolk International Airport
ORF has 10,500 parking spaces spread across four different areas, so there's something for every type of traveler.
And this is an airport that's taken customer service seriously since it was first established as Norfolk Municipal Airport in 1938 and built on the footprint of a former golf course. Originally envisaged as a bijou regional air hub, its reputation grew when it was used as an USAAF base during WWII and in the post-war years expansion continued apace.
Renamed Norfolk Regional Airport in 1968, it was renamed Norfolk International Airport in 1976 when it started serving international destinations and today it's the biggest airport in the Hampton Roads region, serving a peak 10 million annual passengers and connecting travelers to more than 50 exciting destinations.
What parking is there at Norfolk International Airport?
Parking comparison sites/apps are other ORF parking options worth a look. For example, Looking4Parking offers significant discounts for AAA members and military personnel, with a free shuttle to and from the terminal and secure berths with CCTV coverage.
Meanwhile, APH offers similar deals, with super-simple online booking and cancellation procedures. Both these providers also offer seasonal discounts, therefore they're worth keeping an eye on.
Right now though, let's take a look at your official ORF parking options.
Garage A
The closest parking to the terminal, Garage A has 3200 spaces. This is the most convenient option but not the cheapest.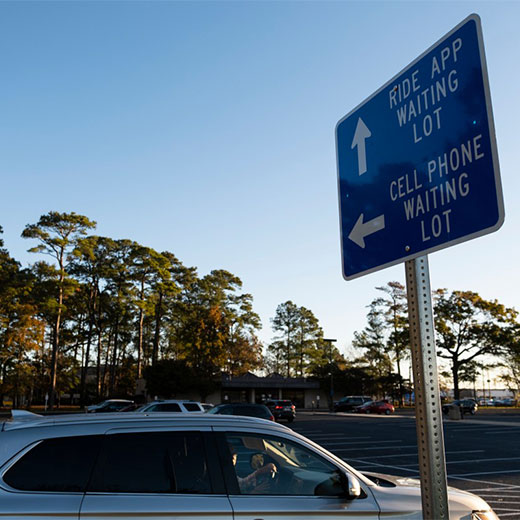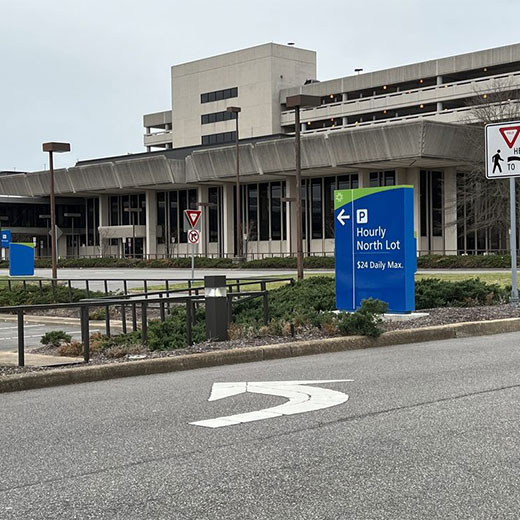 Garage B
Located right across from the terminal, Garage B has 2100 spaces and is more affordable than Garage A.
Garage C
Located near the car rental center, Garage C has 2000 spaces and the first 30 minutes is free.
East Lot
Set east of the terminal, this lot has 3200 spaces and is keenly priced.
Cell phone lot
Free for the first 30 minutes, the Cell Phone Lot is near the Arrivals Terminal and ideal for pickinf up and dropping off passengers.
Getting to Norfolk International Airport
Norfolk International Airport is a breeze to get to from nearby locations.
From Virginia Beach, take I-64 East to Exit 24A for Airport Boulevard, then follow Airport Boulevard to the airport.
Driving from Chesapeake? Take I-64 East to Exit 26 for Tidewater Drive, then turn right onto Tidewater Drive and follow the road to ORF.
Rolling in from Portsmouth? take the I-264 East to Exit 12 for Virginia Beach Boulevard, then turn left onto Virginia Beach Boulevard and continue along to the airport.
From Hampton meanwhile, take I-64 West to Exit 26 for Tidewater Drive, then turn right onto Tidewater Drive and continue to the airport.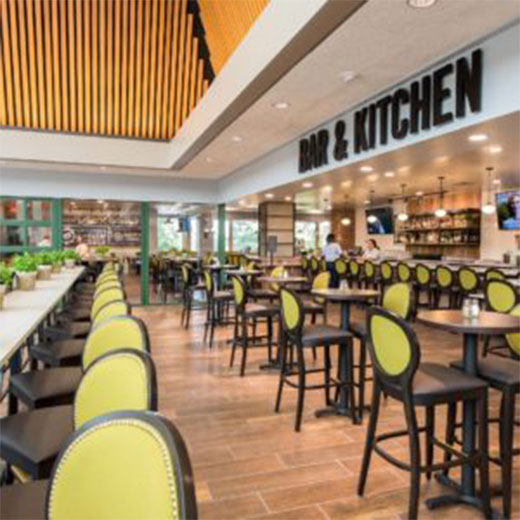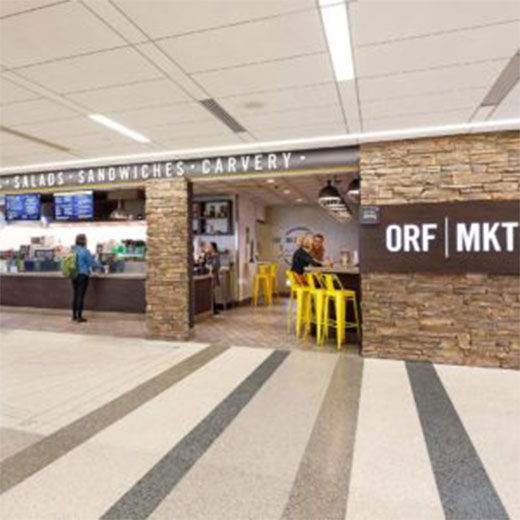 Facilities at Norfolk International Airport
As you probably expect, facilities and amenities at ORF are overall excellent.
The airport is well connected to public transport. It's a stop on the the Hampton Roads Transit (HRT) Light Rail system, and also offers onward connections via taxi and shuttle services.
The retail choice is great, with a range of shops and restaurants on offer (more of which shortly) and airport services include a well-appointed children's play area, currency exchange, lost and found, and business center.
There's also free Wi-Fi at ORF for all passengers, so you can easily keep in touch with friends and loved ones.
Other handy amenities include family restrooms, nursing rooms and ADA accessible facilities, including parking, restrooms, and elevators. ORF is also a wheelchair accessible airport.
Shopping options at Norfolk International Airport include Hudson News, Books-A-Million, The Perfect pour and Starbucks, as well as Caribou Coffee, The Local @ ORF, Back Bay Bistro and the ORF MKT.
If you're hungry, grab flame-grilled good ness at Burger King, Asian specialties at Panda Express, and footlongs with all the fillings at Subway.
Another underrated aspect of Norfolk International Airport is its wonderful public art installations. They're located throughout the facility and reflect the natural beauty, culture, and history of the region.
There are several stunning pieces, but perhaps the most memorable is Navigator, a 24-foot high heron sculpture cleverly created from decommissioned plane parts and structural steel and aluminum. Created by Lisa Adler and Don Kennell of DKLA Design, it's certainly a sculpture to remember!
But don't miss Threshold, another awesome art piece comprising five glass panels reflecting the preternatural beauty of Chesapeake Bay. Created by artist William Crouch, it's much-admired.
As you wander around ORF, you'll see many more artworks of various sizes, including murals, sculptures, and paintings, carefully placed in terminal concourses and other public spaces.
ORF's public art programme provides travelers with a unique opportunity to relax as they gaze at beautiful and interesting objects, learning something new along the way.
And that's all folks – everything you ever wanted to know about parking at ORF and a bit more besides. Bon Voyage!
Got a Question? Chat with our US support team
Our online chat is available 8:30am to 5:00pm weekdays. Email: [email protected]
FAQs about car hire at Norfolk International Airport
Most frequently asked questions about hiring a car at Norfolk International Airport
In order to avoid any charges, it is essential to modify or cancel your reservation for Norfolk International Airport parking at least 48 hours before your planned travel. However, if changes are made within this 48-hour window, a fee of $5 will be imposed.
According to the recommendation from Enjoy Travel, the most advantageous and efficient method to achieve substantial savings on parking at Norfolk International Airport is to use their online booking platform well in advance.
At Norfolk International Airport, travelers have a range of parking options to choose from, including short-term, long-term, economy, and premium parking, catering to different needs and preferences.
The easiest and most effective method to find parking at Norfolk International Airport is by following the clearly marked signs that guide you to the different parking options, aided by the existing road infrastructure within the airport premises.
At Norfolk International Airport, parking safety is ensured through measures such as security patrols, surveillance systems, well-lit areas, access controls, emergency call stations, regular inspections, collaboration with authorities, and public awareness efforts to prevent theft and unauthorized activities.
The distances between the terminal and the parking areas at Norfolk International Airport vary, with short-term parking being closest for quick access, long-term parking slightly farther, economy parking at a greater distance with shuttle service, and premium parking providing the closest proximity for convenience.
Yes, you can charge your electric vehicle at Norfolk International Airport. The airport provides electric vehicle charging stations to accommodate travelers with electric vehicles who need to charge their vehicles while at the airport.
Yes, you are allowed to park for an extended period overnight at Norfolk International Airport. The airport offers various parking options, including long-term and economy parking, to cater to travelers who need to leave their vehicles at the airport for an extended duration, such as overnight trips or longer.
To guarantee a parking space and make the most of discounted rates, it's recommended to reserve a parking spot ahead of time, particularly when demand is high.
Coming to the Norfolk International Airport parking area earlier than scheduled might result in extra fees, the specific amount of which will depend on your arrival time. You can pay these parking charges using a credit or debit card when you leave the parking facility.
The "Economy Parking" option is generally the most budget-friendly choice at Norfolk International Airport. While it might involve a slightly longer distance from the terminal, this option often offers more affordable rates and is suited for travelers looking to save on parking costs.
The daily parking rates at Norfolk International Airport ranges from $9 to $16, depending on the parking option you select.
With Enjoy Travel the weekly parking rates at Norfolk International Airport range from approximately $63 to $112, depending on the parking option you choose.
Explore popular airports in the US