Los Angeles International Airport parking | LAX
Find the best parking deals at Los Angeles International Airport parking
With a massive choice from the biggest brands, Enjoy the best way to find the best prices for car hire in Los Angeles International Airport parking.
Huge choice car parks to suit every budget
Save up to 70% compared to buying on the day
Working with the best partners in Airport Parking
Parking at Los Angeles International Airport
Even if you live in or around Los Angeles, there's a certain je ne said quoi about flying from Los Angeles International Airport (LAX).
Maybe it's that sprinkle of Hollywood stardust. The iconic magic of Disneyland (the only Disney theme park designed personally by Walt himself and constructed under his watchful eye). Or (for drivers like you) the lure of the mind-blowing, super-scenic Pacific Coast Highway. A much more laid-back metropolis than its east coast rival New York, Los Angeles mixes urban attractions, beaches and mountains in a heady blend and it's easy to understand why it's been a global creative hub for generations. As hip art galleries and legendary live music venues prove, LA is where some of the world's wildest (and most wonderful) artists have found their muse. LA's creativity also extends to its architecture - a seductive mishmash of everything from Renaissance-style theaters to Chinese movie palaces and modernist pads peppering the hillsides. And it's fab for foodies too – you can tantalize your taste buds with spicy tacos, authentic Korean kimchi stew, vegan delights, chic cocktails, and hoppy craft beers.
Other awesome things to do in Los Angeles include tree bathing in the beautiful gardens of the Huntington Library, hiking in Griffith Park (and taking in the terrific cityscape views), visiting the Academy Museum (with magic movie exhibits like the shark from Jaws and R2-D2), and strolling along the pretty Venice canals.
Still intent on jetting off from this super-cool city? We got you. Your Los Angeles International Airport parking info is up next.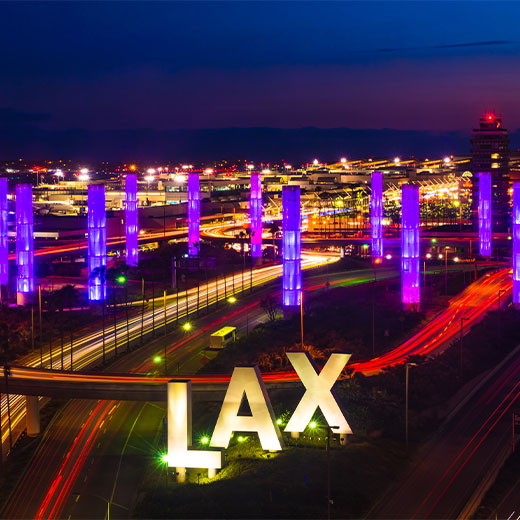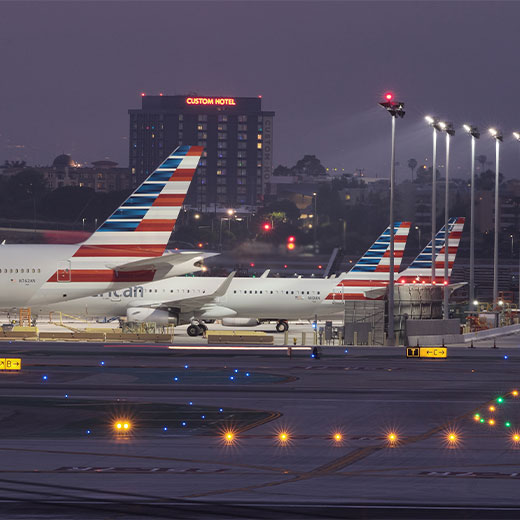 Find the best deals at Los Angeles International Airport
Provided you plan ahead, finding the most appropriate parking at LAX is easy – there are options to suit every requirement and budget. Park and ride to valet options, spots close enough to stroll in to departures and spaces for EVs – you name it, this airport has it.
Knowledge is power, so after you weigh up the digestible LAX parking info in this guide, you'll feel completely confident choosing the right option. And ample parking is just part of the mix in this amazing airport, whose history stretches back to 1928, when it began operation as Mines Field. Its commercial airline service started in 1946 and expanded in the following decades, welcoming athletes and their entourages from around the world for the 1984 Olympic Games One of the world's busiest airports in terms of passenger processing, it is also a major global air cargo hub and a major contributor to the economy in Southern California, generating 620,000 jobs in the area.
Compare Los Angeles International Airport Parking
There's a parking space at LAX to suit everyone. Perhaps you're heading for a high-powered meeting in New York and want a smooth, personalized VIP experience. Or maybe you're a thrifty traveler in a family group looking for the lowest-cost option. And if hopping on a shuttle isn't too inconvenient, there are a range of high-quality on- and offsite options.
What parking is there at Los Angeles International Airport?
LAX provides plenty of varied parking options, so you'll definitely find something that suits you.
And as well as official LAX parking options, external providers also offer great deals. For instance, Looking4Parking offers parking here at VIP Parkings – Valet – Uncovered, VIP Parkings – Self Park – Uncovered, VIP Parkings – Valet – Covered, and 405 Airport Parking – Self Park – Indoor – Inglewood.
Now let's take a closer look at the various official LAX parking options available. As you'd expect, you'll get the best rates by pre-booking – as well as making your experience as pleasant as possible.
Terminal parking
Terminal Parking at LAX is located 3-5 minutes' walk from the terminal, at parking structures P1-P7. This is the closest official parking option and covers EV, Valet, Premium and General options. If you book your terminal parking ahead of time, it's less than half the pay on the day price.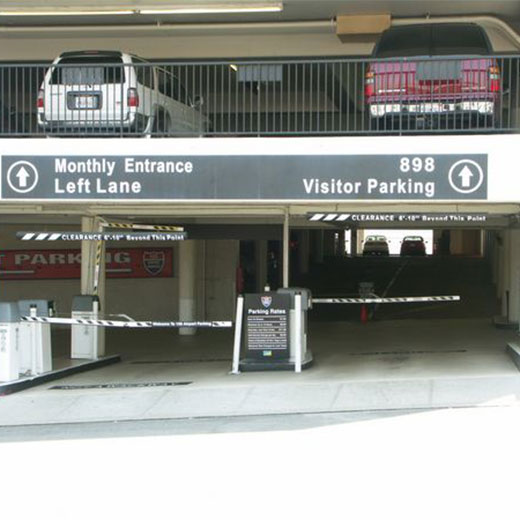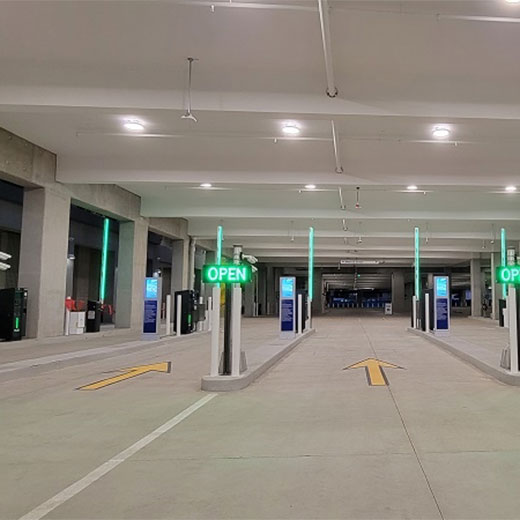 Economy parking
Jetting off for a long-term trip? In that case, LAX Economy parking offers the lowest rates and there's a free shuttle service to and from the terminal which runs every 10 minutes and takes 15 minutes to complete the journey. Again, pre-booking can save you more than 50% and this is a popular option, so saving you space early provides peace of mind.
Valet terminal
For a little touch of luxury, Valet terminal parking is the discerning traveler's choice. You don't need to bother finding a space because trained professional staff take care of that for you and it's the fastest in and out service at LAX.
Van Nuys Flyaway
Driving into LAX from the San Fernando Valley area? Your best official parking option is the Van Nuys Flyaway service. It usually takes just over 60 minutes to get to the terminal and the pre-booking price doesn't include the shuttle cost. Nevertheless, this is still an economical option.
Premium terminal
With a top-flight location in parking structure P1, Premium Terminal parking is just a couple of minutes' walk from the terminal and it's also a premium EV charging location.
EV terminal
If you drive an electric vehicle, you'll be glad to know that there are plenty of suitable spaces at the EV Terminal parking, which is only 5 minutes from the terminal.
Getting to and from Los Angeles International Airport
If you need a Satnav address, LAX economy Parking is situated at 6100 W 94th St, Los Angeles, CA90045. A shuttle service will take you to the terminal, and you'll soon be sashaying through security and enjoying a gLAXs of pre-flight bubbly.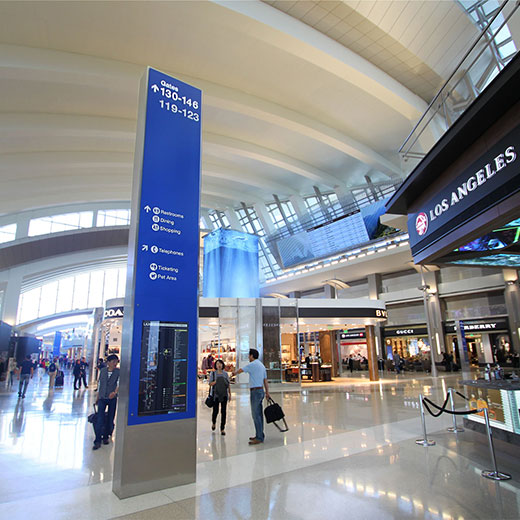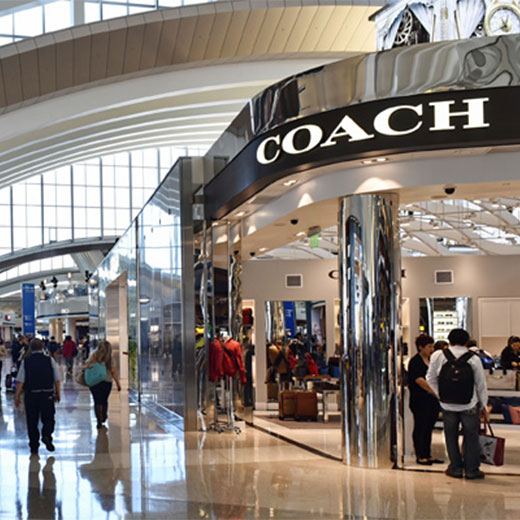 Facilities at Los Angeles International Airport
LAX is well-appointed with amenities and facilities. So all your travel essentials (like toilets, baby changing areas and the like) are covered – and a whole lot more besides.
In fact, if you're stuck in this airport for a few hours, you'll never be bored. Because there's as much to see here as in some small cities. Rather than having one main terminal with all amenities in a single place, LAX is organized in a U-shaped loop, but as long as you've got a valid same day boarding pass, you're free to visit any terminal – each of which has its own shopping and dining options.
Terminal B is the most popular place for foodies, with fine dining options like The Petrossian Caviar and Champagne Bar, Unami Burger, Planet Hollywood and Vino Volo. And if you need fast food at the double, there are lots of quick options across all terminals, including KFC, Pret-A-Manger, Starbucks, and Fresh Brothers Pizza.
In terms of shopping, pick up must-reads at CNN Newsstand, hip leather bags and accessories at Coach, Italian fashion at Emporio Armani and US-themed souvenirs for your overseas friends, family, and business contacts at America!
Business travelers at LAX are also well-catered for. At the Tom Bradley Terminal, you'll find The Star Alliance Airport Lounge with a comprehensive corporate suite that includes Wi-Fi, scanners, printers, and private rooms. And there are a number of plush lounges suitable for travelers who appreciate a slightly higher level of comfort and privacy. The American Airlines Admirals Club at the International Terminal offers drinks, TV, Wi-Fi and internet terminals, The Centurion Lounge has all these features plus a spa and children's area, and the Etihad Airways First & Business Class Lounge has the excellent amenities customers of this highly rated carrier expect, including refreshing showers.
If you need first aid, there's a station on the Upper/Departure level of the Tom Bradley International Terminal and it's open from 10am to 10pm daily. There are also automated external defibrillators at security posts, in terminals and on bicycle patrol units.
Every terminal in LAX has a baby nursing room and in case of delays, cots and blankets are available. Meanwhile, other services at LAX include ATMs, currency exchange, airport police, mobile charging, a pet relief area, and shoe shine. There's even an observation deck in the middle of the Central Terminal which is a prime spot for watching planes take to the skies. If you love that exciting airport buzz, don't miss it.
And last but not least, your time at LAX is made much more relaxing and aesthetically pleasing by the stunning public art works peppered throughout the airport and live cultural performances courtesy of its art program.
As you can see, there's a whole lot more to LAX than meets the eye. In fact, it's practically a holiday destination in itself.
Got a Question? Chat with our US support team
Our online chat is available 8:30am to 5:00pm weekdays. Email: [email protected]
FAQs about car hire at Los Angeles Airport
Most frequently asked questions about hiring a car at Los Angeles Airport
You have the flexibility to change or cancel your parking reservation at the Los Angeles Airport without any charge until 48 hours prior to your scheduled trip. However, if you make changes or cancel your reservation after that time, you will be required to pay a fee of $5.
Enjoy Travel recommends booking your parking spot in advance via the internet to avail of the most attractive discounts on parking at Los Angeles Airport.
LAX provides parking options to suit different needs. These include Economy Parking, with frequent shuttle service, and Daily Parking, closer to the terminals with covered/uncovered spaces. Valet Parking is a convenient choice with curbside drop-off and car wash service. Premier Parking is a premium option with covered/uncovered spaces, nearest to the terminals, and extra amenities like luggage assistance. Off-Site Parking is an affordable alternative with several lots nearby, providing shuttle service to terminals, often cheaper than on-site parking.
To locate your parking spot at Los Angeles Airport, it is recommended that you note down the parking lot name and level, as well as the row number and nearest cross street or landmark. Most parking lots also have color-coded signs and numbered sections to make it easier to find your vehicle.
To ensure the safety of passengers' vehicles, LAX has implemented various protocols including 24/7 monitored security cameras, well-lit parking areas, police patrols, and physical barriers like fencing to prevent unauthorized access.
The distance between Los Angeles Airport's parking areas and the terminals varies. Economy Parking is located about 15-20 minutes away, while Daily Parking is closer but still requires a shuttle ride every 10-15 minutes. Valet Parking is available at each terminal and has negligible distance to the parking spot. Premier Parking is located closest to the airport terminals and is within walking distance. The distance between the Off-Site Parking lots and the terminals varies, but shuttle buses run frequently.
Yes, LAX has EV charging stations in various parking areas, including Level 2 and DC fast charging stations with different fees. To find out more about EV charging locations and fees, visit the LAX website.
Overnight parking is allowed at Los Angeles Airport in designated areas, but long-term parking rates may apply. For information on extended parking options and rates, check the LAX website or contact the parking provider.
To ensure availability and discounted rates, it is advisable to make a parking reservation in advance, especially during busy periods at the airport.
Arriving early for parking at Los Angeles Airport may result in additional fees, which vary depending on the arrival time. Payment for parking can be made using a credit or debit card at the exit gate.
The most economical parking option at Los Angeles Airport is the Economy Parking. It is further away from the airport terminals but offers shuttle service every 15-20 minutes to and from the terminals.
The Economy Parking rate was $12 per day, Daily Parking was $16 per day, and the CTA parking structure was $30 per day.
With Enjoy Travel the Economy Parking rate is $12 per day, and the Daily Parking rate is $16 per day. Thus, a week of parking at the Economy Parking would cost $84, while a week of parking at the Daily Parking would cost $112.
Explore popular airports in the US