Parking at Greater Rochester International Airport
Find the best parking deals at Greater Rochester International Airport
With a massive choice from the biggest brands, Enjoy the best way to find the best prices for car hire in Greater Rochester International Airport.
Huge choice car parks to suit every budget
Save up to 70% compared to buying on the day
Working with the best partners in Airport Parking
Parking at Frederick Douglass Greater Rochester International Airport
You're here because you need parking at Frederick Douglass Greater Rochester International Airport (ROC)?
Whew. Even saying the name's pretty exhausting, right? First thing's first, let's use ROC to make it easier. Then you can grab a cup of joe and settle down for a few minutes as we reveal the best ways to find ROC parking and some really cool tips on ways to make your pre-flight experience better too.
Driving into ROC is a great idea if you want to travel in your own social bubble (and blast any vacay playlist you like), but if you're rolling in from out of town, why not arrive a little early to explore this stunning part of the US of A?
There's tons to do for all types of visitors. For instance, the Strong National Museum of Play has a huge collection of games and toys from all over the world that showcases the history of play and the way it enriches our lives. It really is something special for kids of all ages.
And if you're into photography, don't miss the George Eastman Museum. Ram-packed with lenses, cameras and all manner of photographic gear, this museum takes you through the history of photography of film, one fascinating exhibit at a time.
Fancy something a little livelier? Seabreeze Amusement Park is the perfect place for a sunny afternoon on the water rides, rollercoasters and kids rides. Alternatively, Highland Park is a lovely green space that boasts a playground, swimming pool and expansive gardens.
And if you're a foodie who loves fresh local ingredients, a visit to Rochester Public Market is a must, while Geva Theater Center pleases culture vultures with its pulsating programme of plays, concerts, and musicals.
Need more Rochester shopping tips? ARTISANworks has locally crafted textiles, pottery, and jewelry, so it's your hotspot for picking up souvenirs and keepsakes. You'll find restaurants, cafes, JC Penney, Nordstrom, and Macy's at Pittsburgh Plaza.
And all that shopping's sure to make you hungry. So grab some sumptuous French cuisine at Georges, delicious pizza pie at Pizza Stop, and cocktails and bar snacks at Good Luck Bar.
Speaking of drinks, Rochester has a pretty lively nighttime economy too. The Swiftwater Brewing Company has lots of luscious tap beers and a menu of tasty bar snacks, while The Revelry lives up to its name with cocktails, wine, and amazing ambience.
You can also spend a comfortable night at the Strathallan Rochester Hotel & Spa (featuring fitness center, spa, and indoor pool), the Hyatt Regency Rochester (with stunning rooftop views), or the Inn on Broadway, a hip boutique hotel in Rochester's historic district.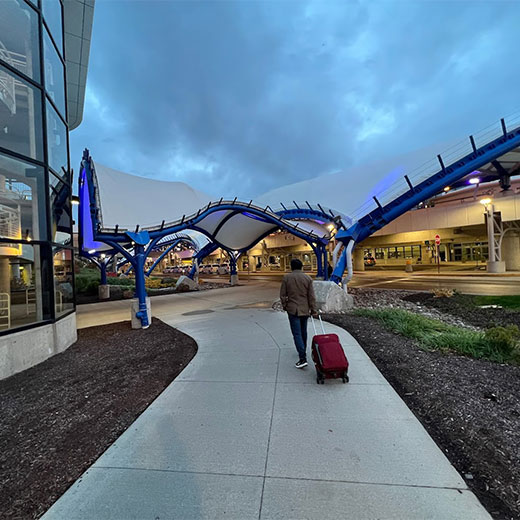 Find the best deals at Frederick Douglass Greater Rochester International Airport
If you're really committed to finding a Rochester Airport parking bargain, where do you turn?
Well, the airport's website's a good place to start – it'll lay out exactly what the official parking's like (although we'll do that right here shortly). If you book your parking in advance, you've got a better chance of getting a great deal. And if you're open-minded, off-site parking is worth considering – there are several such lots near the airport and you hop on a shuttle bus to go to and fro.
Compare Parking at Frederick Douglass Greater Rochester International Airport
ROC airport has 3,500 official parking spaces, so (provided you plan ahead), you won't waste time searching for a berth once you get there.
But ROC's history stretches way back to a time when most Americans didn't even have cars – 1921 to be exact, when the city of Rochester bought Britton Field on Scottsville Road for the purpose of building an airport. By 1928 it was renamed Rochester Municipal Airport and the first phase of air travel in the area was well underway.
The airport moved in 1960, to its current home a few miles south of downtown Rochester. Another name change soon followed (Rochester Monroe County Airport) and it wasn't until 1992 that it was renamed after local hero and legendary abolitionist Frederick Douglass.
In the years since, the airport has expanded further, with a new terminal opening in 1998 and a new runway opening in 2014. Currently the 10th-busiest airport in New York State, ROC processes over 2 million passengers annually, connecting to destinations on the US, Canada, and the Caribbean via carriers like United Airlines and Delta Airlines.
What parking is there at Frederick Douglass Greater Rochester International Airport?
Another angle worth exploring when you want a bargain on your ROC parking are comparison sites. These sites aggregate parking deals and often offer some of the most reasonable rates you'll find online. For instance, APH has an offsite location close to ROC (around 5 minutes' drive from the terminal) that's keenly priced, while Looking4Parking also offers a variety of ROC parking options and a convenient airport shuttle service.
For now though, let's look at your official ROC parking options.
Garage Parking
The most expensive parking at ROC is garage parking. However, there are 2000 spaces and it's conveniently close to the terminal.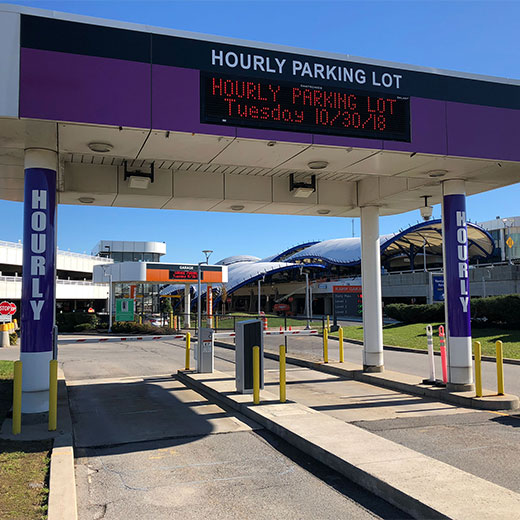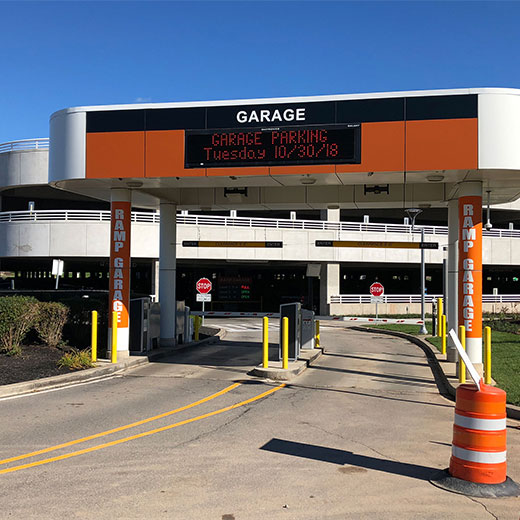 Economy parking
The cheapest ROC parking option (as you'd expect), Economy is uncovered and has 1000 spaces.
Cell phone lot
For short-term parking only, the short-term lot is perfect if you're picking off and dropping off passengers. Free to use for 15 minutes, the lot has 500 spaces.
On-Airport shuttle parking
Cheaper than garage parking, this option is in an offsite lot and requires you to take a 10 minute shuttle ride to the airport.
Valet parking
The dearest ROC parking option, valet is also the most convenient because you roll up, step out with your bags, and allow a trained pro to park your vehicle safely and securely. When you return, they'll bring it right back and then you head home.
Getting to Frederick Douglass Greater Rochester international Airport
Luckily, it's easy to drive to ROC from nearby towns and cities.
From Penfield, it's just a 10 minute drive. Simply take Exit 43 off I-490 East and follow Route 390 North to the airport. And if you're rolling in from Henrietta, take Exit 42 off I-490 East and follow Route 104 North to the airport.
Driving in from Brighton? Take Exit 41 off I-490 East and follow Route 250 North to the airport. The drive is about 15 minutes. And from Pittsford, it's just 20 minutes: take Exit 40 off I-490 East and follow Route 33 East to the airport.
Lastly, if you're cruising in from Fairport, take Exit 39 off I-490 East and follow Route 265 North to the airport. You'll be there in around 25 minutes (traffic permitting).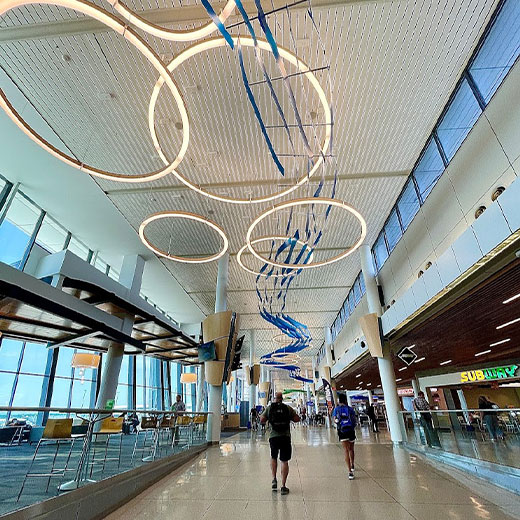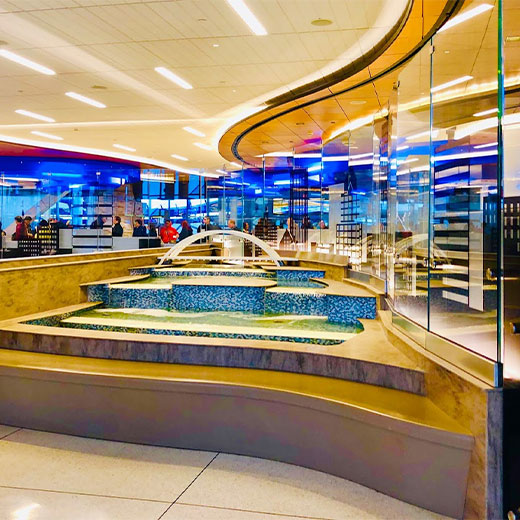 Facilities at Frederick Douglass Greater Rochester International Airport
You'll be glad to know that facilities and amenities are good at ROC – whether you're spending half an hour here or a little longer than expected, there's everything you need to stay safe and comfortable.
For instance, there's free Wi-Fi available throughout the airport, so you can check your business emails and stay in tune with your social channels. And there are plenty of power outlets so that you can charge your cellphones and devices (a godsend when you have demanding teenagers).
There are also plenty of food, drink, and shopping options at ROC (more of which shortly) and you'll find restrooms throughout when nature calls. If you feel that the concourse is too busy, there's the quieter option of one of the two airport lounges (although they're only open to passengers flying with certain carriers) and the children's play area is the ideal place for busy kids to burn off some excess energy.
Want more info on the specific shopping options at ROC?
Hudson News sells magazines, books and newspapers, Taste of Rochester is a popular food hall that showcases cuisine from local vendors and restaurants, and the duty free shop is your hotspot for luxury fragrances and liquor.
And what about filling your belly and slaking your thirst? Try Dunkin Donuts for good coffee, filling breakfasts and tasty pastries, the Flight Deck Diner serves breakfast, lunch and dinner, and Gusto is the best place for delish Italian salads, pizza and pasta.
Alternatively, Subway has your famous footlong sandwiches (not to mention the artists who fill them with fantastic fresh ingredients).
As you can see, a positive parking provision is just part of the attraction at ROC. Wherever you're flying to, stay safe and have a great time!
Got a Question? Chat with our US support team
Our online chat is available 8:30am to 5:00pm weekdays. Email: [email protected]
FAQs about car hire at Greater Rochester International Airport
Most frequently asked questions about hiring a car at Greater Rochester International Airport
In order to avoid any charges, you must modify or cancel your reservation for parking at Greater Rochester International Airport at least 48 hours before your planned trip. However, if changes are made within this 48-hour window, a fee of $5 will be imposed.
According to Enjoy Travel's recommendation, the best and most efficient way to achieve substantial cost savings on parking at Greater Rochester International Airport is to use their online booking system well in advance.
At Greater Rochester International Airport, you have various parking choices, including short-term, long-term, economy, valet, and a cell phone waiting lot.
The easiest and most effective method to find parking at Greater Rochester International Airport is to follow the clearly marked signs that guide you to the different parking options, aided by the existing road system within the airport premises.
Safety protocols for parking at Greater Rochester International Airport encompass well-lit areas, surveillance, security patrols, and emergency call stations.
The distance between the terminal and the different parking areas at Greater Rochester International Airport varies, with short-term parking being closest to the terminal, long-term parking farther away with shuttle service, and economy parking even farther with shuttle service, while valet parking is typically located conveniently near the terminal.
Indeed, Greater Rochester International Airport offers electric vehicle charging stations to cater to the needs of passengers with electric vehicles, aligning with the increasing adoption of EVs and providing a convenient charging solution for travelers.
Parking for extended periods overnight at Greater Rochester International Airport is allowed in the long-term and economy parking lots, which are designed for travelers going on longer trips
To guarantee your parking spot and make the most of discounted rates, it's recommended to reserve a parking space ahead of time, particularly when demand is high.
Coming to the parking lot at Greater Rochester International Airport ahead of schedule may result in extra fees, the specific amount of which depends on your arrival time, and you can pay these parking charges with a credit or debit card when you leave the parking facility.
The most economical parking option at Greater Rochester International Airport is typically the "Economy Parking" lot.
The rates for economy parking are around $3 per hour and long-term parking around $10-13 per day.
With Enjoy Travel the cost of parking for a week at Greater Rochester International Airport's economy parking lot is from $50 to $90.
Explore popular airports in the US