Hollywood Burbank Airport Parking
Find the best parking deals at Hollywood Burbank Airport
With a massive choice from the biggest brands, Enjoy the best way to find the best prices for car hire in Hollywood Burbank Airport.
Huge choice car parks to suit every budget
Save up to 70% compared to buying on the day
Working with the best partners in Airport Parking
Parking at Hollywood Burbank Airport
Jetting off from Hollywood Burbank? Driving to the airport? Arranging your BUR parking early?
If you just nodded three times, we got you. This great guide provides all the current Hollywood Burbank Airport Parking information and contains lots of great tips on making your pre-flight experience as pleasant as possible too.
And if you're arriving early from out of town, all the better – you'll have great fun exploring this most glamorous part of the planet.
For instance, you can visit the Hollywood Walk of Fame at Hollywood Boulevard and Vine, taking your time to work through some of the 2600 stars (and snapping plenty of selfies). And if you want to get closer to the (lights, camera) action, treat yourself to a behind the scenes studio tour with Paramount Pictures, Universal Studios, and Warner Bros.
And it would be rude to be in Hollywood without actually going to see a movie – grab some popcorn and catch one of the latest releases at El Capitan Theatre or the Chinese Theatre. If you like live performances meanwhile, you can catch a live musical at the Hollywood Bowl, the Pantages Theatre and Dolby Theatre.
When you want to see some of the most spectacular views in the area, get along to the Griffith Observatory – there's a planetarium, museum and eye-popping views of LA. And as far as retail therapy goes, the stores in Burbank and Hollywood are the bomb. There's everything from boho boutiques to designer emporiums in areas like Melrose Avenue, Hollywood Boulevard and the Empire Center in Burbank.
Need somewhere comfortable to rest your head? There are lots of excellent hotels in Burbank and Hollywood. Take the Hollywood Roosevelt for instance: it's an iconic establishment near attractions like the Dolby Theatre, Chinese Theatre and Walk of Fame. And there's a rooftop pool with amazing city views – how lovely.
Alternatively, there's the W Hollywood on Sunset Strip, a hip hotel with its own impressive cityscape views. Alternatively, the Hotel Amarano Burbank-Hollywood is a great family option, with a game room, pool and playground.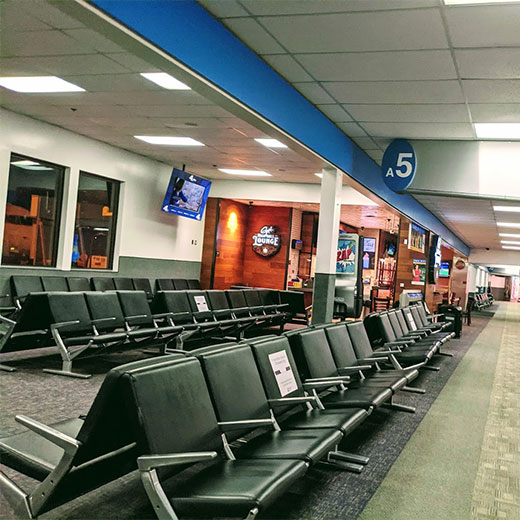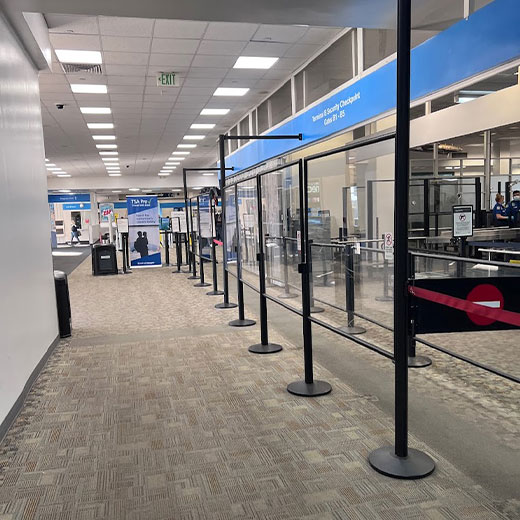 Find the best deals at Hollywood Burbank Airport
When you're looking for low-cost parking at BUR, it's important to leave no stone unturned. So, there are a few tried and tested parking tips that can stand you in good stead.
For instance, start with the basics and book in advance – you'll usually be able to grab an early bird bargain. If you're able to walk a little further or hop on a shuttle, off-site parking can be cheaper than onsite. And you might unlock discounts if you fall under a certain category – as a serving military member, senior, or AAA member, for instance. Look around online and in local press – you'll find parking and travel companies offering these types of reductions.
Compare parking at Hollywood Burbank Airport
With 5,800 spaces, the official parking provision at BUR is proportionate and it's conveniently divided into four parking lots.
And although BUR has all the accoutrements of a modern airport, it's surprising to many travelers that its history stretches back to 1930, when it was founded as United Airport. In 1934, it was renamed Union Air Terminal and got a new moniker in 1940 – Lockheed Air Terminal. Then in 1967 it was christened Hollywood-Burbank Airport – as we know it today.
BUR's early growth and development was largely due to its close proximity to the burgeoning film industry. By 1946 it had become LA's second-biggest airport and it wasn't until the 1970s that LAX completely dominated.
More naming shenanigans followed in 1978, then it was renamed Burbank-Glendale-Pasadena Airport, and in 2003, when it was renamed Bob Hope Airport after the late, great comedian.
More expansions and renovations followed, with a new terminal opening in 2014 that increased capacity by 10%, and a 2017 main terminal renovation completed in 2017. Nowadays, BUR is a main regional hub in the larger LA area for carriers like United Airlines, Delta Air Lines and American Airlines. And it's not resting on its laurels, with more expansion projects in the pipeline.
What parking is there at Hollywood Burbank Airport?
Comparison sites are also worth checking when you're determined to find good Hollywood Burbank Airport parking deals. For example, APH offers discounts on valet, short-term and long-term parking at BUR, as well as deals for military, seniors, and AAA members.
Now let's take a look at your official BUR parking options.
Short-term parking
Located right across from the terminal, short-term parking has 1200 spaces. It's convenient but also the most expensive parking option at BUR airport.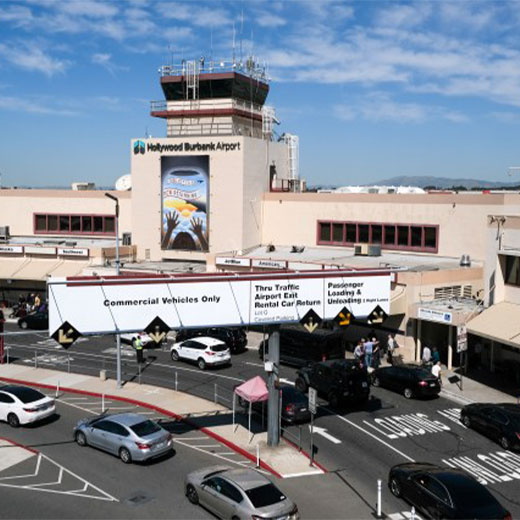 Long-term parking
BUR has two long-term parking lots. Lot A is east of the terminal and has 2000 spaces, whereas Lot C is west of the terminal and has 1600 spaces. Ideal when you're away for a few days or more, it's the most affordable parking lot at BUR.
Valet parking
Located right in front of the terminal, the valet section has 1000 spaces. It's the most expensive BUR parking option, but if you want the convenience of having your car parked for you so you can sashay into the terminal, perhaps it's worth it.
Covered parking
If you want to protect your vehicle from the elements, there's covered parking in the long-term and short-term lots. Please note it's more expensive than the uncovered alternative.
Electric Vehicle (EV) charging stations
If you've got an EV, you'll find charging stations in both the long-term and short-term lots.
Getting to Hollywood Burbank Airport
Hollywood Burbank Airport is easy to drive to from nearby cities and towns.
From LA, take the 101 freeway north to 5 freeway west, then continue to the BUR exit and follow the signs.
From Glendale, take the 210 freeway north to the 5 freeway west, then take the 5 freeway west to the BUR exit and follow the signs.
Driving in from Pasadena, take the 110 freeway north to the 134 freeway west, then continue to the 5 freeway west and follow the aforementioned final directions.
If you're rolling in from North Hollywood, take the 101 freeway north to the 5 freeway west, then follow the usual instructions.
From Burbank, take the 134 freeway east to the 5 freeway west and follow the usual final directions.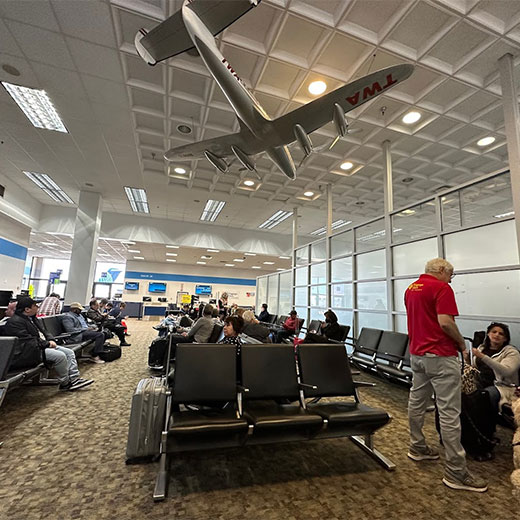 Facilities at Hollywood Burbank Airport
As you might be expecting, facilities and amenities at Hollywood Burbank Airport are stellar.
There are several transportation options, including Lyft-Uber, taxis, and shuttles. And you'll find bus and train services at the Regional Intermodal Transportation Center (RITC) near the airport.
The food, beverage and shopping options at BUR are also excellent (more of which a little later) and there's also a fitness center, spa, business center and children's play area. There's also free Wi-Fi throughout the airport, two comfortable nursing pods, a lost and found (near the baggage claim) and a pet relief area (outside the airport). In terms of ADA accessibility, BUR has accessible parking spaces, restrooms, and elevators.
If there's one thing guaranteed to ruin your pre-flight experience, it's probably hunger. When your belly's rumbling, you often feel antsy. And if you've got teens or seniors in tow for your vacay or family reunion, the problem's exacerbated. So do yourself a big favor: get everyone fed and watered before you board, because you won't regret it.
Luckily, the choice at Hollywood Burbank Airport is fabulous. For example, Guy Fieri's Kitchen + Bar Express serves classic US dishes with a difference. Alternatively, there's the Wolfgang Puck Kitchen Counter – a lively restaurant specializing in fresh California cuisine that's beautifully presented.
If you fancy a relaxing drink or two meanwhile, Studio Bar serves great wine, beer, and cocktails, while Guy's Highball Lounge is similar. If caffeine is your usual fix, try Jones Coffee Roasters, while Pret a Manger is great for pastries and teas. Meanwhile, Pinkberry is your go-to emporium for sorbet, gelato, and frozen yoghurt, while Wetzel's Pretzels specializes in pretty much any dish imaginable involving different incarnations of those twisty savory snacks.
And how about the shops?
You can grab all types of magazines and books at Hudson News, Burbank Airport Books & Gifts has local souvenirs and keepsakes, and the duty-free shop is the place to find cut-price alcohol and perfume.
So there you have it – everything you always wanted to know about parking at Hollywood Burbank Airport, plus a ton of stuff you never knew you needed to know. Wherever you're heading, park safely and have a smooth trip!
Got a Question? Chat with our US support team
Our online chat is available 8:30am to 5:00pm weekdays. Email: [email protected]
FAQs about car hire at Hollywood Burbank Airport
Most frequently asked questions about hiring a car at Hollywood Burbank Airport
To prevent incurring any fees, it is necessary to modify or cancel your parking reservation at Hollywood Burbank Airport a minimum of 48 hours prior to your scheduled trip. Nevertheless, adjustments made within this 48-hour window will result in a $5 charge.
Enjoy Travel suggests that the optimal and most effective method to obtain significant parking discounts at Hollywood Burbank Airport is by utilizing their online reservation platform well ahead of time.
Hollywood Burbank Airport offers various parking choices, including short-term, long-term, economy, valet parking, and possibly off-site options for travelers.
The most straightforward and efficient way to locate a parking spot at Hollywood Burbank Airport is to follow the well-marked signs leading to the various parking choices, aided by the airport's well-developed road infrastructure.
Hollywood Burbank Airport ensures parking safety through security patrols, surveillance cameras, well-lit lots, emergency call boxes, access control measures, and, in some areas, the presence of parking attendants and public safety officers.
At Hollywood Burbank Airport, short-term parking lots are located very close to the terminal buildings, offering a few minutes' walk, while long-term parking lots are slightly farther, requiring a 5 to 10-minute walk or a shuttle ride, and economy parking lots are the farthest, with a shuttle ride taking approximately 10 to 15 minutes to reach the terminal.
Hollywood Burbank Airport provides charging stations for electric vehicles (EVs) in certain parking areas.
Hollywood Burbank Airport offers long-term parking options, which are suitable for travelers parking for an extended period, including overnight stays. These long-term parking lots are designed to accommodate travelers going on longer trips, and they typically have a daily or weekly rate.
For assured availability and to take advantage of discounted rates, it is advisable to make a parking reservation in advance, especially during peak periods.
Arriving early at the Hollywood Burbank Airport parking lot may lead to additional charges, which vary based on the arrival time. These parking fees can be settled using a credit or debit card upon exiting the parking facility.
The most economical parking option at Hollywood Burbank Airport is the "Economy Parking" lot. Economy parking lots are designed to offer budget-friendly rates for travelers going on extended trips.
the daily parking rates at Hollywood Burbank Airport ranged from approximately $3 to $5 per hour for short-term parking with a daily maximum of $23 to $35, around $10 to $14 per day for long-term parking, and roughly $10 to $12 per day for economy parking.
With Enjoy Travel the cost of parking for a week at Hollywood Burbank Airport ranges from approximately $70 to $98 for long-term parking and around $70 to $84 for economy parking, while short-term parking could cost between approximately $161 to $245 for the week.
Explore popular airports in the US