Atlantic International Airport parking | get organized
Find the best parking deals at Atlanta International Airport Parking
With a massive choice from the biggest brands, Enjoy the best way to find the best prices for car hire in Atlanta International Airport Parking.
Huge choice car parks to suit every budget
Save up to 70% compared to buying on the day
Working with the best partners in Airport Parking
Parking at Atlanta International Airport
Flying from ATL soon and need to find the best airport parking?
Good ol Google has brought you to exactly the right page. Because in this guide, we'll break down every type of parking that's available at Atlanta International Airport and also the awesome amenities and facilities in this super-busy air hub.
But first, are you sure you even want to leave Atlanta? This peach of a city is the capital of Georgia and its busiest metropolis, and a fabulous place to live and visit. Which might be the reason it has so many nicknames: from 'The City in a Forest' to 'The A' and 'Hotlanta' to 'Hollywood of the South'. Green, gorgeous and glamorous, Atlanta's attractions include a delicious mix of downtown restaurants, a buzzing film-making scene, and lots of institutions showcasing the city's prominent role in African American history. It would take two lifetimes to see everything Atlanta has to offer, but there are a few hotspots you shouldn't miss. For instance, the Delta Flight Museum is a must-see for fans of aviation history and features everything from aircrafts dating from the 1920s to the only Boeing 737 flight simulator open to the public in the entire US of A. Meanwhile, foodies can make a beeline for the Chick-fil-A Backstage Tour to learn all about this famously tasty brand. You'll discover the history of founder S. Truett Cathy, the company history museum and even see top secret new products before they're unleashed on the public. This is also fabulous city for sports fans, with legendary teams like the Falcons, Braves and Hawks regularly playing to hordes of fans in packed-out stadiums.
All that said, a change of scenery can still be good. So whatever your trip purpose and wherever your destination, let's get down to that ATL airport parking.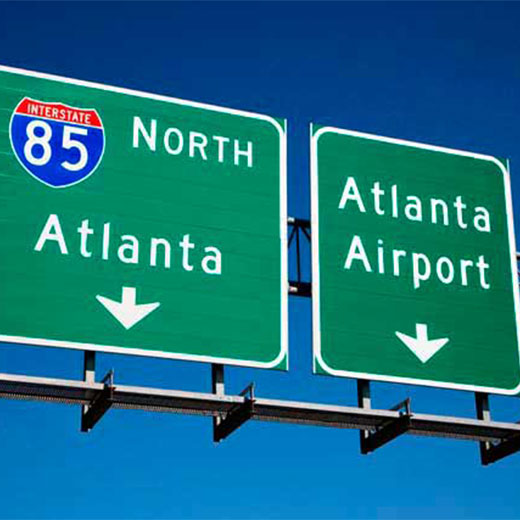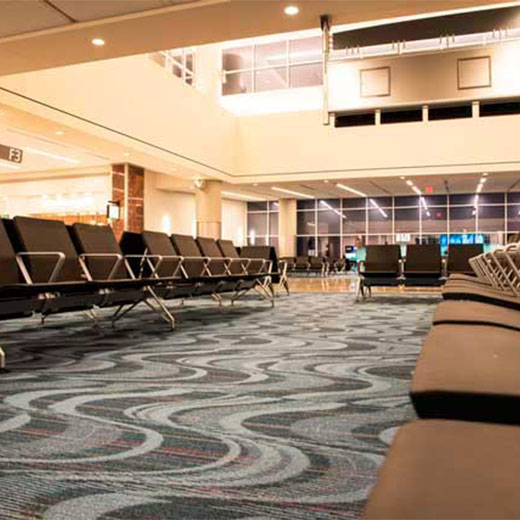 Find the best deals at Atlanta International Airport
One thing's for absolute sure – there's plenty of parking at ATL, so you'll find a space that suits your needs and preferences perfectly. In the Domestic and International terminals there's everything from hourly parking to daily, economy and park and ride.
And when you see how well-appointed this airport is, there's no surprise that its parking provision is of a high standard. The history of ATL actually stretches back to 1925, when the city leased an abandoned racetrack, named it Candler Field (after its original owners) and began work in earnest to turn it into an airfield. The airport grew to twice its size in World War II, was renamed Atlanta Municipal Airport and became the busiest in the USA by 1957. By 2003, it was named Hartsfield-Jackson Atlanta International Airport (after the two mayors who had a major impact on its expansion at key junctures, and by 2015 it was processing a mind-blowing 100 million passengers annually. Indeed, ATL has been the busiest airport in the world every year bar one (2020) since 1998.
Compare Atlanta International Airport Parking
Your ideal ATL parking spot depends on what floats your boat (or rather, flies your jet) and your unique needs. For instance, if you're a couple of young lovebirds jetting off for your honeymoon in Paris, choosing economical park and ride parking means you'll save some Euros for those sumptuous meals overlooking the Seine, whereas the hourly parking zone is ideal if you need to pick up mom and pop after their annual vacay with relatives in New York.
What kind of parking is there at Atlanta International Airport?
There's lots of convenient, affordable parking at ATL.
And remember that, as well as official airport parking, independent providers can also offer reasonably priced options. For example, Looking4Parking offers ATL parking deals at The Westin Atlanta Airport – Self-Park, Days Inn Wyndham College Park, Quality Inn Union City Atlanta South, and PreFlight Airport Parking – Self Park.
Let's take a closer look at the official ATL parking options.
Hourly/short-term
Part of the Domestic Terminal parking provision, there are two of these areas located next to the terminals – the North and South Hourly Parkings. When you're only at ATL to drop off or pick up passengers, or don't need to stay for long, these are great choices. Rates rise in increasing increments throughout the duration (from the first hour to 24 hours), after which there's a flat fee for every additional day.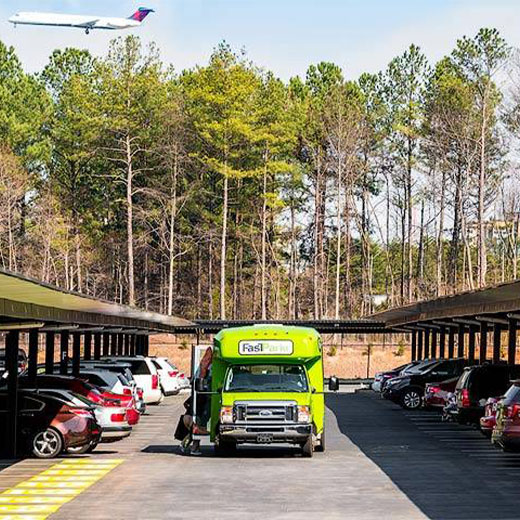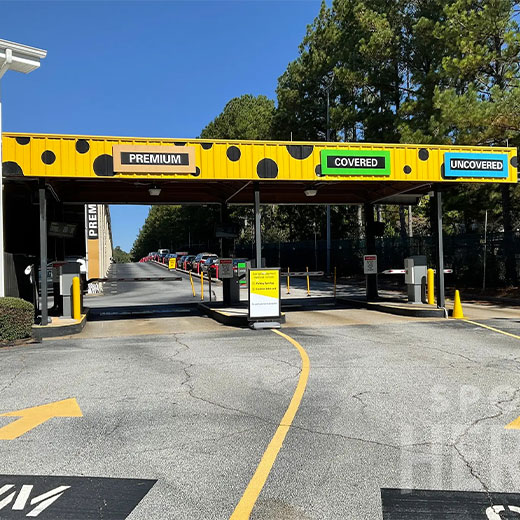 Daily Parking
Another popular choice, Atlanta International Airport Daily Parking connects directly with the Domestic and International Terminals and is spread over four covered levels. The rates per hour and per day here are more reasonable than the hourly/short-term option but this isn't the best choice for dropping off and picking up.
Economy Parking
At ATL there are three different economy parking areas to choose from. The North and South areas are in close proximity to the parking decks and the West is a little further out. As you'd expect, these are the most reasonably priced official onsite parking areas, with great hourly and daily rates for thrifty travelers.
ATL West Parking
Connected to North and South Terminals, ATL West Parking has a convenient and comfortable shuttle that scoots you to and from the domestic terminal at regular intervals. Another reasonably cheap choice, but don't lose your ticket or you'll be charged the maximum daily rate!
International Hourly
Over 1,100 spaces. Super-close to check-in and arrivals. Reserved spaces for green, carpool and vanpool vehicles. The International Hourly car park sets high standards when it comes to convenience and charges in the same way and at the same rate as its domestic equivalent.
International Park-Ride
Located west of Loop Road, the International Park-Ride car park is seriously big – with 2,400 spaces – and shuttles you to the Maynard H. Jackson Jr. International Terminal in 4 minutes flat. If you don't mind hopping on the bus, this is an easy and reasonably affordable choice.
EV charging
Proudly cruising in an EV ride? Good on ya. You'll be happy to know that there are EV parking stations at all the various parking facilities.
Getting to and from Atlanta International Airport
Once you reach Atlanta, driving to the airport is easy. For instance, the route downtown from the airport takes just 15 minutes. First, head south-east on Auburn Avenue NE in the direction of Park Place NE. Then turn right onto Courtland St NE and merge onto the I-75 S/I-85 S using the slip road on the left. Keep to the left at the fork and stay on I-75 S, then use the right two lanes to take exit 239 for US-19/US-41/CW Grant Parkway to Central Avenue/International Airport. After this, stay left and follow the signs for C W Grant PKWY/Air Cargo/International Airport/Porsche Avenue. Follow the signs for CW Grant Pkwy/Loop Rd, turn right onto Charles W Grant Pkwy, and continue until you reach International Departures. The address for International Departures is 6000 N Terminal Pkwy.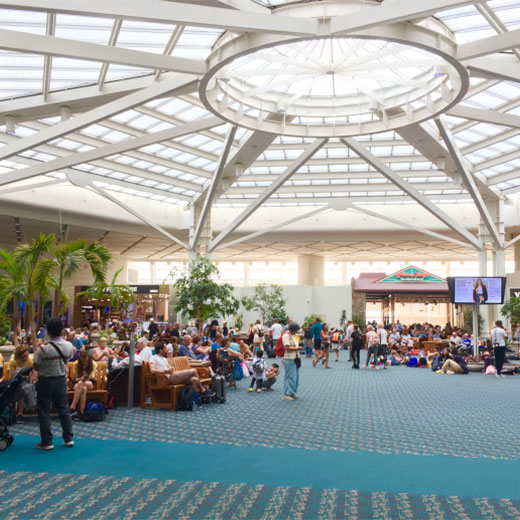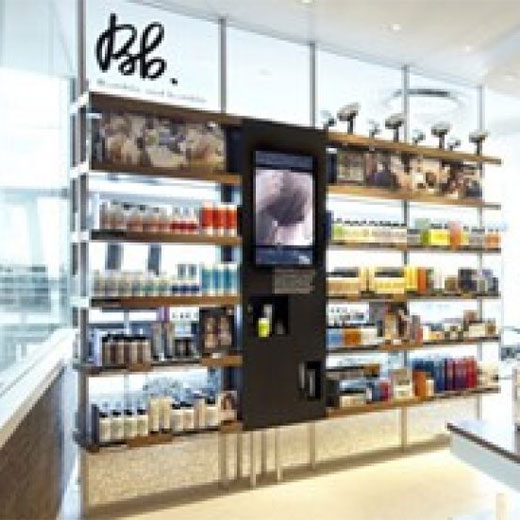 Facilities at Atlanta International Airport
ATL is basically a small city in itself. So, you'd be right to expect excellent facilities.
First off, if you're a lounge lizard, you'll be more than happy unwinding all the way at the plethora of premium facilities. On Concourse F, The Club at ATL offers top-class food, snacks, showers, Wi-Fi, newspapers, drinks, TV and internet hubs. At Gate A17 (Concourse A), the Delta Air Lines Delta Sky Club offers all the above, plus printers and copiers (perfect for last minute admin on your business trip). And the USO Lounge at the Domestic Terminal has TV, Wi-Fi, and a children's area. There are lots more lounges peppered throughout the airport: these simply offer a taste of what to expect.
Want to chill out in your own private, reasonably priced space? The ATL Minute Suites offer private spaces with a bed, TV, and Wi-Fi. Hire them by the hour or even overnight. Meanwhile, food choices at ATL include Chick-fil-A, Paschal's, TGI Fridays, McDonald's, Shake Shack and IHOP. And if you want to shop til your credit card pops, grab fresh French beauty products at L'Occitane, grab some reading material at Midtown Magazines and grab Atlanta Zoo souvenirs at Panda Veranda (as well as checking out the stars themselves on the store's live panda cam!).
Whew. Once you work your way through all this, just be sure that you don't miss your flight. But if the worst comes to the worst, you can always grab a Minute Suite while you wait for an alternative!
Got a Question? Chat with our US support team
Our online chat is available 8:30am to 5:00pm weekdays. Email: [email protected]
FAQs about car hire at Atlanta International Airport
Most frequently asked questions about hiring a car at Atlanta International Airport
If you want to avoid any charges, you need to alter or annul your Atlanta International Airport parking booking at least 48 hours before your scheduled travel. But, if you do it within the 48-hour window, you will incur a fee of $5.
According to Enjoy Travel, the best and most effective way to get the biggest parking discounts at Atlanta International Airport is to use their online booking system in advance.
The parking options available at Atlanta International Airport include short-term and long-term parking, as well as economy parking for budget-conscious travelers.
To find a parking spot at Atlanta International Airport, the most effective approach is to follow the signage that guides you towards the different parking alternatives. The airport has a clearly labeled road network that takes you to each parking area.
To ensure passenger safety, Atlanta International Airport has measures such as surveillance cameras, on-site security personnel, and well-lit parking areas. There are also gated parking lots and require access codes for entry and exit.
The short-term parking is located closer to the terminal building and may involve a walking distance of a few minutes. Long-term parking and economy parking may require a shuttle bus service to transport passengers between the parking lot and the terminal building
Atlanta International does offer electric vehicle (EV) charging stations in their parking facilities. The EV charging stations are available for use on a first-come, first-served.
Yes, it is usually allowed to park for an extended period overnight at Atlanta International Airport, but the availability of long-term parking may vary depending on the specific parking option chosen.
To guarantee availability and benefit from reduced rates, it is recommended to reserve a parking spot in advance during busy periods.
Getting to Atlanta International Airport parking lot early may result in extra fees that differ depending on the time of arrival. The parking charges can be paid with a credit or debit card upon departure from the parking area.
Generally, economy parking or off-site parking options are the most budget-friendly choices for long-term parking.
For hourly parking, the rate is $3 per hour with a daily maximum of $36. For daily parking, the rate is also $3 per hour with a daily maximum of $19. For those who are looking for a more budget-friendly option, the economy parking lot offers a rate of $3 per hour, with a daily maximum of $14.
With Enjoy Travel for hourly parking, the cost is $36 per day, resulting in a weekly cost of $252. Daily parking is priced at $19 per day, meaning a week of parking would cost $133. The economy parking option costs $14 per day, resulting in a weekly cost of $98.
Explore popular airports in the US