Salt Lake City International Airport parking
Find the best parking deals at Salt Lake City International Airport Parking
With a massive choice from the biggest brands, Enjoy the best way to find the best prices for car hire in Salt Lake City International Airport Parking.
Huge choice car parks to suit every budget
Save up to 70% compared to buying on the day
Working with the best partners in Airport Parking
Parking at Salt Lake City International Airport
Flying out from Salt Lake City soon? We're jealous. Maybe you're jetting off to Vegas to get married? Soaking up those hippy vibes in San Francisco? Off to take a bite of the Big Apple?
Wherever you're headed, driving your car to SLC is a smart choice – you can plan the best route with GPS, relax in the comfort of your own social bubble and listen to whichever vacay playlist you want (albeit with a few heated arguments if you're traveling with teens).
You'll find the latest (and in our humble opinion, greatest) info on SLC parking in this grab and go guide. From official onsite options to rated offsite services, economy to high-end, we've got you covered.
And if you're traveling into Salt Lake City to fly and can take the time, exploring the local area is a great way to warm up for your vacay. With snow-capped mountains and wide blue skies, Utah's capital city has a calm elegance that makes it feel fabulously manageable – especially for a metropolis with 1.2 million residents. This is the Mecca of the Mormon faith, and its Church of Jesus Christ of the Latter-Day Saints is a powerful local landowner. But more than half the population aren't adherents and there's a much more liberal vibe here than many outsiders realize – confirmed by hip independent stores, laid-back coffee houses and a university that attracts clever, creative people from lots of different backgrounds.
Cool things to do here include skiing, snowboarding and ziplining at Utah Olympic Park, relaxing amidst the plants at Red Butte Garden, and kayaking and paddleboarding on Great Salt Lake Marina (the Western Hemisphere's biggest saltwater lake). The Gallery Stroll is also a terrific tradition to take part in. On the third Friday of each month, nearly 40 local art galleries throw open their doors and welcome allcomers to browse beautiful pieces and feast on food and drink. How civilized.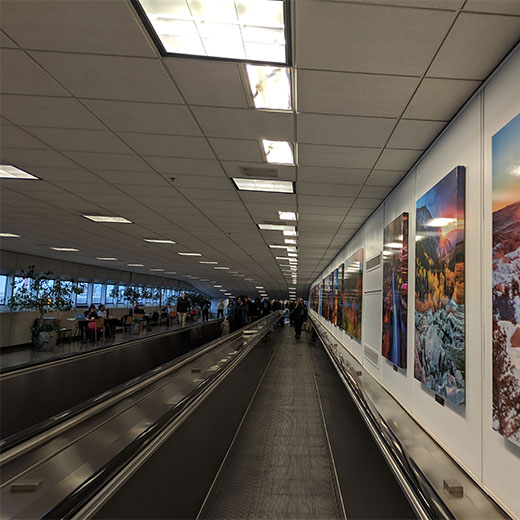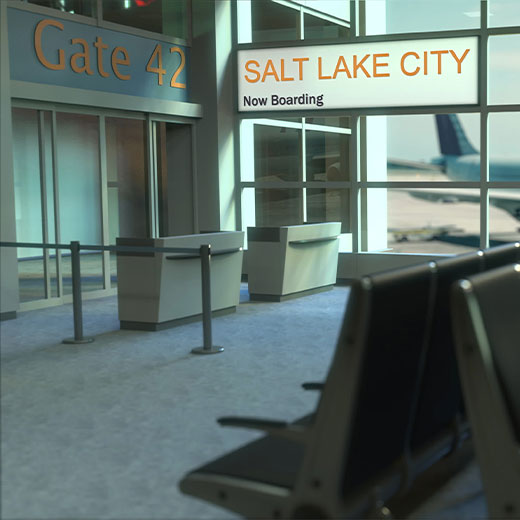 Find the best deals at Salt Lake City International Airport
So what's the best way to approach finding the best SLC parking deal? Think about it a little like you're buying a car – the choice is overwhelming at first but narrow it down using key requirements/criteria and it gets easier.
So for instance, if you live with an extended family that includes you, your partner, your young children and elderly parents, a 2-seater convertible isn't going to satisfy your needs – no matter how cheap it is. Apply the same thinking to picking your parking – rule out the types of service that don't meet your needs first, then pick the best of the remainder, weighing considerations like price and any features you'll find extra-convenient.
Compare Parking at Salt Lake City International Airport
SLC airport's latest enhancement to its parking provision is part of an ambitious development plan.
The $4.1bn Salt Lake City International Airport redevelopment project includes to new concourses (measuring 3,800ft and 3,400ft, a new 909,000 sq ft terminal, and a 3,600-vehicle parking garage, which holds twice as many vehicles as the old parking infrastructure. There will also be two new tunnels linking the terminal and concourses, a new subway system and thousands of feet of elevated roadway and other installations.
The history of this fine airport actually stretches way back to 1911, when the runway consisted of a strip covered in cinders, in the middle of pastureland named Basque Flats. City authorities bought 100 acres surrounding that site in 1920 to create a larger airfield named Woodward Field and it was opened by none other than The Manassa Mauler – legendary World Heavyweight boxing champion Jack Dempsey. Seven years later, Charles Lindberg stopped here, and crowds had a chance to see his pioneering transatlantic plane Spirit of St Louis up close. Various extensions and improvements followed in subsequent years and SLC looks set to connect Utah with the rest of the US (and the world) for years to come.
Comparing parking here is easy once you know how (as you'll see next).
What parking is there at Salt Lake City International Airport?
As you've gathered, there's plenty of diverse official parking at SLC. But you should check out reliable offsite options too. For instance, via comparison site Looking 4 Parking, you can grab bargains on parking like Ramada Salt Lake City North Temple – Self Park – Uncovered – Salt Lake City, Four Points by Sheraton Salt Lake City Airport – Self Park – Uncovered – Salt Lake City, and Diamond Parking (Lot A: S. Redwood) – Valet – Uncovered – Salt Lake City.
Now let's get our heads round the official SLC parking.
Parking guidance system
The SLC Parking Guidance System (PGS) makes finding a parking space simple. The system lets you know parking spaces are available on each level/area with color codes: red means no parking, yellow indicates EV parking available, blue means accessible parking is available and green means general parking is available. And there's more – download the PARK ASSIST app and PGS can even locate a lost car. Just pop in your registration number and it let's you know exactly where it is.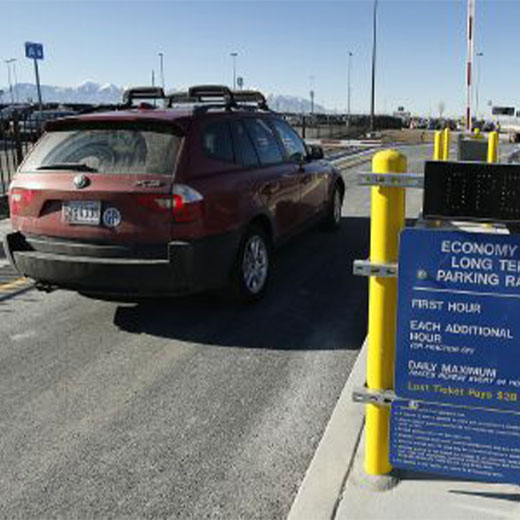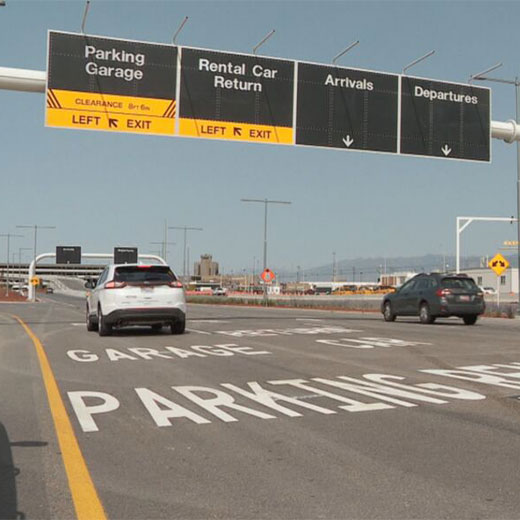 Accessible parking
There are several options for accessible parking in SLC. The short-term parking building has 135 spaces designated for passengers with disabilities and this includes 23 spaces for vans and 6 for EVs. There are also accessible parking spaces in the economy lot, at every shuttle bus stop. They're indicated by the international access symbol – please always display your disability placard or registration.
EV Charging stations
There are 66 EV charging ports at SLC, with connectors that fit all types of electric vehicles and the stations even have a video showing you how to use them. The EV charging stations are located at the economy parking lot, Parking Lot E North, Parking Lot E South, and every level of the parking garage.
Fuel efficient vehicle parking
There are 126 Fuel Efficient vehicle parking spaces at SLC. You'll find them in the parking garage and your vehicle has to have a green score of at least 40 to be eligible.
Economy parking
When you need cheap and convenient parking close to the airport, economy parking is made for you. You'll need to hop on a shuttle bus to reach the terminal but they're comfy and leave every 10 minutes.
Hourly/daily parking
You'll find this parking south of the terminal, in the garage. It's indoor parking and near the terminal – the terminal is just a short walk away.
Premium reserved parking
Situated near the terminal doors on the second level of the garage, Premium Reserved Parking is the highest service and amenities provision at SLC. Super-close to the terminal, it can handle ADA and oversized vehicles too.
Getting to Salt Lake City International Airport
You'll find SLC six miles from Downtown Salt Lake City, near Interstate 80 – you should take exit 115B. Traveling from further out, the address is: 3920 W. Terminal Dr. Salt Lake City, Utah, U.S.A. 84122.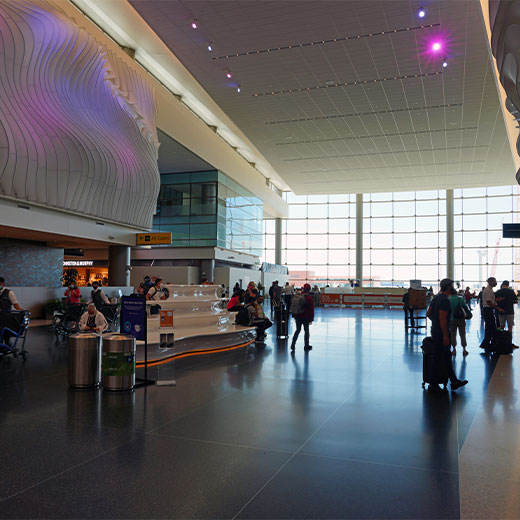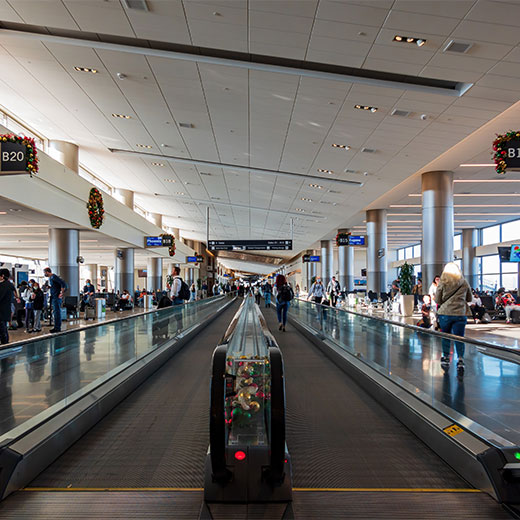 Facilities at Salt Lake City International Airport
SLC is first-rate when it comes to facilities. First off, it always accommodates travelers who have additional needs. There are wheelchairs (with attendants), elevators near escalators and stairs, and accessible restaurants, shops and restrooms.
There's an animal relief center on the west side of the terminal outside the airport, another in Concourse A near Gate 9 and yet another on Concourse B near Gate 20. You'll also find several ATMs and Cash-to-Card Kiosks, most male and female toilets have diaper changing tables and there are provide nursing rooms for babies who like to nurse quietly and mothers who need to express milk – but public breastfeeding is encouraged too.
If you're hungry at SLC, you won't go without (whew). Grab a strong, tasty coffee at Beans & Brews, a tasty pizza pie at California Pizza Kitchen, delicate European pastries at Gourmandise, and American Chinese favorites at Panda Express. Rooster's Brewing Co. is a super place for hot burgers and cold beers, and Jamba specializes in healthy plant-based smoothies and tasty fruit salad bowls.
As far as shopping goes, you can grab electronic gadgets at InMotion, colorful, creative toys at LEGO, and indulgent treats at Rocky Mountain Chocolate Factory. There's also a great Duty Free, with excellent deals on international fragrances, wines, spirits, cosmetics, and fashion.
And there ends our love letter to Salt Lake City International Airport's parking provision and amenities – hope you enjoyed!
Got a Question? Chat with our US support team
Our online chat is available 8:30am to 5:00pm weekdays. Email: [email protected]
FAQs about car hire at Salt Lake City Airport
Most frequently asked questions about hiring a car at Salt Lake City Airport
You can modify or cancel your Salt Lake City Airport parking reservation without any charges, as long as you do it at least 48 hours prior to your scheduled travel. If you make any changes or cancel within this time frame, you will be charged a $5 fee.
Enjoy Travel suggests that the most effective way to obtain the greatest parking discounts at Salt Lake City Airport is by using their online reservation system to pre-book your parking.
Salt Lake City Airport offers a range of parking options, including economy parking, daily parking, garage parking, and valet parking.
The best way to locate a car park at Salt Lake City Airport is to follow the signs on the roads leading to the airport, which will direct you to the various parking options available.
Salt Lake City Airport implements various safety protocols to ensure the security of its parking facilities. These include CCTV surveillance, regular patrols by airport police and security personnel.
The distance between the terminal and the different parking areas at Salt Lake City Airport varies depending on the specific parking option chosen. However, the airport provides shuttle services for all its parking facilities.
Yes, Salt Lake City Airport offers electric vehicle charging stations in both the Hourly and Daily parking garages.
Yes, it is allowed to park for an extended period overnight at Salt Lake City Airport. The airport offers long-term parking options in its economy and daily parking lots, which are suitable for travelers who need to leave their cars at the airport for several days or more.
To guarantee availability and make use of discounted prices, it is recommended to reserve a parking space in advance, particularly during peak times.
If you arrive early for parking at Salt Lake City Airport, you may incur extra fees, the amount of which will depend on the time of your arrival. Payment for parking can be made using a credit or debit card at the exit gate.
The economy parking option at Salt Lake City Airport is the most economical choice for travelers, as it offers the lowest daily rate among the parking options available at the airport.
The daily rate for economy parking was $9 per day, while daily parking and garage parking were both $24 per day, and valet parking was $32 per day.
With Enjoy Travel the cost of parking for a week in the economy parking lot was $54, while for daily parking and garage parking, it was $168, and for valet parking, it was $224.
Explore popular airports in the US