Minneapolis St Paul International Airport
Find the best parking deals at Minneapolis St Paul International Airport Parking
With a massive choice from the biggest brands, Enjoy the best way to find the best prices for car hire in Minneapolis St Paul International Airport Parking.
Huge choice car parks to suit every budget
Save up to 70% compared to buying on the day
Working with the best partners in Airport Parking
Airport Parking at Minneapolis St Paul International
Driving to Minneapolis St Paul is the perfect way to start your vacay or business trip. You can travel to your own timetable. In the privacy of your own vehicle. Stopping wherever you like on the way (if you need to). The next smart move is finding convenient airport parking – that doesn't cost a fortune. Which is exactly what this guide is all about. Treat yourself to a hot cup of coffee and settle down to read. By the time you're taking your last sip, your brain will be packed with MSP parking tips that last a lot longer than your caffeine rush!
Popular MSP destinations include Los Angeles, Chicago, Seattle, and Denver. But if you're coming from out of town and can spare a day or so before you fly, Minneapolis itself makes a magical mini-vacay before your big trip. If you love nature, there's nowhere in Minneapolis more than 6 blocks away from a park and great green spaces include Theodore Wirth Regional Park, Minnehaha Park, Gold Medal Park, Boom Island Park and more. You can picnic, walk, cycle, relax and people-watch.
Minneapolis also has a fabulous live music and nightlife scene too. The home of the late, great Prince, the city has also been instrumental in the careers of artists like Bob Dylan, Soul Asylum and The Replacements. First Avenue, 7th Street Entry and the Dakota venue are always popular with music-lovers and partygoers, and lush late-night spots include the speakeasy-style Volstead's Emporium and Lawless Distilling Company cocktail lounge.
Meanwhile, culture vultures who want to relax after a big night out in Minneapolis can wander around some of the 55 museums in the metropolitan area. The Mill City Museum showcases the seminal influence the flour industry had on the city's development, the Science Museum of Minnesota is an interactive eye-opener for anyone interested in STEM topics, and Bell Museum boasts a digital planetarium, hyper-realistic wildlife dioramas and outdoor discovery experiences.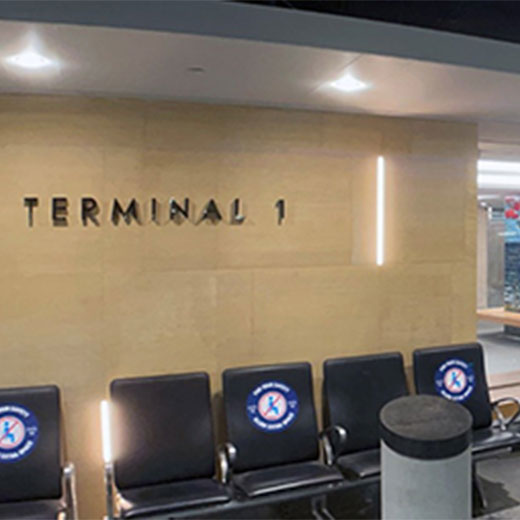 Find the best deals at Minneapolis St Paul International Airport
Most people love a bargain. Especially when it comes to airport parking – much better to save your hard-earned cash for something more exciting when you're actually on your vacay, right? On the other hand, there are certain circumstances where you might not mind paying a little extra for a super-fast, personalized service – if you're a busy businessperson for instance.
Whether you're flying solo, off for a romantic long-weekend, or traveling with your whole extended family including seven cousins and great uncle Abe, we'll help you find the best deals possible.
Compare parking at Minneapolis St Paul International Airport
From economy to valet options, there's plenty of parking to choose from at MSP. So once you've got the full lowdown, comparing and choosing is a walk in the park. And parking is just part of the picture at this 3,400 acre airport – an economic powerhouse employing 86,900 people, poised between Seattle and the St Croix River. A cluster if cities surround this awesome air hub – not only Minneapolis and St Paul, but also Richfield, Bloomington and Mendota Heights.
The 16th-busiest US airport for passengers, in the last few years, it has won several North American awards as the best in its class for customer experience. The first hangar at MSP was built in 1920 and the complex became known as Wold-Chamberlain Field in 1923, and became home to Northwest Airport in 1926.
It became Minnesota St Paul International Airport in 1948 and passenger growth surged right through to the 1980s. In recent years, there's been a huge expansion of Terminal 1, a brand new Terminal 2, new road infrastructure, two tramways and a light rail connecting the airport to St Paul, Minneapolis, and Mall of America.
What parking is there at Minneapolis St Paul International Airport?
As well as onsite parking, there are several decent offsite provisions. A comparison site like Looking 4 Parking is a good place to start looking for these types of bargains, with options like Park 'N Go – Self Park – Uncovered – Bloomington and Shepard Road Airport Parking – Self Park – Covered – St. Paul.
If this doesn't meet your requirements, take a look at the MSP official parking options below.
Prebooked parking
Booking your parking ahead of time is more convenient and unlocks savings on the regular drive-up rates. You can pre-book online on the official MSP website – just remember to do so at least 12 hours before you travel.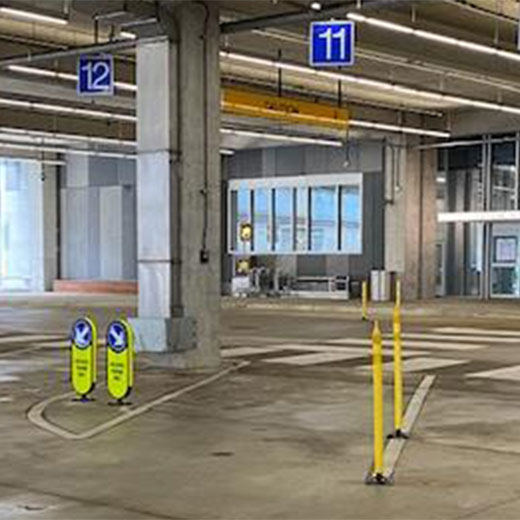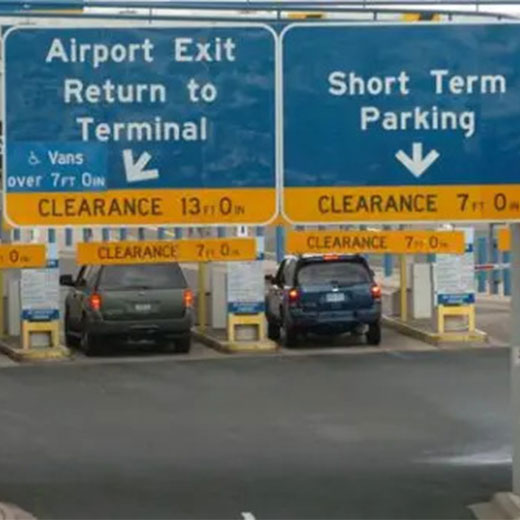 Daily parking
Your best option if you need to park for more than 4 hours, you'll find daily parking at Terminal 1 in the Brown, Pink, Silver, Red, Blue, Gold and Green ramps. Entrances and exits are automated and you usually wont have to queue either way. The spaces are covered, with a clearance height of 7' and there are EV charging stations in the Silver, Red and Blue ramps, level 8.
Quick ride ramp
When you need parking for Terminal 1 and Terminal 2, the Quick Ride Ramp is the best value. It's located off Highway 5 t the Post Road Exit, 5315 Northwest Drive – hop on the free 24hr shuttle buses to get to the terminal.
Valet parking
If you want to get to your departure gate super-quick and smooth, spending a little extra on valet parking is definitely worthwhile. Only available at Terminal 1, it's accessed by taking the inbound roadway past the daily and hourly parking exit and following the signage.
Terminal 1: hourly
Suitable for visits shorter than 4 hours, covered hourly parking is located on level 3 of the Gold Ramp and it's connected to Terminal 1 by the Skyway. All major credit cards are accepted, entrances and exits are automated, and the clearance is 7' and 9'2" for oversized vehicles.
Value parking
If you're a thrifty traveler, look no further than Value Parking. Located at Terminal 2, you can connect to Terminal 1 by jumping on the gratis light rail service. There's EV charging stations on level 7 of the orange ramp and the clearance height for this section is 6'10".
Terminal 2 hourly
Designed for dropping off and picking up, the maximum stay at this Terminal 2 covered area is 4 hours. Clearance is 8'2" and it's connected to Terminal 2 by the Skyway.
ePark elite
Frequent flyer at MSP? For a monthly fee, ePark elite parking is a convenient, swift option for corporate travelers and anyone else who lives a jet-set lifestyle. With contactless payment and a secure spot guaranteed, it's a good investment. And because you can share your transponder unit with other people/vehicles, it's even better value for money.
Getting to Minneapolis St Paul International Airport
The GPS address for MSP Terminal 1 is: 4300 Glumack Drive, St Paul, MN 55111. The address for Terminal 2 is 7150 Humphrey Drive, Minneapolis, MN 55450.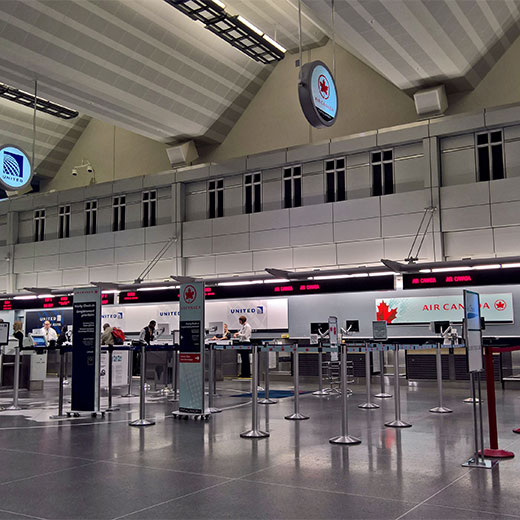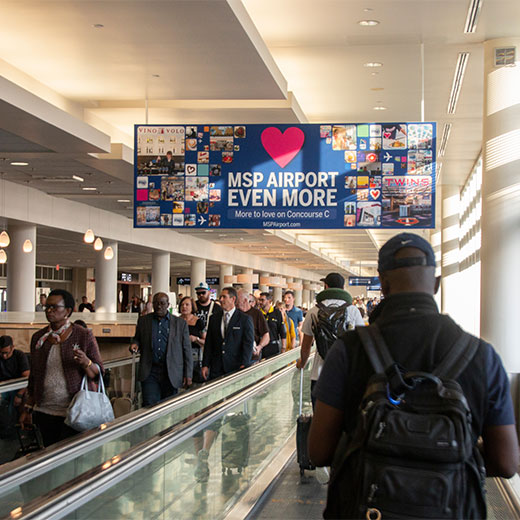 Facilities at Minneapolis St Paul International Airport
MSN takes great pride in the wide variety of services it offers. For example, one great initiative is the MSP Start! Walking Path – a 1.4 mile circuit developed with the American Heart Association, for travelers who like to keep up their fitness while they wait to board. And on the Mezzanine Level of Terminal 1, there are two quiet seating areas in the secure area, where you can take a few minutes for quiet contemplation or meditation.
If you want to stay overnight, the InterContinental Minneapolis-St. Paul Airport Hotel has 291 comfortable rooms, a cocktail bar, two fine restaurants and a large event space.
For young children, there are two child play areas. At Terminal 1, there's an air travel themed play zone with an air traffic control slide, plane-shaped playground and Snoopy statue. Meanwhile, the kids area at Terminal 2 is just as fun and has educational tools such as a huge suitcase. There are also breastfeeding centers with deep sinks, electrical outlets, soft lighting, and comfy seats.
Fancy something tasty to eat before you fly? Grab some sweet treats at Angel Food Bakery, a cold beer at Blue Door Pub, sandwiches and snacks at Bottle Rocket, and tasty barbecue at Buffalo Wild Wings. There's also delicious chicken at Chick-fil-A, fresh cinnamon rolls at Cinnabon, plant-based fare at Crisp & Green and sugary snacks at Dunkin Donuts.
And there it is – your comprehensive guide to all things parking, eating, and drinking at Minnesota St Paul's International Airport. Wherever you're flying off to, send us a postcard!
Got a Question? Chat with our US support team
Our online chat is available 8:30am to 5:00pm weekdays. Email: [email protected]
FAQs about car hire at Minneapolis Airport
Most frequently asked questions about hiring a car at Minneapolis Airport
You can modify or cancel your Minneapolis Airport parking reservation for free until 48 hours before your trip, but you'll have to pay a $5 fee if you do so after that time.
Enjoy Travel advises making an online reservation well ahead of time to get the best parking discounts available at Minneapolis Airport.
Minneapolis Airport offers General Parking, Value Parking, and Terminal Parking. General Parking is a convenient option with easy access to the terminals.
The airport has color-coded parking ramps and lots with corresponding signs and markers to help you remember where you parked. Additionally, there are digital kiosks and maps located throughout the airport to help you find your way.
Minneapolis Airport's parking facilities are well-lit, fenced, and monitored 24/7 by security personnel and surveillance cameras. There are also emergency phones located throughout the parking areas for quick access to airport security.
The General Parking is the closest option, with the parking ramps and lots located just a short walk from the terminals. Value Parking is located further away and provides shuttle service to and from the terminals. Terminal Parking is the closest option, located directly across from the terminals.
Yes, Minneapolis Airport provides charging stations for electric vehicles. The charging stations are located in the General Parking area, Terminal 1-Lindbergh, and Terminal 2-Humphrey.
Minneapolis Airport allows extended overnight parking, with no time limit, and offers long-term parking choices such as General Parking and Value Parking, with additional fees for extended stays.
It is recommended to reserve a parking spot in advance, especially during busy periods at the airport, to guarantee availability and receive discounted rates.
If you arrive early for parking at Minneapolis Airport, there may be an extra charge, which varies based on the time of arrival. You can pay for parking using a credit or debit card at the exit barrier.
The most economical parking option at Minneapolis Airport is the Value Parking. It offers lower daily rates than the Terminal Parking and is ideal for longer stays and comes to around $15 per day.
General Parking costs $26 per day, Terminal Parking costs $36 per day, and Value Parking costs $17 per day.
With Enjoy Travel for General Parking, the cost for a week is $182. For Terminal Parking, it would be $252, and for Value Parking, it would be $119.
Explore popular airports in the US