San Antonio International Airport parking
Find the best parking deals at San Antonio International Airport
With a massive choice from the biggest brands, Enjoy the best way to find the best prices for car hire in San Antonio International Airport.
Huge choice car parks to suit every budget
Save up to 70% compared to buying on the day
Working with the best partners in Airport Parking
Parking at San Antonio International Airport
Flying out of San Antonio International Airport?
Driving to the airport?
Smart move – it's less hassle and always more comfortable getting there in your own social bubble.
Stick with us to get the latest and greatest San Antonio International Airport parking info and lots of tips on hotspots for pre-flight shopping and cuisines.
But before we get into the airport parking nitty gritty, if you're traveling in from elsewhere in Texas (or even a little further), taking some extra time to explore San Antonio is a smart move.
One spot that history fans never miss is The Alamo – this historic spot is popular with sightseers from home and abroad. And exploring the River Walk is also a favorite activity – this scenic walkway not only affords the chance for a little gentle exercise, but also takes you past (or into) lovely bars, shops, and restaurants along the way.
Other attractions include San Antonio Zoo and SeaWorld Antonio, with its amazing marine creatures, shows and rides. And if you (and your kids) love theme parks, Six Flags Fiesta Texas has water rides, roller coasters and more.
But there's more. The rock formations of the Natural Bridge Caverns look like they're from another planet. The San Antonio Missions are UNSECO World Heritage Sites and The Pearl is a historic neighborhood reclaimed as a buzzing arts and entertainment hub.
And there's something for arts fans too. The McNay Art Museum has a superb collection of American and European art, while the Witte Museum showcases Mexican and Southwestern art.
Fancy some evening entertainment? The Barley Swine is a gorgeous gastropub serving up traditional dishes with a creative twist, and the Esquire Tavern is the perfect place to see a live music gig.
Meanwhile, The Friendly Spot lives up to its name with relaxed vibes and friendly locals, while The Lost Abbey specializes in craft beers. And if you like the sound of city views and fresh air, try The Monterey.
After all those attractions and distractions, you'll probably be hungry. In which case, Bistro Vatel is an excellent restaurant serving contemporary remixes of classic French dishes, and Cured is known for its charcuterie and small dish menu.
For authentic Mexican spice, The Fonda San Miguel is a good pick, while The Original Ninfa's on the Riverwalk is a renowned Tex-Mex establishment with an impeccable local reputation.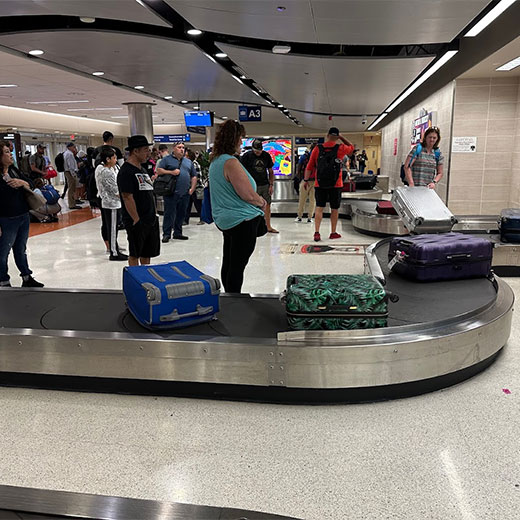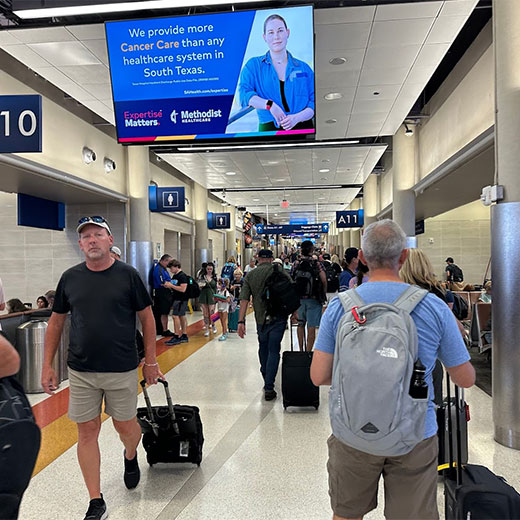 Find the best deals at San Antonio International Airport
There are a few ways to find good San Antonio International Airport parking.
Firstly, a very specific search on sites like Google and Bing can garner results. You can also look for discount parking coupons on the official SAT website and if you'll consider offsite parking, these lots are usually cheaper.
It's definitely worth checking airport parking sites and apps too (recommendations to follow later).
Compare parking at San Antonio International Airport
With 12,250 spaces, the parking provision at SAT is generous and it's split between four onsite garages and a cell phone lot.
It's quite astounding to think that cellphones weren't even invented when the airport was founded in 1929 as San Antonio Municipal Airport. Renamed after mayor Robert Mueller in 1942, it benefited from a huge expansion in 1953 that added a new terminal building, runway, and control tower.
More expansion followed in subsequent years, with a second terminal building opening in 1984 and a new international terminal opening in 2010. With 5 runways and two terminals presently, SAT serves a peak 10 million passengers annually.
With major economic clout in the region, SAT supports 30,000 jobs and injects $2 billion into the local economy annually.
What parking is there at San Antonio International Airport?
Two airport parking comparison sites that are usually worth checking out are Looking4Parking and APH – Looking4Parking aggregates deals from several garages around SAT and APH can sometimes offer discounts on long stay and valet parking.
But for now, let's consider your official SAT parking options.
Short-term garage
Located next to the terminal, the short-term garage isn't the most affordable SAT parking option but it is the most convenient.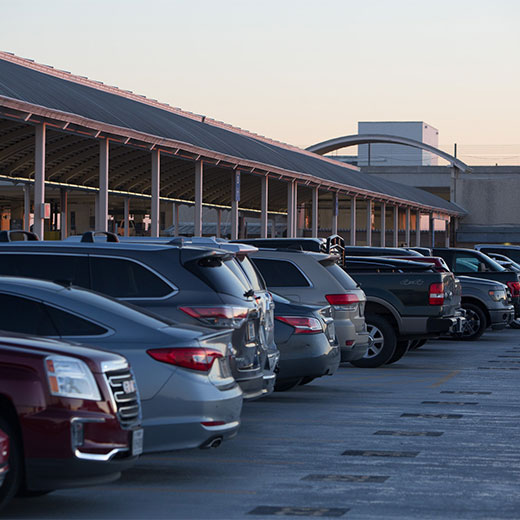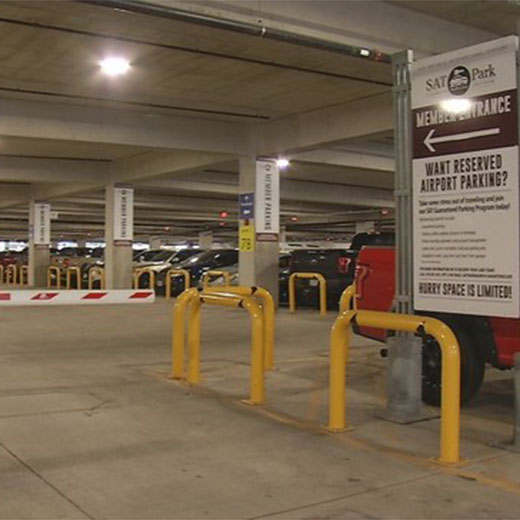 Long-term garage
Just a short stroll from the terminal, the Long-term garage is priced more keenly than short-term and is the best choice if you'll be away for more than a couple of days.
Economy Garage
This is the farthest SAT parking option from the terminal but it's also the cheapest – perfect if you're price-focused.
Cell phone lot
Ideal for picking up and dropping off passengers, the SAT cellphone lot offers free parking for the fist two hours.
Valet parking
Available in both the short-term and long-term garage, valet parking is the most expensive option but if you want the smoothest parking service possible, it might be worth paying extra.
Getting to San Antonio International Airport
Luckily, its pretty simple to drive to SAT from the nearest towns and cities.
From Boerne, take the I-10 East to exit 165A, turn left onto Airport Boulevard and the airport will be on your right.
If you're driving from New Braunfels, take I-35 North to exit 179A, turn left onto FM 78 and right onto Airport Boulevard, and the airport will be on your right.
From Schertz, take Loop 1604 East to exit 25, turn left onto Airport Boulevard and you'll soon see SAT on your right.
Rolling in from San Marcos? Take I-35 South to exit 181A, turn right onto FM 78 and right onto Airport Boulevard and SAT will pop up on your right.
From San Antonio, take I-10 East or I-35 South to Exit 165A, turn left onto Airport Boulevard and the airport will be on your right.
In general, give yourself plenty of time to get to the airport, especially if you're traveling during rush hour, check traffic conditions prior to leaving and follow the airport signs.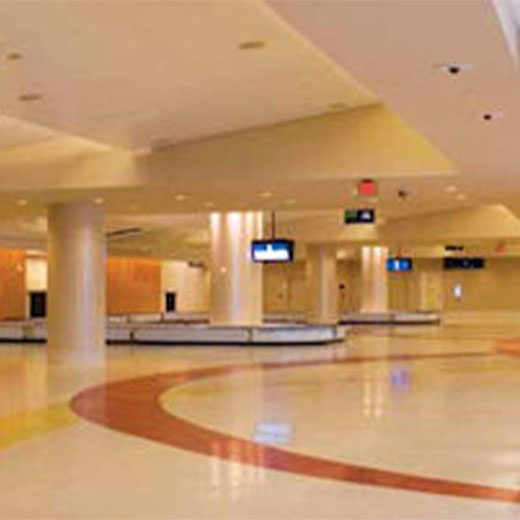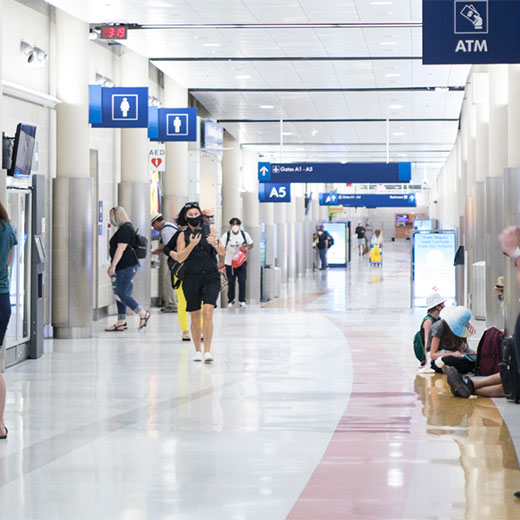 Facilities at San Antonio International Airport
Facilities and amenities at San Antonio International Airport are overall very good.
For instance, as well as boasting a brilliant parking provision, SAT has strong transportation links, including rental cars, shuttles, taxis, and a bus stop right on Airport Boulevard near the airport entrance.
There are a variety of food and beverage options (more details to follow) as well as vending machines, and you'll also find restrooms located throughout the complex which are usually in great condition.
There's fast, reliable, and free Wi-Fi throughout the airport so you'll have no problem staying connected to friends and family, and a selection of airport lounges offer complementary food and drinks and comfortable seating away from the main concourse.
Need to pick anything up from the airport?
The retail selection at SAT is decent, with no less than seven duty free stores, including The Loop and DFS.
There's also a superb collection of newsstands, including NewsLink and Hudson News, while the convenience store offering is backed by Buc-ee's, Circle K and 7-Eleven, and Barnes & Noble in the main terminal is the place to pick up books of all stripes.
One way to avoid pre-flight arguments (especially when traveling with young kids, teenagers, or seniors) is to make sure everyone is suitably fed and watered before they board.
The cuisine scene at SAT includes American classics from Chili's Grill & Bar, Willie's Burgers and The Salt Lick, there's Mexican fare from Lupita's Taco Cabana and Mi Terra, and Olive Garden and Brio Tuscan grille prop up the Italian section.
Alternatively, when you want a quick caffeine pick-me-up, Peet's Coffee in the main terminal, and Starbucks and Dunkin Donuts throughout the airport fit the bill, while Sam's Beer Garden, The Flight Bar and The Hub are popular if you'd prefer something a little stronger.
Another fantastic feature of San Antonio International Airport is its public art programme.
One lovely piece is Suitcase Portraits by local artist Chuck Ramirez. A set of stacked lightboxes depicting open suitcases and what's inside them, they represent the spirit of travel and flux of people through the airport. Meanwhile, Adelante! San Antonio! Outside the rental car area has a cross between a bird and a plane that represents 24/7 travel.
Essential Expressions is an exhibit featuring multi-media pieces by airport employees and family members located by the Terminal A baggage claim, and there are sculptures throughout the airport by local artists like Luis Jiminez and Robert Summers.
And there you are – a comprehensive guide to San Antonio Airport parking and a lot more besides!
Got a Question? Chat with our US support team
Our online chat is available 8:30am to 5:00pm weekdays. Email: [email protected]
FAQs about car hire at San Antonio International Airport
Most frequently asked questions about hiring a car at San Antonio International Airport
To avoid incurring any charges, it is essential to modify or cancel your parking reservation at San Antonio International Airport at least 48 hours prior to your planned departure. However, if changes are made within this 48-hour window, a fee of $5 will be imposed.
According to Enjoy Travel's recommendation, the best way to achieve substantial savings on parking at San Antonio International Airport is by using their online booking system well in advance.
San Antonio International Airport offers a range of parking choices, including short-term, long-term, economy, covered, valet, off-site, accessible, and even electric vehicle charging options, catering to various traveler needs and preferences.
The easiest and most efficient method for finding parking at San Antonio International Airport is to follow the clearly marked signs that lead you to the different parking options, all of which are conveniently accessible through the airport's well-organized road system.
Safety protocols for parking at San Antonio International Airport include surveillance cameras, ample lighting, security patrols, access control, emergency services proximity, security call boxes, regular maintenance, ADA compliance, customer assistance, and secure payment methods, ensuring a secure environment for travelers.
The distance between the terminals and the various parking areas at San Antonio International Airport varies, with short-term parking being closest to the terminals, long-term parking a bit farther away with shuttle services, and economy parking situated at a greater distance, also usually with shuttle services provided.
San Antonio International Airport offers electric vehicle charging stations to cater to passengers in need of charging their electric cars.
Yes, San Antonio International Airport allows parking for extended periods, including overnight stays, in their long-term and economy parking areas.
For the best experience and to take full advantage of discounted prices, it's recommended to make an advance parking reservation, particularly when traveling during busy times.
If you arrive at the San Antonio International Airport parking area earlier than your scheduled time, it could result in extra fees, with the specific charges dependent on when you arrive. You have the option to pay these parking fees with a credit or debit card upon exiting the parking facility.
The most economical parking option at San Antonio International Airport is the Economy Parking Lot.
The daily parking rates at San Antonio International Airport can vary, with short-term parking costing approximately $25 per day, long-term parking around $14-15 per day, and economy parking typically priced at about $9-10 per day.
With Enjoy Travel the cost of parking for a week at San Antonio International Airport is for short-term parking around $175 or more, long-term parking approximately $98-105, and economy parking is usually priced at about $63-70.
Explore popular airports in the US