John F. Kennedy International Airport parking
Find the best parking deals at John F. Kennedy International Airport Parking
With a massive choice from the biggest brands, Enjoy the best way to find the best prices for car hire in John F. Kennedy International Airport Parking.
Huge choice car parks to suit every budget
Save up to 70% compared to buying on the day
Working with the best partners in Airport Parking
John F. Kennedy International Airport Parking
So you're setting off from JFK soon and need to find your ideal parking spot? Maybe you've got a class reunion in Tacoma, a family get together in Galveston, or a bucket-list trip to Bali? Wherever you're headed, we've got all the information you need on comparing and choosing parking at JFK and feeling fabulously calm and collected before takeoff.
And if you're driving into New York from out of town, you might want to arrive a couple of days early to take a small bite of The Big Apple. Even if you've never been to NYC before, its iconic backdrops have featured in so many movies, TV series and songs that it instantly feels familiar. A global hub for fashion, cuisine, culture, arts, and architecture, it's easy to see why its biggest fans claim it's the capital of the world. From the Statue of Liberty to Times Square and the Brooklyn Bridge to Central Park, there's something that stimulates the senses at every turn. And the famous five boroughs of Manhattan, Bronx, Brooklyn, Queens and Staten Island each have their unique charms, combining to create a unique, magically multicultural city that's much more than the sum of its parts.
Cool things to do in NYC include riding the retro-style bumper cars in the Standard Hotel plaza, sampling the smell of the greasepaint and roar of the crowd at the Museum of Broadway, ice skating at Wollman Rink in Central Park, and having a drink or three in a secret speakeasy bar under Shaku Ramen. You can also see some of the best views of the city skyline at Summit One Vanderbilt or get to grips with music history on a Walk This Way Harlem Hip-Hop Walking Tour.
If you're a pro sports fan meanwhile, there's almost too much to choose from. We're talking basketball from New York Knicks and Brooklyn Nets, hockey from New York Rangers, baseball from New York Yankees and New York Mets, football from New York Giants and New York Jets and boxing at Madison Square Garden.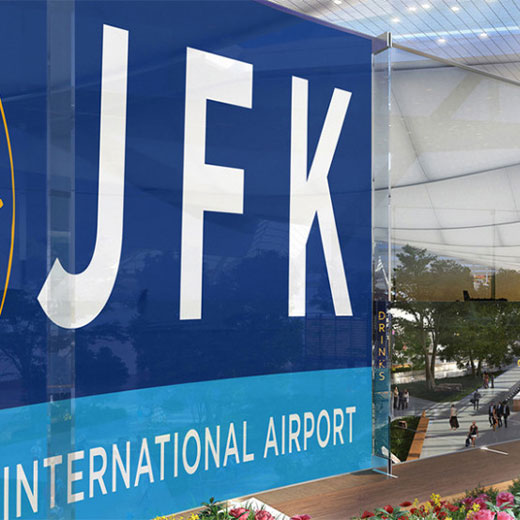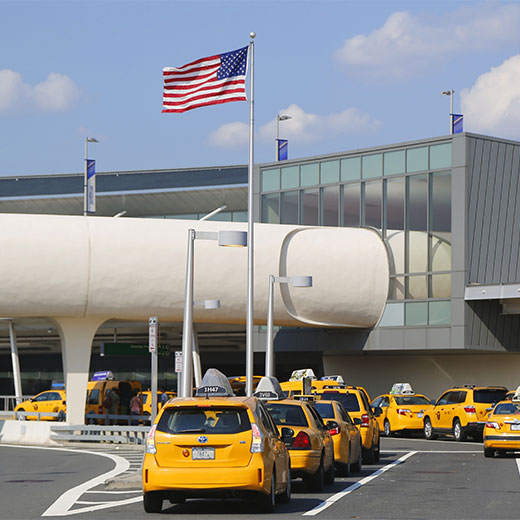 Find the best deals at John F. Kennedy International Airport
Shop around for long enough and you'll generally find the best deal for just about anything. But who's got time for that? We've gathered together the latest (and greatest) information on parking at JFK, so you don't have to.
So by matching parking categories with your travel priorities, you'll find it much easier to choose. From low-cost economy parking to higher-end valet options, the official onsite provision to offsite alternatives, there are plenty of ways to find a deal that balances price with best fit.
Compare parking at John F. Kennedy International Airport
There are 17,000 car park spaces at JFK, with everything from multilevel options to surface parking and spots a stone's throw from the terminal to a shuttle bus away. And that's just one of many impressive facts about this famous airport.
The world's 17th-biggest air hub, it processes 55 million passengers every year and it connects New York to countless domestic destinations, as well as international locations as far afield as London, Lima, and Seoul. Built on Queens' Idlewild golf course, it was initially named Idlewild Airport, before becoming New York International Airport and finally, John F. Kennedy International Airport after the beloved former president's murder in 1963. Interestingly, it has an integrated military facility with an exclusive runway for Air Force One and an agreement with NASA that it can be used as a backup landing strip for space shuttles.
What parking is there at John F. Kennedy International Airport?
There's lots of official parking at JFK, but it's always worth considering reliable offsite parking when you're hunting for a bargain. For instance, well-established parking comparison site Looking 4 Parking has John F. Kennedy deals at Parking 4 Airport- Valet – Uncovered – Richmond Hill, Jamaica Center- Self Park – Covered, Aardwolf Parking – Valet – Uncovered – South Ozone Park and Radisson Hotel JFK Airport – Valet – Covered – Jamaica.
Now let's look closely at your official JFK parking options.
Daily Parking Lots
Daily parking lots in Terminal 1 and 2 are designated as the Green Lot, Terminal 4 is Blue and Terminal 5 is yellow. Terminal 7 is Orange and Terminal 8 is Red. Fees are calculated in half hour increments up to a maximum 24 hour daily rate. This short-term parking can be used if you're dropping off or picking up and want to accompany them into the terminal but if you're planning on staying overnight, long-term parking is the better option.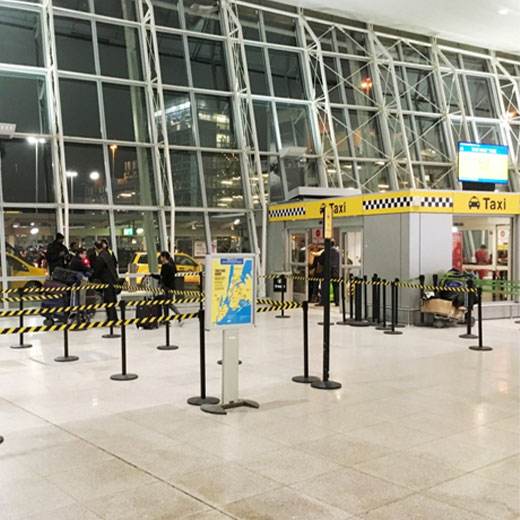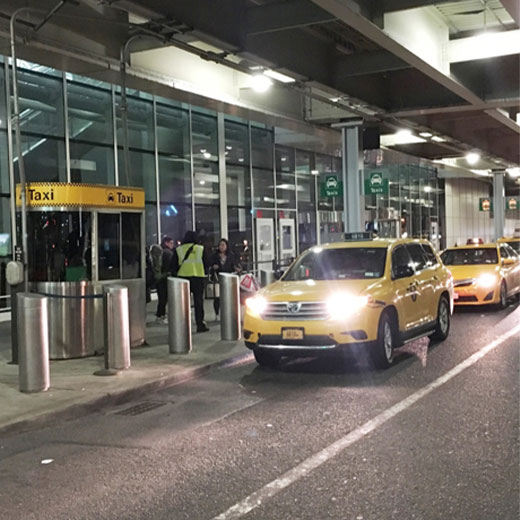 Federal Circle Station Lot
This JFK parking lot has a flat fee for the first 24 hours, with a charge applied every half day thereafter.
Long-term parking lot
Located at Lefferts Boulevard and Howard Beach, Lot 9 is the Economy Lot, so it's ideal for thrifty travelers. Staffed 24/7, it has super-convenient AirTrain access to every JFK terminal – you'll get there in 10 minutes at most.
Parking for passengers with special needs
As you'd expect, JFK has ample long and short-term parking spaces for passengers with restricted mobility. Find daily accessible parking in Orange, Blue, Yellow and Red, and accessible long-term parking at Lefferts.
EV charging
JFK supports Electric Vehicle drivers – you can charge your EV here free of charge.
Passenger drop-off and pick-up areas
There's Kiss and Fly parking in Lefferts Boulevard AirTrain Station, which is 10 minutes from any terminal. And there are 127 cell phone lots near the airport entrance where you can wait in your vehicle until your passengers come out. You'll find the cell phone lots near the JFK Expressway and the Van Wyck Expressway.
Park, Stay and Fly
If you want a more relaxed parking (and pre-flight) experience, consider staying at a hotel near John F. Kennedy International Airport. For instance, hotels like Radisson JFK offer package deals whereby you can stay overnight, park your car safely in the hotel lot for the duration of your vacay, and hop on the shuttle to the terminal.
Getting to John F. Kennedy International Airport
It takes around 40 minutes to reach JFK from Manhattan via Grand Central Parkway. If you're driving in from outside the city, the best address to use for your GPS is: Van Wyck and JFK Expressway, Jamaica, NY, 11430.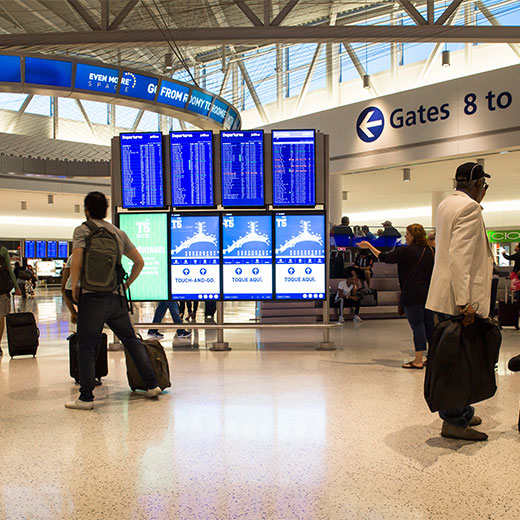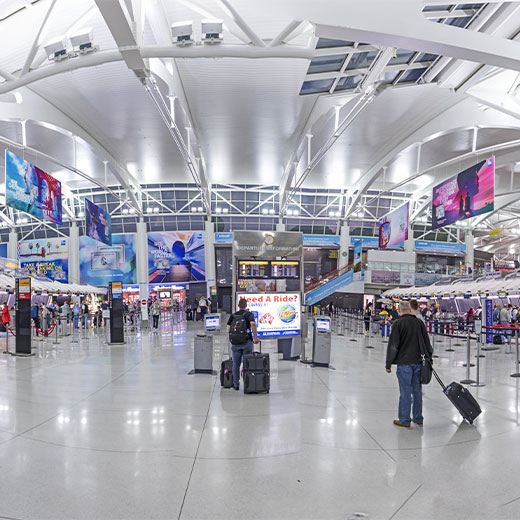 Facilities at John F. Kennedy International Airport
As well as its accessible parking provision, JFK offers passengers with hidden disabilities like hearing loss, PTSD and autism Hidden Disabilities Sunflower lanyards – you can request these free of charge at any of the Welcome Centre booths in Arrivals in every terminal.
There's also an Artificial Intelligence Remote Assistance (AIRA) app for low vision or blind customers – this clever app allows navigation through the airport with the help of a live remote agent. JFK also has ample accessible drinking fountains and restrooms.
AirTrain JFK is the airport's free, dedicated travel system and it connects all terminals to parking lots and hotel shuttle areas. Please note that passengers who have to start or end their journeys at Howard Beach and Jamaica stations have to pay a fee.
At the airport and its environs, you'll also find lots of places to shop, eat and drink. For instance, at Jamaica Station AirTrain Station, there's an Air Bar, Tim Hortons and NY Deli, so you can stock up on delicious sandwiches, donuts and more. In terms of shops, you'll find designer boutiques and high end stores, you'll find the likes of Bvlgari, Cartier, Clinique and coach. And if you want to pick up your favorite newspaper or magazine before boarding, there are multiple Hudson News outlets.
If lounges are your thing, there are plenty to choose from at JFK and the standards are excellent. For example, the Air France lounge in Terminal 1 provides delicious food, alcoholic and non-alcoholic drinks, Wi-Fi, showers and a TV lounge. The Alaska Lounge in Terminal 7 is another great lounge, with fax and copier services as well as showers, telephones with free local calls and beverages.
If you're traveling with kids in tow, don't miss JetBlue Junior – a cool interactive play area for children aged 2-12 with an interesting air travel theme. Hotels near the airport that are suitable for families include Fairfield Inn JFK Airport, Comfort Inn JFK Airport, Hilton Garden inn JFK and Crowne Plaza JFK Airport. Seems like a stroll around this airport is a mini vacay in itself!
Got a Question? Chat with our US support team
Our online chat is available 8:30am to 5:00pm weekdays. Email: [email protected]
Explore popular airports in the US