Miami International Airport parking | MIA travel and amenities
Find the best parking deals at Miami International Airport parking
With a massive choice from the biggest brands, Enjoy the best way to find the best prices for car hire in Miami International Airport parking.
Huge choice car parks to suit every budget
Save up to 70% compared to buying on the day
Working with the best partners in Airport Parking
Airport parking at Miami International
Ah, Miami. Just saying the name of this magical city conjures up soft sands, blue skies, and sultry Latin nights.
And since you're flying from MIA soon, we've put together this value-packed guide to airport parking. Whether you want VIP treatment, need a budget deal, want a suitable EV space, or have additional needs, there's a space at Miami International Airport made for you.
However, Miami has such allure that we're surprised anyone leaves at all – even for short while. There really is something for everyone in this Floridian fantasy city. Architecture fans love nothing better than strolling along Ocean Drive and drinking in the curvaceous lines and pretty pastel shades of the Art Deco district. The city's creativity infuses everything from lip-smacking fusion cuisine to open-air galleries in reclaimed factories.
And when the sun sinks lazily into the South Florida sea in a neon blaze, Miami is transformed again – into a playground for pleasure seekers peppered with salsa spots, cocktail emporiums, rooftop bars and bass quaking nightclubs. It's also a naturally stunning city, which counts Mid-Beach, Virginia Key and Oleta River State Park amongst its wealth of attractions.
Popular things to do here include people watching on Miami Beach, getting close (but not too close) to alligators at Jungle Island, browsing for bargains at Bayside Marketplace and seeing spectacular wild animals at Zoo Miami.
Still heading off for a while though? Alrighty then – your MIA parking info is coming right up.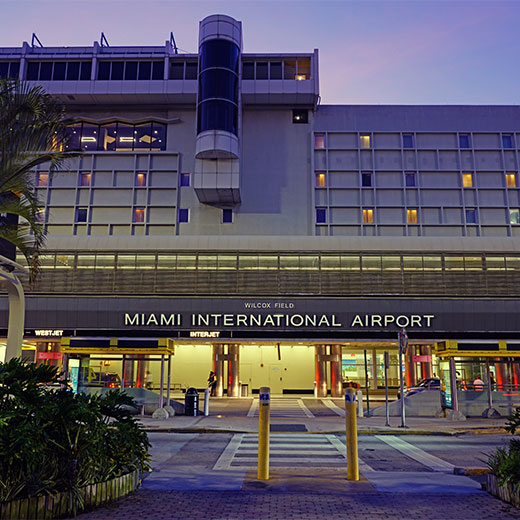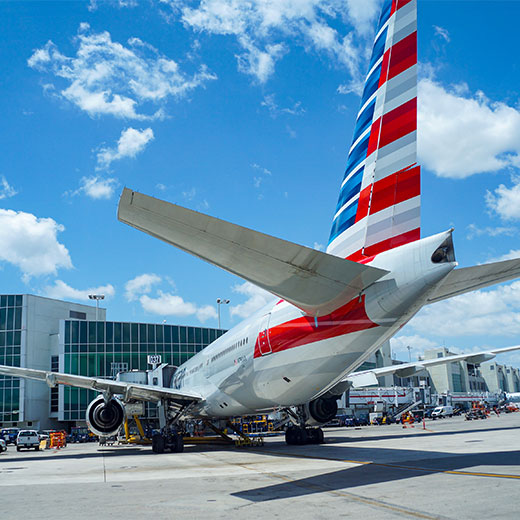 Find the best deals at Miami International Airport
You'll find lots of different kinds of parking at MIA. Everything from economical options for thrifty travelers to VIP options for busy businesspeople. There are long-term options. Short-term options. Everything in-between. Which you'd expect from an airport which has put customer service first since it opened its doors.
It might look modern, but MIA's history stretches back almost a century. All the way to 1928, to be precise – when Pan American Airlines moved their operations from Key West to Miami. Pan Am's first terminal was a single hangar used for its base for flights to Cuba, so from humble beginnings, great things grow. First known as Miami City Airport, at its inception, this was the only mainland airport on the Eastern Seaboard that had official port of entry facilities. Miami Army Airfield opened nearby in WWII (1943) and in the post-war years, the City of Miami bought the facility from Pan-Am and expansion started in earnest.
These days, it's the 10th busiest airport in the US for passengers (processing 17.5 million travelers annually) the busiest air hub for international passengers in the US and the busiest for cargo.
Compare Miami International Airport Parking
As we've discussed, there are lots of diverse MIA parking options. You'll find something to suit solo fliers, couples, family and school groups, and travelers with additional needs. Next, we'll lay all the options out for you clearly – then you can make an informed choice that suits your budget and requirements.
What parking is there at Miami International Airport?
As well as official MIA parking, you can also choose a space with a trusted third party provider. Take Looking4Parking for instance. They provide reasonable deals for Crowne Plaza MIA – Self-Park – Uncovered, MIA parking – Valet- Uncovered, Hilton Miami Airport Blue Lagoon – Self Park, MIA Marriot Hotel – Self Park – Uncovered, and Prestige Easy Park – Valet – Uncovered.
But how about that official MIA parking? Check out your options below.
Garage parking – Dolphin & Flamingo
Serving Concourses D and E, choose Dolphin Garage when you're jetting off with Qatar Airways, JetBlue, British Airways and American Airlines.
Meanwhile, Flamingo Garage serves Concourses E-J and you should use it when flying with absolutely every other airline.
Please note that there's a 45 day maximum stay for all vehicles parked in the garage and vehicles will be towed at your expense if you don't observe this limit. If you're driving an over-height vehicle, there's a suitable surface lot parking area at the east side of the Dolphin Garage. You pay a couple of bucks every 20 minutes and the full-day rate applies after 4 hours.
Payment methods are convenient too. You can use cash, all major credit cards, Apple Pay and Samsung Pay.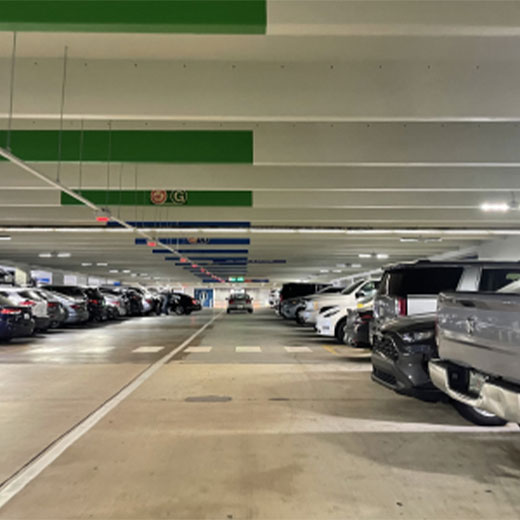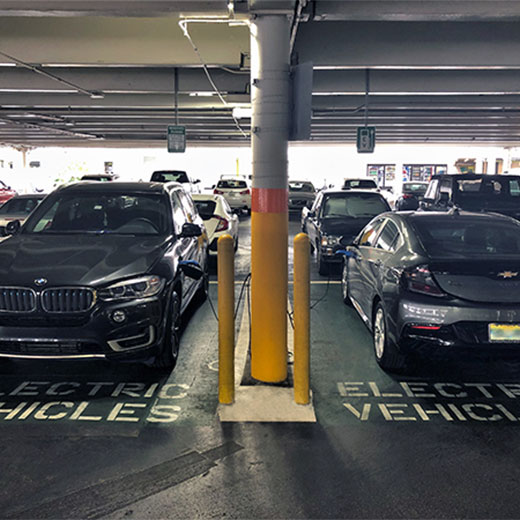 Valet
Valet parking is the closest option to departures at MIA and it's child's play to use – pull up, grab your bags and skip into the terminal while trusted, expert staff park your car in a secure space, awaiting your return. The Valet facility is located at Departures/Dolphin and Flamingo Garages 2nd level.
This is a great option if you're a business traveler on a hectic schedule and it's also excellent if you simply want to start your holiday as smoothly as possible.
Economy park & ride
The best value parking option at MIA, official Economy Park & Ride is located at 1350 N.W. 45th Avenue. Accessible from Perimeter Road and Lejeune Road, a free shuttle bus whisks you to the terminal every 15 minutes.
You'll find shuttle pick-up and drop-off points at MIA departures opposite doors 26, 11 and 3.
Accessible
Drivers with disabled and stroller permits should use the accessible parking areas on the 3rd level and ground level of every garage. The airport provides two hours of free parking to cars with a disabled license tag or parking permit, after which you pay standard rates. Ex-Armed Forces personnel with a Florida license plate for Disabled Veterans get free parking, as do vehicles with specialized hand and foot controls, lifts, and ramps.
Cell phone waiting lot
Located just off Lejeune Road and NW 31st Street, this waiting lot provides 60 spaces for not-for-hire vehicles picking people up from MIA.
Electric vehicles
There are several areas offering parking spaces for Electric Vehicles all day and night. You'll find them at Departures 2nd level, valet parking at the Flamingo and Dolphin Garages and the 1st level of arrivals at the inner loop between terminals E and G.
Getting to and from Miami International Airport
When you're driving to the airport, first step is entering the address in your GPS: 2100 NW 42nd Avenue, Miami FL 33142. From Miami city center, MIA is around 15 minutes' drive via I-95 N and FL-112 W.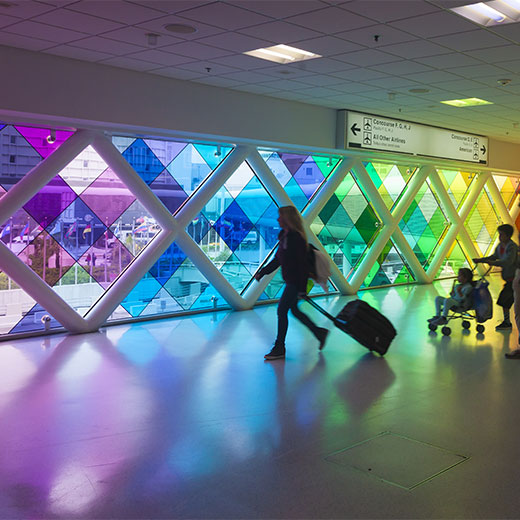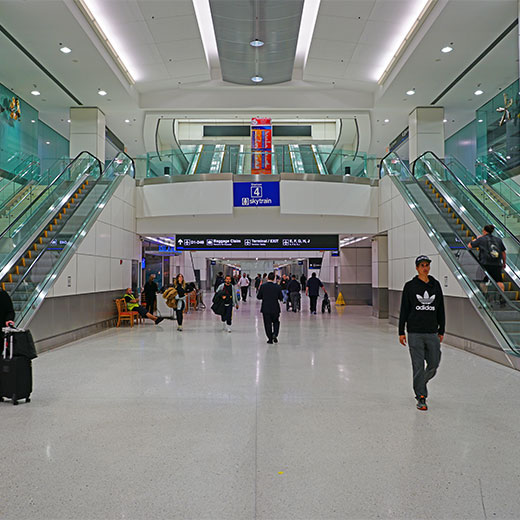 Facilities at Miami International Airport
Facilities and amenities are fantastic at MIA.
There are indoor animal relief areas at Terminal D, F, G and J. And outdoor animal relief areas at Terminals D, E and J.
ATMs are peppered throughout the airport. There are two multimedia auditoriums. A chapel. Currency exchange booths. A lost & found facility.
A multi-sensory room and a Military Hospitality lounge. And Plane Fun, a one of a kind, interactive children's area situated on Concourse E near Gate E5.
And if you want to shop 'til you drop, you're in luck. Polish up your dapper shoes at Abraham Executive Shoe Shine. Pick up last minute must-haves at Air Essentials, grab affordable accessories at Bead Factory of bag beauty products at Benefit.
Booklink & Café has all your airline reads and gourmet coffee. Brookstone has great gadgets like noise cancelling headphones. Calvin Klein has comfy designer underwear and Coach has beautiful designer bags.
As you probably expect in the air hub for such a hip city, there are also plenty of spots to grab a bite to eat while you wait for your plane. Tempt your taste buds with tantalizing pizza pie at 305 pizza. Sip a few refreshing cocktails at Bacardi Mojito Bar. Or enjoy a stacked burger and delicious beer at Corona Beach House. Meanwhile, Earl of Sandwich takes your favourite filling between two slices of bread to new levels and Gilbert's Food Bar offers delish cakes, baked goods, snacks and desserts.
Alternatively, Nathan's Famous is hot dog royalty originating from Coney Island, Pizza Hut Express serves tasty slices at the double, and Spring Chicken serves fried chicken wit signature secret sauce. There's also Subway, Wendy's, Chili's Too, and Estefan Kitchen Express.
MIA also offers nursing pods, post-security on every concourse and an expansive nursing suite after security in South Terminal.
As you can see, you'll be well-looked after at Miami International Airport. Indeed, there's more to keep you busy than there is in some small towns!
But most importantly, there's every kind of parking under the sun – which is great news whatever your travel needs.
Got a Question? Chat with our US support team
Our online chat is available 8:30am to 5:00pm weekdays. Email: [email protected]
FAQs about car hire at Miami Airport
Most frequently asked questions about hiring a car at Miami Airport
You can modify or cancel your Miami Airport parking reservation for free up to 48 hours before your trip. After that, a fee of $5 will be charged for any changes or cancellations.
Enjoy Travel suggests reserving your parking space online in advance to get the best parking discounts at Miami Airport.
Parking options at Miami Airport include garage parking in front of the terminal for both short and long-term stays, affordable economy parking a short distance away, convenient valet parking with covered parking near the terminal, and off-site parking with shuttle service to and from the airport for lower rates.
To find your car at Miami Airport, note the color-coded sections in the garages and economy parking lot and remember which one you parked in. Alternatively, use the parking lot locator on the airport website by entering your license plate or parking space number to find your car's location.
Miami Airport ensures parking lot security through security cameras, well-lit parking areas, and security personnel who patrol the area regularly.
Garage parking is located directly in front of the terminal, so the distance is minimal. Economy parking is located a short distance away from the terminal, and a shuttle service is provided to commute passengers to and from the lot. The shuttle ride is approximately 10-15 minutes. Valet parking is available in a covered area near the terminal, making the distance minimal. Off-site parking lots are located a few miles away from the airport, and a shuttle service is provided to transport passengers to and from the lots. The shuttle ride takes approximately 15-20 minutes.
Yes, Miami Airport has electric vehicle (EV) charging stations available in the parking garages and in the Dolphin and Flamingo garages. These stations can be used for a fee and are available on a first-come, first-served basis.
Yes, it is allowed to park for an extended period overnight at Miami Airport. The airport offers long-term parking options for passengers who need to leave their car at the airport for an extended period.
It is recommended to book a parking spot ahead of time, especially during busy times at the airport, in order to secure availability and take advantage of discounted rates.
If you arrive early for parking at Miami Airport, you may have to pay extra charges that differ based on the time of arrival. You can pay for parking using a credit or debit card at the exit gate.
The Economy Parking lot is the most economical option at Miami Airport.
The garage parking rate is $17 per day, the economy parking rate is $8 per day, and the valet parking rate is $30 per day.
With Enjoy Travel Garage parking costs $17 per day, so the cost for a week would be $119. Economy parking costs $8 per day, so the cost for a week would be $56. Valet parking costs $30 per day, so the cost for a week would be $210.
Explore popular airports in the US