Phoenix Sky Harbor airport parking
Find the best parking deals at Phoenix Sky Harbor Airport Parking
With a massive choice from the biggest brands, Enjoy the best way to find the best prices for car hire in Phoenix Sky Harbor Airport Parking.
Huge choice car parks to suit every budget
Save up to 70% compared to buying on the day
Working with the best partners in Airport Parking
Parking at Phoenix Sky Harbor Airport
Leaving on a jet plane from Phoenix?
Taking your car to PHX?
Looking for the best place to park?
If you just nodded thrice, you're in exactly the right place.
PHX is a great airport. But then, it serves a pretty special city too.
A trendy, creative city with a fascinating history, Phoenix burns brightly with its charming heritage buildings, striking street art and buzzing nightlife. This cultural oasis in arid Arizona is anything but dry – just ask fans of its refreshing local wine. The scenery of the Sonoran Desert is spectacular and Greater Phoenix (which includes hotspots like Phoenix) is a playground with something to please everyone.
Here in the Valley of the Sun, you can swap four wheels for two and cycle the ale, wine, and coffee trails, peruse public art exhibits, discover the Arizona Canal and sample some of the best craft beers anywhere in the US of A. Great things to do include strolling around the palatial Wrigley Mansion, seeing some mind-blowing ballplayers in action at MLB's iconic Cactus League and (if you're feeling fit) hiking the tough trails at Camelback Mountain. Famous sons and daughters of Phoenix include the late, great Chester Bennington, Stevie Nicks, Jordin Sparks, Amber Valletta, Ashley Roberts and Dierks Bentley.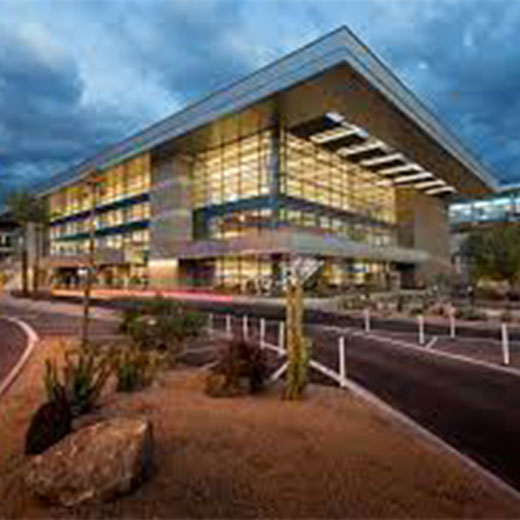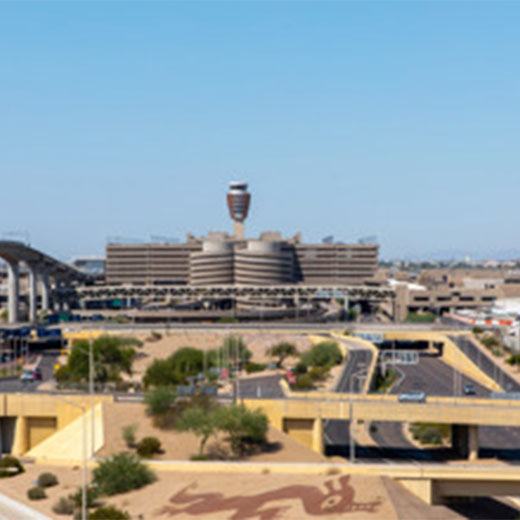 Find the best deals at Phoenix Sky Harbor Airport
Phoenix Sky Harbor Airport is just 4.8 km from downtown Phoenix and it's a much bigger (and busier) airport than lots of people realize (processing 44 million travelers annually). A hub for Southwest Airlines and American Airlines, it connects Arizona to the world, with over 250 departures every day.
But it wasn't always as bustling. In fact, when it first opened in 1929 (with just one runway) it earned the nickname 'The Farm' because of its remote, rural location. Whatever your travel plans and requirements, driving to PHX is the most convenient and comfortable way to get there in your own social bubble. All the information you need to find a fantastic deal on PHX parking is coming right up.
Compare Phoenix Sky Harbor Parking
Working out the best PHX parking depends on several varied factors, including the purpose of your trip, your budget and the needs of your travel group. For instance, if you're an active traveler visiting Denver to explore the Rocky Mountains National Park, your needs might be different from an elderly couple heading to New York to see family in Brooklyn. Once you've got that key info though, making an informed choice is straightforward.
What parking is there at Phoenix Sky Harbor Airport?
It's great to have a choice when it comes to airport parking.
And at PHX, you'll find offers from trusted alternative, as well as official, providers. Looking4Parking is a fine example. This global comparison site has low daily rates on parking at Howard Johnson Airport Downtown – Self Park – Uncovered – Phoenix, PreFlight Airport Parking – Self Park – Rooftop – Phoenix, Radisson Hotel Phoenix Airport – Self Park – Uncovered, and Country Inn & Suites by Radisson Phoenix Airport – Self Park – Uncovered.
Now let's feast our eyes on official options at Phoenix.
Park and Ride
A great option for affordable long-term parking, PHX Park and Ride helps you cut back on your parking spend to save for vacay activities that are much more fun. The only shuttle service operated by airport authorities is East Economy Parking, the ride takes 5 minutes and buses run regularly throughout the day. For an extra fee, you can book a covered space.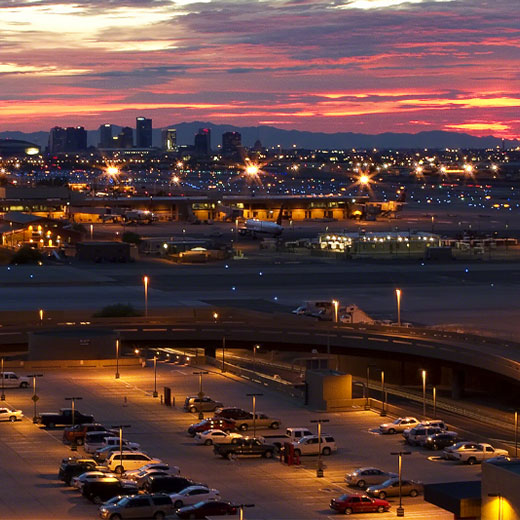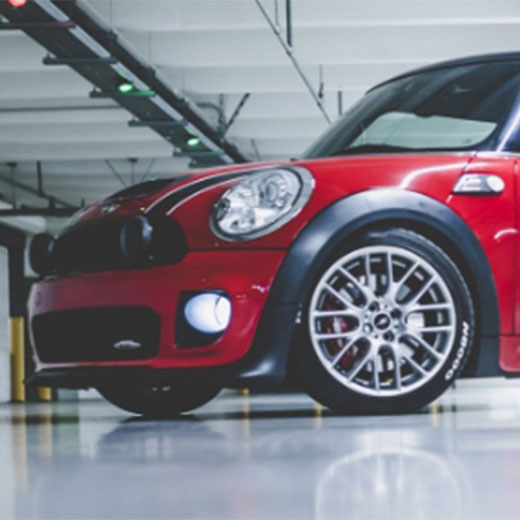 Valet Parking
The fastest parking option is also the most expensive – as you'd expect. But Valet Parking makes everything feel so effortless at PHX. All you need to do is drop off your car at the parking garage entrance or curbside at the terminal. Experienced staff will park it in a secure slot, then on your return, it'll be waiting for you to hop in and hit the road home.
Park and Walk
This PHX parking provision does exactly what it says on the sign. Park and Walk Parking is in garages right next to all three terminals, so all you do is find a space, grab your luggage, lock up and stroll on in to departures. It's worth remembering that the only Park and Walk within reasonable distance of Terminal 2 is West Economy, and this option is more expensive but extremely convenient.
Sky Harbor Terminal 2 Parking
As well as Terminal 2 West Economy Park & Walk, here you'll find Covered Economy Parking, Uncovered Economy Parking and Daily Parking. If you're wondering which carriers fly from Terminal 2, they include United, Spirit, Contour, Alaska Airlines and Advanced air.
Sky Harbor Terminal 3 Parking
Terminal 3 Garage Parking is all covered, and this terminal serves airlines like Sun Country, JetBlue, Hawaiian Airlines and Frontier. Please remember that the full name for this area is the John S. McCain III Terminal 3.
Sky Parking Terminal 4 Parking
Officially called Barry M. Goldwater Terminal 4, this is by far the largest (and most hectic) terminal at Phoenix Sky Harbor. Carriers like Air Canada, British Airways, American, Southwest, West Jet and Volaris share 84 gates in seven concourses here. Terminal 4 Garage parking is covered throughout and has the same flat rate.
Accessible Parking
All garages at PHX offer accessible parking and it's located close to the elevators. Accessible parking is located at the east end in the Park & Walk and north of the PHX Sky Train hub in the East Economy lot. And if you need over height or oversize parking, you'll find it in the Oversized Vehicle Parking area east of Terminal 4 and the uncovered economy parking areas.
Getting to Phoenix Sky Harbor Airport
Phoenix Sky Harbor Airport is only 10 minutes' drive from Downtown Phoenix, via I-10 E. From Scottsdale, it's 25 minutes away (in good traffic) via AZ-202. If you're driving in from Mesa, it's 15 minutes away via AZ-202 Loop W, while it'll take you one and a half hours from Tucson, via I-10-W.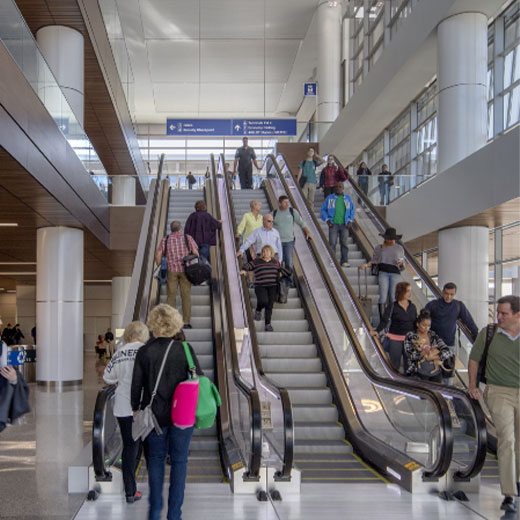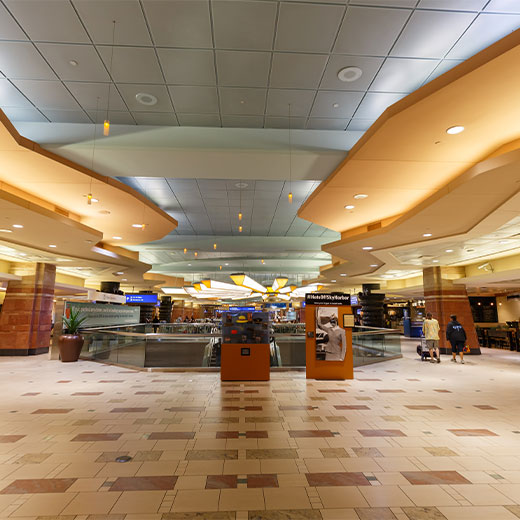 Facilities at Phoenix Sky Harbor Airport
You'll be relieved to know that there are shedloads of facilities and amenities at Phoenix Sky Harbor Airport. In the unlikely event that your flight's delayed, you won't have to sit twiddling your thumbs for the duration.
Known as 'America's Friendliest Airport,' it's also healthy too. If you're hungry, there are vegan, vegetarian and gluten-free options at many restaurants And it even has its own 1 mile long fitness trail, which stretches from Terminal 4's Gate A30 to Gate D18 and offers scenic views of the cityscape, mountains and green spaces. Additionally, the Treat emporium offers IV drip infusion therapy, illness testing and a tech platform that connects you with virtual workouts and yoga sessions.
When you need a quiet space for contemplation and relaxation before your journey, compassion corner includes the airport chapel and sensory room. And if you're traveling with kids in tow, the Play-viation kids play area in Terminal 3 will keep them busy and help them burn off excess energy.
There are also nursing rooms in every terminal, pre- and post-security, and additionally, Terminal 4 has several Mamava pods post-security, each of which has an electrical outlet, fold-down table and bench, as well as being fully mobile.
PHX also prides itself on being one of the world's most accessible airports for travelers and visitors with disabilities. As standard, all terminals feature curb cuts, elevators, automatic doors, ramped lobby access and wheelchair accessible ATMs, telephones and restrooms. You can also request a wheelchair when you check in or ask your flight attendant when you're in the air. You should let your airline know if you need to travel with oxygen and passengers with assistive hearing devices are supported by hearing loop or T-coil technology.
Retail therapy at PHX includes shops like Arizona Highways, Johnston & Murphy, Mosaic, Sunglass Hut and a well-appointed duty free. You'll also find Inmotion, Phoenix Public Market, eSavvy and TripAdvisor.
If you're peckish, Peet's Coffee offers quality coffees and specialist teas, Ajo Al's serves tasty Mexican food with Sonoran spice, and the Phoenix Beer Co. is the place to sample local craft beers in all styles, with tailored food that's paired perfectly. And if you're looking for a great breakfast joint, try Scramble – delicious. Meanwhile, if famous names are your jam, there are several Starbucks outlets throughout the airport.
Got a Question? Chat with our US support team
Our online chat is available 8:30am to 5:00pm weekdays. Email: [email protected]
FAQs about car hire at Phoenix Airport
Most frequently asked questions about hiring a car at Phoenix Airport
If you make any changes to or cancel your reservation for parking at Phoenix Airport, at least 48 hours before your scheduled travel, you will not be subject to any charges. In the event that you modify or cancel your reservation within the 48-hour period, a fee of $5 will be applied.
Enjoy Travel recommends using their online booking system in advance as the most effective way to secure the greatest parking discounts at Phoenix Airport.
Phoenix Airport offers several parking options to meet the needs of travelers, including terminal garages, economy parking, and off-site parking facilities.
The best way to locate a car park at Phoenix Airport is to follow the signage provided along the airport roadways that indicate the various parking options.
Phoenix Airport implements several safety protocols to ensure the security of parked vehicles, including frequent patrols by airport police and security personnel, CCTV surveillance in parking areas, and strict access control measures to prevent unauthorized entry.
The terminal garages are located within walking distance of the terminal, while the economy parking lots are located farther away and offer shuttle services to and from the terminal.
Yes, Phoenix Airport provides electric vehicle charging stations for the convenience of travelers. The charging stations are available in several parking areas, including the terminal garages and economy parking lots, and can be accessed by EV drivers for a fee.
Yes, extended overnight parking is allowed at Phoenix Airport in the designated parking areas.
To ensure availability and take advantage of lower rates, it is recommended to reserve a parking spot in advance during peak periods.
If you arrive early for parking at Phoenix Airport, there may be extra fees that differ based on the time of arrival, and payment for parking can be made using a credit or debit card when exiting the parking lot.
The economy parking option is usually the most economical at Phoenix Airport, as it offers lower daily rates compared to the terminal garages and off-site parking facilities.
The terminal garage parking rates were $4 per hour or $25 per day, while the economy parking rates were $13 per day.
With Enjoy Travel the terminal garage parking rates were $25 per day or $175 for a week, while the economy parking rates were $13 per day or $91 for a week.
Explore popular airports in the US