Seattle Tacoma International Airport parking
Find the best parking deals at Seattle Tacoma International Airport Parking
With a massive choice from the biggest brands, Enjoy the best way to find the best prices for car hire in Seattle Tacoma International Airport Parking.
Huge choice car parks to suit every budget
Save up to 70% compared to buying on the day
Working with the best partners in Airport Parking
Parking at Seattle Tacoma International Airport
Flying out of Seattle Tacoma International Airport and need to find the best parking?
If you just nodded twice, you'll find this blog more than nice. We've got all the freshest information on parking at SEA and advice on the ideal spaces for all types of travelers. You'll even find some super-useful info on airport amenities and facilities – lucky you!
SEA is a fabulous portal for Seattle and it's just one of the many jewels in this creative city's crown. This diverse city has a magnetic cultural scene which is infused with rich influences from its diverse population. And thanks to both its talented inhabitants and a fine tradition of support from city government. As you know, Seattleites are coffee obsessives (it's the home of Starbucks after all) and meeting for an artisan cup of joe is as common here as social beers in other cities.
There are also more museums than you can shake an ancient stick at in Seattle. The Pacific Science Center is a top-rated educational attraction, the Seattle Asian Art Museum is packed with inspirational pieces and the Burke Museum of Natural History and Culture provides fascinating insights to the Indigenous history of the region.
And there's lots more to Seattle besides these awesome attractions. Downtown has Pioneer Square with its gorgeous Romanesque architecture and the bustling Pike Place Market, Queen Anne is home to the Space Needle (which offers spectacular cityscape views), and Fremont is home to a huge Google campus and a buzzing nighttime economy (try the authentic Pacific Inn for starters). Other vibrant places to visit include the Museum of Pop Culture (MoPOP), striking Central Public Library and the legendary Seattle Aquarium.
And that's not all. Because Seattle is also a big sporting city. If you like Gridiron, the Seattle Seahawks have one of the rowdiest crowds anywhere around. There's also silky soccer at OL Reign and Sounders FC, and ball game brilliance with the Seattle Mariners. Alternatively, there's top-flight women's basketball with the Seattle Storm and NHL hockey courtesy of Seattle Kraken.
So, San Francisco is a tough place to tear yourself away from – but a magical one to return to.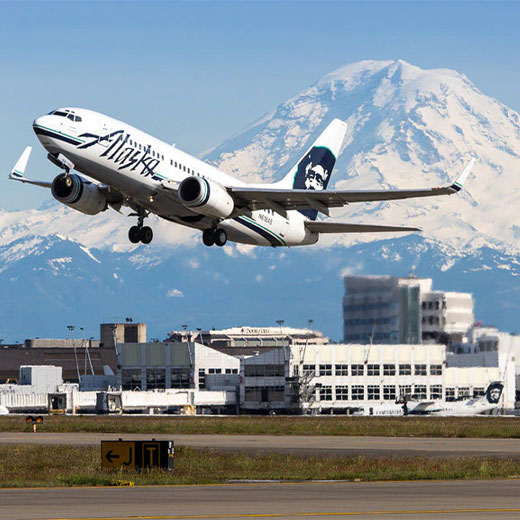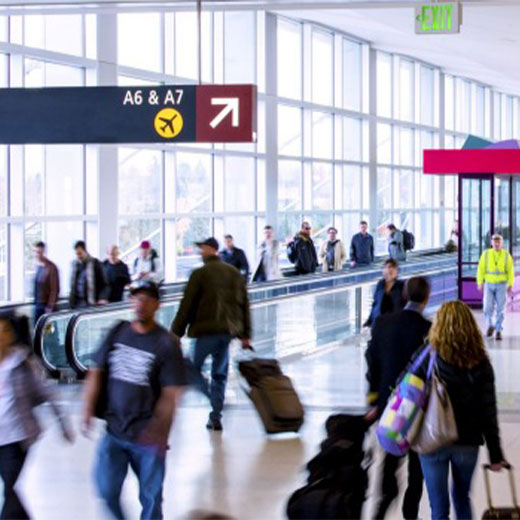 Find the best deals at Seattle Tacoma International Airport
If you've not been to SEA for a while, just thinking about finding the right parking space can be a little overwhelming. But don't stress – we're here to help you break it all down.
The best place to start is probably by deciding which type of parking space is suitable for your needs. For instance, travel parties with elderly people or very young children might want to be close to the terminal to make access as easy as possible. Whereas a young couple who want to save as much as possible might not mind economy parking that entails jumping on a shuttle bus to departures. And if you're a time-starved exec who wants to whizz through without any friction, a valet service might be your best option.
Compare Seattle Tacoma International Airport parking
Comparing parking at SEA and choosing your favorite spot gets easier once you've got all the top tips and facts – so you'll feel completely confident.
And plentiful parking is just one of many elements that make this such a special airport. One of the top 10 airports in the US of A, it processes 51.8 million passengers annually, with 30 carriers serving 91 domestic and 27 international locations. Major carriers here include Alaska, Delta, United, Southwest, Air Canada, and Emirates.
Built by the Port of Seattle in 1944, $1 million of the finding for SEA came from the Civil Aeronautics Administration, with the City of Tacoma contributing $100,000. The first carriers here were Trans-Canada and Northwest, followed by Pan Am and Hughes Airwest.
What parking is there at Seattle Tacoma International Airport?
As well as official parking, you'll often find surprisingly good deals from SEA parking comparison sites. Looking 4 Parking, for example, have reasonably-priced parking at Embassy Suites Seattle Tacoma Airport – Self Park – Uncovered, Park N Jet Lot-2 – Self Park – Uncovered – Burien, Super 8 by Wyndham SeaTac Airport- Self Park – Uncovered – Seattle.
Now let's get down to business with your official SEA parking.
Terminal Direct
Located on the fourth floor of the SEA parking garage, Terminal Direct parking does exactly what it suggests. And isn't that a wonderful thing? Park your car, grab your bags and stroll across the fourth floor and you're in the terminal. Easy as A-B-C. With long- and short-term parking available, this is the shortest journey from car to airplane.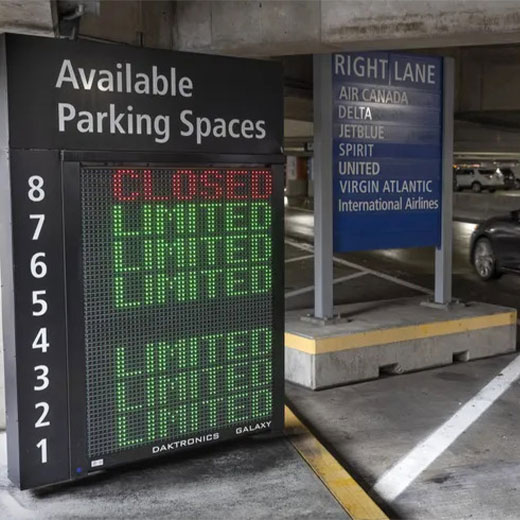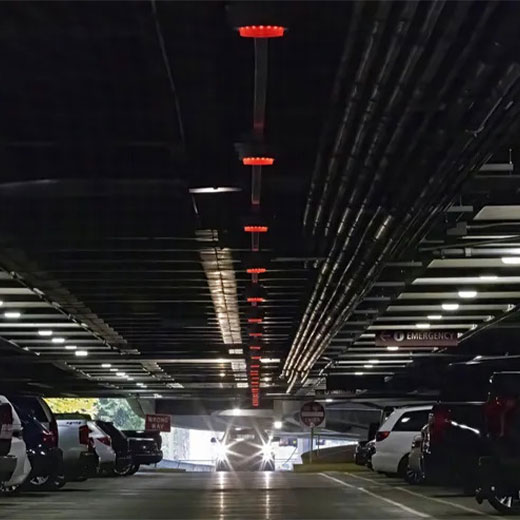 General Parking
Available for long- and short-stay, you'll find General Parking on floors 1-3 and 5-8 of the Seattle Tacoma Airport garage.
Accessible Parking
SEA has plenty of provision for accessible parking (as it should). In Terminal Direct Parking on the fourth floor and General Parking on the fifth floor, you'll find ADA-designated parking – provided your car clearly displays identification, these spaces are designed for your convenience.
Over-height parking
If your vehicle tops 6'10", you have to stow it in Over-Height parking. Spaces here are limited (78 spaces in total with 4 for ADA travelers) and you enter from Highway 99/International Boulevard. This lot is also reasonably close to the action – in walking distance from the terminal.
Motorcycle parking
If you're a biker, you'll find ample motorcycle stalls in Terminal Direct and General parking. The same hourly, daily, and weekly tariffs as cars apply.
Electric Vehicle (EV) parking
SEA EV parking operates on a first come, first-serve basis. There are 76 EV spaces (with free charging included) and they're marked by green striping On floor four, Terminal Direct Parking, you'll find level 1 charging, with 12 parking spaces in row I. And on floor seven, there's level 2 charging, with 64 spaces in row E.
Extended Stay Parking
Staying away for a while? Extended Stay parking has your name on it. Please note that if you're away on your vacay (or whichever travel purpose) for more than 30 days, you'll have to pre-book online or get permission directly from the SEA Public Parking Office.
Getting to Seattle Tacoma International Airport
The GPS address for SEA is Seattle-Tacoma International Airport, 17801 International Boulevard, Sea Tac.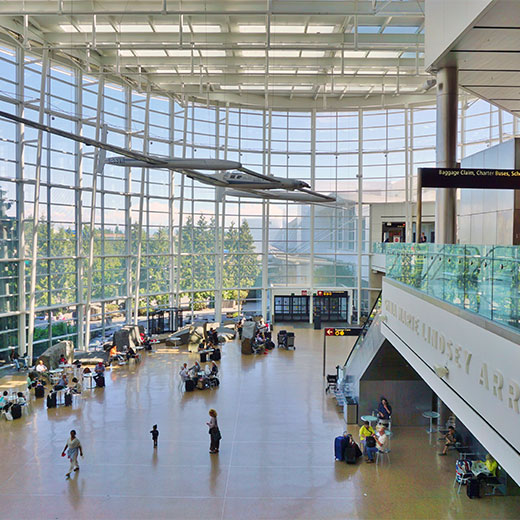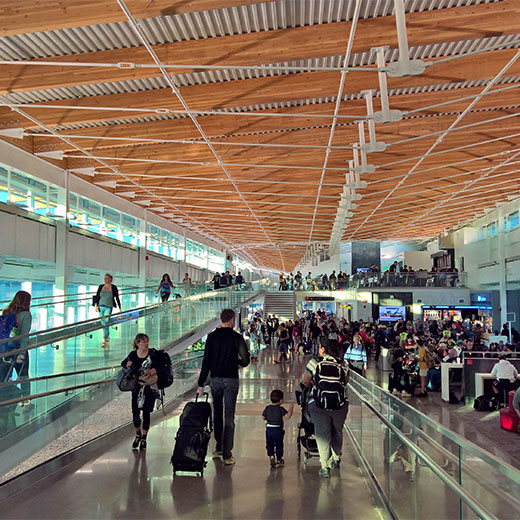 Facilities at Seattle Tacoma International Airport
Whether you've got a short while to wait at SEA or a long (perhaps unplanned) one, there are plenty of entertaining and educational distractions to help you pass the time.
If you're a bit of a culture vulture, SEA Art Walk comprises a half mile of permanent and seasonal exhibition pieces by artists from the local area and beyond. Strolling along and taking in some sublime art work is always cathartic. And there's often live music (in various genres) playing too, so you've got yourself a pretty spectacular soundtrack to boot. How sophisticated.
If you want to shop 'til you drop, there are plenty of superb stores where you can flex your credit card. You can stock up on tunes at Sub Pop Records, pamper yourself at spa terminal getaway, and splash out on cut-price fragrances and liquor at the duty free. Then there's MAC cosmetics, In Motion electronics, and Hudson Booksellers.
And if you're hungry, there's Starbucks (naturally), McDonald's, Spencer's for Steaks and Chops, Lucky Louie Fish Shack and the Rel'Lish Burger Lounge. And many of the restaurants have kid-friendly menus, so your little ones won't be complaining they're hungry.
Speaking of lounges, there are quite a few of these relaxing areas at SEA. At Concourse A, The Club at SEA has complementary Wi-Fi, snacks, newspapers, drinks and newspapers, Delta Airlines Delta Sky Club (also Concourse A), has snacks, showers, drinks and flight monitors, the British Airways Terraces Lounge in South Satellite offers showers, snacks, spirits and liquor, and the USO Lounge is a comfortable space where serving military personnel and their families can relax.
Throughout the airport, there are also multiple ATMs, there's baggage storage, wheelchair services, nursing mother's areas, pet relief areas, charging areas for your electronic devices, and a well-appointed children's play area. There are also two Lightly vending machines packed with essential items for kids, like diapers, hand sanitizer, pacifiers, and snacks.
Finally, if you want to stay overnight near SEA, popular airports include Crowne Plaza Seattle Airport, Red Lion Seattle Airport, Hilton Seattle Airport & Conference Center, and Country Inn & Suites by Radisson.
So there you have it – SEA has plenty of parking options and a whole lot more. Park safe, relax and enjoy your flight!
Got a Question? Chat with our US support team
Our online chat is available 8:30am to 5:00pm weekdays. Email: [email protected]
FAQs about car hire at Seattle Tacoma International Airport
Most frequently asked questions about hiring a car at Seattle Tacoma International Airport
To avoid incurring any fees, it is crucial to modify or cancel your parking reservation at Seattle Tacoma International Airport with a minimum of 48 hours' notice before your scheduled travel. However, if you make any changes or cancellations within this 48-hour window, you will be subject to a $5 penalty fee.
Enjoy Travel suggests that the optimal method to obtain the largest parking savings at Seattle Tacoma International Airport is by utilizing their online reservation system ahead of time.
Travelers at Seattle Tacoma International Airport can choose from the terminal direct parking, general parking, and off-site parking facilities.
The best way to locate a car park at Seattle Tacoma International Airport is by following the signs directing you to the parking areas. The airport has clear signage indicating the locations of different parking options.
To ensure safety in parking areas, measures such as adequate lighting, regular security patrols by airport personnel, and installation of security cameras to monitor activity and deter criminal behavior may be implemented.
General Parking - Main Terminal Garage and Terminal Direct, both of which are within easy walking distance to the terminal. The General Parking - off-site option is also available with a complimentary shuttle service that runs every 10-15 minutes to the main terminal. Premier Garage is another option available within easy walking distance to the terminal, while Passport Parking is an off-site option with a complimentary shuttle service that runs every 5-10 minutes to the main terminal.
Yes, Seattle Tacoma International Airport offers electric vehicle charging stations for public use. The charging stations are located in several parking areas.
Yes, it is allowed to park for an extended period overnight at Seattle Tacoma International Airport. The airport offers a range of parking options, including long-term parking, which allows for extended stays.
To ensure availability and take advantage of reduced prices, it is advisable to make a parking reservation ahead of time, especially during peak traffic periods.
In the event that you arrive at the Seattle Tacoma International Airport parking prior to your scheduled booking time, extra fees may apply, and the exact amount may vary depending on your arrival time. You can pay for your parking fees by credit or debit card at the parking lot exit.
The most economical parking option at Seattle Tacoma International Airport is the General Parking - off-site lot, which offers lower rates compared to the other parking options.
The rates per day are: General Parking - Main Terminal Garage and Terminal Direct at $35, General Parking - off-site at $30, Premier Garage at $37, and Passport Parking at $20.
With Enjoy Travel General Parking - Main Terminal Garage and Terminal Direct at $245 per week, General Parking - off-site at $150 per week, Premier Garage at $259 per week, and Passport Parking at $120 per week.
Explore popular airports in the US