Portland International Jetport Parking
Find the best parking deals at Portland International Jetport
With a massive choice from the biggest brands, Enjoy the best way to find the best prices for car hire in Portland International Jetport.
Huge choice car parks to suit every budget
Save up to 70% compared to buying on the day
Working with the best partners in Airport Parking
Parking at Portland International Jetport
Flying from Portland International Jetport (PWM) soon and looking for parking?
You've rolled into the perfect internet pitstop because this guide has it all: PWM parking info plus tips on facilities, amenities, and places to eat and drink.
If you're not local to Portland, you might want to arrive early and immerse yourself in the local culture – there are lots of interesting things to see and do. So what are the Maine attractions in this part of the world?
First off, you can explore the Old Port. As the beating heart of historic Portland, this is an atmospheric place to wander around and soak up the unique vibes, plus there are lots of unique cafes, shops and restaurants – as well as cool landmarks like the Portland Head Light.
Next up, how does a bike ride along a stunning waterfront path sound? If you're nodding your head, then the Eastern Promenade is a blissful place to stretch your legs or just relax and take in the breeze and brilliant views of the city and Casco Bay.
Speaking of which, Casco Bay is an excellent place to take a boat tour and weave your way around the islands and islets while spotting marine life like humpback, fin and minke whales. Meanwhile, if you really want to get your pulse racing, the Back Cove is a super saltwater marsh that's ideal for hiking, biking or even kayaking. And if you like fresh food to go with your fresh air, the Portland Public Market is packed with succulent seafood and other legendary local produce.
Is there anything for culture vultures? You bet. The Portland Museum of Art is one of New England's biggest and best, with more than 75,000 sculptures, paintings and decorative art pieces. The Victoria Mansion is an elegant 1859 building that's now a public museum. And for something a little different, try a Portland Ghost Tour (if you dare).
And that's not all. Marine State Pier has shops and restaurants in the fascinating vicinity of a working waterfront, and the Portland Childrens Museum is ideal for kids of all ages – there's plenty to entertain mom and pops as well as little ones.
If you're a foodie, Portland doesn't disappoint either.
For example, the Fore Street Restaurant is famous for high-end American cuisine and the hearty dishes flame-cooked over its open woodfire grill.
And if you're Italian American (or simply love the food), you should definitely make a beeline for the Corner Room Italian Kitchen & Bar, while the UNION Restaurant specialises in seasonal New American cuisine, craft beers and signature cocktails.
How about seafood? Eventide Oyster Co serves ocean-fresh dishes in a sociable atmosphere and if you like Asian food, Bao Bao Dumpling House and Pai Men Miyake serve Chinese and Japanese cuisine respectively.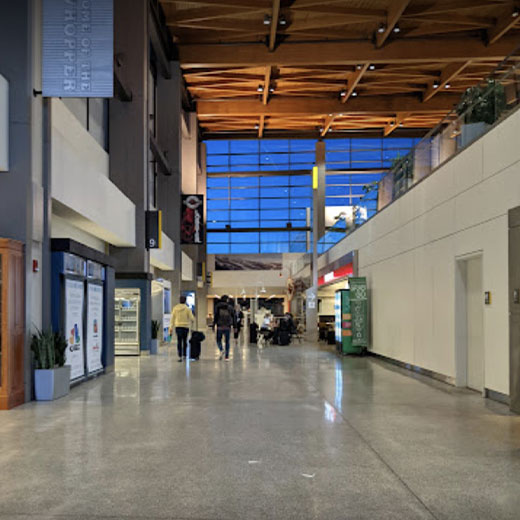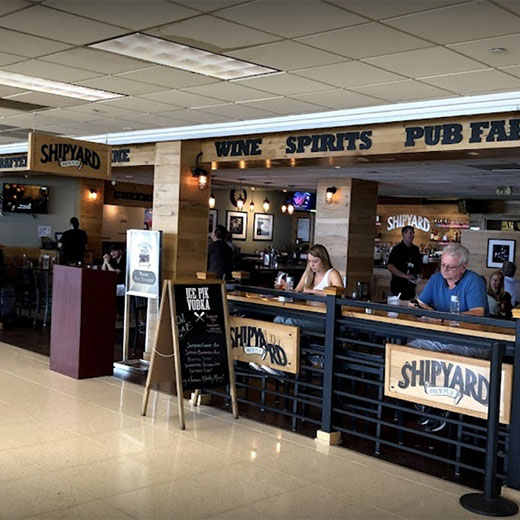 Find the best deals at Portland International Jetport
If you're a dedicated PWM parking bargain hunter, you have to scan every crevice and corner to get a great deal.
Parking apps and sites are always a good shout (more of which later) and if you're willing to consider off-site parking, you can also save cash compared to parking at the airport itself (although you'll have to check whether there's a free or paid shuttle).
Carpooling can be another option that saves parking and gas money and, if you don't want to drive at all, public transport options include the Greater Portland Transit District (GPTD) and Casco Bay Ferry, as well as the Portland Public Service (PPS) bus network.
Need some more pro tips for parking at PMW? The cost can be affected by the time of year you're traveling and the length of your trip, and seasonal rates are usually considerable higher during holidays and summer months.
It's also good form to book your parking as far in advance as possible, check online frequently for promotions and look out for discounts for groups like military personnel, seniors, and AAA members.
Compare parking at Portland International Jetport
The parking at Portland International Jetport is pretty impressive – there are over 2000 spaces in the five-story garage, plus several surface parking lots. In fact, if you wanted a parking vacay (if that's a 'thing'), you could probably spend a week (and lots of cash) just driving around and parking.
There wasn't such a need for parking when PWM was first built in 1927, because there weren't nearly as many cars on the road. However, the facility was still ahead of its time and was renamed Portland-Westbrook in 1937 and the futuristic-sounding Portland International Jetport in 1951.
Back in those days, the airport was served by a small selection of carriers, but it soon expanded as air travel became more accessible to the masses. Consequently, a new runway was constructed in 1957 and a shiny new terminal opened its doors in 1968.
Many more expansions and improvements followed in the subsequent decades and today Portland International Jetport is a main center for air travel in this part of the US, with partnerships with major airlines and flights to dynamic locations all around the world. PWM is a major economic powerhouse in the area, and the gateway from this magnificent Maine city to the rest of North America and the world.
What parking is there at Portland International Jetport?
You have several options for official parking at PWM.
Long-term parking
Situated directly across from the terminal, Long-term parking at this airport offers covered spaces for a very reasonable rate. If you're jetting off for more than a couple of days, it's your best choice.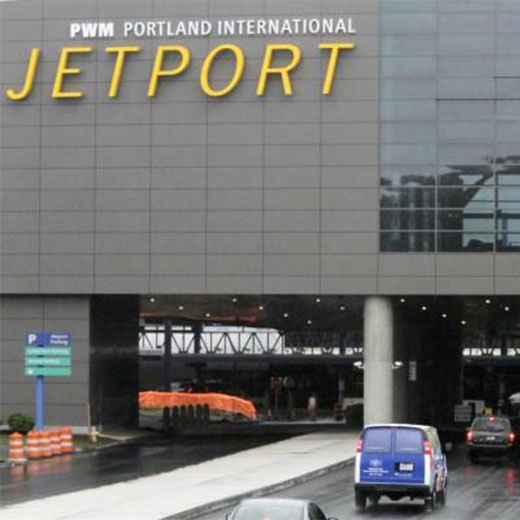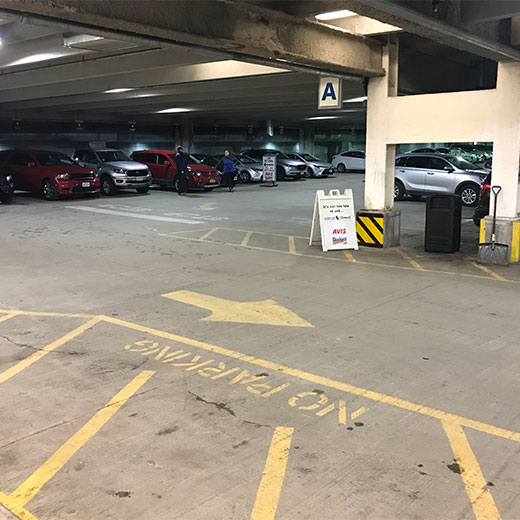 Short-term parking
Close to the terminal, the short-term lot at PWM has uncovered spaces for up to 1000 vehicles and the rates are charged by the hour.
Cell Phone Lot
Located just outside the airport, the Cell Phone Lot is right outside the airport and free to use for up to 30 minutes. This is the best choice if you're picking up passengers.
Park & Ride
An official Park & Ride pass allows you to park in several recommended offsite lots and the daily rate is very reasonable.
It's always worth booking your parking in advance to get the best deal and secure your space, and you should check the official website for restrictions (if your vehicle is oversized).
Getting to Portland International Jetport
Thankfully, it's simple to drive to Portland International Jetport from nearby towns and cities.
From Portland proper, simply take I-295 South to Exit 4, follow the airport signs and you'll soon see it on your right.
From Westbrook, take Route 1 to Exit 10, follow the signs for the airport and before long you'll see it on your right hand side.
Driving in from Freeport? Take Route 1 southwards to Exit 12, follow the airport signs and the airport will be on your left.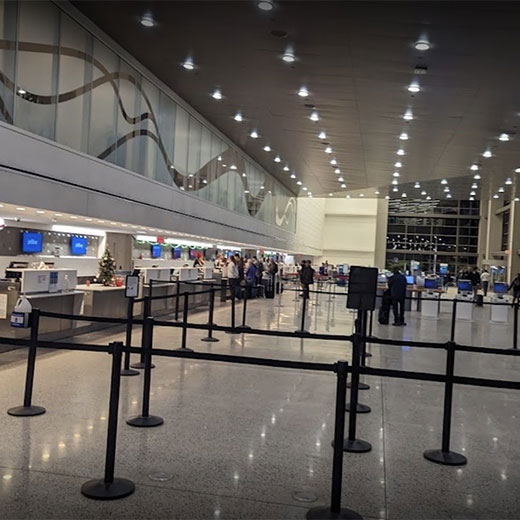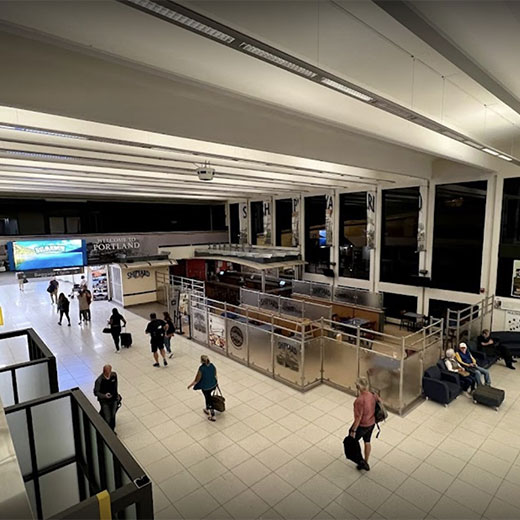 Facilities at Portland International Jetport
Facilities at PWM are very good overall and there's everything you need to feel comfortable.
For instance, there are several comfortable airport lounges, where you can escape the busy concourse and enjoy comfortable seating, food and drinks and Wi-Fi. There are lots of restrooms throughout (including family and accessible restrooms) and plenty of ATMs if you need to draw currency.
PWM is also a pleasant airport to spend time in thanks to its public art program – lovely paintings, sculptures and murals are peppered throughout and they're very cathartic to walk amongst.
PWM also offers assistance to wheelchair passengers, assistive listening devices are available at ticket counters and Braille signage and tactile maps are available throughout the airport.
How about the shopping and eating options at this Maine hotspot?
If you want to buy souvenirs and keepsakes of the area, Downeast Marketplace is always with a browse, while Great American Bagel is the best option for sandwiches, bagels and various breakfast dishes.
If you're fond of chowder and lobster wraps, wash them down with ice cold regional craft beer at Shipyard Brewport, while Linda Bean's Lobster Café is for real seafood aficionados.
And last but not least, this airport boasts several great hotels nearby. Embassy Suites by Hilton Portland Maine has a pool, fitness center, while Doubletree by Hilton Portland is a short drive away and also gets good reviews.
As you can see, Portland International Jetport is an airport with much to recommend it – a top-flight parking provision is merely the tip of the iceberg.
Got a Question? Chat with our US support team
Our online chat is available 8:30am to 5:00pm weekdays. Email: [email protected]
FAQs about car hire at Portland International Airport
Most frequently asked questions about hiring a car at Portland International Airport
If you decide to change or cancel your parking reservation at Portland International Airport, as long as you do so at least 48 hours before your planned trip, there won't be any costs involved. However, if you make alterations or cancel within the 48-hour window, a fee of $5 will be imposed.
Enjoy Travel suggests that the most efficient method to obtain the best parking discounts at Portland International Airport is to make use of their online booking system ahead of time.
Portland International Airport offers a range of parking choices, including short-term, long-term, economy, valet, and electric vehicle parking, catering to various needs and preferences.
The most effective method to locate a car park at Portland International Airport is by following the signage and directions provided within the airport premises.
Portland International Airport implements various safety protocols for parking, including surveillance systems, lighting, security patrols, secure fencing, emergency assistance, and collaboration with law enforcement.
The distance between the terminal and the different parking areas at Portland International Airport varies, with short-term parking being located within a short walking distance, long-term parking slightly farther away but accessible by shuttle services, and economy parking situated at a greater distance but also served by shuttle transportation.
Yes, Portland International Airport provides charging stations specifically designed for electric vehicles (EVs). EV owners can avail themselves of these charging facilities to charge their vehicles while parked at the airport.
Yes, extended overnight parking is allowed at Portland International Airport. The airport offers long-term parking options specifically designed for travelers who need to leave their vehicles for an extended period, such as overnight stays or longer trips.
To secure a parking spot and benefit from discounted rates, it is advised to make a reservation in advance, especially during peak periods.
Arriving early for parking at Portland International Airport could result in additional charges based on the arrival time, and payment for parking can be conveniently made using a credit or debit card upon exiting the parking facility.
The most economical parking option at Portland International Airport is typically the Economy Parking. It offers lower rates compared to other parking choices at the airport.
The daily parking rates at Portland International Airport ranged from $18 to $30, depending on the parking option chosen.
With Enjoy Travel the approximate weekly parking rates at the airport range from around $84 to $150, depending on the parking option chosen.
Explore popular airports in the US