Reagan Airport Parking
Find the best parking deals at Reagan National Airport
With a massive choice from the biggest brands, Enjoy the best way to find the best prices for car hire in Reagan National Airport.
Huge choice car parks to suit every budget
Save up to 70% compared to buying on the day
Working with the best partners in Airport Parking
Parking at Reagan National Airport
So you're on a quest to find parking at Reagan National Airport?
You're in exactly the right corner of the internet – we've trawled the web to find all the latest info about on- and offsite DCA parking (so you don't have to).
But that's not all. Because we've also thrown in some superb tips about the city itself and interesting, fun, and tasty things at the airport.
And if you haven't been in Washington for a while (if you're driving in from elsewhere) then take some time to tour around before you fly.
The National Mall is a wonderful place to start. A lush, leafy, 14-mile park, it's home to iconic sites like the US Capitol, Washington Monument and Lincoln Memorial. Meanwhile, the Arlington National Ceremony is home to the graves of 400,000 American service members and it's also the final resting place of JFK.
Alternatively, the Smithsonians are a group of 19 galleries and museums that showcase art, science, and history (and are free to enter), while a boat tour of the Potomac River takes you past lots of interesting sites.
Washington's also home to sports teams like the Washington Capitals and Washington Wizards, and home to the Kennedy Center for performing arts, which stages concerts, musicals and plays. If you need some retail therapy meanwhile, don't miss Georgetown – an old neighborhood where you'll find designer shops and boutiques.
Furthermore, Dupont Circle is always a popular spot for a picnic, plus there are several excellent shops, cafes, and restaurants.
And there's more. The National Arboretum is a stunning 446-acre park filled with flora and fauna, and the National Zoo has lions, elephants, pandas and more.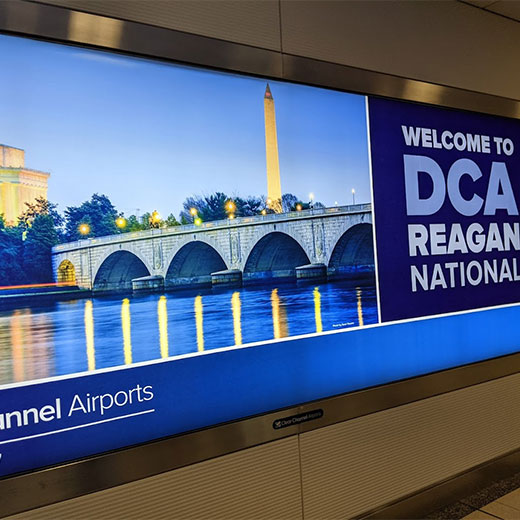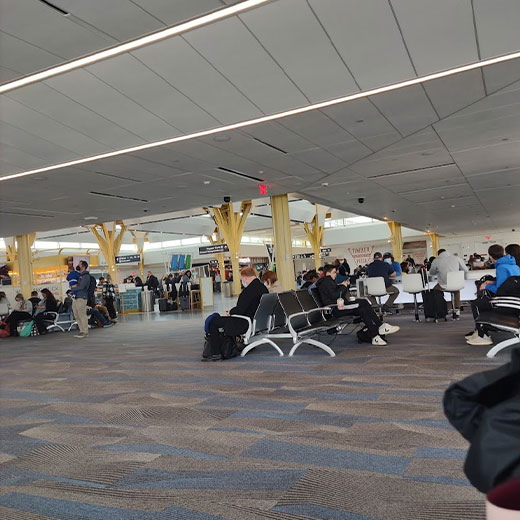 Find the best deals at Reagan National Airport
In our humble opinion, your best option for finding great DCA parking deals is by sticking with this guide! But there are a few other simple tips to get you started.
First off, it's usually wise to book parking in advance because you often bag a bargain. And you can save even more if you're prepared to consider off-site airport parking, while using a parking comparison site also narrows down your choices.
Remember that the price will vary depending on which lot you use and it's important to also ask about onsite security.
Compare parking at Reagan National Airport
With 9,400 parking spaces, Reagan National Airport is set up to serve modern passengers perfectly.
In fact, it's easy to forget that its history stretches back to 1941, when it first opened as Washington National Airport. Designed by architect Howard Cheney as a small private/military airport, it soon expanded beyond its original plan as it became popular for commercial flights
DCA fully embraced the jet age in the 1960s, with the Pan Am Boeing 707 being the first jet-propelled aircraft to land there (in 1966). Its two runways were also extended in this era, to cope with bigger jet aircraft.
The hub was renamed Ronald Reagan Washington National Airport in 1988 after the 40th US President and major refurbishments followed (including a Metrorail station).
Today it's one of America's busiest airports and serves over 20 million passengers each year.
Interestingly, the airport is the only one in the US to have its control tower on an island and it has a 'fly-by-wire' system that lets pilots land their craft without touching the ground.
There are also some cool historical planes here, including a Douglas DC-3 and a B-29 Superfortress.
What parking is there at Reagan National Airport?
Comparing aggregator sites is another way to find good DCA parking deals. For instance, Looking4Parking often provides offers on valet, short-term and economy parking, while APH can often save you around 10% on parking compared to other sources.
However, it's also perfectly fine to book directly with the official airport site and the provision is as follows:
Short-term parking
This is closest to the terminal and there are 2,400 spaces offering parking for up to 24 hours. The short-term parking is the best choice for picking up and dropping off – especially when you want to accompany people into departures.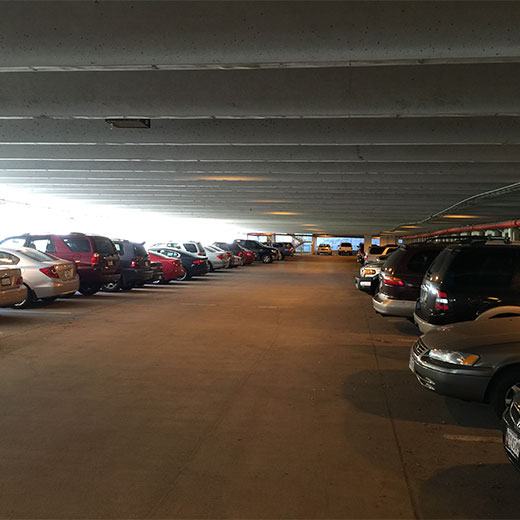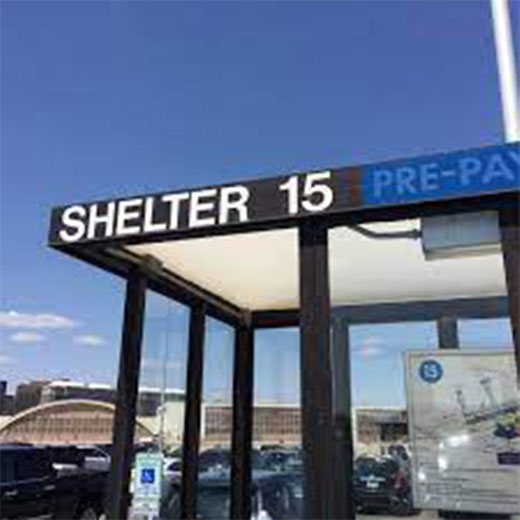 Economy parking
A little further from the terminal, economy parking has 6000 spaces and it's ideal if you want lower-cost parking for an extended time. Despite being placed further out, Economy parking is still safe, secure and professional.
Valet parking
There are 1000 valet parking spaces at Regan International Airport and there's a shuttle to and from the terminal. If you want a relaxing experience where someone else parks your vehicle for you, it might be worth paying extra for valet.
Remember that the overall parking cost depends on the type of lot, the time of year and whether you book in advance or simply drive up.
Getting to Reagan National Airport
Driving to DCA from nearby towns and cities is simple.
From Alexandria take I-395 south to I-95 south, then leave at exit 38A for DCA, turn left onto Ronald Reagan Washington National Airport boulevard and continue to the terminal.
If you're rolling in from Arlington, take I-66 east to I-395 south, then leave at exit 38A and follow the end instructions above.
From Washington DC, take I-395 south to Exit 38A and follow the usual directions, and from Tysons Corner, take I-495 north to I-395 south and exit at 38A for the airport (then follow the usual directions.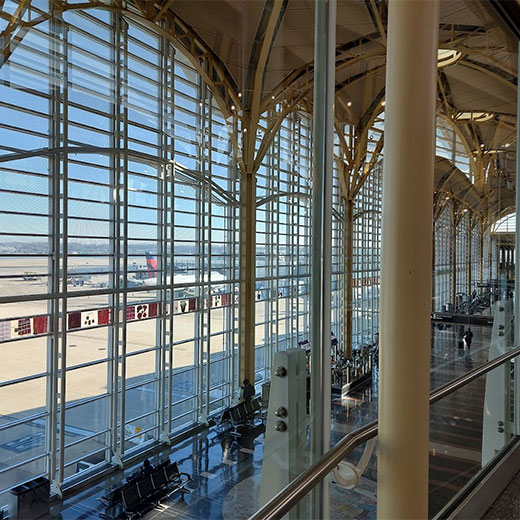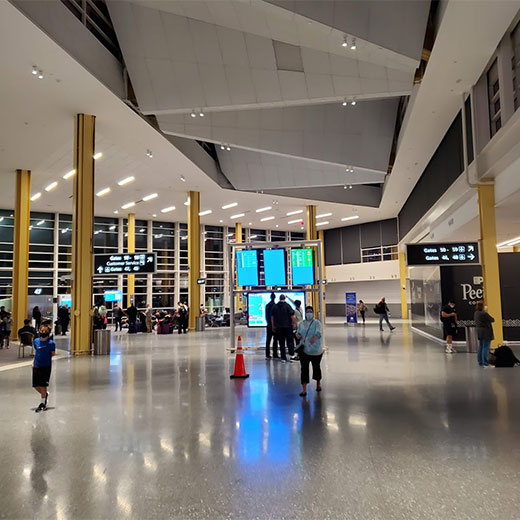 Facilities at Reagan National Airport
A host of fantastic facilities and amenities make DCA a comfortable place to spend time before a flight.
You can expect free Wi-Fi throughout the terminal (great for keeping on top of your social media accounts) and there are several lounges where your access fee entitles you to comfortable seating, food and drink and quiet work areas.
There's also a great luggage storage area (handy if you've got a layover or want to explore the city), currency exchanges allow you to swap US for foreign currency, and ATMs are peppered throughout the premises.
When nature calls, you won't struggle to find a restroom, there's a nursing room in each terminal and wheelchair assistance is available (alongside several accessible bathrooms).
But what if you want to shop 'til you drop (or even just pick up something quick for someone special)?
Turns out DCA's no slouch when it comes to retail therapy either: there are a number of high-quality stores of all kinds.
For instance, Aeropostale is the place for classic casual clothing for kids and adults, while Brooks Brothers sells slightly more formal attire.
You can grab all your travel bags, accessories and luggage at Calpak and Dufry has low prices on high end perfume and liquor. Meanwhile, Gucci and Michael Kors hold up the designer end, Kate Spade New York serves up women's couture and Sephora is tops for cosmetics.
There's also Sunglass Hut (treat yourself to some nice new shades), rugged clothing at The North Face and classic casualwear at United Colors of Benetton.
If you're hungry, you won't miss out at Reagan National Airport. Whatever your taste, there's something to satisfy.
For example, Bistro Burger serves succulent burgers, crips fries and assorted classic American fare. Boar's Head Deli & Grill serves salads, sandwiches and delish deli items. And if you want to go Mediterranean, try CAVA for wraps, salads and poke bowls.
When you want a sugar rush, Dunkin Donuts does the business with coffee, donuts and various pastries, while Eataly serves freshly-prepared Italian fare, including pasta and gelatos.
Pizzeria Paradiso bakes lovely Neapolitan-style pizzas, and Sweetgreen specializes in grain bowls, salads and various healthy options. Meanwhile Wetzel's Pretzels is famous for soft pretzels, pretzel dogs and pretty much anything edible you can imagine connected with these curly wurly snacks. Obviously, if you're not fond of pretzels, give it a miss!
Fancy a tipple before you fly? District Bar in Terminal A serves wine, beer and cocktails, Washington Pour Nar in Terminal B specializes in craft beers and U Street Pub in Terminal C is great for cocktails.
Want to stay overnight near the airport? The Hilton Garden Inn is close and has a free shuttle service, gym, indoor pool and business center (as well as comfortable beds and spacious rooms). Alternatively, Holiday Inn National Airport is a little further away but has a shuttle service, gym, well-appointed rooms and a pool.
As you can see, great parking is merely part of the customer service experience at Reagan National Airport!
Got a Question? Chat with our US support team
Our online chat is available 8:30am to 5:00pm weekdays. Email: [email protected]
FAQs about car hire at Reagan National Airport
Most frequently asked questions about hiring a car at Reagan National Airport
In case you opt to modify or cancel your parking reservation at Reagan National Airport, you will not be charged any fees as long as you make the request at least 48 hours before your scheduled travel. However, if changes or cancellations are made within the 48-hour period, a $5 fee will be applied.
Enjoy Travel suggests that the most effective way to secure the greatest parking discounts at Reagan National Airport is by utilizing their advanced online reservation system.
Reagan National Airport offers a variety of parking choices, including Terminal Parking, Garage Parking, Economy Parking, Valet Parking, and a Cell Phone Waiting Lot, catering to different needs and preferences.
The suggested approach for locating a parking spot at Reagan National Airport involves navigating the airport premises by following the signage that directs you to the designated parking areas.
Reagan National Airport prioritizes the safety of parked vehicles by implementing measures such as advanced surveillance systems, well-lit areas, security personnel patrols, emergency assistance protocols, and secure perimeters.
The parking options at Reagan National Airport offer varying distances from the terminals, with Terminal Parking and Garage Parking located within a short walk of the terminals, while Economy Parking requires a brief shuttle ride, and Valet Parking offers the closest proximity for drop-off directly at the terminal.
Yes, Reagan National Airport provides charging stations for electric vehicles. These charging stations are available to passengers and visitors who need to charge their electric vehicles while at the airport.
Yes, it is generally allowed to park for an extended period overnight at Reagan National Airport. The airport provides parking options for both short-term and long-term stays, accommodating various parking needs. The Garage Parking and Economy Parking facilities at the airport are suitable for longer-term parking, including overnight stays.
To secure a parking spot and take advantage of reduced rates, it is recommended to make an advance reservation for parking, particularly during peak periods, to guarantee availability.
If you happen to arrive early for parking at Reagan National Airport, there may be additional charges based on the arrival time. Payment for parking can be conveniently settled using a credit or debit card when exiting the parking facility.
The most economical parking option at Reagan National Airport is the Economy Parking. This parking choice offers cost-effective rates for longer stays and is designed to accommodate travelers looking for more affordable parking options.
the daily parking rates at Reagan National Airport are approximately $25 for Terminal Parking and Garage Parking, while Economy Parking offers a more affordable rate of around $17 per day.
With Enjoy Travel the cost of parking for a week at Reagan National Airport is $175 for Terminal Parking and Garage Parking, while Economy Parking offers a more affordable rate of around $119 for a week.
Explore popular airports in the US