Cincinnati North Kentucky International Airport Parking
Find the best parking deals at Cincinnati North Kentucky International Airport Parking
With a massive choice from the biggest brands, Enjoy the best way to find the best prices for car hire in Cincinnati North Kentucky International Airport Parking.
Huge choice car parks to suit every budget
Save up to 70% compared to buying on the day
Working with the best partners in Airport Parking
Parking at Cincinnati North Kentucky International Airport
Need to find parking at Cincinnati North Kentucky International Airport (CVG)?
Congrats – you've made the perfect landing. Keep it right here and we'll reveal everything you need to know about CVG Airport, as well as lots of useful information on airport facilities and amenities.
And as well as being a brilliant gateway to a wide range of destinations, this is an excellent area to explore, so if you're arriving from elsewhere, why not take a day or so extra to treat yourself?
There are lots of diverse attractions for visitors of all tastes. For instance, the Cincinnati Zoo and Botanical Garden houses over 5000 animals, and it's also lovely to take a stroll across the Roebling Suspension Bridge and take in the Ohio River views.
Meanwhile, the hip and historic Over-the-Rhine district has lots of art galleries, restaurants, and shops to explore, and for something a little different, take in a production from the Tony Award-winning Cincinnati Playhouse in the Park company – it presents shows year-round.
Alternatively, if you're interested in history and human rights, you can learn about the story of the Underground Railroad that helped smuggle enslaved people to freedom at the National Underground Railroad Freedom Center.
When you're ready to set your credit card on fire, hit the shops at the Kenwood Towne Centre (which has over 200 stores), and Newport, Kentucky is an excellent day trip destination, with its Newport on the Levee entertainment center and Newport Aquarium.
There's also fun for all the family at the Cincinnato Museum Center (which includes the Duke Energy Children's Museum, Museum of Natural History and Science and Cincinnati History Museum. And if you love the great outdoors, the 85-mile Great Miami River Trail follows the famous waterway through the city and its environs.
If all that activity makes you hungry, treat yourself to delicious Japanese fare at Sushi Yasuda or grab the best grilled meat at Jeff Ruby's Steakhouse. And wash it down with drinks at Top of the Park at The Phelps, The Bar at Palm Court, The Blind Pig, Ghost Baby, or the Moerlein Lager House.
You can also let your hair down at The Underground, The Madison Live, and The Beachcomber. And you can rest your head for the night at quality establishments like The Westin Cincinnato Downtown, The Cincinnatian, The Hotel Covington and The Hyatt Regency Cincinnato Riverfront.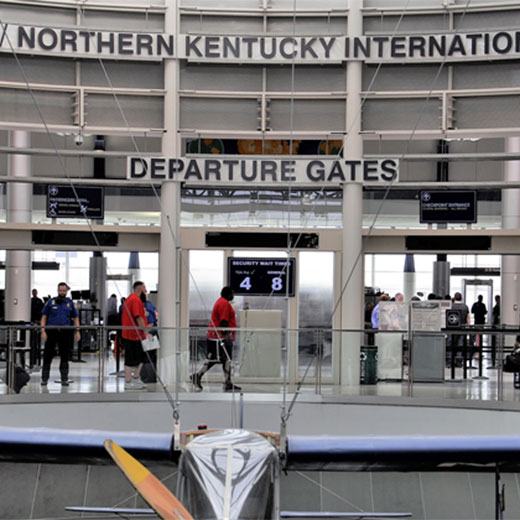 Find the best deals at Cincinnati Northern Kentucky International Airport
When you want to secure the optimum deals on CVG airport parking, there are plenty of routes to explore.
For example, it's a great bonus if you have a friend or family member living close to the airport who doesn't mind you parking your vehicle at their property for the duration. Just remember to bring them a nice present back from your vacay.
Another option is using a ride-sharing service like Lyft or Uber, but please note that although this is a reasonably hassle-free option, traveling in your own car and purchasing parking can be more affordable. And there's also public transport, but this is time-consuming and obviously there's no privacy if you like traveling in your own social bubble.
Meanwhile, some good general tips include booking your parking in advance (particularly important if you're slated to travel in peak season) and searching in local publications and online for discount coupons for seniors, military personnel, and AAA members.
Compare parking at Cincinnati Northern Kentucky International Airport
With 12,000 parking spaces available, you won't be left circling the terminal when you look for parking at Cincinnati North Kentucky International Airport.
And an excellent parking provision is merely the tip of the iceberg for this great airport. Founded in 1942 as The Greater Cincinnati Airport, CVG was built on a strip of flat land with clear weather conditions conducive to air travel. The first commercial flight set off to Cleveland, Ohio in January 1947 and although it was a modest, one runway establishment for the first few years, it grew to become Ohio's busiest air hub by the 1960s.
Renamed Cincinnati Northern Kentucky International Airport in 1975, today CVG is a major airport for Allegiant Air and Delta Air Lines, offering regular routes to destinations throughout the United States as well as Mexico and Canada.
What parking is there at Cincinnati Kentucky International Airport?
If you really want to check every nook and cranny in your search for CVG airport parking, don't forget to check out the offering from parking comparison apps and sites like APH and Looking4Parking.
But let's take a look at your official CVG parking offer.
Terminal Garage
The closest lot to the terminal, Terminal Garage has 5000 short-term and long-term parking spaces. It's a very convenient option but not the cheapest.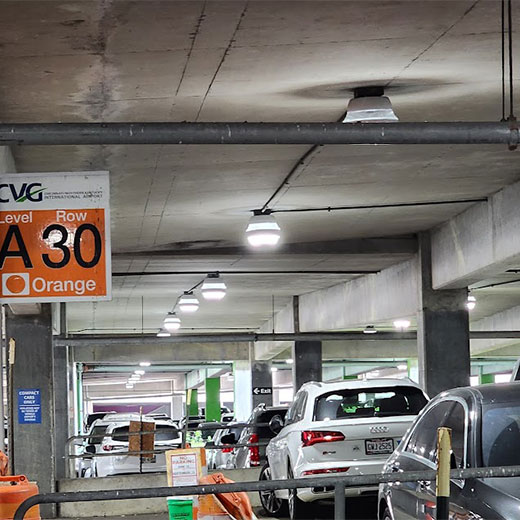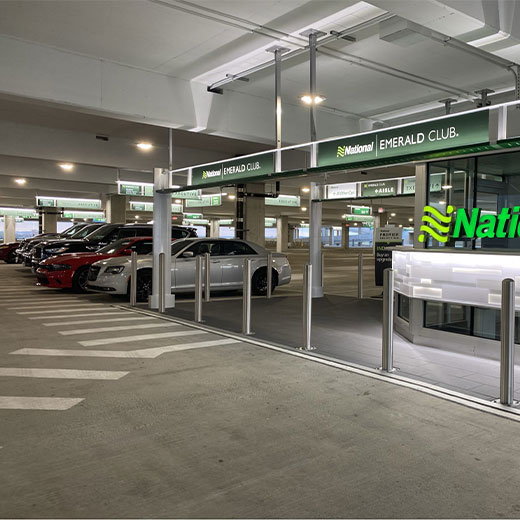 ValuPark
Also located near the terminal, ValuPark comprises 5,950 uncovered parking spaces and the pricing is reasonable.
Economy Lot
The furthest lot from the terminal, Economy, has the cheapest parking rates (as you'd expect) and there's a generous provision of 11,050 uncovered berths.
Valet Parking
This is the most hassle-free CVG parking choice, but also the most expensive. However, if you want to sashay into the terminal as smoothly as possible, it might be worth the investment.
Accessible Parking
All CVG airport parking lots have accessible bays which are wider than their regular counterparts and close to the terminal.
Car Rental Parking
CVG has a special car rental parking lot located directly opposite the car rental center, which is free for the first 30 minutes.
Getting to Cincinnati Kentucky International Airport
Since you're making the smart move to drive to the airport, you'll be glad to know that CVG is easy to get to from nearby towns and cities.
From Covington, Kentucky, take the I-75 North to I-275 East, then exit 1A to I-75 South and follow the signs to the airport. The drive is about 10 miles in all.
Rolling in from Cincinnati, Ohio? In that case, take the I-71 South to I-275 East, then take exit 1A to I-75 South and follow the signs to the airport. You'll reach CVG in around 15 miles.
If you're driving from Florence, Kentucky, take the I-75 South to exit 1A, then follow the signs to the airport.
From Dayton, Ohio, meanwhile, take I-75 South to exit 1A, then follow the airport signs. The total distance is around 75 miles.
Traveling from Lexington, Kentucky? Take I-75 North to I-275 East, then take exit 1A to I-75 South and follow the signs to the airport.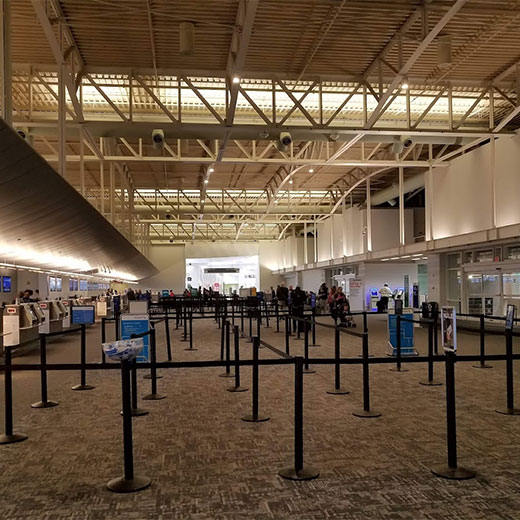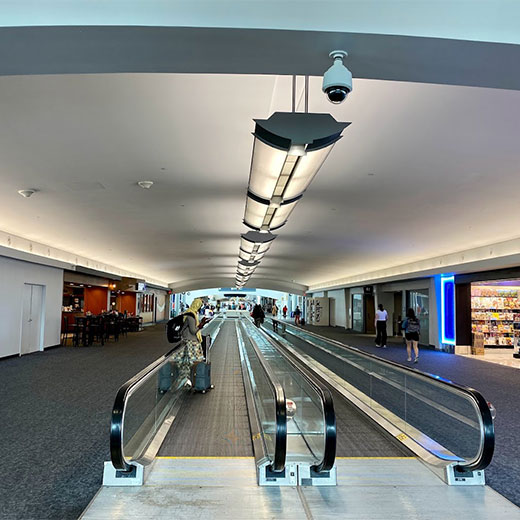 Facilities at Cincinnati Kentucky International Airport
As well as the outstanding parking arrangement, CVG has lots of other excellent facilities and amenities.
There are great public transport links thanks to the Greater Cincinnati Transit Authority, including bus routes and a shuttle service.
The choice of food and beverage options is wide (more of which shortly), there are plenty of decent shops, and there's also a business center, meeting room and conference center. And if you're traveling with kids in tow, family amenities include a family restroom, nursing room and well-appointed play area. There's also a pet relief area, meditation room and fitness center.
CVG shopping options include duty-free Hudson, 99 Liquors and The Body Shop stores (ideal for picking up high-end goods at reasonable prices), newsstands selling your favourite magazines, snacks and books, and souvenir shops for keepsakes, including Skyline Chili and Findlay market.
And don't forget travel essential shops like Brookstone and TravelMax, where you can pick up travel pillows, chargers, luggage and more.
One superb way to avoid family arguments before you board is making sure everyone flies with a full belly. And popular food choices at CVG include Dunkin Donuts, Blaze Pizza, and Chick-fil-A, while sit-down restaurants like Hop & Cask, Vino Volo and The Capital Grille serve tasty pasta dishes, sandwiches, and salads.
Meanwhile, if you're partial to a restorative drink before you fly, brilliant CVG bar and lounge options include The CVG Brewhouse, The Sports Page and The Mad Hatter Pub.
Last but not least, CVG also has an impressive public art collection, which certainly makes the pre-flight experience all the more pleasant. One favourite piece is All Along the Control Tower by Christian Dallas – located on the car rental facility's third floor, it shows a colorful forest, rivers, and mountains scene.
And there it is – all the info you need about CVG airport parking and many more useful tidbits besides.
Got a Question? Chat with our US support team
Our online chat is available 8:30am to 5:00pm weekdays. Email: [email protected]
FAQs about car hire at Cincinnati North Kentucky Airport
Most frequently asked questions about hiring a car at Cincinnati North Kentucky Airport
To avoid incurring any charges, it is essential to modify or cancel your parking reservation at Cincinnati North Kentucky Airport with at least 48 hours' notice before your scheduled departure. However, if changes are made within this 48-hour window, a $5 fee will be imposed.
Following the guidance from Enjoy Travel, the most efficient way to realize substantial reductions in parking expenses at Cincinnati North Kentucky Airport is to utilize their online reservation system well in advance.
Cincinnati/Northern Kentucky International Airport (CVG) offers a range of parking choices, including terminal garage parking for convenience, ValuPark and an economy lot with shuttle service for budget-conscious travelers, premium reserved parking for guaranteed spaces, curbside valet parking, and off-site options like CVG FastPark and Relax, providing various options to cater to different parking needs.
To find parking at Cincinnati/Northern Kentucky Airport with convenience and efficiency, just follow the clearly marked signs that direct you to the different parking areas, all easily accessible via the well-organized road network within the airport premises.
Safety measures in place for parking at Cincinnati/Northern Kentucky Airport encompass security personnel conducting patrols, the presence of surveillance cameras, adequate lighting, access control measures, emergency call boxes, routine security patrols, and clear signage, all working to ensure passenger safety and the security of vehicles.
The distance between the terminal and the different parking areas at Cincinnati/Northern Kentucky International Airport (CVG) varies, with terminal garage parking being the closest, followed by ValuPark, while the economy lot is typically farthest and may require shuttle service for passenger convenience.
Cincinnati/Northern Kentucky Airport provides electric vehicle charging stations to accommodate passengers who require charging for their electric vehicles.
Cincinnati/Northern Kentucky Airport generally permits passengers to park their vehicles for extended periods, including overnight stays, offering a range of parking options like short-term and long-term to meet diverse parking needs, including extended stays.
To ensure the best possible experience and to take full advantage of reduced rates, it is recommended to make a parking reservation ahead of time, particularly when traveling during busy peak periods.
Entering the Cincinnati/Northern Kentucky Airport parking facility ahead of your scheduled time may lead to extra costs, the exact amount of which will depend on how early you arrive. You can pay these parking fees by using a credit or debit card when leaving the parking facility.
The most cost-effective parking choice at Cincinnati/Northern Kentucky Airport often depends on your specific needs and the duration of your stay. Nevertheless, economy parking lots frequently offer the most budget-friendly rates for longer periods.
The daily parking rates at Cincinnati North Kentucky Airport vary depending on the parking option chosen, with the daily parking rate at Cincinnati/Northern Kentucky International Airport (CVG) for the ValuPark lot, which is one of the most commonly used long-term parking options, was typically around $9 per day.
Enjoy Travel offers various parking options at Cincinnati North Kentucky Airport, with the cost of parking for a week at Cincinnati/Northern Kentucky International Airport (CVG) in the ValuPark lot, which is commonly used for long-term parking, was typically around $63 for seven days.
Explore popular airports in the US