Buffalo Niagara International Airport
Find the best parking deals at Buffalo Niagara International Airport
With a massive choice from the biggest brands, Enjoy the best way to find the best prices for car hire in Buffalo Niagara International Airport.
Huge choice car parks to suit every budget
Save up to 70% compared to buying on the day
Working with the best partners in Airport Parking
Parking at Buffalo Niagara International Airport
So you're looking for the perfect parking space at Buffalo Niagara International Airport (BUF)?
Your quest is over because you've struck gold with this guide. It has everything you need to know about BUF parking as well as top tips on facilities, amenities, eating and shopping.
What more could you ask for? Well, how about some info on Buffalo itself? If you're arriving from out of town, it's a great place to spend some quality time before you fly.
In fact, it's a stone's throw from one of North America's most iconic tourist sites – Niagara Falls. Tourists from all over the world flock to these thundering falls and if you haven't been before, you'll understand why when you get there – they're absolutely stunning. You can choose to view them from a scenic distance or (if you're game) take a boat ride that floats you right into them. Wear waterproofs!
If you're fond of waterways, continue the theme with a cathartic stroll along the Buffalo River, taking time to stop off for refreshments at one of the lovely bars and restaurants along the way. The Buffalo Zoo boasts over 3000 animals, including elephants, lions, and tigers. And Buffalo's brilliant for architecture too, with standout examples like the Pierce-Arrow Museum, Darwin Martin House, and Buffalo City Hall.
Meanwhile, the Buffalo Museum of Science is ace if you're into natural history and all things scientific – from space ships to dinosaur eggs. And Shea's Performing Arts Center is a top spot for Broadway musicals, concerts, and live music performances. Mind you, the nightlife and cuisine are rather good in general – you'll find everything from US favorites to international fusion fare and clubs are open 'til the wee small hours if you really want to let loose.
Need a few recommendations for a night out? Try the rooftop bar of the Curtiss Hotel for sublime city views, the Buffalo Marriot at LECOM HarborCenter has lovely waterfront views, and Hotel at the Lafayette has a cozy retro vibe.
And The Anchor Bar not only serves a fine selection of drinks, but it's also where the Buffalo chicken wing was invented.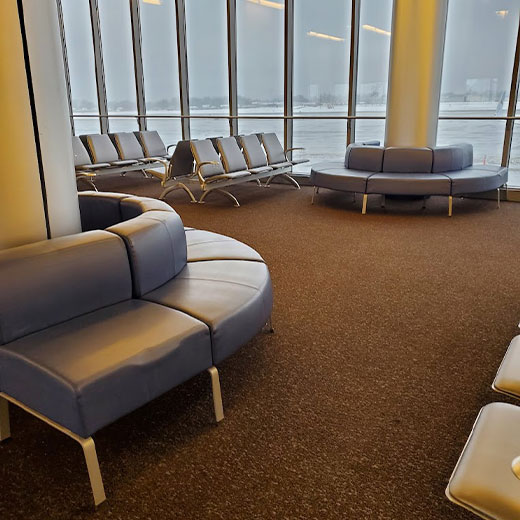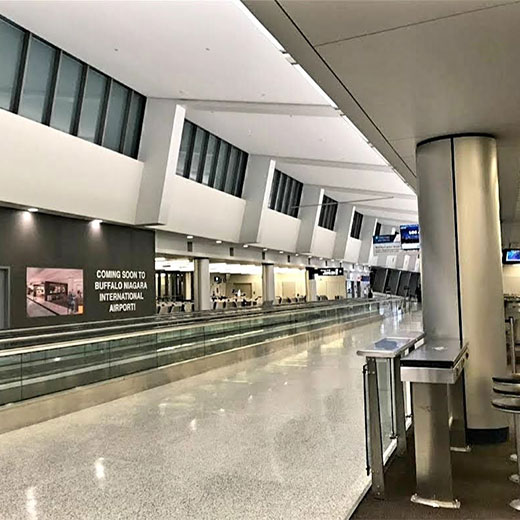 Find the best deals at Buffalo Niagara International Airport
If you really want to cast your net wide for BUF parking bargains, there are a few tried and tested methods that can unearth gold.
Comparing prices online is a no-brainer and there are a lot of sites offering advice – although now that you've found this great guide, in our opinion you can skip that step!
Booking as far in advance as possible can help you bag an early bird discounted price and if you're willing to use offsite parking lots, they're typically cheaper than their onsite alternatives. Last but not least, look out for coupons online and in local magazines and newspapers – these can be money savers too.
Compare parking at Buffalo Niagara International Airport
BUF has an impressive 8,200 parking spaces, so (provided you book in a timely manner) you won't struggle to find a bay that suits you to a tee.
And BUF's history of excellent customer service stretches way back to the time it opened in 1926 (albeit there were far fewer customer back then). The hub originally had just one titchy hangar and four cinder runways, with a mail and passenger service to Cleveland starting the following year. In 1939, an Art Deco style V-shaped terminal replaced the original terminal and another terminal refurbishment in 1959 added a new control tower and American Airlines concourse.
In 1971, the West Terminal auxiliary terminal building opened (with nine gates) and in 1973, the hub was renamed Buffalo Niagara International Airport. And BUF's evolution continued in subsequent years, with a new international arrivals facility opening in 1998 and a $500 million expansion completed in 2007.
Buffalo Niagara International Airport is a central gateway to and from the region and serves over 10 million passengers a year flying to over 50 locations.
What parking is there at Buffalo Niagara International Airport?
Parking comparison apps/sites can be worth checking if you really have a keen eye for BUF airport parking bargains.
For instance, APH offers deals on daily/hourly parking, preferred parking and long-term parking, while Lookin4Parking has BUF parking deal options at economy parking and valet parking
But let's take a look at your official Buffalo Niagara International Airport parking. There are four great options:
Daily/hourly parking garage
With 2,200 covered spaces, this garage is adjacent to the terminal and designed for short-term parking. It's very convenient and ideal if you're away for a couple of days.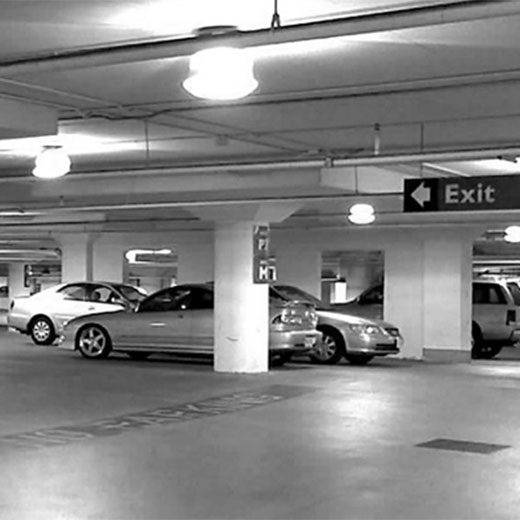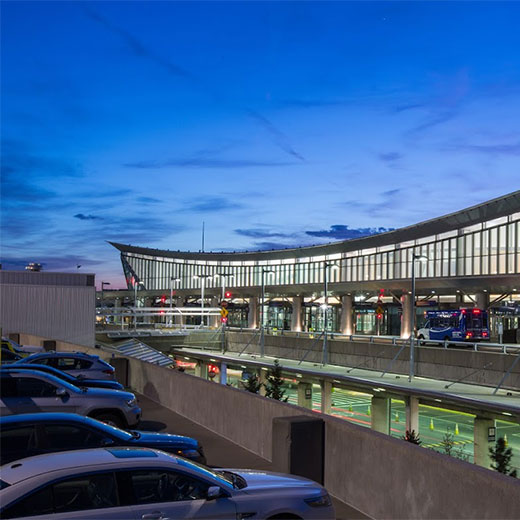 Preferred parking lot
Next to the main terminal, this lot can be used for a maximum of 24 hours. It's covered, so your vehicle's protected from the elements as well as being safe and secure.
Long term parking lot
10 minutes from the main terminal building, this uncovered lot is ideal when you're jetting off for a few days or longer. It's uncovered and boasts 4000 spaces.
Cell phone parking lot
Designed for drivers picking up or dropping off passengers, this lot is close to the terminal and has 1000 spaces. It's free for the first 30 minutes and then charged at a reasonable hourly rate thereafter.
Getting to Buffalo Niagara International Airport
BUF is a nice and easy drive from nearby towns and cities.
From Niagara Falls, take the I-90 east to exit 5A for the airport, then simply follow the signs and you'll be there in around 15 minutes.
If you're rolling in from Tonawanda, take the I-290 south to I-90 east, follow I-90 east to Exit 52 and follow the airport signs. You'll reach in around 25 minutes.
Driving from Cheektowaga, take I-90 east to exit 52, then follow the signs. And if you're coming from Niagara-on-the-Lake, take Queen Elizabeth Way (QEW) to the Peace Bridge, cross the Peace Bridge to the US side, then take the I-90 east to Exit 52 for BUF. You'll be there in around 90 minutes (depending on traffic).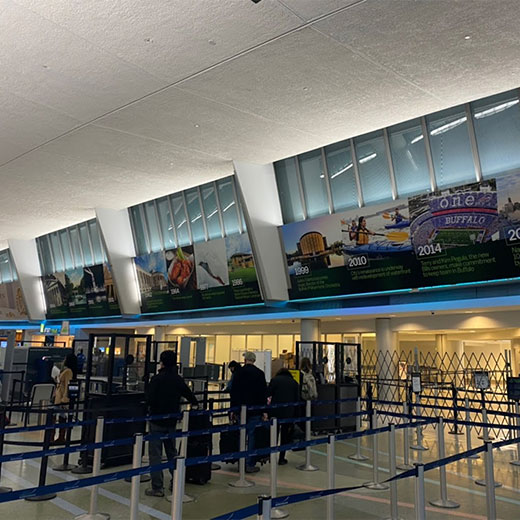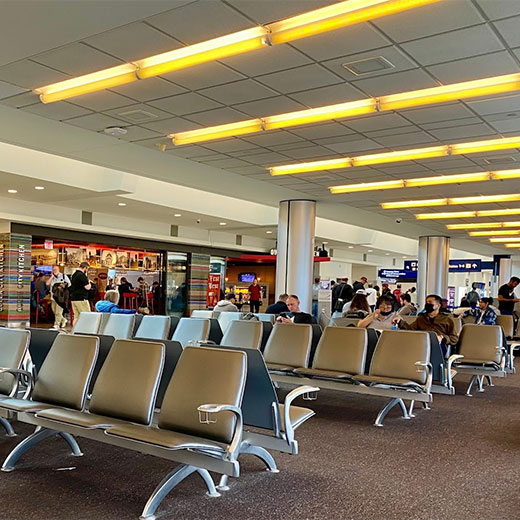 Facilities at Buffalo Niagara International Airport
Whether you're in BUF for an hour before boarding or longer due to delays, there are far worse places to spend time.
There are two BUF baggage claim areas (one for US arrivals and one for international destinations, and if you want to shop, eat or drink, there are lots of choices (more of which shortly). If you like the sound of relaxing away from the busy concourses, American Airlines, Delta Airlines and United Airlines and free Wi-Fi throughout the airport means you can access your email and socials.
Other useful amenities include airport medical services (with a clinic open 24/7), a pet relief area outside the baggage claim area, lost and found (lower terminal area) and wheelchair assistance is available on request.
Here's a pro tip if you haven't flown for a while and are traveling with kids in tow: make sure they have something decent to eat and you'll avoid tantrums!
Great choices for food include The Market on Elmwood (think local and regional specialities like chicken riggies) and Tim Hortons, the Canadian coffee specialist with a fine line in breakfast food, good brews and sweet treats.
If you want to catch a game and sink a couple of ice cold beers, Bar Louie is the best place to watch a game and have a drink, while Savor specialises in juicy burgers, salads and snacks and Bistro Niagara is an upmarket emporium serving sumptuous dishes like lobster tail and filet mignon.
Got the urge to to flex your credit card? There are several places to pick up something special. You can pick up a high-class perfume or liquor from the Duty-free shop, treat yourself to a page-turner novel or glossy magazine at Newsstand, grab kids books, fiction and non-fiction at Bookstore, and buy a keepsake souvenir hat, t-shirt and mug at the gift shop.
When you really want to relax before your flight, arriving the night before is a good plan. And there are lots of comfortable establishments near BUF. For instance, the Hilton Garden Inn Buffalo Airport has a fitness center, free airport shuttle and indoor pool and Aloft Buffalo Airport is a cool contemporary hotel with a cocktail bar, hobby lounge and gym.
Alternatively, Courtyard by Marriott Buffalo Airport is another modern hotel with Wi-Fi, a restaurant, indoor pool and free airport shuttle.
Got a Question? Chat with our US support team
Our online chat is available 8:30am to 5:00pm weekdays. Email: [email protected]
FAQs about car hire at Buffalo Niagara Airport
Most frequently asked questions about hiring a car at Buffalo Niagara Airport
If you choose to change or cancel your parking reservation at Buffalo Niagara Airport, you won't face any fees as long as you do it at least 48 hours before your scheduled travel. However, if modifications or cancellations are made within the 48-hour timeframe, a $5 charge will be applied.
Enjoy Travel suggests that the most effective way to secure the greatest parking discounts at Buffalo Niagara Airport is by utilizing their advanced online booking system.
Buffalo Niagara Airport offers various parking choices including on-site parking, economy parking, preferred parking, valet parking, and a cell phone lot for convenient pick-ups.
To locate a parking spot at Buffalo Niagara Airport, the best approach is to navigate the airport premises by following the signage that directs you to the designated parking areas.
Buffalo Niagara Airport ensures parking safety through measures such as lighting, surveillance, security patrols, access control, emergency call boxes, and customer assistance.
The distance between the terminal and the different parking areas at Buffalo Niagara Airport can vary, but generally, the on-site parking facilities are located within walking distance of the terminals, while the economy parking lots may require a short shuttle ride to reach the terminals.
Yes, Buffalo Niagara Airport provides electric vehicle (EV) charging stations for passengers to charge their electric vehicles. These charging stations are available in designated parking areas and provide a convenient option for EV owners to charge their vehicles while traveling.
Yes, it is generally allowed to park for an extended period overnight at Buffalo Niagara Airport. The airport offers both short-term and long-term parking options to accommodate travelers who need to leave their vehicles for an extended duration.
It is recommended to make an advance reservation during busy periods to ensure availability and take advantage of discounted rates when securing a parking spot.
If you arrive early for parking at Buffalo Niagara Airport, there may be extra charges based on the arrival time, and you can conveniently pay for parking with a credit or debit card when you leave the parking facility.
The economy parking option is typically the most economical choice at Buffalo Niagara Airport. These parking lots are designed to provide affordable long-term parking options for travelers.
The daily parking rates at Buffalo Niagara Airport range from $10 to $24, depending on the parking option chosen.
With Enjoy Travel the approximate cost for a week of parking at Buffalo Niagara Airport ranges from $60 to $150, depending on the type of parking (economy, preferred, valet, etc.).
Explore popular airports in the US