Redmond Municipal Airport Parking
Find the best parking deals at Redmond Municipal Airport
With a massive choice from the biggest brands, Enjoy the best way to find the best prices for car hire in Redmond Municipal Airport.
Huge choice car parks to suit every budget
Save up to 70% compared to buying on the day
Working with the best partners in Airport Parking
Redmond Municipal Airport Parking
Flying out from Redmond Municipal Airport soon? Looking for airport parking?
We've got you covered in this great guide – whatever your parking needs and requirements, we'll clarify your on- and offsite options so it's easy to choose. And what's more, you'll get some ace info on the best places to shop and eat at RDM too.
Got a while to hang around the city of Redmond and its environs before you fly? There are some really cool things to see and do in Richmond and if you're into the great outdoors, there's some spellbinding stuff on offer. For instance, the High Desert Museum boasts interesting exhibits on the history of the region, including its flora, fauna, and geology. And if you want to get out and move your body, try hiking at Smith Rock Park, where you'll see some of the best Crooked River views from Misery Ridge Trail.
If that's not thrilling enough, white-water rafting on the Deschutes Trail should get your pulse racing, and the Lava Cast Forest has an amazing collection of natural lava casts left behind when a volcano erupted 700,000 years ago. After that, you might want to watch the sun go down at the Painted Hills National Monument (their chameleonic colors are breath taking), while Sunriver Resort offers more reserved activities like golf, swimming, and tennis.
Are you fond of a medicinal tipple or two? Get a designated driver and go wine tasting in the Yakima Valley or beer tasting at the award-winning Deschutes Brewery. History buffs also appreciate the Museum of the Oregon Territory, which has lots of exhibits on the region's history and the famous Lewis and Clark exhibition. Want a break from all the outdoorsy stuff? Take in a concert or play at The Mission Theatre in downtown Redmond.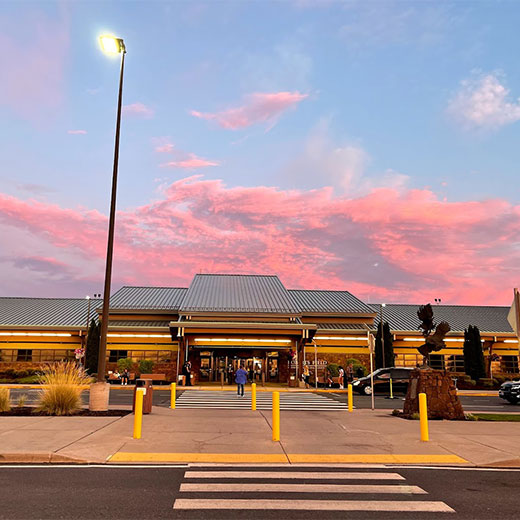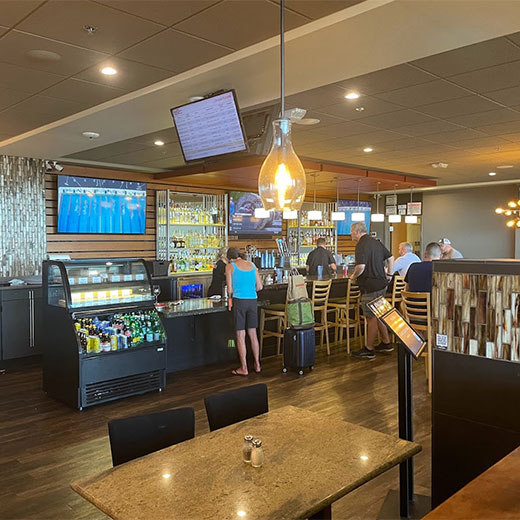 Find the best deals at Redmond Municipal Airport
Want to really exhaust all RDM parking options? A few alternative ideas include parking at a business or hotel nearby (some offer parking for a fee) or parking in a residential area (although please be sure to check local parking regulations).
If you're traveling with family and friends, you could save money by carpooling or sharing a shuttle, and there are several park-n-ride hubs near the airport that can be economical too.
And lastly, although we admit our bias, we reckon the best way to find the right Redmond Municipal Airport parking is by reading the guide right in front of you!
Compare parking at Redmond Municipal Airport
Redmon Municipal Airport has 1,140 parking spaces to choose from, and they're split into short-term, long-term, and accessible parking.
A top-flight parking provision is just one indication of how RDM has evolved since it was established in 1928 by the Ray Johnson American Legion Post. The first passenger service started in 1940 (Oregon Airways) and it was commandeered by the US Army Air Force for training new P-38 and B-17 pilots.
Ordinary service resumed after World War II, a new terminal was added in 1950, and more structural refurbishments followed in the 80s and 90s. Currently the regional hub for Alaska Airlines, United Airlines and Delta Air Lines, it connects Redmon to destinations like LA, Portland, and Seattle.
A major contributor to the local economy, Redmond Airport is a large employer and brings business and tourists into the vicinity.
What parking is there at Redmond Municipal Airport?
Another option for parking at Redmond is searching via a comparison site or app and it's definitely worth checking out the likes of APH and Looking4Parking. Both of these sites offer early bird, group and military discounts.
Please check out your official Redmond International Airport parking options
Short-term parking
There are 350 short-term spaces at RDM, and this area is conveniently close to the terminal. If you're dropping off or picking up passengers.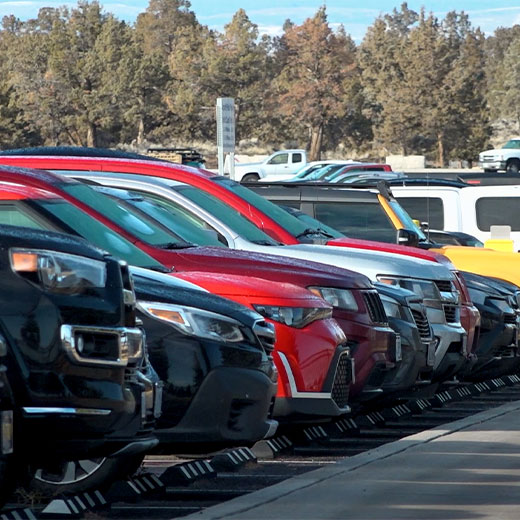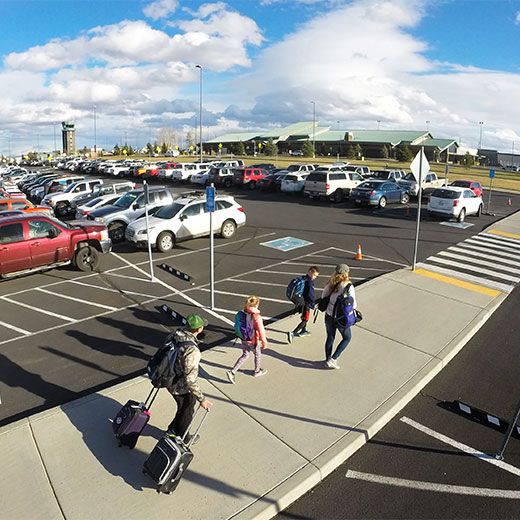 Long-term parking
The 750 long-term spaces at Redmond Municipal Airport are located a little further out but they're reasonably priced and the best option when you're away for more than a few days.
Accessible Parking
There are 190 accessible parking spaces dotted throughout the airport and they're all conveniently placed.
RDM parking rates vary by type and how long you park for. You can pay by debit card, credit card or good old fashioned cash and there's an parking lot booth that's open 24/7.
Getting to Redmond Municipal Airport
If you're driving in to RDM from a little further afield, it's pretty easy to find.
From Bend, drive east on N3 3rd Street towards NE Division Street, turn left onto NE Division Street, keep going onto US-20 E/NE Division Street, then take exit 262 B to merge onto OR-20 toward Redmond. Drive onto OR-20, take a right onto SE 36th Street and keep going until you reach the airport.
From Sunriver, head west on S Century Drive towards S River Road, turn left onto S River Road, continue onto OR-20 W and follow the final directions above. From Prineville, drive east on US-20 E/NE 3rd Street, continue onto OR-20 W and follow the same final directions.
And if you're driving in from Madras, drive east on US-26 E/OR-126 E, take exit 255 to merge onto OR-20 toward Redmond and follow the same final directions to get to RDM.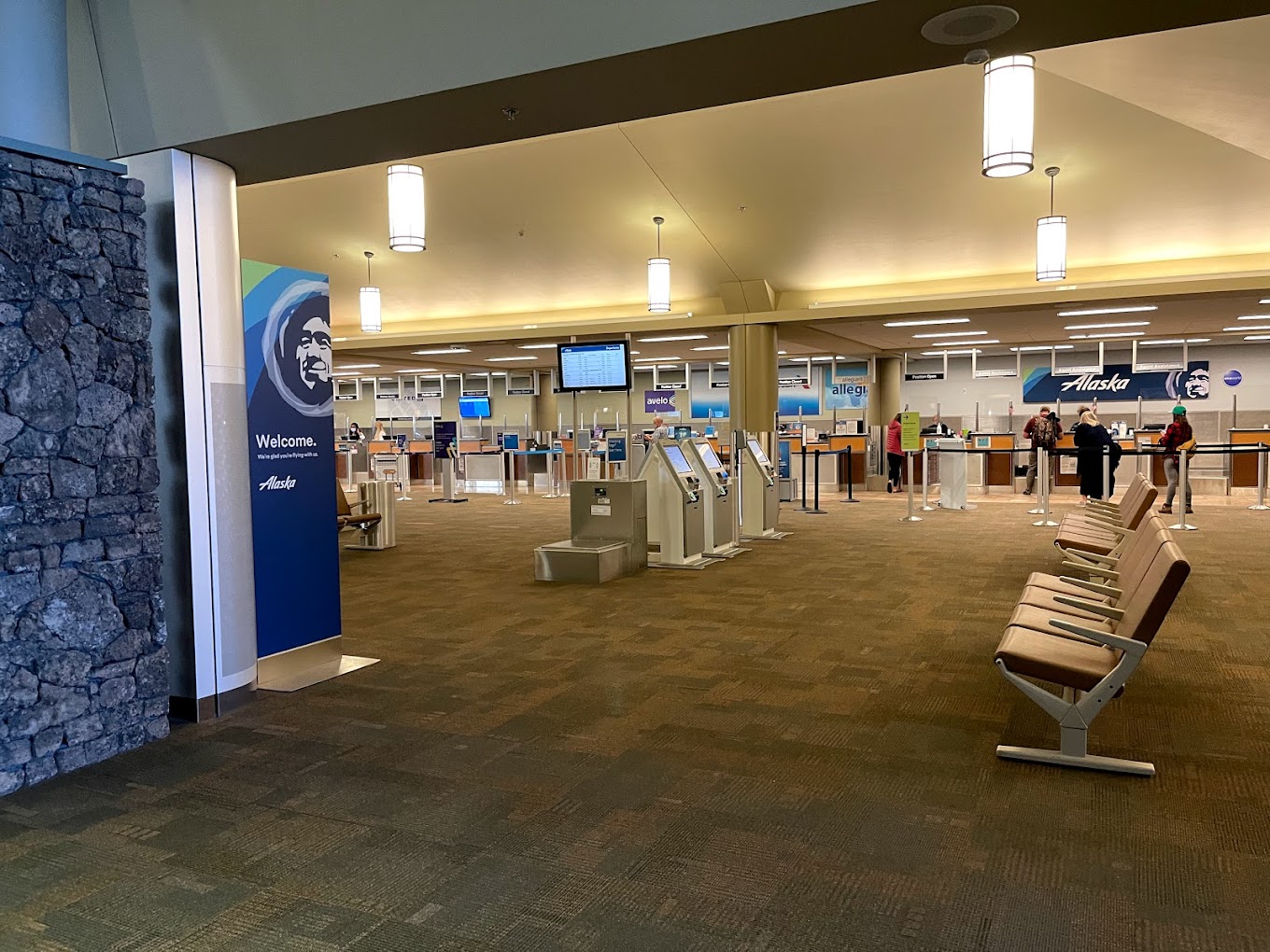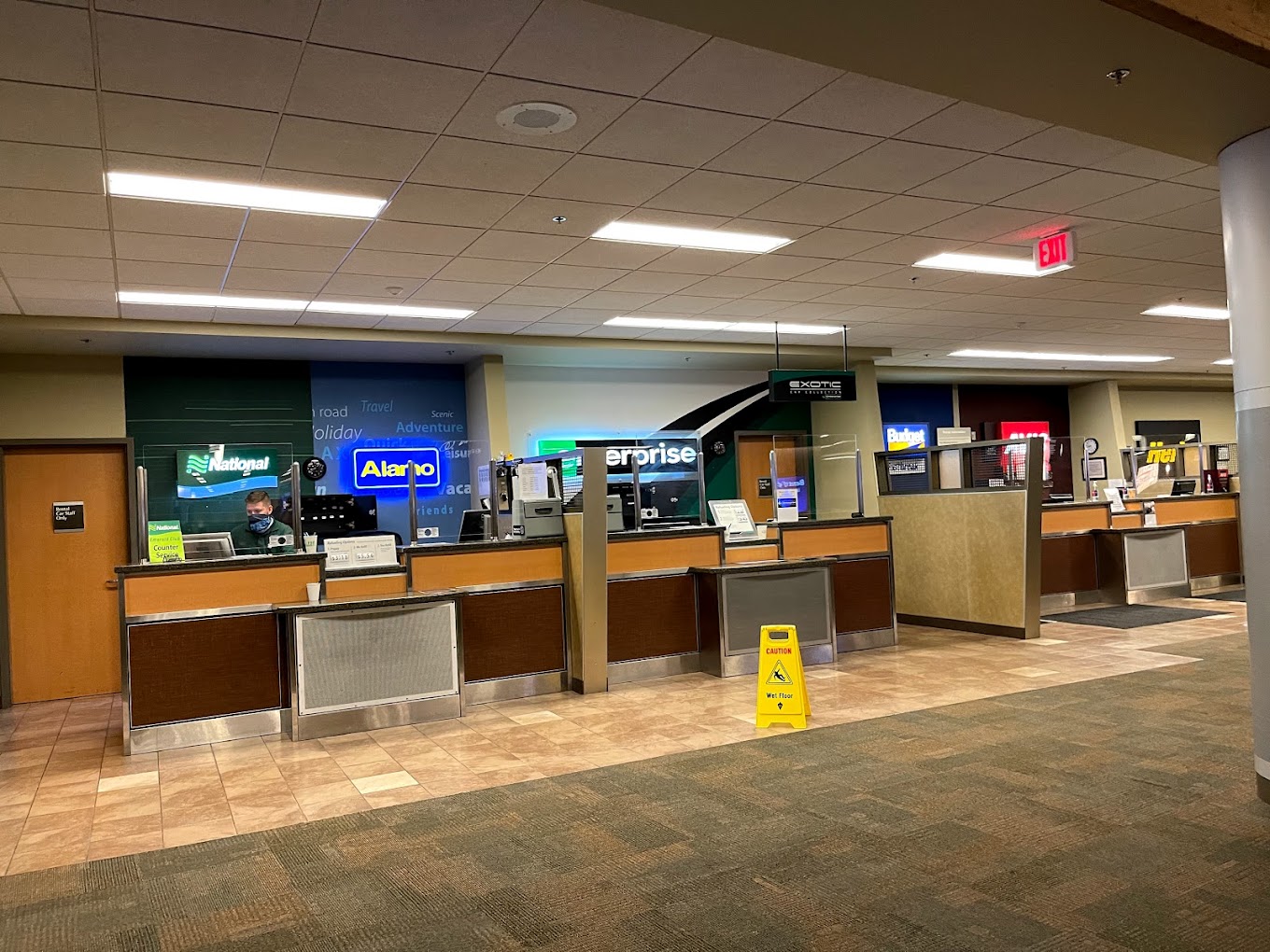 Facilities at Redmond Municipal Airport
Amenities and facilities at Redmond Municipal Airport are good. In fact, even if you're stuck here for a little longer than expected due to delays, there are some really interesting things to check out.
For instance, you'll see the world's largest kaleidoscope in the terminal. It's 10 feet tall, 6 feet wide and has over 1000 pieces of glass – pretty impressive, right? Meanwhile, the Redmond Air and Space Museum is also on the RDM grounds and has over 30 aircraft, including a B-17 bomber, Stearman biplane and P-51 Mustang.
And switching from planes to trains for a second, the Redmond Municipal Airport Model Railroad Club has an awesome model train set that's nestled in a miniature version of the Central Oregon mountains. It's over 100 feet long, with over 1000 feet of track. Meanwhile, the Redmond Municipal Airport Nature Trail is 1.5 miles long, snakes through the grounds of the airport and features birds, rabbits and even deer – how cool is that?
How about those practical facilities though? Well, there's a fantastic family restroom on the lower level of the terminal and two comfy lounges where you can escape from the hustle and bustle of the main concourse – one is for first class passengers and the other is open to Delta Sky Club members. If you're traveling with your baby, you'll also be glad to know that there's a nursing room airside, and there's also a pet relief area outside of the terminal.
There are also plenty of power outlets throughout the terminal (vital if you're traveling with device-laden teens), lots of general use restrooms and there's also free Wi-Fi throughout, which is handy when you need to check emails or send a selfie to your socials.
Here's another pro tip if you haven't flown for a while: although airline food is better than it used to be, it's probably better to grab something to eat from a café or restaurant before you fly. It's not great getting up into the sky and realising they've got nothing on board that particularly tickles your taste buds.
And the choice at Redmond is pretty good. For instance, the Avalon Aeropub has a full menu and lots of thirst-quenching beers on tap, while the Original Pancake House is the last word on pancakes, waffles and other hearty American breakfast dishes.
You can try Madaline's grill American Bistro for spicy enchiladas, burritos and tacos, or Pho House for delish Vietnamese pho, spring rolls and banh mi. And if you're craving for Italian, Abby's Legendary Pizza does the disc-shaped dough-based delights we all know and love, as well as pasta and other Italian fare. Nothing to tempt you yet? How about The Rooftop at SCP Redmond? This top-notch restaurant serves salads, sandwiches and entrees, complemented by beautiful views of the airport and its environs, while Xalisco Latin Cuisine is another spicy choice, with enchiladas, burritos and tacos.
There's also Terra Kitchen (American burgers, steaks and ocean-fresh seafood) and Initiative Brewing, which has a wide variety of beers on tap and a pretty good bar menu to match.
And there you have it – everything you'll ever need to know about parking at Redmond Municipal Airport and a lot more besides. Bon voyage!
Got a Question? Chat with our US support team
Our online chat is available 8:30am to 5:00pm weekdays. Email: [email protected]
FAQs about car hire at Redmond Municipal Airport
Most frequently asked questions about hiring a car at Redmond Municipal Airport
If you opt to modify or cancel your parking reservation at Redmond Municipal Airport, as long as you do it with a minimum of 48 hours prior to your scheduled trip, there will be no charges incurred. Nonetheless, any changes or cancellations made within the 48-hour timeframe will result in a $5 fee being applied.
According to Enjoy Travel's recommendation, the most effective way to secure the greatest parking discounts at Redmond Municipal Airport is to utilize their online booking system in advance.
Redmond Municipal Airport offers a range of parking choices, including short-term parking, long-term parking, covered parking, valet parking, and electric vehicle charging stations.
The most effective method to locate a car park at Redmond Municipal Airport is by following the signage and directions provided within the airport premises.
Redmond Municipal Airport implements stringent safety protocols for parking, including surveillance systems, well-lit areas, and regular security patrols, to ensure the safety and security of parked vehicles.
The distance between the terminal and the different parking areas at Redmond Municipal Airport varies, but they are conveniently located within a short walking distance to ensure easy access for travelers.
Yes, Redmond Municipal Airport provides designated parking spaces equipped with electric vehicle charging stations for the convenience of electric vehicle owners.
Yes, it is generally allowed to park for an extended period overnight at Redmond Municipal Airport, especially in the long-term parking areas designed for travelers leaving their vehicles for multiple days or longer.
To ensure a parking space and take advantage of reduced rates, it is recommended to make an advance reservation, particularly during busy times, in order to secure your spot.
If you arrive early for parking at Redmond Municipal Airport, there may be additional charges based on the arrival time, and you can conveniently pay for parking using a credit or debit card when exiting the parking facility.
The long-term parking option is typically the most economical choice at Redmond Municipal Airport for travelers who need to leave their vehicle for an extended period of time.
the daily parking rate at Redmond Municipal Airport is around $10 to $15 per day for long-term parking.
With Enjoy Travel the approximate weekly parking rates at the airport range from $60 to $90 for long-term parking.
Explore popular airports in the US