Dallas Fort Worth International Airport Parking
Find the best parking deals at Dallas Fort Worth International Airport
With a massive choice from the biggest brands, Enjoy the best way to find the best prices for car hire in Dallas Fort Worth International Airport.
Huge choice car parks to suit every budget
Save up to 70% compared to buying on the day
Working with the best partners in Airport Parking
Dallas Forth Worth International Airport Parking
So you're flying from DFW soon and looking for your perfect parking spot?
You're exactly where you should be. And not only will we give you the most precise Dallas Fort Worth International Airport parking information – you also get handy information on directions, amenities and facilities.
But how about that Dallas-Fort Worth metroplex? It's such a kick-ass place to live and visit. Dallas has legendary gridiron courtesy of the Cowboys, unique history, tasty Texas barbecue and some of the best frozen margaritas on the planet. Fascinating things to see and do here include the Sixth Floor Museum (which showcases JFK's life and tragic assassination), the distinctive, dandelion-shaped Reunion Tower, gorgeous green Dallas Arboretum, and the Arts District (packed with museums, galleries, theaters, and creative spaces).
And then there's Forth Worth. Where you can channel your inner cowboy/cowgirl at Fort Worth Stockyards National Historic District. See elephants, meerkats, parrots, and primates at Fort Wort Zoo, immerse yourself in the art of the American West at the Sid Richardson Museum, and see masterpieces by Picasso, Matisse, Mondrian and Monet at the Kimbell Art Museum. And our personal favourite – the Forest Park Miniature Railway. Hop on board and feel like a giant for the duration – just make sure you can actually get out when the ride's over!
But (for whatever reason) you're tearing yourself away from these delights for a while. You're parking your car up at DFW (smart move). And you need the find a space that suits your needs and budget. Let's get into it.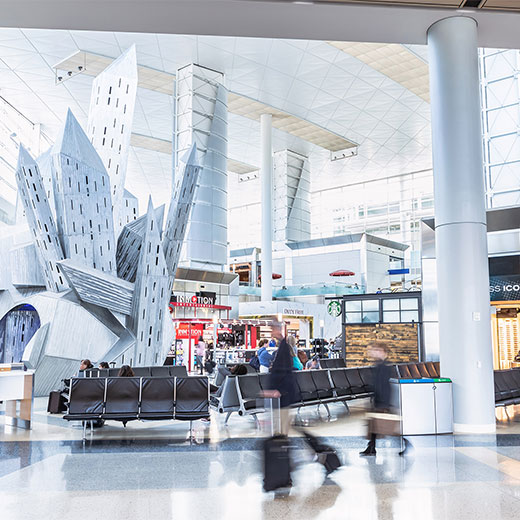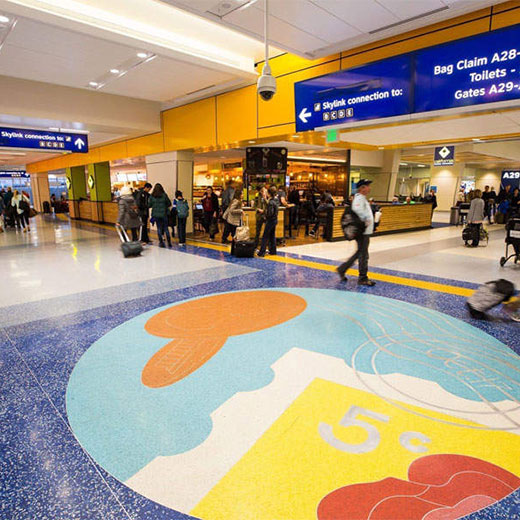 Find the best deals at Dallas Fort Worth International Airport
What's the fastest parking at DFW? The cheapest? The one that's best for travelers with additional needs? Questions, questions, questions. Working out the best deal on your Dallas Forth Worth International Airport Parking depends on lots of factors – not the least of which are your budget and unique needs.
But don't stress. Because soon everything will be clear as a mountain stream.
Compare Dallas Fort Worth International Airport Parking
DFW is built for all types of travelers – who arrive from the Dallas-Fort Worth area and beyond. Today, it processes over 73 million passengers annually, making it one of the world's busiest superhub airports. Connecting these two titanic Texas cities to 67 international nonstop and 193 domestic, it's North America's first carbon neutral airport and the world's largest.
Dedicated in September 1973, it first became operational on 13th January 1974 and has grown from strength to strength ever since. A visionary project that transformed a vacant pasture between two cities to a gateway to the world, it's a powerful economic engine for North Texas, with an economic impact worth $37 billion annually.
Once you've read through the options, it's easy to compare parking options at DFW. Get ready for the latest facts to help get you rolling.
What parking is there at Dallas Fort Worth International Airport?
The answer is – lots of different kinds. But don't worry – we're here to clear up which is best for you. You can book directly through the airport website, but it's also worth considering comparison sites for bargains. For instance, booking via Looking4Parking can help save cash on parking at DoubleTree Dallas DFW Airport North – Self Park – Uncovered, Wingate by Wyndham DFW/North Irving – Self Park – Uncovered, and Red Roof Inn – DFW Airport North – Self Park – Uncovered.
And are over 35,000 official parking spaces at DFW, so there's definitely one to suit you. But with Terminal parking, Express, Remote and valet on offer, it's good to get a little clarity on the pros and cons of each option. Let's find out!
Terminal
Want DFW parking that's the closest to gate and directly next to all five DFW terminals? Terminal parking ticks all of your boxes. Garages A,D and E have a parking guidance system, prepaid parking is available, and there's accessible ADA parking on levels 1 and 3 with direct access to the terminal.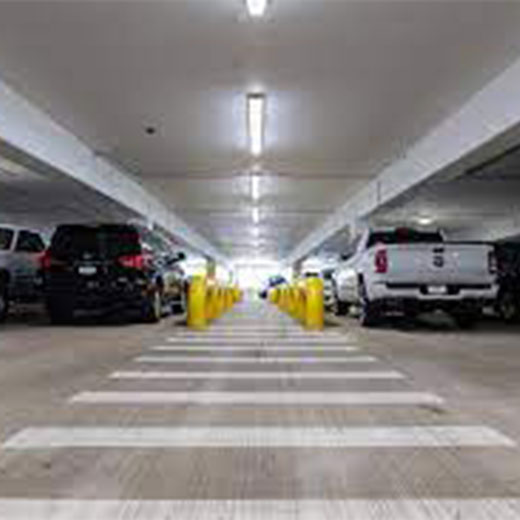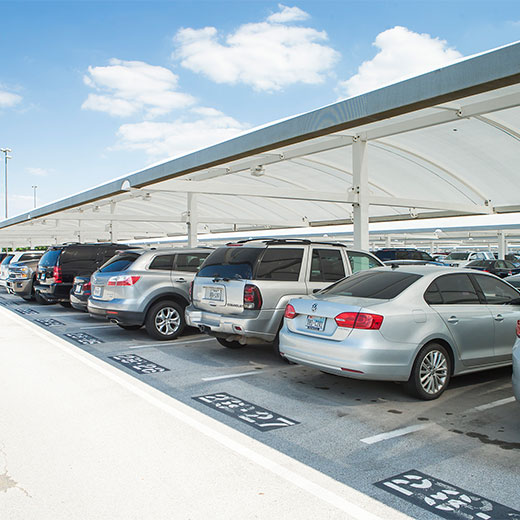 Express
Located near entry and exit points for North and South, Express parking at DFW includes secure covered options (in Express North) and uncovered options. If you don't mind hopping on one of the regular shuttles for a direct trip to your terminal, this is an easy, economical option and you can save even more cash by prepaying.
Remote South Lot
Want the best value shuttle-to-gate Dallas Forth Worth parking option? Remote South Lot has your name on it. Located close to the North and South entry and exits, a comfortable shuttle bus whisks you to the terminal at any time of the day and it now offers convenient (and hygienic) contactless payment. Prepay to take advantage of regular promotional offers and save money to spend on something much more exciting when you're on your vacay.
Valet
When you don't mind paying for a personal, swift, convenient service, valet parking at DFW means business. Trained, trusted agents meet you at the arrivals for terminals A,B,C and E (level 3) and you can pick up and drop off at any terminal you like. Car wash and detail services are available on request and there's free charging for electric vehicles.
Cell Phone Lots
Need to pick up a friend, family member or colleague from DFW? There are two cell phone lots designed for exactly that purpose. The South cell phone lot is at the south end of DFW, next to the intersection of Rental Car Drive and Southgate Avenue. The North cell phone lot is situated just before the North toll plaza.
How to get to Dallas Fort Worth International Airport
Getting to Dallas Forth Worth Airport by car is reasonably easy. Just enter DFW from State Highway 183 from the south or State Highway 114 or Interstate 635 from the north. The airport's main road is International Parkway – this runs the whole length of the airport and provides access to all on-site hotels, parking areas and terminals.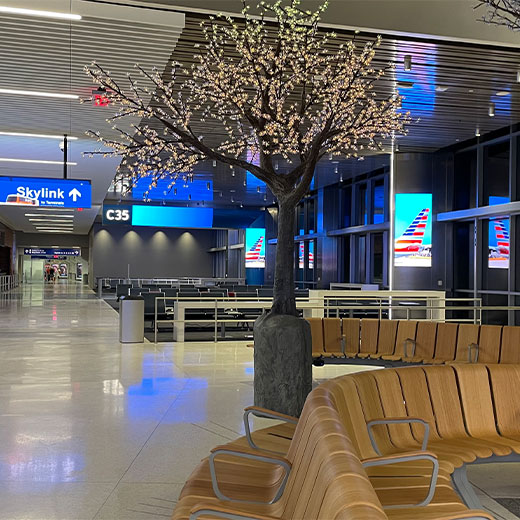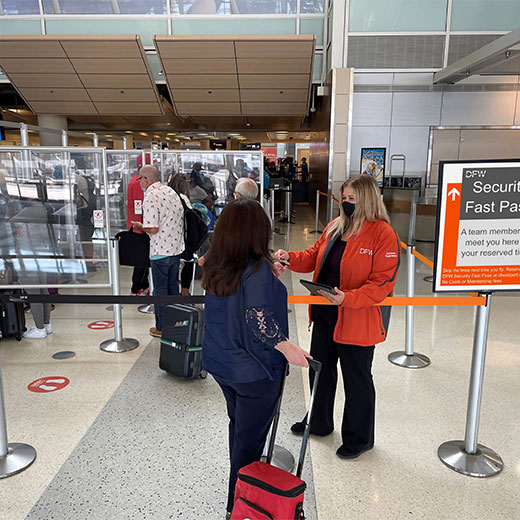 Facilities at Dallas Fort Worth International Airport
There's lots to see and do while you're waiting for your flight at DFW. To start with, there's the airport's fine selection of shops and eateries. You can pick up your everyday essentials at 7-Eleven, pick up perfect pretzels at Auntie Anne's, stock up on electronic and tech at InMotion Entertainment, and sample ocean-fresh seafood at Pappadeaux Seafood. There's also juicy, stacked burgers at Smash Burger, duty-free bargains at 3Sixty, and fresh beer and chic cocktails at Bar Louie.
You can check your emails and social media with DFW's complimentary Wi-Fi, while family-friendly amenities include a plush children's play courtesy of McDonald's at Terminal D and nursing rooms across Terminals A, C, D, and E.
Need a space for quiet contemplation? Check out the airport's interfaith chapels before security at C15 and A23 and after security at B28, C4 and D24. There's also a walking path in Terminal D that's endorsed by the American Heart association (measures just under one mile), and the DFW Airport Art Program self-guided tour takes you on an informative stroll past a collection of over 30 awesome art pieces by international, national and local creatives.
What else? There's also Skylink – one of the biggest people mover systems on the world (which takes you to any terminal in 5-9 minutes) and Founder's Plaza is the perfect place for plane spotters to soak up the excitement of planes taking off and landing.
If you're an animal lover, you'll be glad to know that there are pet relief areas in every terminal (please keep your pet on a leash at all times though). And if you're staying overnight at the airport before flying with your pet or need pet care while you're away for a night, there's even a premier pet resort, Paradise 4 Paws, which you'll find outside security. Staffed 24/7, you can pick up and drop off your furry (or scaly) friends anytime.
And that's not all. If you want a relaxed space to chill out in cathartic bliss, DFW delivers with a choice of luxury lounges where you can retreat from the hustle and bustle, gather your thoughts and unwind all the way. The Capital One Lounge offers a sanctuary inside terminal D near Gate 22 and there's unlimited access for Venture X cardholders. There's also the well-appointed American Express Centurion Lounge, Plaza Premium Lounge, Club DFW, various airline carrier lounges and USO Center for serving military staff and their families.
Got a Question? Chat with our US support team
Our online chat is available 8:30am to 5:00pm weekdays. Email: [email protected]
FAQs about car hire at Dallas Airport
Most frequently asked questions about hiring a car at Dallas Airport
If you decide to modify or cancel your parking reservation at Dallas Airport, as long as you do so at least 48 hours prior to your scheduled travel, you won't incur any charges. However, if you make changes or cancel within the 48-hour window, a $5 fee will be imposed.
Enjoy Travel suggests that utilizing their online booking system ahead of time is the most efficient approach to obtain the best parking discounts at Dallas Airport.
Dallas Airport offers various parking choices including terminal parking, express parking, remote parking, covered parking, valet parking, and disabled parking, catering to different needs and preferences.
The best way to locate a car park at Dallas Airport is to follow the signs and directions provided within the airport premises, guiding you to the designated parking areas based on your desired parking option.
Dallas Airport implements various safety protocols, including surveillance systems, adequate lighting, security personnel, fencing and access control, and emergency assistance points, to ensure the security of vehicles parked on its premises.
The distance between the terminal and the different parking areas at Dallas Airport may vary, but typically, they are within a reasonable walking distance or accessible via shuttle service, ensuring convenience for passengers.
Yes, Dallas Airport provides charging stations for electric vehicles. These charging stations are available for use, allowing you to charge your electric vehicle while parked at the airport.
Yes, it is allowed to park for an extended period overnight at Dallas Airport. Dallas Airport offers long-term parking options that cater to travelers who need to leave their vehicles for an extended duration.
To secure a parking spot and benefit from discounted prices, it is advisable to make a prior reservation for parking during peak periods.
Arriving ahead of time for parking at Dallas Airport could result in additional charges, which vary depending on the arrival time, and payment for parking can be conveniently made with a credit or debit card upon exiting the parking facility.
The most economical parking option at Dallas Airport would typically be the remote parking option. Remote parking is designed for longer-term stays and often offers lower daily rates compared to other parking choices such as terminal or covered parking.
The daily parking rate at Dallas Airport ranges from $10 to $25, with remote parking being the most affordable option.
With Enjoy Travel the approximate cost for a week of parking at Dallas Airport ranges from $70 to $175, with remote parking being the most cost-effective choice.
Explore popular airports in the US