Chicago O'Hare International Airport parking
Find the best parking deals at Chicago O'Hare International Airport parking
With a massive choice from the biggest brands, Enjoy the best way to find the best prices for car hire in Chicago O'Hare International Airport parking.
Huge choice car parks to suit every budget
Save up to 70% compared to buying on the day
Working with the best partners in Airport Parking
Parking at Chicago O'Hare International Airport
Jetting off soon from Chicago O'Hare and looking for the best parking? We got you.
Maybe you're taking off for Dublin to rediscover your Irish roots? Heading over the border to Toronto for a reunion with relatives? Setting off for a romantic sojourn in Paris?
Wherever your destination, budget, and unique requirements, you'll find the best ORD airport parking options in this comprehensive guide.
And if you're from out of town, you might want to take time to sample the considerable delights of the Windy City before you leave.
If you're a culture vulture, you'll love browsing the masterpieces at the Art Institute of Chicago. This sprawling institution has more than 300,000 artworks (including everything from Andy Warhol classics to artefacts from unique African cultures. Meanwhile, if you're green-fingered (or just fancy strolling around a cathartic green space), the Garfield Park Conservatory has 8 lush indoor gardens and an impressive 65 ft Palm House. Alternatively, if you're a music fan, the Green Mill is an iconic Uptown jazz and bebop venue that's been entertaining revelers with the finest live music since the Prohibition era.
If you're here in winter, gliding round the Maggie Daley Skating Ribbon is great fun and sports fans love cheering on the Bulls and Blackhawks at the United Centre or (on days this shared stadium isn't reserved for top-flight basketball and hockey) catching a concert from a smash hit global artist. And there's something unique for architecture aficionados too – in the form of Frank Lloyd Wright's iconic Robie House.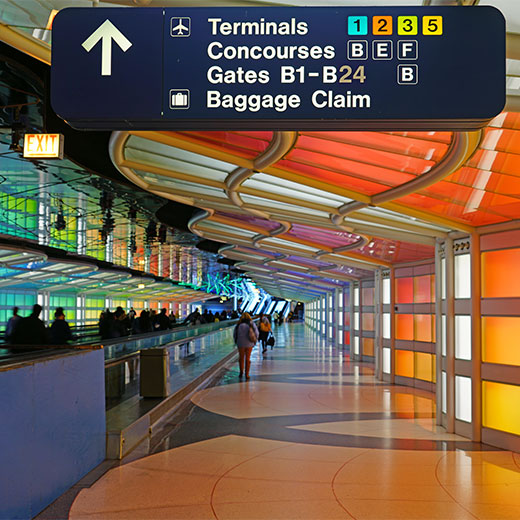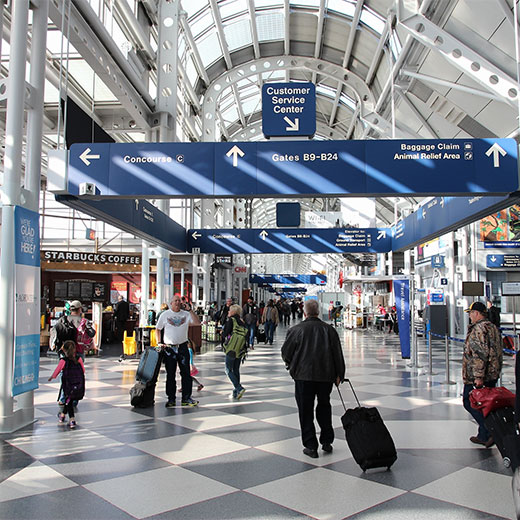 Find the best deals at Chicago O'Hare International Airport
What's the best way to find a blockbuster deal at ORD? For lots of travelers, price is the main metric. That's understandable – after all, who wants to spend a fortune on airport parking when you could be banking those Benjamins for something a whole lot more fun on your vacay?
One note of caution though – cheapest isn't always best. For instance, you might not mind paying a little extra for a personalized service that lets you park close to the terminal, with trained staff ready to whisk your car away to park it perfectly somewhere safe. Also, if you (or a co-traveler) have mobility issues, you'll want to be sure you're getting a dedicated space with an unimpeded path to departures. All said, once you nail down what you need – and have the right information at hand – it's easier than you might think to shop around for a deal that's suitable and saves you cash.
Compare Chicago O'Hare International Airport Parking
Comparing Chicago O'Hare International Airport parking is child's play – once you know what you need, you can match it with what's on offer from various providers (official and otherwise).
And a great parking provision is just the cherry on the cake at this magnificent air hub. On of the busiest airports in the world, it processes 77.9 million passengers every year and always goes the extra mile to satisfy all types of travelers. Originally known as 'Orchard Field Airport', it got its new moniker in 1948 in honor of Edward 'Butch' O'Hare, the US Navy's first fighter ace and first recipient of the Medal of Honor in World War II.
ORD has steadily grown stronger throughout its history. And today it's served by 37 air carriers connecting to 60 international and 150 domestic destinations. There are also 180 gates – so leave plenty of time to get to yours!
You can tell we're big ORD fans and (naturally) that admiration extends to its parking provision – more of which next!
What parking is there are Chicago O'Hare International Airport?
Good news for you – there are lots of different airport parking options at Chicago O'Hare International Airport. And with 20,000 onsite spaces, you won't be stuck for somewhere to stow your ride. And as well as ORD official parking, you can sometimes find low-cost deals on comparison sites. For instance, Looking4Parking offers good daily rates on ORD parking at Hyatt Place Chicago O'Hare Airport- Self Park – Uncovered – Rosemont, One Spot Airport Valet – Uncovered – Schiller Park, Westin O'Hare – Self Park – Uncovered – Rosemont, and One Spot Airport Valet – Valet – Indoor – Schiller Park.
Now let's get to grips with your official ORD parking choices.
Hourly
The main garage at ORD is close to the domestic terminals and you'll find hourly parking on Level 1. This is the only place to park if you're going to be at the airport for three hours or less and there's a maximum clearance height of 6'6". Ideal for picking up or dropping off friends, relatives or colleagues, you pay the cashier when you're leaving. Accepted payment methods include cash, Visa, American Express, MasterCard, Diners Club, Carte Blanche and Discover.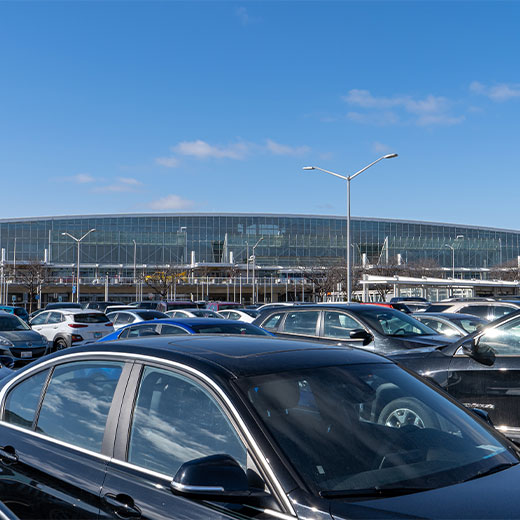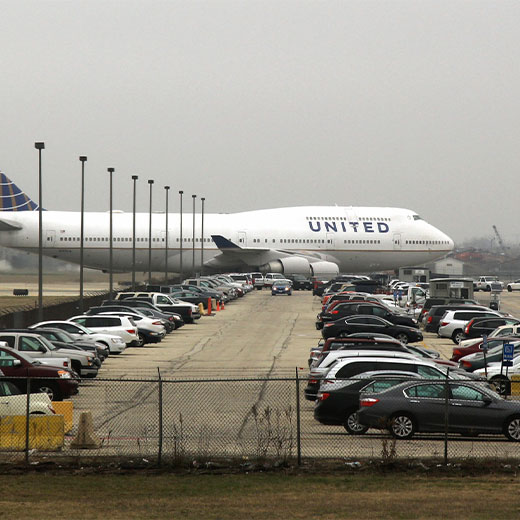 Daily
ORD daily parking is located on levels 2-6 of the main garage and lots B and C of the outdoor parking. Again, there's a 6'6" clearance height and this parking option is fine if you're away for a short while but isn't the best value if your vacay or business trip extends over several nights. In that case, try the economy lots (up next).
Economy F
Planning on leaving your ride at O'Hare for a while? The economy lots are your best bet – as you'd expect, they're the best-value on-airport parking option. Economy Lot F is an open parking lot and you connect with the terminal by hopping on board the Airport Transit System (it's free of charge). You find this parking at the Multi-Modal Facility (MMF), on the corner of Mannheim and Zemke Road – it's on floors 4 and 5.
Economy G
Much the same deal as Economy Lt F, Lot G is an open parking option situated on Bessie Coleman Drive. It's north of Terminal 5 and northeast of the domestic terminals.
Economy H
Again, Economy Lot 6 offers the same low-cost, long-term convenience as its equivalents above.
Terminal 5 – Lot D
A good choice when you want to get out of your car to meet arriving passengers in the terminal, Terminal 5 Lot D is (appropriately) located adjacent to Terminal 5. Please note that there's ongoing work on new parking at ORD, so parking at this location may be limited.
Getting to Chicago O'Hare International Airport
Chicago O'Hare International Airport is around 35 minutes' drive from Downtown Chicago via I-90 W. If you're driving from a neighboring city, the address for GPS is: 10,000 W Balmoral Avenue, Chicago, IL, 60666.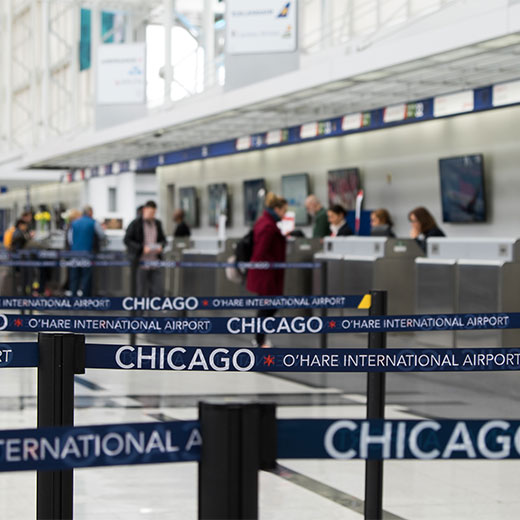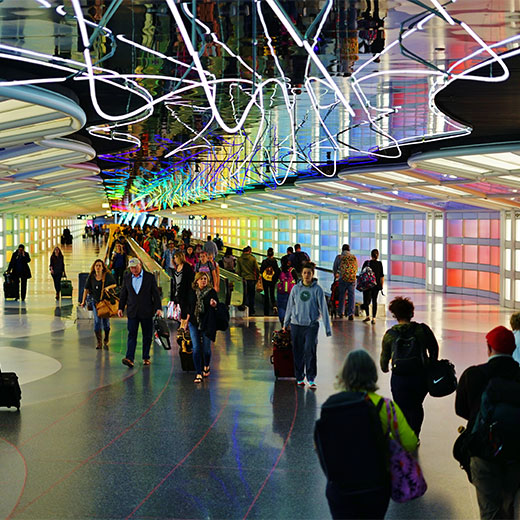 Facilities at Chicago O'Hare International Airport
If you find yourself delayed at ORD – or just waiting for a few hours for your scheduled flight – there's plenty to keep you busy. If you're a serving member of our military, there are USO locations away from the hustle and bustle to help you feel relaxed and comfortable.
And ORD takes pride in its efforts to be a fully accessible airport to travelers with disabilities. Terminal accessibility is good and there's a dedicated ADA Coordinator and staff always ready to help.
If you need to stay overnight, the on-site Hilton O'Hare hotel is ideal. This comfy temporary abode boasts a health club with fitness rooms and swimming pool. There's also an airport yoga room where you can recharge yourself and cleanse those chakras, and lots of impressive airport art too.
Furthermore, if you're feeling peckish at ORD, there are plenty of options to tempt your tastebuds. You can sample classic US fare at America's Dog, enjoy a sizzling steak washed down with ice cold beer at Billy Goat Tavern & Grill, feast on flame-grilled goodness at Burger King, or satisfy your sweet tooth at Eli's Cheesecake. And that's not all. There's also Farmer's Market, Goose Island Beer Company, Jamba Juice, and Jazz Bar – listen to some classic tunes to get you in the mood for hitting the blue horizon.
There are plenty places to shop too. Stock up on the latest page-turner at Barbara's Bookshop, grab a gorgeous bag at Coach, stock up on souvenirs at Hudson News & Gifts and snap up some shades at Oakley.
There are also multiple ATMs throughout ORD, a chapel where you can chill out and reflect, the fab Fly with Butch O'Hare Family Lounge and even comfy and private Mamava Lactation Pods for nursing moms.
With so many magnificent facilities and amenities at Chicago O'Hare International Airport, your vacay feels like it's started before you even get on the airplane. Be careful that you don't have such an entertaining time that you're late for your flight!
Got a Question? Chat with our US support team
Our online chat is available 8:30am to 5:00pm weekdays. Email: [email protected]
FAQs about car hire at Chicago O'Hare International Airport
Most frequently asked questions about hiring a car at Chicago O'Hare International Airport
It is important to make changes or cancel your parking reservation at Chicago O'Hare International Airport at least 48 hours before your scheduled travel to prevent any additional charges. If you modify or cancel within this timeframe, a penalty fee of $5 will be imposed.
According to Enjoy Travel, the most effective way to get the highest parking discounts at Chicago O'Hare International Airport is to use their online booking system in advance.
Chicago O'Hare International Airport offers several parking options, including economy parking, daily parking, hourly parking, valet parking, and international parking.
The best way to locate a car park at Chicago O'Hare International Airport is to follow the signs that lead to the parking areas.
Chicago O'Hare International Airport has implemented several safety protocols for parking, including regular patrols by airport police and security personnel, CCTV surveillance, and well-lit parking areas.
Overall, the distance between the parking areas and the terminals varies depending on the specific location chosen, with Economy Parking and Lot E being the furthest away and the Main Garage being the closest.
Yes, Chicago O'Hare International Airport provides charging stations for electric vehicles in several locations throughout the airport. The charging stations are available 24/7 and are free to use for airport visitors.
Yes, it is allowed to park for an extended period overnight at Chicago O'Hare International Airport in the designated parking areas. However, the airport has specific rules and regulations regarding overnight parking.
To guarantee accessibility and benefit from discounted rates, it is recommended to book a parking spot in advance, particularly during high-traffic periods.
If you arrive at the parking lot of Chicago O'Hare International Airport earlier than your scheduled booking time, you may have to pay additional charges, which can vary based on your arrival time. Payment for parking fees can be made by using a credit or debit card when exiting the parking lot.
The most economical parking option at Chicago O'Hare International Airport is the Economy Parking lot. It is located farther away from the terminals than other parking areas, but it offers the lowest daily parking rates.
Economy Parking and Lot E are the most affordable options, with a daily rate of $15. The Main Garage has a higher daily rate of $40, and the International Parking area has a daily rate of $50.
With Enjoy Travel for the most economical option, Economy Parking and Lot E have a weekly rate of $60. The Main Garage has a weekly rate of $240, and the International Parking area has a weekly rate of $300.
Explore popular airports in the US