Albuquerque International Sunport parking
Find the best parking deals at Albuquerque International Sunport parking
With a massive choice from the biggest brands, Enjoy the best way to find the best prices for car hire in Albuquerque International Sunport parking.
Huge choice car parks to suit every budget
Save up to 70% compared to buying on the day
Working with the best partners in Airport Parking
Parking at Albuquerque International Sunport
Been on a never-ending journey round the internet trying to find Albuquerque International Sunport (ABQ) parking?
Grab a cup of Joe and take a load off. Stick with this guide and you'll get all the crucial ABQ parking info you need, as well as lots of sage advice on ways to make your pre-flight experience as positive as possible.
And if you're rolling in from elsewhere in New Mexico (or perhaps further afield), you may want to take a little time to rediscover this sublime city too.
There's lots to do, but taking a ride on the Sandia Peak Tramway is as good a way as any to get started. This panoramic tramway takes you right to the top of Sandia Peak, where the city and surrounding mountains unfold before you. There are also hiking trails, gift shops and even a restaurant at the summit.
And if you're a history fan, Old Town Albuquerque is a real treat. This historic district boasts art galleries, restaurants, boutiques, and museums. Plus, you'll learn great insights about the city's Spanish and Native American heritage.
But you can step back even further in time at the Petroglyph National Monument. This park contains over 20,000 ancient petroglyphs (rock carvings) created by the Pueblo ancestors. You'll need to hike along a few trails to actually see the petroglyphs, but there's a visitor center with exhibits and information for guidance.
For something a little out of the ordinary meanwhile, take in the Albuquerque International Balloon Fiesta. An iconic gathering, the festival is held every October and when you see over 500 hot air balloons from all over the world taking to the skies, it's a sight you'll never forget.
If you (or your kids) are obsessed with STEM subjects meanwhile, the National Museum of Nuclear Science and History is a must-see. It showcases the history of the development and use of nuclear energy, from the Manhattan Project to the present. Fascinating.
Albuquerque is no slouch for foodies either. Since New Mexican cuisine is known for its unique blend of flavors and ingredients, why not add some spice to your life by taking a cookery class at one of the city's many cuisine schools.
And if you're partial to a tipple, take a tour of a local winery or brewery. Albuquerque has a buzzing craft beer and wine scene, so as well as learning how the products are made, you can also sample them. Bring a designated driver though.
Here's one for you TV fans though – a Breaking Bad tour of Albuquerque. If you still miss the classic series, several companies offer tours that take in Walter's house, Los Pollos Hermanos, the RV, The Dog House and the A1A Car Wash.
When you're peckish, you're spoiled for choice in Albuquerque too. For instance, the Level 5 restaurant at Hotel Chaco has stunning city views and specializes in seasonal dishes made with local ingredients.
Or for something a little more atmospheric, try the High Noon Restaurant & Saloon for wild game, steak and New Mexico-style cuisine.
And if you're a craft bar fan, sample the refreshing brews at establishments like Marble Brewery, Santa Fe Brewing Company, and Nexus Brewery. But if cocktails are your bag, grab some well-made mixes at La Reforma or The Copper Lounge.
After that roller-coaster of a visit, you'll need to rest up before you fly. And the hospitality at Hotel Andaluz, Hotel Chaco and Native Lodge is wonderful.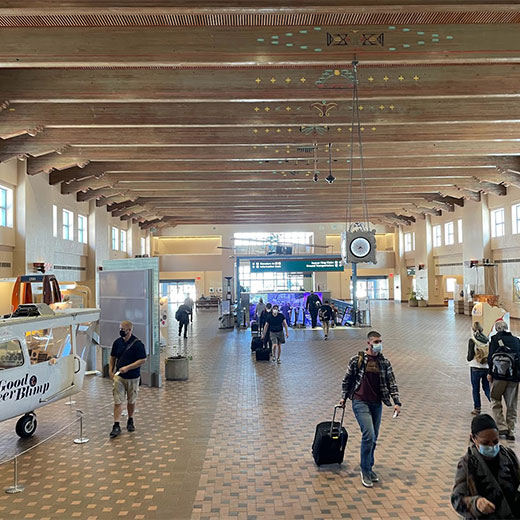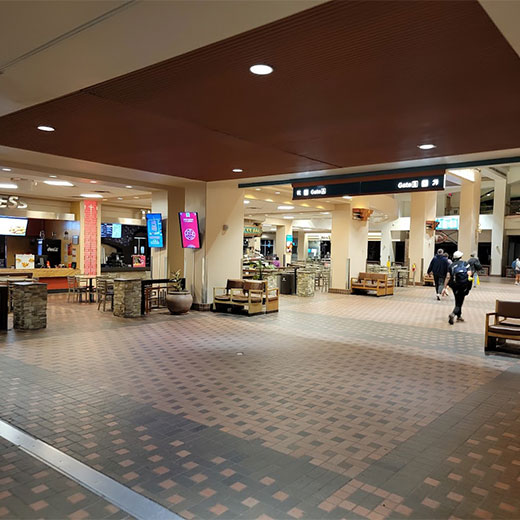 Find the best deals at Albuquerque International Sunport
Ready for some insider tips on finding cheap parking at ABQ? No problem.
Firstly, why not park at a hotel near the airport and hop on their shuttle bus? This is a good choice if you're staying overnight near the airport anyway and lots of hotels offer this service.
Parking at an off-site parking lot can also be cheaper than onsite. There are lots to choose from and you'll just jump on a shuttle bus to get to the terminal. Book your parking in advance. Many off-site parking lots offer discounts if you book your parking in advance.
Definitely compare prices from different parking providers (good tip about this coming up shortly) and look out for discounts and coupons online and in the local press.
Compare parking at Albuquerque International Sunport
Albuquerque International Sunport has a mind-blowing 4,200 parking spaces. Something which would have been unimaginable when it was built in 1939 and many people still didn't have cars.
In many ways, ABQ was a trailblazer. It was one of the first US airports purpose-built for commercial air passengers and featured paved runways and a well-designed terminal building.
Rapid growth during its early years meant that by the 1940s it was a major hub for commercial and military air travel. And in World War II, the Albuquerque Army Air Base was built next to the airport, with the two facilities sharing runways.
Albuquerque Municipal Airport expanded in the post-war years and in 1971 it was renamed the Albuquerque International Airport and began offering direct flights to Mexico.
Several expansions followed in the 1980s and 1990s, with a new terminal opening in 1989 and the runways extended to cope with bigger airplanes.
Today, ABQ is one of the Southwest's busiest airports, processing over 5 million passengers annually to over 20 destinations. And it's also busy with cargo – handling over 100 million pounds annually
What parking is there at Albuquerque International Airport?
As promised, here's a little more information on parking comparison sites. One good example is Looking4Parking which works with several parking providers and valet parking companies.
The service is easy to use – all you do is visit their website and enter your travel dates and the code for the airport. You'll soon see a list of every conceivable parking offer and you can choose the best fit. Here are your official ABQ parking options.
Short-term parking garage
Located right opposite the terminal building, this lot offers convenient short-term parking.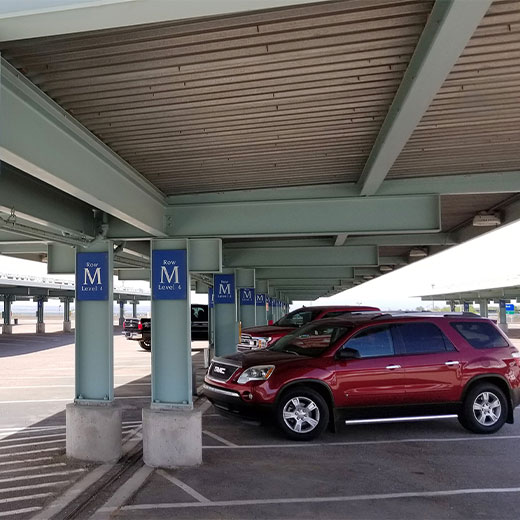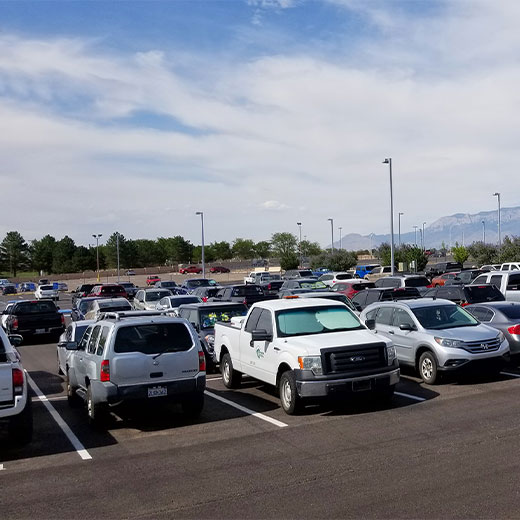 Premium economy lot
Situated next to the short-term parking garage, this offers covered parking at a cheaper price.
Long-term surface lot
A short stroll from the terminal, this lot provides the most affordable parking option for long-term stays.
All lots are run by the Albuquerque International Sunport Authority, and you can pay in advance online or on the day at one of the many pay stations.
Getting to Albuquerque International Sunport
If you're driving to Albuquerque International Sunport from Albuquerque city center, head south on I-25. Then take exit 232 for Sunport Boulevard. Turn left onto Sunport Boulevard and the airport will be on your right. This drive usually takes about 7 minutes.
Cruising in from Santa Fe? Take the I-25 S towards Albuquerque, then take exit 232 for Sunport Boulevard. Turn left onto Sunport Boulevard and you'll see ABQ on your right. This journey takes around one hour.
From Las Cruces meanwhile, take I-25 N towards Albuquerque, then exit 232 for Sunport Boulevard, turn left onto Sunport Boulevard and the airport will soon appear on your right.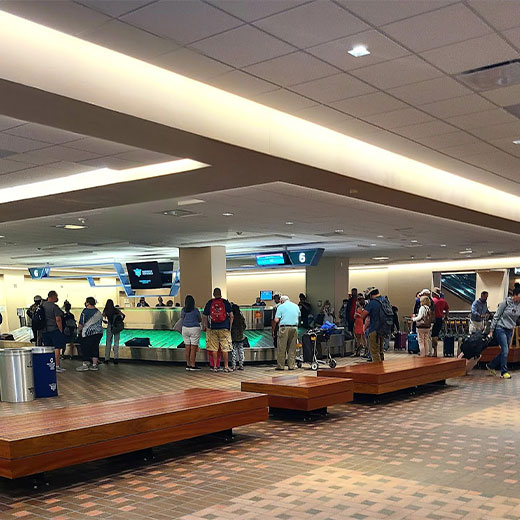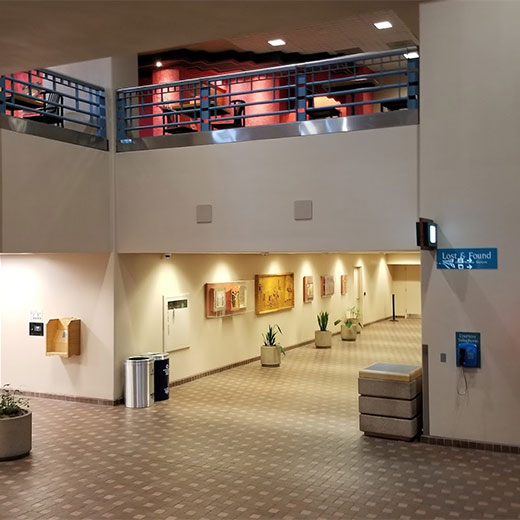 Facilities at Albuquerque International Airport
Facilities at ABQ are pretty good and there's everything you need to feel comfortable.
In the terminal building, you'll find a well-appointed food court with a variety of cuisine options, a currency exchange bureau, and a business center.
And there are also plenty of ATMs to draw cash, restrooms, a kid's play area and a nursing room.
As well as these facilities, ABQ is also organized when it comes to helping travelers with special needs. Wheelchairs can be requested at the airline check in desk or airport customer service desk and there's also an oxygen service for those who require it.
You can also request assistive listening devices at the customer service desk and ABQ has several sensory-friendly spaces.
In terms of shopping, Hudson News has newspapers, magazines, books, and souvenirs, ABQ 2 GO sells New Mexico-themed gifts, and Earth Spirit is the place to buy Native American-inspired jewelry, pottery, and artwork.
When you're peckish, Rio Grande Brew Pub & Grill serves burgers, sandwiches, and salads, washed down with local craft beers. And if you like Mexican cuisine, Comida Buena serves tacos, burritos, and enchiladas.
Meanwhile, Black Mesa Coffee Co serves coffee drinks and pastries, and Panda Express is the go-to place for tasty Chinese cuisine lie noodles and stir-fries.
And that's that – your ABQ airport parking guide is complete.
Now have a refreshing vacay/prosperous business trip!
Got a Question? Chat with our US support team
Our online chat is available 8:30am to 5:00pm weekdays. Email: [email protected]
FAQs about car hire at Albuquerque International Sunport Airport
Most frequently asked questions about hiring a car at Albuquerque International Sunport Airport
To avoid incurring any charges, it is essential to make changes to or cancel your parking reservation at Albuquerque International Sunport Airport at least 48 hours prior to your scheduled departure. However, if adjustments are made within this 48-hour window, a fee of $5 will be imposed.
Following Enjoy Travel's guidance, the most efficient way to realize substantial reductions in parking expenses at Albuquerque International Sunport Airport is to utilize their online booking system well in advance.
Albuquerque International Sunport Airport offers various parking choices, including short-term, long-term, economy, valet, accessible, and a cell phone waiting area for travelers with different parking needs and preferences.
For a straightforward and efficient parking experience at Albuquerque International Sunport Airport, just follow the clearly marked signs that lead you to the different parking facilities, all easily accessible via the well-organized road network within the airport premises.
To enhance safety, Albuquerque International Sunport Airport typically implements security measures in its parking facilities, such as surveillance cameras, well-lit areas, access controls, and sometimes security personnel to ensure passenger and vehicle security.
The distance between the terminal and the different parking areas at Albuquerque International Sunport Airport varies, with short-term parking being the closest, long-term parking situated at a moderate distance, and economy parking typically the farthest and often requiring a shuttle ride to reach the terminal.
Albuquerque International Sunport Airport provides electric vehicle charging stations to accommodate passengers who require charging for their electric vehicles.
Albuquerque International Sunport Airport generally permits passengers to park their vehicles for extended periods, including overnight stays, offering a range of parking options like short-term and long-term to meet diverse parking needs.
For the best experience and to take advantage of reduced rates, it is recommended to pre-book your parking in advance, particularly when traveling during busy periods.
Entering the Albuquerque International Sunport Airport parking area earlier than your scheduled time may lead to extra costs, and the exact fees will depend on how much in advance you arrive. These parking charges can be paid upon departure by using a credit or debit card.
The most cost-effective parking choice at Albuquerque International Sunport Airport often depends on your specific needs and the duration of your stay. Nevertheless, economy parking areas usually offer the most budget-friendly rates for extended periods.
The daily parking rates at Albuquerque International Sunport Airport vary depending on the parking option chosen, with long-term parking area was typically around $7 to $10 per day.
Enjoy Travel offers various parking options at Albuquerque International Sunport Airport, with long-term parking area was typically around $49 to $70 for a seven-day period.
Explore popular airports in the US