Syracuse Hancock International Airport parking
Find the best parking deals at Syracuse Hancock International Airport Parking
With a massive choice from the biggest brands, Enjoy the best way to find the best prices for car hire in Syracuse Hancock International Airport Parking.
Huge choice car parks to suit every budget
Save up to 70% compared to buying on the day
Working with the best partners in Airport Parking
Parking at Syracuse Hancock International Airport
Driving to Syracuse Hancock International Airport's a smart move – provided you plan ahead.
And the main arrangement to make ahead of time is your SYR parking, which is why you've hit the jackpot with this guide.
If you're flying from the airport for the first time, you might even want to extend your trip a little to take in some of the local delights. There are lots of attractions, like the Everson Museum of Art, which was the first museum stateside exclusively for American art – it showcases over 10,000 paintings, sculptures, and photographs.
Alternatively, you might want to stroll through Onondaga Lake Park, a 7.5-mile scenic greenway along the shores of Onondaga Lake. Or visit the Rosamond Gifford Zoo, which has 900 animals from every corner of the Earth.
For something a little different meanwhile, visit the Erie Canal Museum and learn the history of this amazing feat of engineering. And sticking with the educational theme, the Museum of Science and Technology (MOST), a seriously cool interactive science museum with exhibits on everything from space travel to dinosaurs.
And if you want to flex your credit card, pop into Destiny USA, the largest shopping mall in New York State, which boasts over 250 stores, including restaurants, department stores and specialty stores.
Culture vultures can also catch a show at the Landmark Theatre, a historic venue with a packed calendar including comedy shows, concerts and musicals.
If you prefer the great outdoors, however, drive out to one of the stunning Finger Lakes destinations, like Ithaca, Seneca Falls or Skaneateles.
When you're peckish, there are plenty of tasty cuisine choices in this part of the world. For example, Dinosaur Bar-B-Que specialises in draft beers, Southern-style meat, and live music.
If you love Italian-American fare, Pastabilities is a modern establishment serving pizza and pasta. And Lemon Grass Restaurant is an atmospheric Thai restaurant with delicious dishes and an extensive wine list.
If you want to explore the Syracuse nightlife, popular watering holes include PressRoom Pub, Kitty Hoyne's Irish Pub and Maxwells, which offers bar meals and a huge variety of draft beers on tap.
After all that excitement, you'll need somewhere warm and welcoming to stay. In which case, Clarion Pointe Downtown, Hampton Inn & Suites Syracuse Dewitt and Embassy Suites by Hilton Syracuse Destiny USA all fit the bill.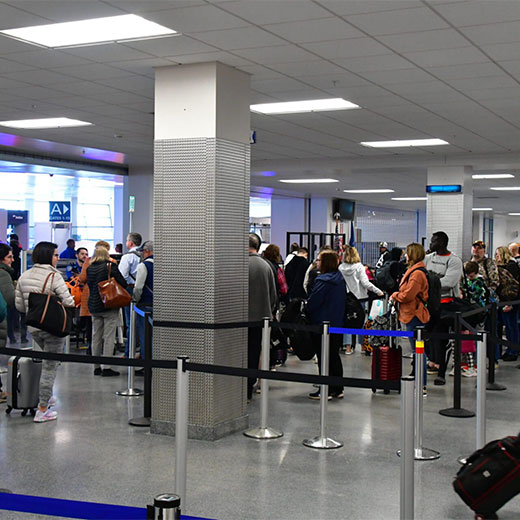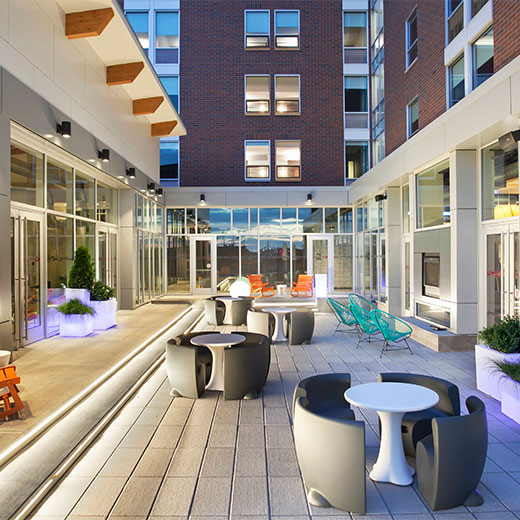 Find the best deals at Syracuse Hancock International Airport
Need a few alternative tips on finding the cheapest parking available at SYR?
One easy win is booking your parking in advance – you can definitely make savings this way, especially with medium to long-term parking. And another is keeping an eye out for coupons and discounts, which are often available for airport parking on the airport's website, social media pages, or subscriber email list.
Parking in an open, uncovered lot is also cheaper than a garage, and it can also be worthwhile comparing different providers (more on this shortly).
Compare parking at Syracuse Hancock international Airport
With a 4000 space parking provision spread across the parking garage and parking lot, SYR airport has plentiful parking. Which would have sounded like a futuristic fantasy in 1949, when the airport was opened and named after local congressman Clarence E. Hancock.
Originally built as a military air base during World War II, the airport was converted to commercial use after the war. And it rapidly evolved into a major hub for regional air travel, serving several Northeast and Midwest cities. By the 1950s and 1960s, SYR hosted several major airlines, including Eastern Airlines, United Airlines and American Airlines.
SYR has had many major renovations and expansions in the years since. In the 1980s, a new terminal was built, and this was followed by a new parking garage and a new runway in the 2000s.
These days, Syracuse Hancock International Airport is Central New York's busiest and typically serves over 2 million passengers each year. It's also a major regional economic contributor, supporting 10,000 jobs and pumping $1 billion into the coffers annually.
What kind of parking is there at Syracuse Hancock International Airport?
Two names you should know if you want to search every option for parking at SYR are APH and Looking4Parking.
Because these comparison apps and sites often have money-saving offers like reductions on daily and weekly parking rates if you book online in advance, and special offers for AAA members and serving military personnel.
However, if you prefer the official parking options, here they are.
Parking garage
A covered parking option directly across from the terminal building, the parking garage offers over 1,000 generously proportioned parking spaces.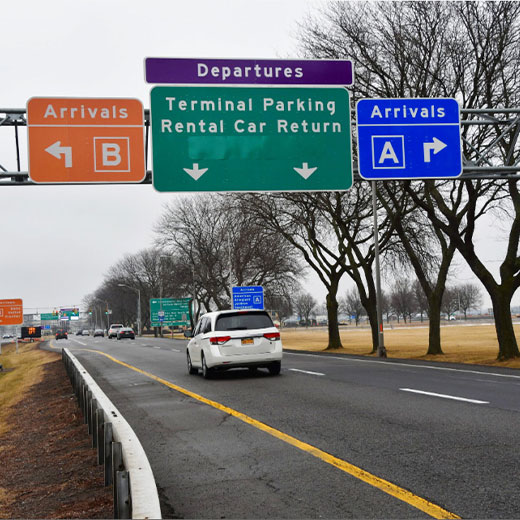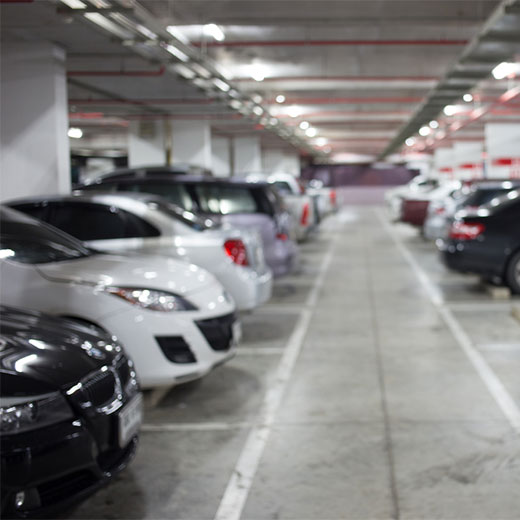 Open Lot Parking
Adjacent to the terminal building, this open-air lot offers over 3,000 parking spaces. It's reasonably priced but remember that your vehicle will be exposed to the elements.
Cell Phone Lot
Located a short walk from the terminal building, this free parking lot enables you to leave your car while you wait for your passengers to arrive. Which is convenient.
All your official parking options at SYR airport are run by SP Plus Parking Management Services and parking rates depend on the lot you choose and duration of stay.
You can pay by cash, credit card and debit card. All parking areas are well signposted once you arrive at the airport.
Getting to Syracuse Hancock International Airport
The good news for drivers like you is that SYR is easy to find from nearby towns and cities.
From Ithaca, NY, head north on NY-13 N towards Cortland, then take exit 11 for I-81 N towards Syracuse. Follow I-81 N for 50 miles and then take exit 34 for Col Eileen Collins Blvd. Then turn left onto Col Eileen Collins Blvd. Syracuse Hancock International Airport will appear on your right in no time. Depending on traffic, this should take 1 hour and 10 minutes.
Rolling in from Rochester, NY? Then take I-90 E towards Syracuse, follow I-90 E for 74 miles and take exit 34 for Col Eileen Collins Blvd. Turn left onto Col Eileen Collins Blvd and again, Syracuse Hancock International Airport will be on your right. This journey should take 1 hour and 15 minutes (traffic dependant).
Driving from Binghamton, NY? In that case, take I-81 N towards Syracuse. Follow I-81 N for 68 miles and ake exit 34 for Col Eileen Collins Blvd. Then turn left onto Col Eileen Collins Blvd and you know the rest by now! This route is also around 1 hour and 10 minutes if traffic is kind to you.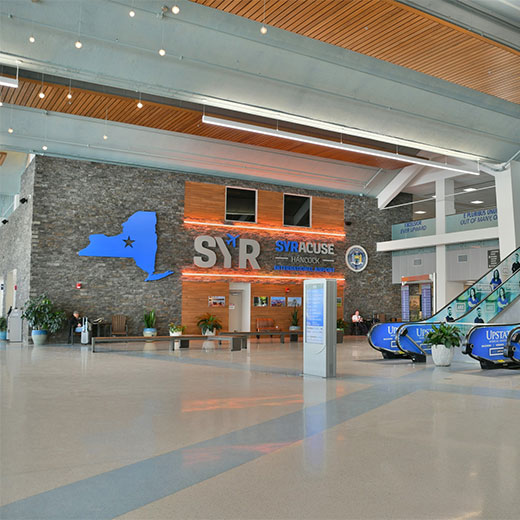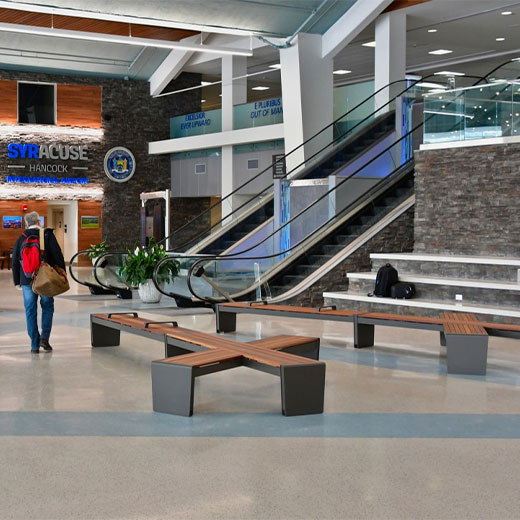 Facilities at Syracuse Hancock International Airport
Syracuse Hancock International Airport has lots of good facilities and amenities to keep you calm and happy.
For starters, the modern terminal is a two-level facility comprising check-in counters, security checkpoints, baggage claim areas, and a food court. There's also a free Wi-Fi network available throughout the terminal, so feel free to check your emails and socials.
There are two concourses that connect the terminal to the gates, and these have a choice of shops, restaurants, restrooms and charging stations.
Other facilities at SYR include ATMs (several), a currency exchange bureau located in the terminal, and a business center with printing, faxing, and photocopying facilities.
You'll also find a Nursing room, children's play area and military lounge available to active duty military personnel and their families.
Shopping options here include C.N.B.C. Smartshop, which sells a variety of books, magazines, newspapers, snacks, and drinks, and Heritage News/Gifts, which specializes in Syracuse-themed souvenirs like gifts, clothing, and accessories.
Then there's Say Si Bon, which sells a variety of snacks and drinks, including coffee, pastries, and sandwiches, and Just Baked Smart Bistro, with its fresh-baked goods, pastries, cookies, and cakes.
Speaking of eateries, Middle Ages Bar & Restaurant serves a variety of American bar fare, like burgers, wings, and sandwiches. And the famous Dunkin' Donuts has your coffee, donuts, and other breakfast items.
Meanwhile, Yo-Kai Express Ramen tempts taste buds with Japanese ramen dishes, and Cupcakes R Me does exactly what you'd expect. Nom nom.
If none of the above float your boat, Syracuse Hancock International Airport also has a variety of other dining options, including vending machines, snack bars, and coffee shops.
And there you have it – the ultimate SYR parking guide, with lots of extra material thrown in for free (because we're nice like that).
Wherever you're flying to, have fun!
Got a Question? Chat with our US support team
Our online chat is available 8:30am to 5:00pm weekdays. Email: [email protected]
FAQs about car hire at Syracuse Hancock International Airport
Most frequently asked questions about hiring a car at Syracuse Hancock International Airport
To prevent incurring any fees, it's crucial to adjust or cancel your parking reservation at Syracuse Hancock International Airport at least 48 hours prior to your scheduled departure. Nevertheless, if modifications are made within this 48-hour timeframe, there will be a charge of $5 applied.
As per the advice provided by Enjoy Travel, the most effective method for achieving significant cost reductions on parking fees at Syracuse Hancock International Airport is to make use of their online booking system well ahead of time.
Syracuse Hancock International Airport offers various parking choices, including short-term, long-term, economy, garage, valet, cell phone waiting area, accessible parking, electric vehicle charging stations, and occasionally off-site parking facilities, catering to different traveler preferences and needs.
To easily locate parking at Syracuse Hancock International Airport, simply follow the clearly indicated signage that guides you to the various parking facilities. Thanks to the efficiently planned road infrastructure within the airport premises, accessing the parking areas is a hassle-free and straightforward process.
Syracuse Hancock International Airport typically implements safety measures for parking, including surveillance cameras, well-lit areas, security patrols, access control, emergency assistance options, regular inspections, security awareness campaigns, and lost and found services, to ensure the security and safety of travelers and their vehicles.
The distance between the terminal and the various parking areas at Syracuse Hancock International Airport varies, with short-term parking located closest to the terminal, followed by long-term and economy parking areas, while garage parking and valet services are typically the most convenient options in terms of proximity.
Syracuse Hancock International Airport offers electric vehicle charging stations to cater to travelers in need of charging their electric vehicles.
Syracuse Hancock International Airport typically allows passengers to leave their vehicles parked overnight for extended durations and provides a variety of parking options, encompassing both short-term and long-term selections, to accommodate a wide range of parking requirements, including those involving overnight stays.
For an optimal experience and to maximize cost savings, it's advisable to make advance parking reservations, especially when traveling during high-demand or peak times.
Arriving at the parking facility of Syracuse Hancock International Airport before your scheduled time may result in additional charges, the exact amount of which will depend on how early you arrive. These parking fees can be settled using a credit or debit card upon exiting the parking facility.
The parking option that offers the best value at Syracuse Hancock International Airport generally relies on your individual requirements and the length of your stay. However, economy parking lots are often linked with the most cost-effective rates, particularly for longer stays.
The daily parking rates at Syracuse Hancock International Airport vary depending on the parking option chosen, ranging from $10 to $16 for economy parking and $18 to $24 for garage or covered parking
Enjoy Travel offers various parking options at Syracuse Hancock International Airport, ranging from $70 to $112 for economy parking and $126 to $168 for garage or covered parking
Explore popular airports in the US