Oakland International Airport Parking
Find the best parking deals at Oakland International Airport
With a massive choice from the biggest brands, Enjoy the best way to find the best prices for car hire in Oakland International Airport.
Huge choice car parks to suit every budget
Save up to 70% compared to buying on the day
Working with the best partners in Airport Parking
Parking at Oakland International Airport
So you're searching for parking at Oakland International Airport?
With this great guide, there's no need for an epic quest – get all the info you need about OAK onsite and offsite parking for different types of travellers, plus lots of insider tips on airport amenities, shops, and popular places to eat.
But maybe you're hanging around Oakland for a while before you fly? In that case, there's lots of cool stuff for visitors to do – from awesome arts and culture to delicious food and drink.
For starters, you can visit the Oakland Museum of California and immerse yourself in its inspirational exhibits on the Sunshine State's culture, art and history. Alternatively, sing along to a blockbuster Broadway show at the Paramount Theater, treat yourself to a ballgame at the Oakland Coliseum (home of the Oakland Athletics), or simply stroll around Lake Merritt and enjoy the ducks, pelicans, and herons.
Meanwhile, the sky's (not) the limit at the Chabot Space & Science Center, which boasts exhibits on astronomy and space travel, as well as a working observatory and planetarium, and wine tasting in the Oakland Hills offers a rustic escape from the urban vibes, complemented by sublime views of San Francisco Bay.
Another fascinating place to visit is the African American Museum and Library, while Jack London Square is a stunning waterfront complex with bustling bars, shops, and restaurants. Last but not least, if you've got your sea legs, you can hop on a ferry from Oakland to San Francisco and enjoy the beautiful Bay views as you bob along.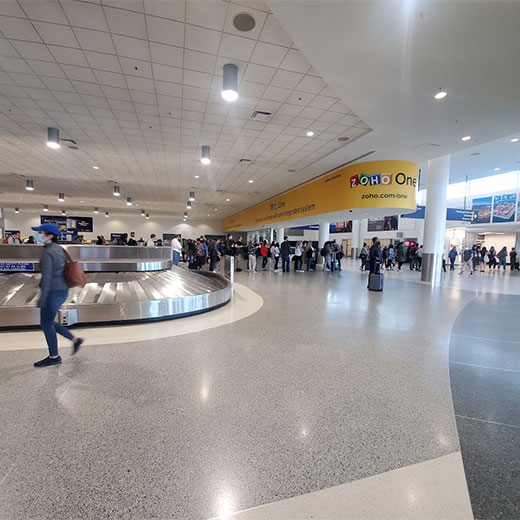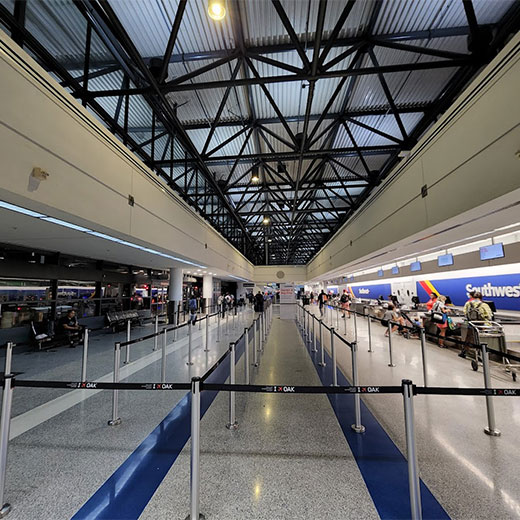 Find the best deals at Oakland Airport
Finding the best deals on parking at Oakland Airport is an age-old endeavor – an enterprise that's been around at least as long as airports with parking lots.
So there are a few general tips that are usually worth paying attention to. First (and easiest) is comparing prices online – as long as you bear the small print in mind, it's a good way of getting a general feel for costs.
Booking in advance can also save you money and if you don't mind boarding a shuttle bus, using offsite parking can be more affordable. You can also keep a close eye on coupons provided by parking providers and published in local newspapers, and parking clubs with annual membership fees also often offer discounts on airport parking.
Compare parking at Oakland Airport
OAK has 5,800 parking spaces. Pretty impressive, right? These are divided into 1500 short term parking spaces, 2000 economy, 1800 long-term and 500 valet.
But it has been contributing to the local community since long before the majority of Americans had cars. Originally built in 1927 and named Oakland Municipal Airport, it was a modest one runway hub. Commandeered by the military during WWII, it returned to civilian duties in the post war years and saw a large expansion in the 1950s and 1960s, when the terminal was renovated, and new runways built.
In the 1980s and 1990s, it made more investments to compete with the newer San Francisco Airport ad expanded its reach with more direct flights to different destinations. Recently, OAK has gained strength from partnerships with budget airlines and corporate travelers, it's now the Bay Area's third-busiest airport and has considerable economic clout as an employer of more than 10,000 people.
What parking is there at Oakland International Airport?
If you're serious about airport parking bargains at Oakland, you should consider taking a look at parking comparison sites. For instance, the likes of Looking4Parking and APH regularly offer OAK parking deals with early bird, long-term, group and military discounts, pre-booking deals and reductions for AARP.
Now let's take a look at your official OAK parking options:
Premier Parking
The closest parking to the terminal, Premier Parking is the most convenient but also the most expensive option. It's located right in front of the terminal, so it couldn't be easier.
Hourly parking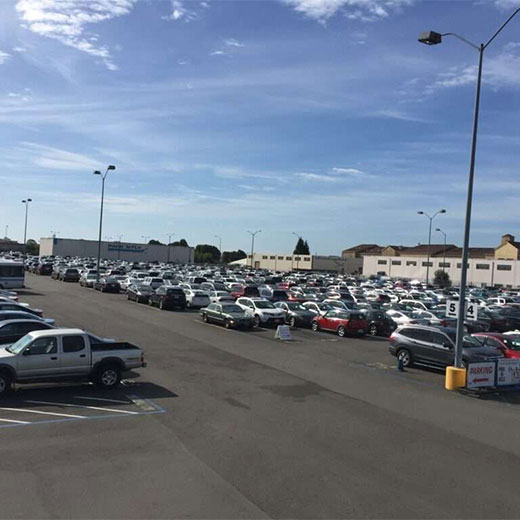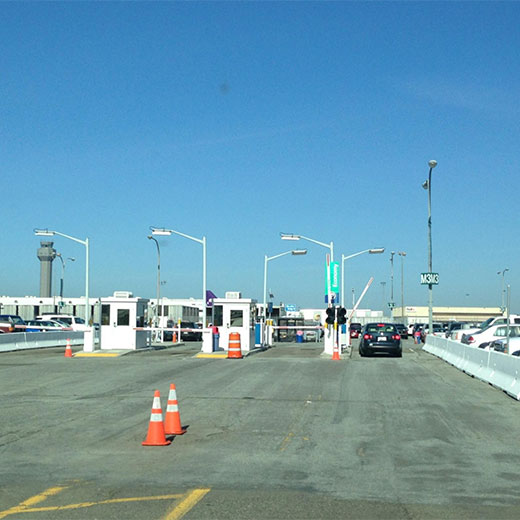 Hourly parking
Perfect for picking up and dropping off passengers, this short-term parking is simple and reasonably priced.
Daily parking
Staying overnight or for a couple of days? Daily Parking is safe, secure and convenient.
Economy parking
If you're a thrifty traveler, economy parking offers the most reasonably priced option and it's just a short stroll from the terminals.
Valet parking
Want the Hollywood treatment? Valet parking is the most convenient parking option and if you're a busy businessperson or want to treat yourself to a stress-free pre-flight experience, this is perfect – roll up, draw your brakes, and someone will safely park your vehicle for you.
Getting to Oakland Airport
In the mood for more good news? Oakland Airport is ridiculously easy to drive to.
From San Francisco, take I-80 East to 1-580 East, then leave I-580 East at exit 16A for Hegenberger Road. Turn right onto Hegenberger Road and then follow it to the airport.
From Alameda, take I-880 North to I-580 East, then exit at 16A for Hegenberger Road and follow that road to the airport.
Driving in from San Leandro? Take I-880 East to I-580 East and exit at 16A for Hegenberger road, after which, follow the same end steps as above.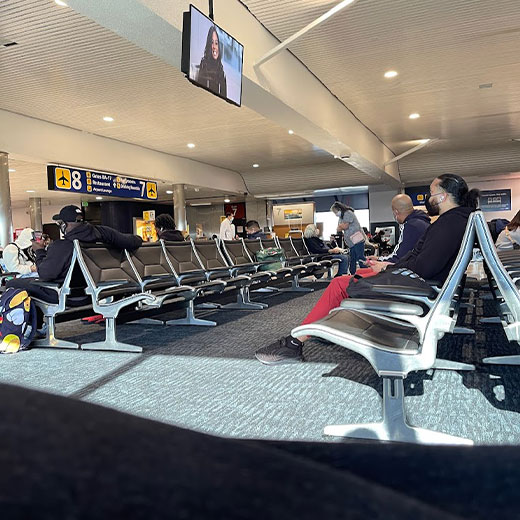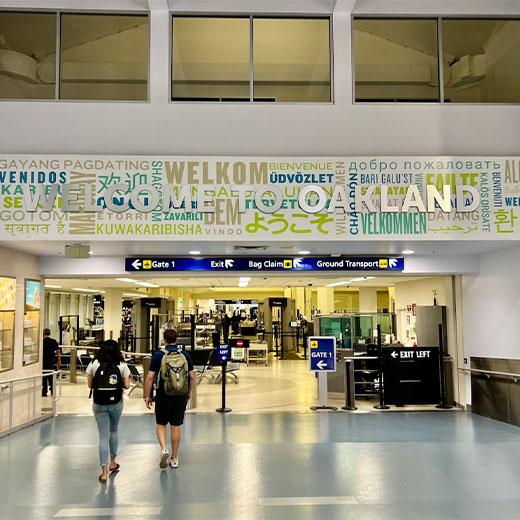 Facilities at Oakland Airport
If you're sashaying into OAK looking for ace facilities and amenities, you'll definitely keep that positive smile on your face.
There's free Wi-Fi throughout the complex, plenty of power outlets, and so many restrooms that you'll always be able to answer when nature calls. You can switch your currency in the international Terminal and draw cash at one of the airport's many ATMs.
Meanwhile, if you're traveling with tiny tots, there are ample baby changing stations in all restrooms and the terminals also have two comfortable nursing rooms. And OAK is well-designed for passengers with mobility needs too – the airport is wheelchair-accessible, with adapted restrooms, ramps, and elevators.
How about the shopping and dining choices? There are over 60 outstanding options available.
At Barneys New York, you can choose high-quality fashion, home goods and accessories, while Brooks Brothers is a brilliant place to get suited and booted in classic menswear. If you appreciate rugged workwear meanwhile, it doesn't get any better than Carhartt, while the Nike factory store has great deals on your favorite sportwear brand.
Treat yourself to home goods, furniture and décor at Crate & Barrel, pick up fancy liquor and fragrances at Heinemann Duty Free and grab stylish Oakland-themed souvenirs at Oaklandish. If you're in the market for stylish eyewear, Sunglass Icon has you covered, while The North Face boasts fantastic outdoor gear and Victoria's Secret is a hotspot for sizzling lingerie.
All that shopping will probably make you particularly peckish. In which case, Aunty Anne's Pretzels has gourmet pretzels, signature dips and delicious drinks, while the Barnes & Noble Café serves teas, coffees, and tasty pastries. There are similar establishments in Barneys and Brooks Brothers, so you can take a pitstop while you shop or retire for some refreshments while your better half sets their credit card on fire.
To add a little spice in your life, choose Chipotle Mexican Grill for tacos, burritos and poke bowls, Dunkin Donuts satisfies all sweet, toothed diners, and Eataly is an excellent Italian marketplace with light fare, coffees, and teas.
Got a Question? Chat with our US support team
Our online chat is available 8:30am to 5:00pm weekdays. Email: [email protected]
FAQs about car hire at Oakland International Airport
Most frequently asked questions about hiring a car at Oakland International Airport
To avoid incurring extra fees, it is crucial to make alterations or cancel your parking reservation at Oakland International Airport no later than 48 hours prior to your scheduled travel. If you make changes or cancel within this window, you will be subject to a $5 penalty fee.
Enjoy Travel recommends utilizing their online booking system well in advance to secure the most substantial parking discounts at Oakland International Airport.
Oakland International Airport offers a range of parking choices, including Hourly Parking, Daily Parking, Economy Parking, Premier Parking, Valet Parking, and Electric Vehicle (EV) Parking.
To find a car park at Oakland International Airport, the most effective approach is to navigate towards the designated parking areas by following the signage.
Oakland International Airport implements various safety protocols for parking, including adequate lighting, security patrols, surveillance systems, fencing, access control, and emergency assistance measures.
The distances between the terminal and the different parking areas at Oakland International Airport vary, with Hourly Parking being the closest within walking distance, followed by Daily Parking, Economy Parking requiring a shuttle ride, and Premier Parking and Valet Parking situated at varying distances.
Yes, you can charge your electric vehicle at Oakland International Airport. The airport provides designated parking spaces with electric vehicle charging stations. These charging stations are conveniently located and offer the necessary infrastructure to charge your electric vehicle while parked at the airport.
Yes, extended overnight parking is allowed at Oakland International Airport. The airport offers various parking options, including Daily Parking and Economy Parking, which are suitable for longer stays, including overnight parking.
To ensure availability and take advantage of reduced prices, it is advisable to make a parking reservation ahead of time, especially during peak periods, to secure access to parking facilities.
In the event that you arrive at the parking lot of Oakland International Airport before your scheduled booking time, there is a possibility of incurring extra fees, the amount of which may depend on your time of arrival. Payment for parking fees can be conveniently made using a credit or debit card upon exiting the parking lot.
The most economical parking option at Oakland International Airport is typically the Economy Parking. Economy Parking offers lower rates compared to other parking options, such as Hourly or Daily Parking.
The daily parking rates at Oakland International Airport typically range from around $18 to $38, depending on the parking option chosen.
With Enjoy Travel the rates for long-term parking at Oakland International Airport can range from approximately $85 to $140 for a week.
Explore popular airports in the US