Parking at Orlando International Airport
Find the best parking deals at Parking at Orlando International Airport
With a massive choice from the biggest brands, Enjoy the best way to find the best prices for car hire in Parking at Orlando International Airport.
Huge choice car parks to suit every budget
Save up to 70% compared to buying on the day
Working with the best partners in Airport Parking
Parking at Orlando International Airport
Flying from Orlando International Airport soon? Need somewhere to park?
You've landed in exactly the right place. Whether you're visiting relatives in Aguadilla or Atlanta, treating yourself to a vacay to see tulips in Amsterdam, taking in the great outdoors in Calgary, or enjoying the world's biggest arts festival in Edinburgh, we've got the perfect parking to get you off to a flying start.
One thing's for sure though, if you're traveling somewhere with your kids, it'll be tough to find a destination that's as entertaining as The Theme Park Capital of the World. Orlando's home to global tourist magnets like Universal Orlando Resort, The Wizarding World of Harry Potter – Diagon Alley, SeaWorld Orlando, Walt Disney World Resort, and DreamWorks Destination. And Orlando's city proper is a treat too – with leafy boulevards, gorgeous gardens and natural attractions, an admirable arts scene and refined cuisine.
And theme parks aside, there's lots to keep you occupied. Like birdwatching at Lake Apopka, playing tennis with your family at the USTA National Campus, and walking the full 20 miles of the West Orange Trail. Not to mention wake-boarding with the Florida Ski School at Windermere, enjoying a round at Congo River Golf, and even flying a combat aircraft at Tampa's Fly Fighter Jet Center.
There ends our love letter to Orlando – let's get moving with those MCO parking tips!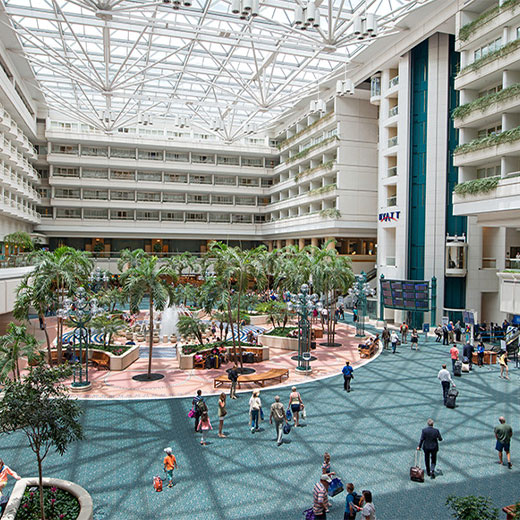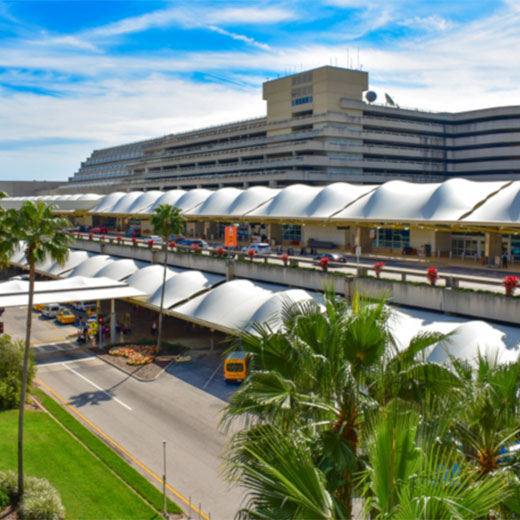 Find the best deals at Orlando International Airport
You want to find the best deals at Orlando International Airport. But where do you start? Price is an obvious yardstick, but it's a little trickier than that. You have to balance a great price with a parking space that suits your needs and tastes. For instance, you might not mind parking some distance away from the departure terminal and hopping on a shuttle bus (especially if it saves you cash).
But if you're taking your vacay with young children and/or elderly relatives, being in walking distance might be more convenient. And business travelers often have different priorities too – when you've got a flying visit to a neighboring city, you might want to travel light and pay a little more for a personalized, valet-style, service.
Whatever your requirements, we'll help you work it all out.
Compare Orlando International Airport parking
Once you've straightened out your priorities and requirements, you're halfway there to finding the right parking at MCO.
And the parking provision there is great – as is the rest of the setup at this superb air hub. The airport's MCO code hails from its former name, McCoy Air Force Base, an air command center that closed in 1975 after the Vietnam War ended. It processed 19.6 million passengers in the last reporting year, making it the busiest airport in Florida and 7th busiest in the entire US. And it originally had yet another name – it was the rather sober sounding Orlando Army Air Field #2 when it first opened in 1942.
As an interesting aside, MCO was also an emergency landing site for space shuttles – it's not far from NASA's John F. Kennedy Space Center. As Orlando's ascended the throne at the World's Theme Park Capital, traffic through MCO increased commensurately and so did its capacity. Next, let's get into the nitty gritty of your airport parking choices.
What parking is there at Orlando International Airport?
As well as onsite MCO parking, you can sometimes find a bargain from reliable comparison sites. For example, Looking4Parking offers deals at Gold Park Orlando – Self Park – Uncovered – Orlando, Days Inn by Wyndham Orlando Airport Florida Mall – Self Park – Uncovered – Orlando, Renaissance Orlando Airport Hotel – Self Park – Uncovered – Orlando, and Park To Fly – Self Park – Outdoor – Orlando.
Now let's clearly lay out your official Orlando international Airport parking options.
Parking Garage A
With long and short-term parking options, Parking Garage A is always popular with travelers. You can easily walk from any space here to Terminals A and B, most spaces are covered, and it's patrolled by the Airport Division of Orlando Police – there's no better peace of mind. There's also electric vehicle charging available in Garage A, Level 2, Row A. Maximum height is 7ft and accepted payment options are SunPass Plus, E-PASS, Visa, MasterCard, American Express, Discover, and cold hard cash. There's a novel way of remembering your parking level at MCO too. For Garage B, the symbol for level R1 is alligators, R2 is manatees, 1 is wild pigs, 2 is bears, 3 is raccoons, and 4 is turtles. Snap a shot of your animal before you leave, and you won't go wrong!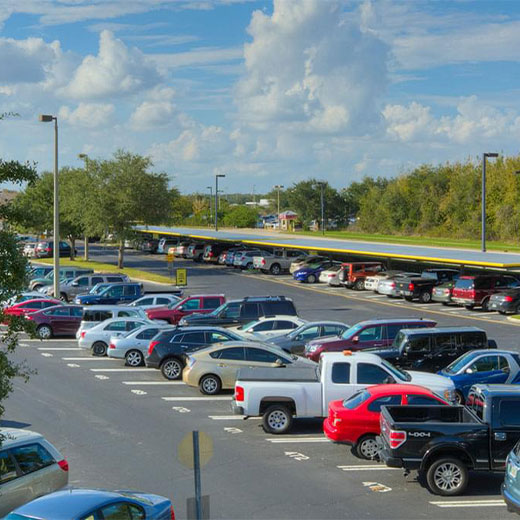 Terminal Top Parking
This parking also offers long- and short-term parking options and there's a grace period for the first 20 minutes, then the cost rises at various increments up to 24 hours, with a 45 day maximum stay. A secure option with much the same benefits and features as Parking Garage A. Your wildlife symbols for this area are wading birds for level 4, owls for 5, flamingos for 6, turkeys for 7, seagulls for 8, pelicans for 9, and eagles for 10.
Parking Garage B
Another parking provision very similar to Parking Garage A, you'll find long- and short-term parking here too, there's the same police security patrols and the electric vehicle charging for Garage B is located on Level 2, Row P. Your animals for this garage are tropical fish for R1, frogs for R2, panthers for 1, armadillos for 2, brahmans for 3, and deer for 4.
Parking Garage C
Another great option for MCO parking, Garage C offers long- and short-term parking and you get to Terminals A and B by hopping on the APM (terminal link) ride. It's patrolled by the police, spaces are covered, and the maximum height is 8'2".
Valet Parking
Open from 6am to 11pm, valet parking is the perfect option when you want to drop your ride off at the curb and have it parked safely by experienced staff. When you return, it'll be there waiting for you.
North Park Place Economy Lot
A great low-cost option, you'll find the North Park Place Economy Lot at 5501 Cargo Road – from Jeff Fuqua Boulevard, exit right onto Cargo Road and drive straight ahead to the parking lot. There's a free shuttle from Terminal A that runs 24/7 – it drops off at Terminal A departures on Level 3 and picks up at Terminal A Ground Transportation (Level1 ) spaces A16 and A17.
South Park Place Economy Lot
The same setup as above, but the South Park Place Economy Lot is located at 10536 S. Jeff Fuqua Boulevard.
Hotel Guest Parking
If you're staying at the Hyatt Regency Orlando International Airport, there's a self-park and valet parking option available. All spaces are covered and police patrolled. There's also a Park, Stay and Go package that includes parking for your entire trip.
North Cell Phone Lot
Picking someone up from MCO? This is the place to be. You'll find North Cell Phone Lot at 8730 Jeff Fuqua Boulevard N. Take a right off Jeff Fuqua Boulevard on to Cargo Road, then the next right up the north exit road ramp – no unattended vehicles or overnight stays allowed.
South Cell Phone Lot
Same service as above but South Cell Phone Lot is at 10546 Jeff Fuqua Boulevard, right across from the Train Station/Garage C.
Accessible Parking
There's lots of accessible parking throughout MCO's official offering. Accessible spaces are near the elevators at Terminal Top Parking and Garage Parking A and B, near the elevators on levels 3 and 5 in Garage C, and there are accessible spaces in the Economy Lots for the shuttle service.
Oversized parking
No commercial vehicles are allowed, but oversized vehicles (higher than 7ft and/or longer than 20 ft) can be stowed in the South Place Parking Lot.
Getting to Orlando International Airport
For your GPS system, the airport address is: 1 Jeff Fuqua Blvd, Orlando, FL 32827.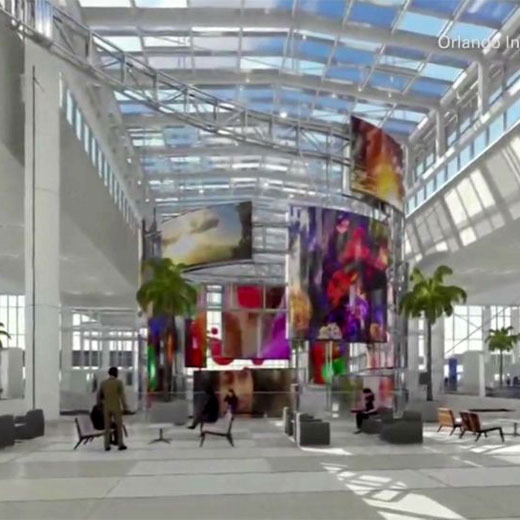 Facilities at Orlando International Airport
If you want to shop at MCO, you'll be in your element. You can bag some sparkling trinkets at Pandora, stock up on magazines at Hudson News. Pick up electronics at InMotion and grab a deal on expensive cologne at the Duty Free store.
And when you're hungry, choose from a huge selection of eateries that includes Starbucks, Burger King, Chipotle Mexican Grill, Wendy's, Outback Steakhouse and Bahama Breeze.
There's also free Wi-Fi throughout the complex.
Got a Question? Chat with our US support team
Our online chat is available 8:30am to 5:00pm weekdays. Email: [email protected]
FAQs about car hire at Orlando Airport
Most frequently asked questions about hiring a car at Orlando Airport
If you choose to alter or cancel your parking reservation at Orlando Airport, as long as you do it with a minimum of 48 hours before your scheduled travel, there will be no charges. Nevertheless, if modifications or cancellations are made within the 48-hour period, a $5 fee will be applied.
According to Enjoy Travel, the most effective way to secure the greatest parking discounts at Orlando Airport is by utilizing their online booking system in advance.
Orlando Airport offers a range of parking choices including terminal parking, garage parking, economy parking, valet parking, a cell phone waiting lot, and hotel parking.
To locate a car park at Orlando Airport, the best way is to follow the signage provided within the airport premises directing you to the designated parking areas.
Orlando Airport implements safety measures such as surveillance systems, adequate lighting, security personnel, emergency services, regular patrols, and secure access points to ensure the safety of vehicles and passengers in the parking areas.
Terminal parking and garage parking are located within a short walking distance from the terminals, while economy parking lots are situated farther away and provide shuttle service for transportation to and from the terminals.
Yes, Orlando Airport provides charging stations for electric vehicles. These charging stations are available in various parking areas, allowing you to charge your electric vehicle while parked at the airport.
Yes, it is generally allowed to park for an extended period overnight at Orlando Airport. The airport offers long-term parking options, such as the economy parking lots, which are suitable for extended stays.
It is recommended to make an advance reservation for parking during busy periods to ensure a parking spot and take advantage of discounted rates.
Coming early for parking at Orlando Airport may incur extra fees, which are determined by the arrival time, and payment for parking can be conveniently settled using a credit or debit card when exiting the parking facility.
The economy parking option is typically the most economical choice at Orlando Airport. These parking lots are designed for longer stays and offer lower rates compared to other parking options.
The daily parking rate at Orlando Airport ranges from $10 to $17, depending on the parking option chosen.
With Enjoy Travel the approximate cost for a week of parking at Orlando Airport ranges from $50 to $70.
Explore popular airports in the US