Milwaukee Mitchell International Airport parking
Find the best parking deals at Milwaukee Mitchell International Airport
With a massive choice from the biggest brands, Enjoy the best way to find the best prices for car hire in Milwaukee Mitchell International Airport.
Huge choice car parks to suit every budget
Save up to 70% compared to buying on the day
Working with the best partners in Airport Parking
Parking at Milwaukee Mitchell International Airport
You've landed in exactly the right corner of the internet for advice on Milwaukee Mitchell International Airport (MKE) parking.
And what's more, you'll also find pertinent pro tips on MKE facilities and amenities (including the best eating and shopping spots).
But if you're driving to MKE from out of town, did you know a day exploring Milwaukee is the perfect appetizer for a longer vacay or business trip?
There's lots to see and do, but if you're as fond of two wheels as four, visiting the Harley-Davidson Museum should be top of your to-do list. There are over 4000 high-powered exhibits here stretching back to the formation of the famous company, so it's a unique way to learn fascinating facts about its culture and history.
And if you're fond of a beer or three (and have a designated driver), a Milwaukee brewery tour is probably your next must-do. This city was built on beer, so there are plenty of tours to choose from and you'll learn all about brewing heritage as well as sampling some of the good stuff.
If you prefer your culture a little more high-end meanwhile, try the Milwaukee Art Museum, which boasts 30,000 works drawn from the dawn of time to the present day, or alternatively, the Milwaukee Public Museum, which is bulging with 2 million artefacts and interactive exhibits for visitors of all ages.
Want to chill out for a while? Take a stroll along the Milwaukee RiverWalk, which treats you to sublime city skyline views and plenty of fresh air. And sports fans can catch that ballgame atmosphere at Miller Park, where the Milwaukee Brewers take on MLB allcomers.
For a little retail therapy, the retro Third Ward is excellent and it's a lovely place to spend time even if you aren't planning to melt your credit card. And Milwaukee Zoo has animal fans covered, with 1200 creatures, including zebras, giraffes and lions.
Last but not least, old-school TV fans will remember that (at least for the majority of its lengthy run), Laverne & Shirley was set in Milwaukee. If you count yourself as a fan of this cult sitcom, the Schlemiel, Schlimazel MKE Tour takes you to hotspots like the Shotz Brewery (where the characters worked as bottlers) and the Bronze Fonz statue (this was another Happy Days spinoff).
If you haven't had your fill of fine local beer during your brewery tour, you can also top up at one of Milwaukee's many wonderful bars. For instance, The Safe House is a cool speakeasy with an enigmatic Cold War vibe, while Brass Monkey is renowned for live music and a mind-blowing beer collection. There's also the Comet Café, which serves fresh beer and even fresher vegan and veggie food, and the iconic Wolski's Tavern which is basically the city's 'local'.
And how about Milwaukee cuisine? The Sanford Restaurant specialises in fine dining with a local twist, Stella Van Buren serves American classics with a side of stylish design, and Mo's A Place for Steaks does exactly what it says on the sign, with some superb seafood thrown in for good measure.
If you prefer Italian, La Merenda is magnificent, and St. Paul Fish Company is a casual spot to enjoy fresh seafood.
After a busy day exploring the delights of Milwaukee, you'll no doubt want to rest your head somewhere comfortable. In which case, The Pfister Hotel, The Iron Horse Hotel, and Saint Kate - The Arts Hotel are good choices.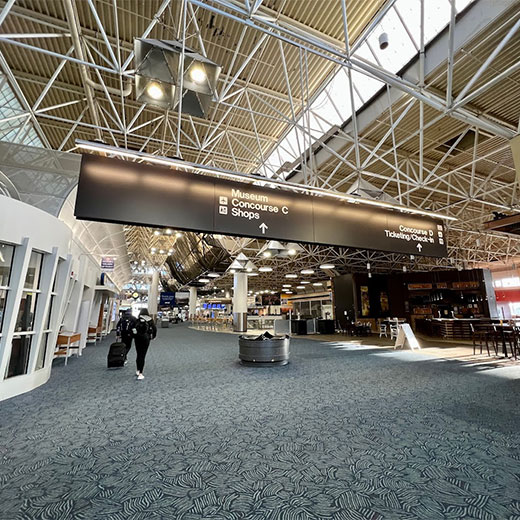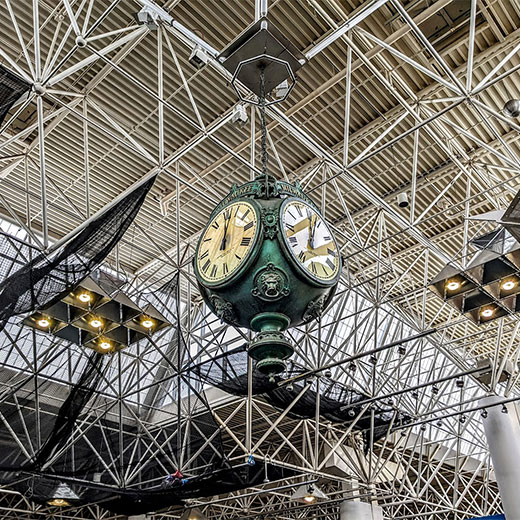 Find the best deals at Milwaukee Mitchell International Airport
If you really want to exhaust all options in searching for MKE airport parking bargains, there are a few tactics worth trying.
For example, one easy win is checking if your airline or credit card company offers parking discounts, as these promotions are fairly common. Further, if you're prepared to use offsite parking lots, they're usually cheaper than official onsite options, and there are even a few park-and-ride lots where you can park gratis and hop on a shuttle to MKE.
And in general, the earlier you can book your parking in advance, the easier it is to find a low-cost deal, and if you're able to travel during off-peak hours, it's another way to unlock savings.
Compare parking at Milwaukee International Airport
With 13,500 spaces across four main areas, MKE's parking provision is generous.
And ample parking is just the tip of the iceberg in this airport's interesting history. First opened as Hamilton Airport in 1920 by local entrepreneur and aviator Thomas F. Hamilton, it was bought by Milwaukee County in 1926 and renamed Milwaukee County Airport. The first terminal opened the following year, Northwest Airlines started a service to Chicago and the airport enjoyed a visit from iconic aviator Charles Lindbergh.
Renamed General Mitchell Field in 1941 after Milwaukee military aviation pioneer Billy Mitchell, it expended further in the post-war years and was renamed Milwaukee International Airport in 1955, when a new terminal was built. Airlines like Midwest Airlines and Northwest Airlines soon used MKE as a hub, and the airport has grown again in recent years, with a large expansion project finished in 2015. Serving over 9 million passengers at peak, it carries significant economic clout in the region and works with carriers like Delta Air Lines, American Airlines and Southwest Airlines.
What parking is there at Milwaukee Mitchell International Airport?
Parking comparison sites are worth checking if you really want to research MKE parking thoroughly. For instance, APH offers a variety of covered and uncovered options and discounts for advanced bookings, while Looking4Parking provides similar MKE airport parking offers.
Let's take a look at your official MKE parking choices.
Hourly Garage
Located on the lower level of the airport, the MKE hourly garage is the most convenient short-term parking option at Milwaukee and has 1800 spaces.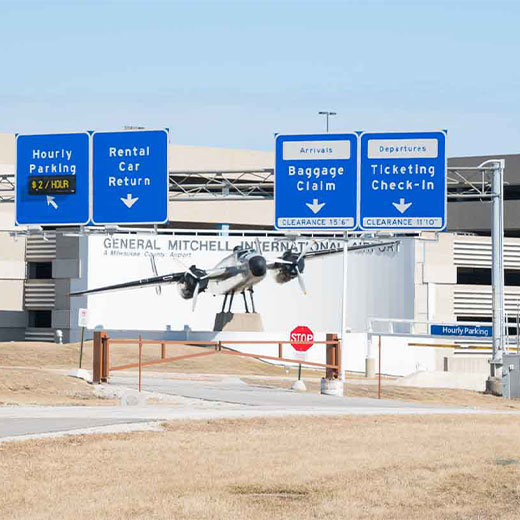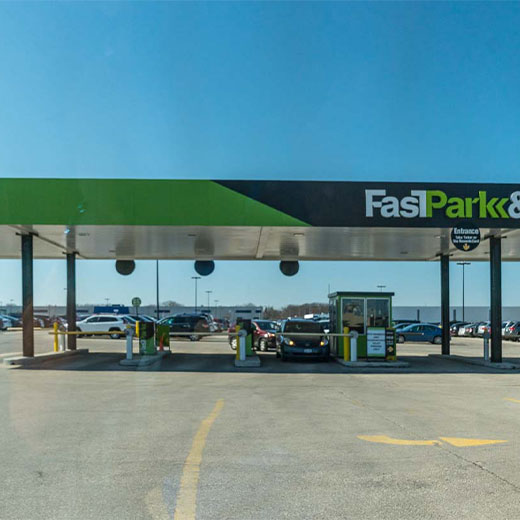 Daily Garage
Ideal for longer-term parking, you'll find the daily garage on the airport upper level. It has 3000 spaces and is reasonably-priced.
Surface lots
Located all around the airport, the Surface Lots boast 7000 spaces and they're the most affordable airport parking option at MKE.
Rail Lot
Exclusively for Amtrak passengers, the Rail Lot is close to the Amtrak station and has 1000 spaces.
Valet Parking
This is the most convenient parking option at MKE airport but the most expensive. However, if you want the most hassle-free pre-flight experience, it's probably worth paying for.
Getting to Milwaukee International Airport
MKE is easy to reach from nearby towns and cities.
If you're driving from Kenosha, take the I-94 East to Exit 140A for Airport Road, then turn left onto Airport Road and continue to MKE.
Rolling in from Racine? Take the I-94 East to Exit 137 for Bluemound Road, then turn left onto Bluemound Road and continue to I-43 South, then leave at Exit 1B for Airport Road.
If you're driving from Waukesha, take the I-94 East to Exit 134 for Hwy 100 East. Then continue to I-43 South and on to Exit 1B for Airport Road.
From Oak Creek, take the I-94 East to Exit 129 for Hwy 100 West. Then follow Hwy 100 West to I-43 South and leave at Exit 1B for Airport Road.
Driving from West Milwaukee, take I-43 South to Exit 1B for Airport Road, turn right onto Airport Road and continue on to MKE.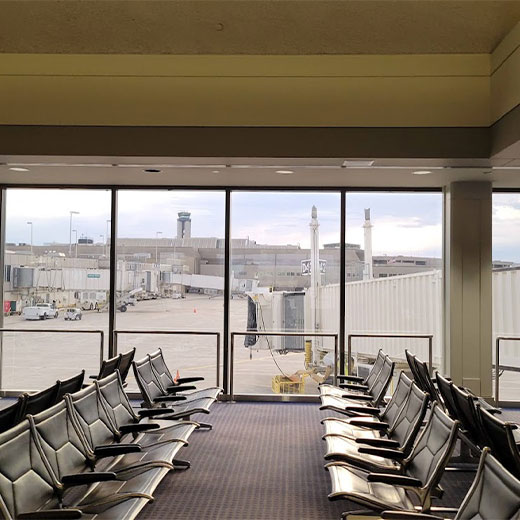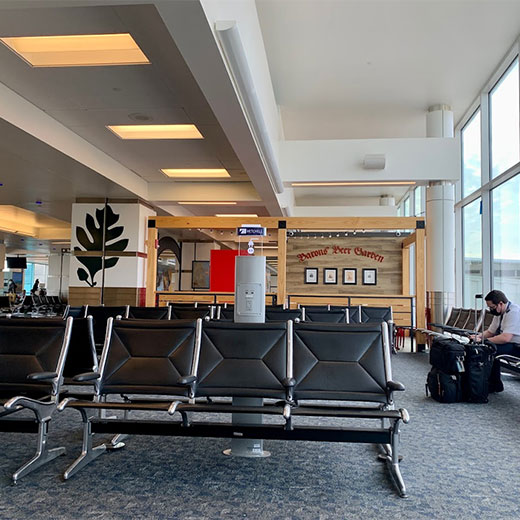 Facilities at Kansas City International Airport
Facilities and amenities at Milwaukee International Airport are very good. When nature calls, there are plenty of restrooms peppered around the property and these include accessible and family WCs.
There are also several comfortable airport lounges, offering quality food, drinks and seating.
With several ATMs throughout the airport, it's easy to draw cash, and there's also a currency exchange to swap your dollars for something more exciting.
Restaurants and eateries include O'Malley's Pub, which serves sandwiches, burgers, wings and the like, while the Great Lakes Brewing Company serves similar fare, accompanied by its signature craft beers. Concordia Market serves grab-and-go food, and there's also a Starbucks, Krispy Kreme and Pret A Manger.
Need to pick up some shopping at MKE?
Grab your favorite newspapers, magazines and books at Hudson News, your electronics and gadgets at Brookstone and cosmetics, clothing and household goods at Muji. Meanwhile, Duty Free Americas sells high-end perfumes and liquor, and the Milwaukee Airport Store specialises in MKE souvenirs and keepsakes.
There you have it – MKE parking advice and a whole lot more.
Got a Question? Chat with our US support team
Our online chat is available 8:30am to 5:00pm weekdays. Email: [email protected]
FAQs about car hire at Milwaukee Mitchell International Airport
Most frequently asked questions about hiring a car at Milwaukee Mitchell International Airport
In order to avoid incurring charges, it is important to make changes or cancel your reservation for parking at Milwaukee Mitchell International Airport at least 48 hours before your planned departure. However, if any modifications are made within this 48-hour window, a fee of $5 will be imposed.
According to Enjoy Travel's recommendation, the best and most efficient way to achieve substantial cost savings on parking at Milwaukee Mitchell International Airport is by using their online booking system well in advance.
Milwaukee Mitchell International Airport offers a range of parking choices, including hourly, daily, surface lot, super saver, and valet parking, catering to various preferences and needs of travelers. Additionally, there's a cell phone lot available for those waiting to pick up passengers.
The easiest and most effective method to find parking at Milwaukee Mitchell International Airport is to navigate based on clearly indicated signage, which will guide you to the different parking options through the well-structured road network within the airport premises.
Milwaukee Mitchell International Airport ensures parking safety through measures including surveillance cameras, security personnel patrols, well-lit areas, access controls, emergency call boxes, routine inspections, collaboration with law enforcement, and public awareness campaigns to deter theft and unauthorized activities.
The distances between the terminal and parking areas at Milwaukee Mitchell International Airport vary, with hourly and valet parking closest, daily and surface lot parking closer, and super saver parking being a bit farther and served by shuttles.
Yes, Milwaukee Mitchell International Airport offers electric vehicle charging stations, allowing you to charge your electric vehicle while at the airport. This service is aimed at providing convenience for travelers with electric vehicles.
Yes, you are allowed to park for an extended period overnight at Milwaukee Mitchell International Airport. The airport provides various parking options, including daily and long-term parking, to accommodate travelers who need to leave their vehicles at the airport for an extended period, such as overnight trips or longer.
To make sure you reserve a space and make the most of discounted prices, it is recommended to advance book a parking spot, particularly when demand is high.
Getting to the Milwaukee Mitchell International Airport parking area ahead of schedule might result in extra costs, which will differ depending on your arrival time. You can pay these parking charges using a credit or debit card as you exit the parking facility.
The "Super Saver Parking" option is typically the most economical choice at Milwaukee Mitchell International Airport. This option offers budget-friendly rates and, while it may require a slightly longer shuttle ride to the terminal, it provides a cost-effective solution for travelers looking to save on parking expenses.
the daily parking rates at Milwaukee Mitchell International Airport could range from around $10 to $22, depending on the parking option you choose.
With Enjoy Travel the weekly parking rates at Milwaukee Mitchell International Airport could range from approximately $70 to $150, depending on the parking option selected.
Explore popular airports in the US