Bradley International Airport parking | fly BDL
Find the best parking deals at Bradley International Airport
With a massive choice from the biggest brands, Enjoy the best way to find the best prices for car hire in Bradley International Airport.
Huge choice car parks to suit every budget
Save up to 70% compared to buying on the day
Working with the best partners in Airport Parking
Bradley International Airport Parking
Driving to Bradley International Airport (BDL)? Congrats on a smart move.
And since your next step is finding parking at BDL, this guide's about to become your favorite part of the internet. Read on and you'll find great tips on the best on- and offsite parking choices at this classic Connecticut airport – plus lots of insider info on facilities, amenities, and excellent places to eat and shop. And if you're an out of towner driving into Windsor Locks for a BDL flight, why not arrive a day or so early and soak up some of the local attractions?
Great things to see here include the New England Air Museum, which has over 150 awesome airplanes, including a Concorde, P-51 Mustang and B-17 Flying Fortress. And as well as these magnificent flying machines, you'll find out all about the history of aviation through some wonderful interactive exhibits.
Another unusual attraction around these parts is the Connecticut Fallen Firefighters Memorial, which pays tribute to the firefighters who've lost their lives on the frontline while saving others. You'll find this in Memorial Hall, where there's also a museum about Connecticut's firefighting history.
For something a little more energetic meanwhile, you might prefer REACT Premium Escape Rooms, where there are several different escape rooms with puzzles you and your friends and family race against the clock to solve. And there's also Spare Time Entertainment, a bowling alley with arcade games, a rope course and laser tag.
After all that exertion, you might want to cool off with a beer or three at Luppoletto Brewing Co. where there's a superb selection of craft beers and a lush outdoor beer garden where you can slake your thirst in the sunshine. And Windsor Locks is also a hub for local crafts. If this floats your boat, check out Cindy's Soap Cottage for handmade lotions, potions and soaps, and Jan's Sewing Room for crafty sewing supplies and quilting and sewing lessons.
But how about hotels?
There are lots of wonderful establishments in and around Windsor Locke, so you're spoiled for choice. Take SpringHill Suites by Marriot Hartford Airport/Windsor Locks, for instance. It's a short drive from BDL, and boasts free breakfast, Wi-Fi, and an airport shuttle service.
Then there's DoubleTree by Hilton. Close to the airport, it's got a lounge bar, restaurant, and pool. Meanwhile, Homewood Suites by Hilton Hartford/Windsor Locks has suites with their own kitchens, and a free shuttle to the airport.
And last but not least, Sheraton Hartford Hotel has a bar, indoor pool, and restaurant.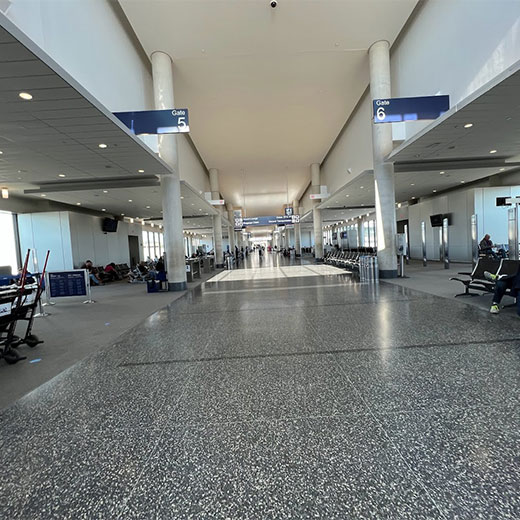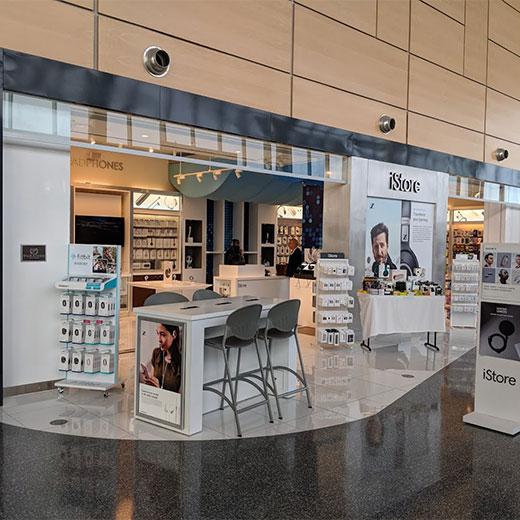 Find the best deals at Bradley International Airport
Serious Bradley International Airport parking bargain hunters usually try a few options before striking gold by finding a comprehensive guide like the one you're reading.
If you're interested in a few alternative measures, you can start by checking with your airline – they often offer BDL parking discounts. There are also comparison sites (more of which shortly), offsite parking is usually cheaper than onsite, and you might find websites that offer discount coupons.
There are also some select spots in the vicinity where you can park for free, but these are limited, far from the airport and there's no assurance your car's secure.
Compare parking at Bradley International Airport
With over 25,000 parking spaces across 12 different garages, you won't waste energy circling around BWI (provided you plan ahead).
And a first-rate parking provision's part and parcel of an air hub that's had sky-high ambitions since it opened for business (as Friendship International Airport, in 1950).
By 1959, TWA and American Airlines had started transcontinental 707 flights from the new airport, and it was named Baltimore/Washington International Airport in 1973. BWI improved its facilities further in 1980 by opening the BWI Rail Station (connecting to the Northeast Corridor via Amtrak), and the Governor William Donald Schaefer Terminal opened in 1997. The dedication of the new Terminal A/B followed in 2005 and the BWI Marshall Airport Light Rail station in 2016 (connecting BWI to the Baltimore Light Rail System).
Now the busiest airport in the Baltimore-Washington megalopolis, it typically processes 27 million passengers annually and pumps billions into the regional economy.
What parking is there at Bradley International Airport?
As mentioned, comparison sites are also worth investigating for great BDL airport parking deals. For example, APH offers discounts on offsite lot parking (with shuttle bus) and Looking4Parking often has great prices for long-term and economy parking.
However, if you want to book direct, here are your official Bradley International Airport options:
Garage A
The closest lot to the airport, Garage A offers covered parking, 24/7 access and has 3000 parking bays. If you want convenience, it's a great choice.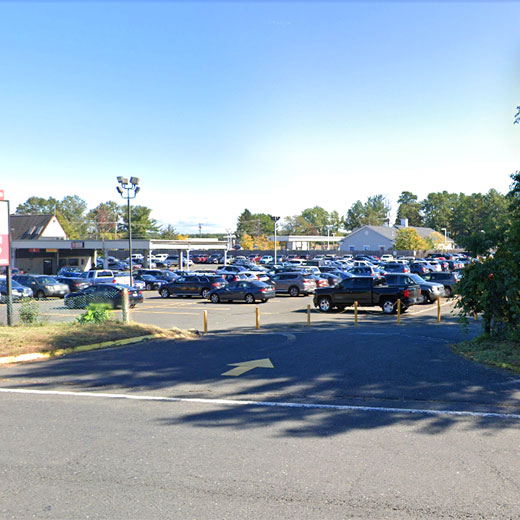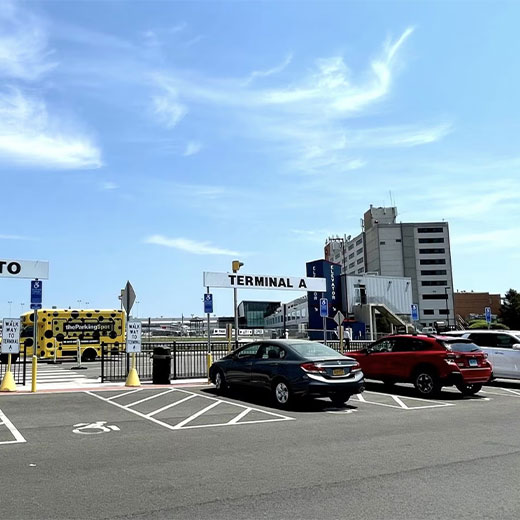 Garage B
With 2500 spaces, Garage B is closest to Terminal B (as you'd expect) and has 2500 covered parking spaces, with 24/7 access.
Long-term Lot
Located across from the airport terminals, this lot is uncovered and has 3000 spaces with 24/7 access.
Cell Phone Waiting Lot
Ideal for picking up and dropping off passengers, the Cell Phone Lot is across from the terminals and provides free parking for up to two hours.
Economy Lot 3
Around a mile from the airport terminal, this lot has 2000 spaces and a free shuttle service to BDL.
PreFlight Lot
You'll find the PreFlight lot around a mile from the terminals and there's a free airport shuttle service, which is great.
Getting to Bradley International Airport
Thankfully, it's simple to drive to BDL from nearby towns and cities.
If you're rolling in from Hartford, take I-91 South to Exit 36, then follow the signs for Bradley International Airport and before too long, you'll see it on your right.
From New Haven meanwhile, take I-95 North to Exit 58 and follow the Bradley International Airport signs. And from Waterbury, take I-84 East to Exit 45 and follow the airport signs.
Cruising in from Manchester, Connecticut? Take I-384 East to I-91 South, then take Exit 36 for the airport.
From Windsor Locks, drive along Main Street to the Airport Road and you'll be there in two shakes of a wildcat's tail.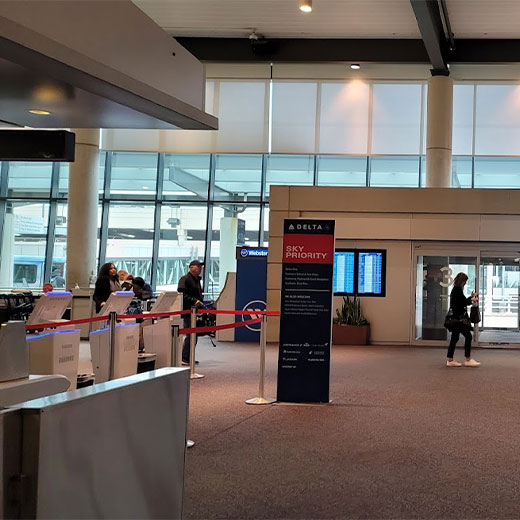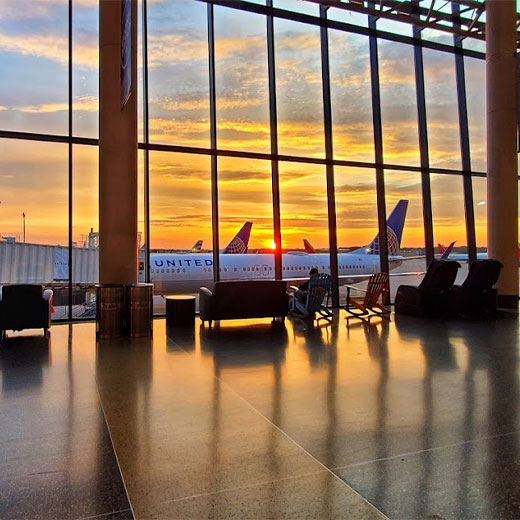 Facilities at Bradley International Airport
In general, facilities and amenities at Bradley International Airport are excellent.
Take transportation, for instance: BDL has a taxi stand outside every terminal and connects with CT Transit, Greyhound, and Peter Pan Bus Lines.
There are plenty of good shops and eateries (more of which shortly) and restrooms dotted throughout the terminals when nature calls (they're also wheelchair accessible and have child-friendly changing tables).
You won't struggle to check your social media and emails, because there's Wi-Fi throughout the complex, as well as plenty of charging stations for your phones, tablets, and PCs. And if you want to chill out away from the hustle and bustle of the concourse, there are two airport lounges at BDL – Escape Lounge BDL and The Centurion Studio Partner BDL, both of which offer Wi-Fi, plush seating and free food and drinks.
If you're traveling with tiny tots in tow, you'll find two terrific nursing rooms at the airport, both of which have comfortable chairs, fridges and changing tables.
But let's get down to the serious business of eating – what is there at BDL to tempt your taste buds, get your pulse racing and have you licking your lips like one of Pavlov's dogs?
Plenty, as it happens. At Black Bear Saloon you'll find salads, sandwiches, and burgers – traditional American fare. And the clam chowder, lobster rolls and crab cakes at Phillips Seafood are sublime.
When you want to slake your thirst with craft beer and fill your belly with sandwiches and burgers, Two Roads Tap Room is the place to be, while Cask and Barrel Bistro specializes in pasta, roast chicken, and steak frites. And don't forget Bobby V's Restaurant & Sports Bar – with an endless supply of beers and cocktails, it's the perfect place to watch the big game.
For retail therapy, Brooks Brothers sells luxury shirts, ties, and suits, while legendary department store Macy's has electronics, home goods, and clothing. You can pick up lingerie at Victoria's Secret, fancy liquor and cosmetics at Duty Free Americas and the latest bestselling novels and glossy magazines at Hudson News.
And there you have it: a comprehensive guide to parking at Bradley International Airport, plus a load more content that's absolute gold. Wherever you're flying to, Bon Voyage!
Got a Question? Chat with our US support team
Our online chat is available 8:30am to 5:00pm weekdays. Email: [email protected]
FAQs about car hire at Denver Airport
Most frequently asked questions about hiring a car at Denver Airport
You have the option to make changes or cancel your parking reservation for Denver Airport at no cost if it is done 48 hours prior to your travel. Any alterations or cancellations made after that time will incur a fee of $5.
To obtain the most favorable parking discounts at Denver Airport, Enjoy Travel recommends booking your parking spot ahead of time through their online reservation system.
Denver Airport offers several parking options to suit travelers' needs, including on-airport parking, shuttle parking, valet parking, and off-airport parking.
The easiest way to locate your parking spot at Denver Airport is by taking note of the lot name, level, and section when you park your vehicle. You can also use the airport's mobile app, signage, or ask for assistance from parking lot attendants.
Denver Airport implements several safety protocols for parking, including 24/7 security patrols, video surveillance, and well-lit parking areas.
On-airport parking lots are located within walking distance or a short shuttle ride away from the terminal, while off-airport parking lots may require a longer shuttle ride.
Yes, Denver Airport provides electric vehicle charging stations for its parking customers. The charging stations are available in both covered and uncovered parking areas, and there is no additional cost to use them other than the regular parking fee.
Yes, you can park for an extended period overnight at Denver Airport. The airport provides long-term parking options for travelers who require parking for several days or more.
Booking a parking spot in advance is advisable, particularly during the airport's busy periods, to guarantee availability and take advantage of reduced rates.
Arriving early for parking at Denver Airport could result in additional fees that vary based on the time of arrival. Payment for parking can be made at the exit gate using a credit or debit card.
Off-airport parking options are generally the most economical at Denver Airport, as they offer lower daily rates than on-airport parking. However, the distance from the airport and the shuttle service frequency should be considered.
On-airport parking lots charge $5 per hour and $30 per day for uncovered parking and $7 per hour and $40 per day for covered parking. Off-airport parking lots offer lower daily rates, ranging from $6 to $15 per day, depending on the distance from the airport and services offered.
With Enjoy Travel on-airport parking lots charge $180 for covered parking and $150 for uncovered parking for seven days. Off-airport parking lots offer lower weekly rates, ranging from $42 to $95, depending on the distance from the airport and services offered.
Explore popular airports in the US