Denver International Airport parking | get organized
Find the best parking deals at Denver International Airport
With a massive choice from the biggest brands, Enjoy the best way to find the best prices for car hire in Denver International Airport.
Huge choice car parks to suit every budget
Save up to 70% compared to buying on the day
Working with the best partners in Airport Parking
Parking at Denver International Airport
So you're departing Denver for a while? We've searched high and low for the latest (and greatest) information on parking at DEN – so you don't have to.
Known as The Mile-High City (it sits at a lofty 5280ft above Sea Level), Denver is the capital of Colorado and the biggest city in the Rocky Mountains environs. With plenty of sunshine, lovely locals, tasty restaurants and buzzing bars, it's easy to see why its population is swelling faster than many cities in the US. With a clutch of distinctive districts connected by cycle paths and green spaces, it's a metropolis that stimulates the mind, body and soul. Cherry Creek is a high-end area that's deeply desirable, Santa Fe Arts district is fascinating, Five Points is packed with history and Lower Downtown (LoDo) is a great place to unwind all the way. Meanwhile, Highlands and Lower Highlands have more mainstream shops and restaurants, and River North (RiNo) is the place to soak up street art and warehouses reclaimed as creative spaces.
And when you strike out from the city center, adventures in the great outdoors await – with excellent hiking, snowboarding and skiing on offer. Wherever you're heading from DEN, we'll help you make an informed choice about your airport parking.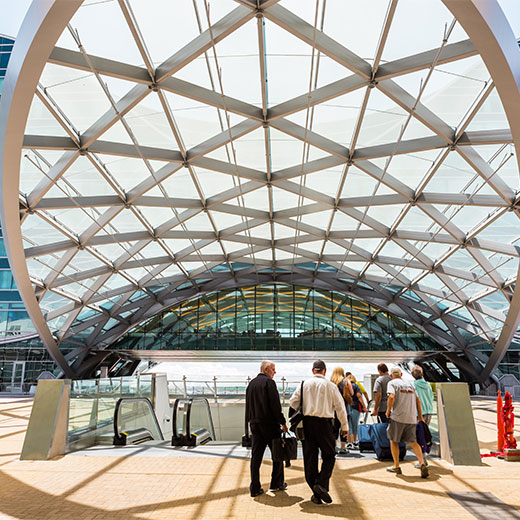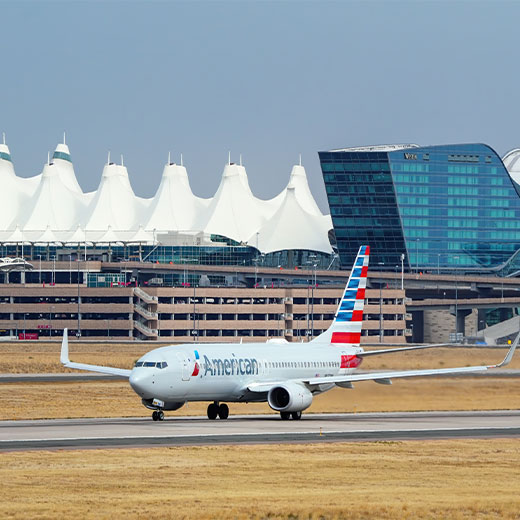 Find the best deals at Denver International Airport
When it comes to parking at DEN, what's the best deal for you? Is price or proximity your priority? Do you appreciate a little luxury or don't mind a basic service? Like the human touch or go all-in with automation?
Whatever your budget and needs, you'll soon have all the info you need to make a choice that chimes perfectly with your needs and budget.
Compare Denver International Airport Parking
Whether you want park and ride, valet, electric or assisted parking, Denver's diverse offering definitely delivers. And it's just one small (yet vital) part of what makes DEN such a magnificent airport by design.
Transportation has long been the lifeblood that helps Denver flourish in the Rocky Mountain region. In the late 19th century, the railroads made it a bustling hub only eclipsed in population terms in the west by San Francisco. The city lost prominence throughout the 20th century and by the end of the 1980s, a new airport was seen as the catalyst to its recovery.
Denver's Stapleton Airport first opened back in 1929 and was actually the 5th-busiest worldwide by the 1980s, yet a serious slide was predicted because it couldn't keep pace with passenger service, in spite of many expansion projects. The new Denver International Airport was approved at county and city levels in 1988/89, opened in 1995 and now serves 215 destinations via 23 carriers. As part of a city-wide transformation that included construction of a light railway system and Coors Field, it boosted the city's profile and continues to be a major contributor to its coffers to this day.
What parking is there at Denver International Airport?
That's a very good question.
But an even better one would be 'what parking isn't there at Denver International Airport?'. Because the choice is (almost) endless.
You can book directly via DEN or find savings through a comparison site. Shop around online and you'll find reliable services for valet parking, while parking partners like Looking4Parking offer great deals on the likes of Canopy Airport Parking – Self Park – Uncovered – Commerce City, Fine Airport Parking DEN – Self Park – Uncovered – Aurora, Quality Inn and Suites Denver Airport – Gateway Park – Self Park – Uncovered – Denver, and WallyPark Airport Parking – Self Park – Uncovered – Denver.
For the moment, let's get back to your DEN official parking options.
Garage (East & West)
Located close to the Jeppesen Terminal on the east side, DEN Garage East Parking is open 24/7 and accepts cash, check, AmEx, Mastercard, Visa and Discover. With five levels and three different sections, it includes covered and uncovered parking spots, with accessible parking on all levels except three. There are also five hybrid/electric vehicle charging stations at rows E and F on Level 1.
DEN Garage East parking is also adjacent to the Jeppesen Terminal (except on the west side) and has five levels and four different sections that include covered and uncovered spaces, and like its East counterpart, every level has accessible parking except three. Hybrid/EV parking is situated at level 1, rows E and F here too, with 10 of 15 charging stations offering a faster charge time.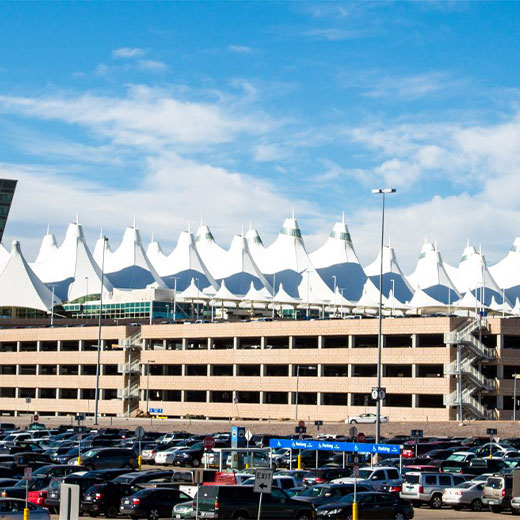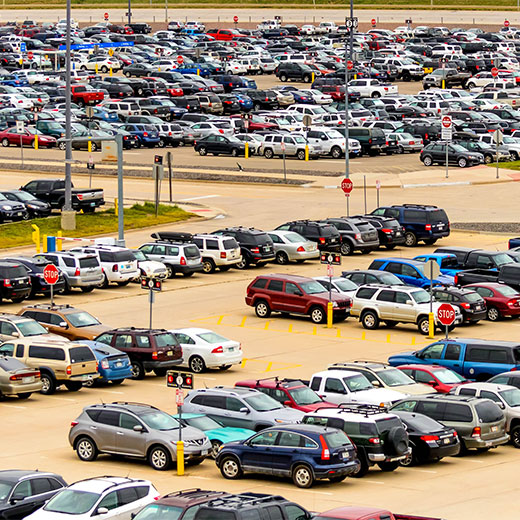 Economy (East & West)
Located just after Garage East parking, the East Economy Lot is a great option when you want to park a walk away from the terminal, without paying a premium price. Free shuttle buses operate 24/7 and run every 10 minutes – wait at one of the (many) roadside shelters for a short while and hop on board. Drop-off and pick up is at the DEN Transit Center.
You'll find the West Economy Lot after Garage West parking and it has the exact same benefits as its eastern neighbor. For East and West Economy lots, acceptable payment methods include cash and all the aforementioned cards.
Shuttle (Pikes Peak Lot / Mt. Ebert Lot)
With over 17,500 shuttle parking spaces at DEN and a low daily rate, this is a popular parking option for thrifty travelers. Pikes Peak is the flagship shuttle lot and shuttles leave every 7-10 minutes from shelters. Free assistance is also available – for instance if you need help with inflating a tire, getting your keys back out of a locked car or even jump starting your engine. The Mt Ebert Lot offers a similar service but please check the official DEN site to ensure that its open beforehand – it may be subject to closure.
Short Term (East & West)
When you want fast, east access to Jeppesen Terminal, Short Term parking at DEN has your name on it. You'll find Shirt Term East on Level 4 (arrivals level) in Garage East – it's covered parking so perfect if you're traveling with kids or elders in tow. Please note that overnight parking isn't permitted – this is for picking up or dropping off passengers. Short Term West is an identical service and clearance height for both areas is 8ft.
61st and Pena
Handily located on RTD's University of Colorado A Line, DEN 61st and Pena parking lot is pre-paid and has an 11 minute transit time to your terminal via the A Line commuter rail (shuttles aren't available). There are a total of 800 spaces here and 609 are underneath solar electric panel canopies. You'll find 11 EV charging stations and parking spaces for customers with additional needs at the lot's south and west areas.
How to get to Denver International Airport?
To get to DEN from Boulder, drive along Highway US-36 southwards, select the I-25 interstate and head south, join the I-70 Interstate and then drive eastwards, then simply follow the signs to the airport grounds.
To head into DEN from the Rocky Mountains, drive along the I-70 Interstate eastwards and just follow the airport signs.
To get into DEN from Denver Tech Centre/Colorado Springs, drive along I-225 Interstate southwards, take 104th avenue and head east, then follow the signage.
To reach DEN from Downtown, take the I-25 interstate in a northerly direction, take the 1-70 interstate and head east, then follow those signs again.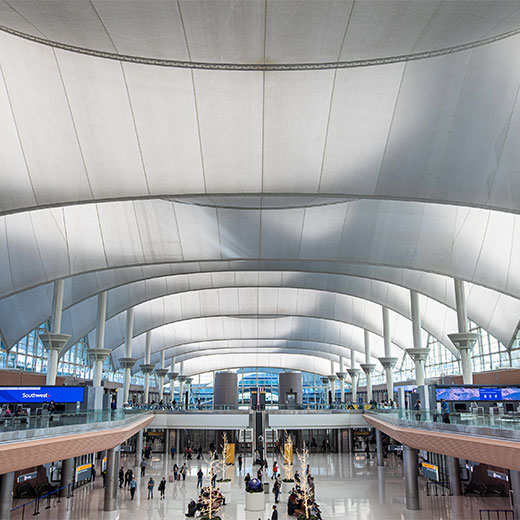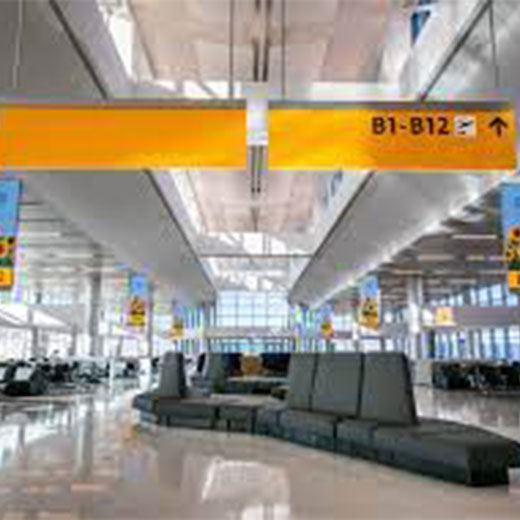 Facilities at Denver International Airport
Amenities and facilities at Denver International Airport are excellent.
It's simple to find your way around DEN because Jeppesen is the only terminal. Here, you'll find passenger drop-off and pick-up, airline check-in and baggage drop-off, baggage claim, security, and gate access.
The Train to the Gates (or the rather less catchy Automated Guideway Transit System) connects all three DEN courses to Jeppesen Terminal and you'll hop on it after security screening.
And when you want to relax, eat, and shop, there are more than 170 establishments to choose from. Culinary options include Auntie Anne's Pretzels, Aviator's Sports Bar & Bar-B-Que, Ben & Jerry's Ice Cream, Coors Silver Bullet Bar, Heidi's Brooklyn Deli and much more.
Want to shop? Try apparel and accessories at Aksels, quirky gifts and souvenirs at Be Hippy, news and books at CNBC.
Meanwhile, when you want to unwind in the lap of luxury, there are various comfortable lounges, spas and massage outlets at DEN.
As you can see, a visit to Denver International Airport feels a little like a mini-break in itself – the perfect preamble to a refreshing vacay or lucrative business trip.
Got a Question? Chat with our US support team
Our online chat is available 8:30am to 5:00pm weekdays. Email: [email protected]
FAQs about car hire at Denver Airport
Most frequently asked questions about hiring a car at Denver Airport
You have the option to make changes or cancel your parking reservation for Denver Airport at no cost if it is done 48 hours prior to your travel. Any alterations or cancellations made after that time will incur a fee of $5.
To obtain the most favorable parking discounts at Denver Airport, Enjoy Travel recommends booking your parking spot ahead of time through their online reservation system.
Denver Airport offers several parking options to suit travelers' needs, including on-airport parking, shuttle parking, valet parking, and off-airport parking.
The easiest way to locate your parking spot at Denver Airport is by taking note of the lot name, level, and section when you park your vehicle. You can also use the airport's mobile app, signage, or ask for assistance from parking lot attendants.
Denver Airport implements several safety protocols for parking, including 24/7 security patrols, video surveillance, and well-lit parking areas.
On-airport parking lots are located within walking distance or a short shuttle ride away from the terminal, while off-airport parking lots may require a longer shuttle ride.
Yes, Denver Airport provides electric vehicle charging stations for its parking customers. The charging stations are available in both covered and uncovered parking areas, and there is no additional cost to use them other than the regular parking fee.
Yes, you can park for an extended period overnight at Denver Airport. The airport provides long-term parking options for travelers who require parking for several days or more.
Booking a parking spot in advance is advisable, particularly during the airport's busy periods, to guarantee availability and take advantage of reduced rates.
Arriving early for parking at Denver Airport could result in additional fees that vary based on the time of arrival. Payment for parking can be made at the exit gate using a credit or debit card.
Off-airport parking options are generally the most economical at Denver Airport, as they offer lower daily rates than on-airport parking. However, the distance from the airport and the shuttle service frequency should be considered.
On-airport parking lots charge $5 per hour and $30 per day for uncovered parking and $7 per hour and $40 per day for covered parking. Off-airport parking lots offer lower daily rates, ranging from $6 to $15 per day, depending on the distance from the airport and services offered.
With Enjoy Travel on-airport parking lots charge $180 for covered parking and $150 for uncovered parking for seven days. Off-airport parking lots offer lower weekly rates, ranging from $42 to $95, depending on the distance from the airport and services offered.
Explore popular airports in the US