Parking at Idaho Falls Regional Airport | IDA
Find the best parking deals at Idaho Falls Regional International Airport
With a massive choice from the biggest brands, Enjoy the best way to find the best prices for car hire in Idaho Falls Regional Airport.
Huge choice car parks to suit every budget
Save up to 70% compared to buying on the day
Working with the best partners in Airport Parking
Parking at Idaho Falls Regional Airport
Flying from Idaho Falls Regional Airport (IDA) soon and driving to the airport?
Good move – traveling under your own steam means you can set your own timetable and (if you're rolling in from outside the area), perhaps even take a day or so to explore the area before you fly.
Local attractions include the magnificent Museum of Idaho, which has many fascinating exhibits on art, natural history, and the history of the local region. And if you prefer animal attractions, Idaho Falls Zoo has over 1000 creatures from every part of the planet.
Idaho Falls is no slouch when it comes to the great outdoors either. For instance, hiking or biking the Greenbelt trails along the Snake River is always popular as it affords amazing city views, while a more leisurely stroll through Tautphaus Park reveals gorgeous gardens, a well-designed kids playground and even a petting zoo.
Meanwhile, culture vultures love watching plays and concerts at Idaho Falls Civic Center and sports fans appreciate soaking up the atmosphere at Melaleuca Field, home of minor league baseball's Idaho Falls Chukars.
If the Greenbelt trail whets your appetite for exploring the Snake River further, you can go whitewater rafting and also see over 200 bird species (including falcons and bald eagles) in the Snake River Birds of Prey National Conservation Area. And don't forget that Sawtooth National Forest is a beautiful hotspot for fishing and camping in striking distance from Idaho Falls.
After all these indoor, outdoor, natural and cultural activities, you'll have worked up an appetite. And there are plenty of excellent eateries in Idaho Falls to satisfy a variety of tastes, including Copper Rill Restaurant with its high-end American fare crafted from local ingredients, and Jakers Bar and Grill, the best place in town for juicy burgers.
Alternatively, the Sandpiper Restaurant serves seafood dishes like pasta and steaks, while the Snakebite Restaurant is the perfect place for milkshakes, fries, and burgers with all the trimmings. And don't forget Dixie's Diner, which serves immaculate omelets, pancakes, and waffles.
Fancy letting your hair down while you're in town? The Bee's Knees lives up to its name with live music and an unforgettable atmosphere, while O'Brady's Family Restaurant complements its fine menu with a huge variety of draft beers.
For something a little different, D'Railed serves tasty cocktails and board games, and Mackenzie River Pizza, Grill & Pub serves ice cold beer to complement its tasty bar food.
If you're looking for a hotel, there are plenty of comfortable establishments here too. For instance, Hilton Garden Inn Idaho Falls is near the airport and Snake River, while the Holiday Inn Express & Suites Idaho Falls is near downtown and boasts a fitness area and pool.
There's also La Quinta Inn & Suites Idaho Falls, with its sauna and hot tub, and Comfort Inn & Suites Idaho Falls, which is near the airport and provides a free breakfast buffet.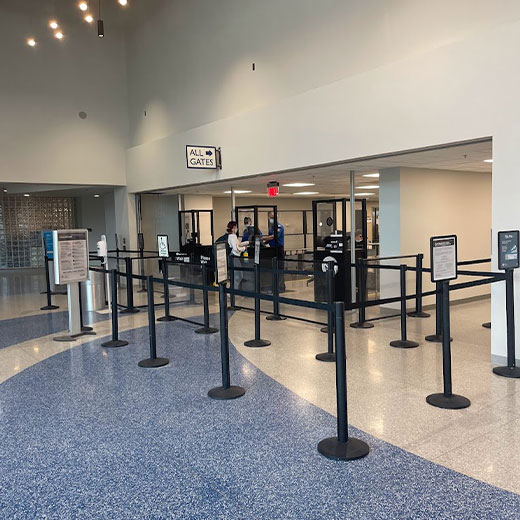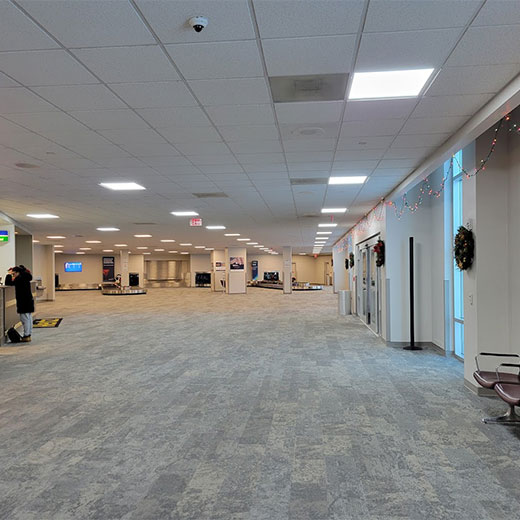 Find the best deals at Idaho Falls Regional Airport
So what are some of the best ways to find cheap airport parking at IDA? First off, you can ask your airline, because it might just offer parking discounts for frequent flyers.
If you're willing to consider offsite parking, this is often cheaper than onsite, it's also worth checking for coupons online and in local magazines and newspapers, and if you have friends or family also flying out of IDA, vanpooling, or carpooling can be economical.
Compare parking at Tucson International Airport
With 1200 spaces split into several areas, IDA is on the right road with its airport parking.
And to be fair, it's always been a progressive facility since it was established way back in 1929. IDA's commercial services commenced in 1934 with National Park Airways and was bolstered by the arrival of West Coast Airlines in 1951.
Business grew steadily and in 1982 IDA's terminal was expanded , with jetways added to accommodate smaller aircraft. A nonstop service to Denver started in 2006 and nowadays IDA is supported by Allegiant Air, United Airlines and Delta Air Lines, with direct flights to Phoenix, Las Vegas, and Salt Lake City.
What parking is there at Idaho Falls Regional Airport?
To explore every IDA parking option, it's also worthwhile taking a look at aggregator sites like Looking4Parking and APH. These types of comparison sites offer competitive deals on short-term, long-term, and economy parking, with shuttle services to the terminal for offsite parking.
But let's take a look at your official IDA parking choices.
Short-term parking
The closest to the terminal, IDA short-term parking is the right choice if you're dropping off or picking up passengers. The first 30 minutes are gratis and then charges are accrued every 30 minutes thereafter.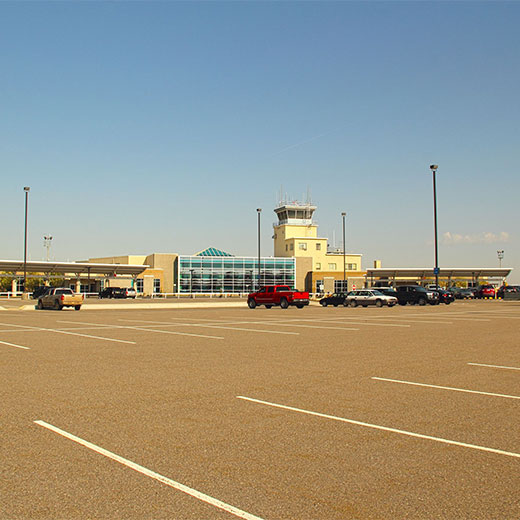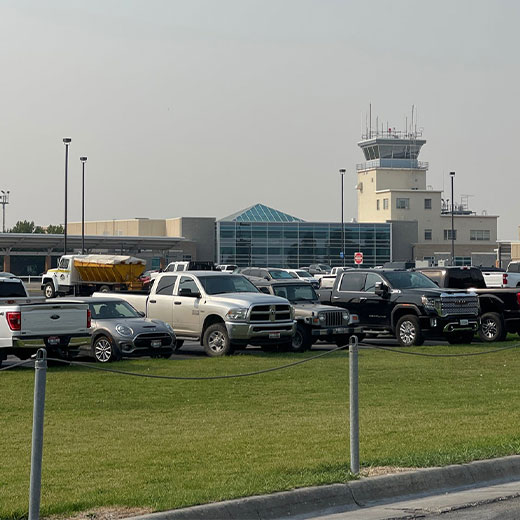 Long-term parking
This parking is further away from the terminal at Idaho Falls Regional Airport, but more reasonably priced than short-term. Safe and secure, it's ideal if you're taking a vacay or business trip for more than a few days.
Economy parking
This is the furthest IDA parking option from the terminal but also the cheapest. If you're a thrifty, price-focused traveler, this is a top choice.
Vanpool and bus parking
There are several vanpool and bus spaces at IDA which are free.
Valet parking
If you want high-end convenience and a smooth pre-flight experience, it might be worth paying extra for the airport's valet parking service.
Getting to Idaho Falls Regional Airport
Driving to IDA from nearby towns and cities is reasonably straightforward.
From Ammon, take the I-15 S to Exit 122, then turn left onto Airport Road and follow it to the airport. And from Blackfoot, take I-15 N to Exit 122, then Turn right onto Airport Road and follow it to IDA.
Rolling in from Chubbuck? Take I-15 S to Exit 122, then Turn left onto Airport Road and you'll soon reach IDA. From Rexburg meanwhile, take I-15 S to Exit 122, then turn left onto Airport Road and you can't go wrong. And from Shelley, take I-15 S to Exit 122, then turn left onto Airport Road.
Depending on traffic, these towns are all around 15-20 minutes from IDA.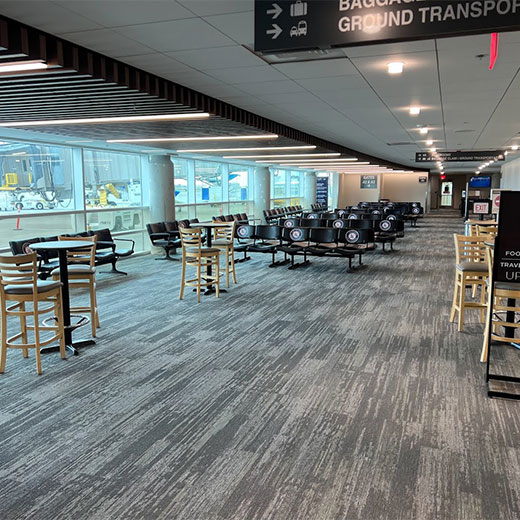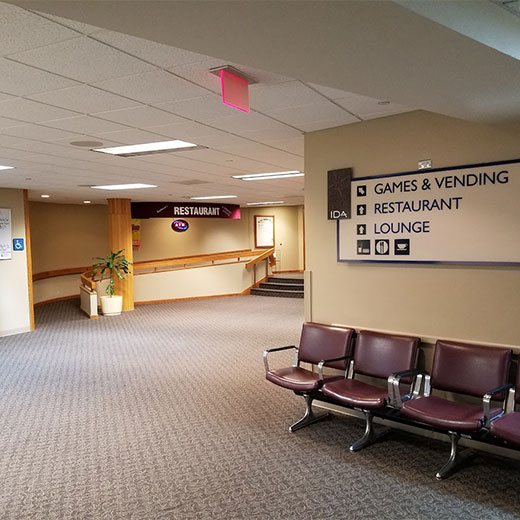 Facilities at Idaho Falls Regional Airport
Amenities and facilities at Idaho Falls Regional Airport are decent, so you'll feel welcomed and comfortable before you board.
There's free Wi-Fi throughout the airport to check your socials and emails, ample food and shopping options (more of which shortly) and there are plenty of well-tended restrooms throughout. If you need to withdraw cash there are many ATMs, you can rent luggage carts and transport links to the airport are robust, with several taxi stands and car rental companies onsite.
IDA has a pet relief area outside the complex and a members-only airport lounge with free food, drinks and comfortable seating.
Food options at IDA include pastries, drinks and coffee at Starbucks, wraps, sandwiches and salads at Subway, and pretzels aplenty at Auntie Anne's. There's also a vending machine with popular snacks and drinks, a newsstand selling souvenirs, keepsakes and magazines, and a pharmacy for over-the-counter medicines and the like.
Some of the most inspirational experiences at Idaho Falls Regional Airport are free – in the form of IDA's exceptional public art program. Shops and restaurants are all well and good, but art elevates any public space from a utilitarian area to something altogether more beautiful and human.
One standout piece at IDA is Wrapped In Art, a sequence of 12 traffic cabinets covered in work by local artists that depicts landmarks like the Teton Mountains, Snake River and the star of the show – the city of Idaho Falls itself.
And Look and Listen is another excellent piece. Created by local artist Kelly Sheridan, this marvelous mural depicts a Native American lady signing American Sign Language.
Last but not least comes Tree of Life, a sublime glass and steel edifice by virtuoso artist Larry Anderson which is crafted in the shape of a tree with roots driving into the ground and branches rocketing skyward.
IDA's public art program was created in 2022 with the aim of showcasing the excellent work of local artists and making the environment more ambient and attractive for passengers. The program is still in its infancy but has already made an impact for everyone who works at IDA and the many travelers who pass through.
Got a Question? Chat with our US support team
Our online chat is available 8:30am to 5:00pm weekdays. Email: [email protected]
FAQs about car hire at Idaho Falls Regional Airport
Most frequently asked questions about hiring a car at Idaho Falls Regional Airport
To avoid incurring any charges, it's important to modify or cancel your reservation for parking at Idaho Falls Regional Airport at least 48 hours before your planned trip; however, if changes are made within this 48-hour window, a $5 fee will be imposed.
According to the recommendation from Enjoy Travel, the best and most efficient way to achieve substantial cost savings on parking at Idaho Falls Regional Airport is to use their online booking platform well in advance.
At Idaho Falls Regional Airport, you can typically choose from several parking options, including short-term, long-term, economy, and disabled parking, each designed to meet different traveler needs.
The easiest and most effective method to find parking at Idaho Falls Regional Airport is to follow the clearly marked signs guiding you to the different parking options, aided by the existing road system within the airport premises.
Safety protocols for parking at Idaho Falls Regional Airport encompass well-lit areas, surveillance, security patrols, and emergency call stations.
The distance between the terminal and the different parking areas at Idaho Falls Regional Airport varies, with short-term parking being closest to the terminal, long-term parking farther away with shuttle service, and economy parking being the farthest with shuttle service.
Idaho Falls Regional Airport has electric vehicle (EV) charging stations available for passengers to use.
Parking for an extended period overnight at Idaho Falls Regional Airport is generally allowed, especially in the long-term and economy parking lots, which are designed for travelers going on longer trips.
To guarantee you reserve a parking space and take full advantage of discounted rates, it's recommended to make an advance parking reservation, particularly when demand is high.
Getting to the Idaho Falls Regional Airport parking lot earlier than your intended arrival time may result in extra fees, the specific amount of which will depend on when you arrive, and you can pay these parking charges with a credit or debit card when leaving the parking facility.
The most economical parking option at Idaho Falls Regional Airport is the "Economy Parking" lot.
The rates for economy parking are around $9 per day for short-term parking and $7 per day for long-term parking
With Enjoy Travel the cost of parking for a week at Idaho Falls Regional Airport's economy parking is $63 for short-term parking and $49 for long-term parking
Explore popular airports in the US