Nashville International Airport
Find the best parking deals at Nashville International Airport
With a massive choice from the biggest brands, Enjoy the best way to find the best prices for car hire in Nashville International Airport.
Huge choice car parks to suit every budget
Save up to 70% compared to buying on the day
Working with the best partners in Airport Parking
Parking at Nashville International Airport
Looking for parking at BNA? We've got you covered.
You'll find all the latest information about offsite and official Nashville International Airport right here – as well as tons of useful tips on eating, shopping, and amenities.
But maybe you're arriving in Nashville from other parts and want to see a little of Music City too?
It's an awesome city, so a day or so here is the perfect appetizer for a longer work trip or vacay.
You can tune in with a trip to the Grand Ole Opry and take in a backstage tour or a live show (Friday and Saturdays). This iconic venue has been the home of live country music for over 90 years and is famous worldwide. Speaking of which, if you're a serious Country fan, you'll definitely want to visit the Country Music Hall of Fame and Museum, where guitars, sheet music, costumes and interactive exhibits bring the history of the genre alive.
Meanwhile, for many in the know, Downtown Nashville is the heart of the action. Here you'll find the Honky Tonk Highway (packed with live music joints), a replica of the Parthenon in Greece, the Johnny Cash Museum, and the Frist Art Museum.
But Downtown isn't the only hotspot in Nashville. For instance, East Nashville is a hip place to hang out, with lots of buzzing bars, restaurants, and shops, and it's also the home of the Five Points district, which has some amazing independent boutiques. And Germantown is a lovely retro neighborhood with historic buildings and the Bicentennial Capital Mall State Park.
Last but not least, if you'd like some cathartic tree bathing, take a stroll around Cheekwood. This art museum and botanical garden boasts a Japanese garden, rise garden and woodland garden, as well as interesting design, art and architecture exhibits.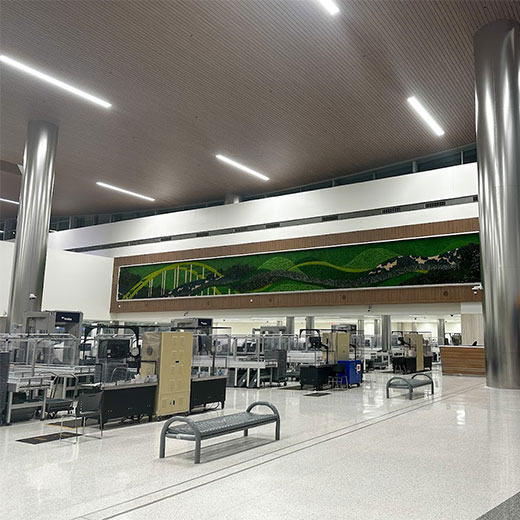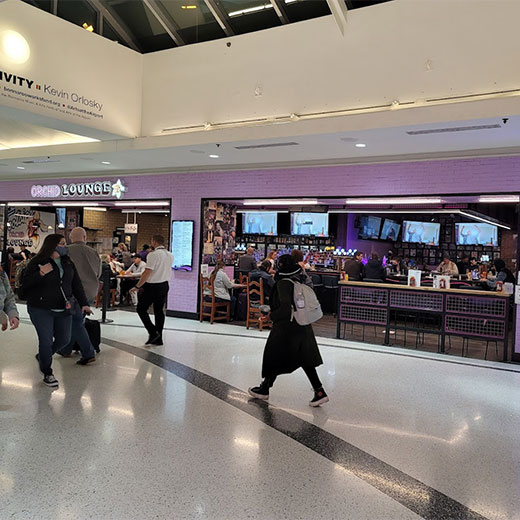 Find the best deals at Nashville International Airport
Got a nose for a great deal? There are several ways to find bargains on BNA parking if you're open to different ideas.
For example, off-site parking can sometime be cheaper than onsite and there are many of these type of unofficial options not too far from the airport – some of which provide shuttle services, and others that require you to book a taxi or walk. If this type of option meets your requirements, it can be a money-saver, but naturally you shouldn't expect the type of personalised service you'd get from say, onsite valet parking.
Another good option is park and ride. There are lots of these lots near BNA and the parking itself is free – the only cost is your shuttle ride to the airport and back.
Overall, choosing your parking at Nashville International Airport is a balancing act – rates will vary according to the type of parking you choose, some options are more convenient than others (especially if you're traveling with kids) and onsite option might be more secure than offsite. Align these elements and you'll find your ideal BNA parking space.
Compare parking at Nashville International Airport
With over 10,000 spaces, Nashville doesn't skimp when it comes to parking.
And in many ways, it's always been an airport that's ahead of its time. First opened in 1937 as Berry Field (after Tennessee administrator Colonel Harry S. Berry), it became a military base during WWII (a hub for the 4th Ferrying Command), then returned to civilian use in 1946.
The airport gained a new 145,900 square foot terminal in 1961 (with an international wing in concourse A), then in 1985 its fortunes were bolstered further when American Airlines revealed plans to open a base at Nashville.
The current terminal was built in 1987 and the facility was named Nashville International Airport in 1988. It now has four runways and a total footprint of 4,555 acres. Various improvements have followed in the years since and BNA has also been praised for its commitment to sustainability, with renewable energy and waste reduction programs in place.
Today, BNA is a major player in the Nashville and Tennessee economies – generating $10 billion annually and supporting 30,000 jobs.
What parking is there at Nashville International Airport??
Aggregator sites are another option worth considering when you're really nailing down a bargain.
For instance, Looking4Parking collates the best parking offers from a variety of sources (including on- and offsite), so it's often worth checking out.
And APH has offers available on lots of different sites within striking distance of the airport, so that's also worth looking into.
But for now, let's take a look at your official Nashville Parking options.
Terminal Garage 1
With 4,300 spaces, this garage is located adjacent to the terminal. Fees are charged on an hourly basis and if you're picking someone up or dropping them off, this is the best option.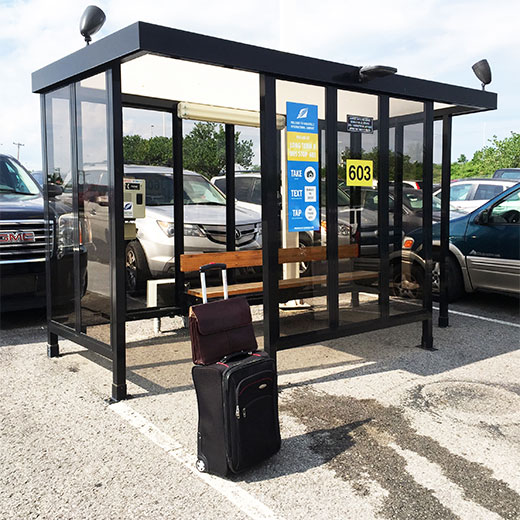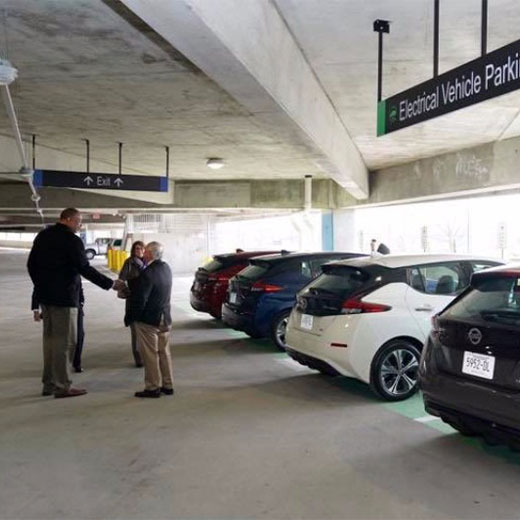 Terminal Garage 2
This garage is also close to the terminal and has 2700 spaces. Again, it's an ideal option for short-term BNA parking.
Economy Lot A
A short stroll from the terminal, Economy Lot A has 3,000 spaces and it's great for thrifty travelers.
Economy Lot B
If you're away for a few days and don't want to spend too much on parking, this lot close to the terminal fits the bill and there are 2000 spaces to choose from.
Economy Lot C
Another lot close to the terminal, Economy Lot C boasts 1000 spaces and the rates are reasonable too.
Cell Lot
With 200 spaces, the cell lot is close to the terminal and perfect for quick pick-ups and drop-offs.
Valet Parking
You'll pay more for valet parking at Nashville International Airport (as you'd expect) but if you want the ultimate convenience and luxury, it's worth every cent.
You can pay for BNA parking with cash, credit card or debit card. Here are some more solid tips before you choose: if you haven't pre-booked and at least show up early on the day of departure to avoid disappointment. Furthermore, carefully consider your needs and those of your travel companions – especially if they have additional needs, or they're young or elderly.
Getting to Nashville International Airport
Nashville International Airport's also nice and easy to find if you're driving.
From the north, take I-40 E to exit 216A, follow the BNA signs and turn left onto Terminal Drive. The airport will then be on your right.
If you're driving up from the south meanwhile, take I-40 W to exit 216A, follow the BNA signs and turn right onto Terminal Drive.
From the east, take I-24 E to exit 52B, merge into I-40 E and follow the aforementioned directions. And from the west, take I-24 W to exit 216A, follow the signs for BNA and turn right onto Terminal Drive.
It normally takes around 30 minutes to drive from Nashville to BNA, but this can vary during rush hour, so arrive early if you can, watch out for construction on the road and plan your route before you leave home.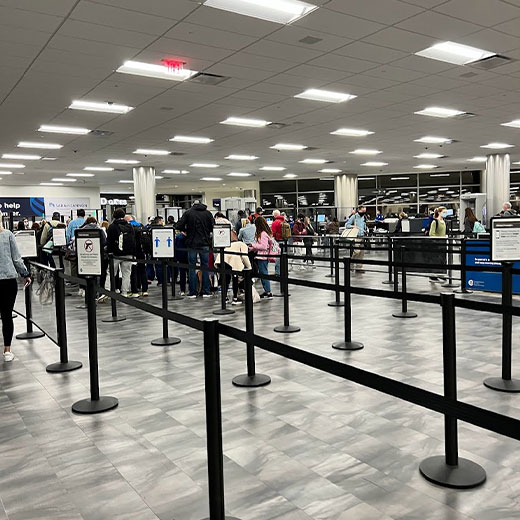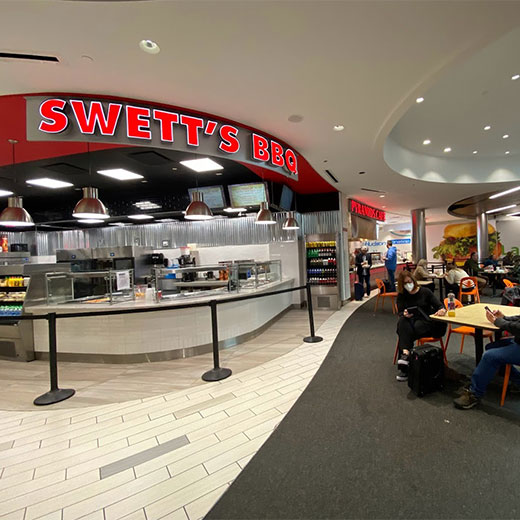 Facilities at Nashville International Airport
Whether you're waiting at BNA for an hour before your board, or you've got a little longer, the pre-flight experience is excellent.
There's free Wi-Fi throughout the airport (always a bonus for busy businesspeople and tantrum-prone teens), there are plenty of power outlets to charge your electronic devices and you'll find restrooms throughout when nature calls.
There are also quiet, plush lounges at BNA, operated by Priority Pass, Delta Sky Club and American Airlines Admirals Club, and several ATMs if you need to draw cash.
Wheelchairs are available at the airport, and there's a lost and found in the baggage claim area.
Want to shop before you board?
Try Brooks Brothers for men's and women's fashions, gifts, and accessories, the Emirates Duty Free for cut-price tobacco, liquor, and electronics, and GNC for supplements and vitamins. There's also a Macy's at BNA where you can wander around and browse for home goods, electronics, and lots of different high-quality merchandise.
Meanwhile, Sunglass Hut is the place to pick up cool new shades and New York & Company is great for ladies fashions.
And you don't want to board a flight if you're feeling hungry, so definitely pop into one of BNA's superb eateries to sample the wide range of cuisine on offer.
The Arrington Wine Bar and Grille serves classic American cuisine and Tennessee wines, while Bar Louie focuses on delicious burgers, sandwiches, and salads. And if you fancy some surf and turf, Bistro Rotisserie & Wine Bar serves sumptuous steak, chicken, and seafood.
Got a Question? Chat with our US support team
Our online chat is available 8:30am to 5:00pm weekdays. Email: [email protected]
FAQs about car hire at Nashville International Airport
Most frequently asked questions about hiring a car at Nashville International Airport
If you decide to make changes or cancel your parking reservation at Nashville International Airport, you will not incur any fees if the request is made at least 48 hours prior to your scheduled travel. However, if modifications or cancellations are made within the 48-hour window, a $5 fee will be imposed.
According to Enjoy Travel, the best method for obtaining the highest parking discounts at Nashville International Airport is to take advantage of their advanced online booking system.
Nashville International Airport offers a variety of parking choices, including terminal parking, economy parking, valet parking, express parking, BNA Express Park, long-term parking, and a cell phone lot, to accommodate different needs and preferences.
To find a parking space at Nashville International Airport, the recommended method is to navigate the airport grounds by following the signs that guide you to the designated parking zones.
Nashville International Airport implements safety protocols such as lighting, surveillance, security personnel, emergency call boxes, security screening, access control, and clear signage to ensure the safety and security of parking facilities.
The distance between the terminal and the different parking areas at Nashville International Airport may vary, but generally, the terminal parking areas are in close proximity to the terminal buildings, providing convenient access within a short walking distance, while economy parking and long-term parking areas may require a shuttle ride of a few minutes to reach the terminals.
Yes, Nashville International Airport offers charging stations for electric vehicles. These charging stations are available in the parking areas and are designed to accommodate the charging needs of electric vehicle owners.
Yes, it is generally allowed to park for an extended period overnight at Nashville International Airport. The airport offers long-term parking options specifically designed for travelers who need to leave their vehicles for an extended duration.
To ensure availability and benefit from discounted rates when reserving a parking space, it is advisable to make a reservation in advance, especially during busy periods.
In the event of early arrival for parking at Nashville International Airport, additional fees may be applied based on the arrival time, and payment for parking can be conveniently made using a credit or debit card upon exiting the parking facility.
The most economical parking option at Nashville International Airport is typically the Economy Parking. It offers cost-effective rates for longer stays and is located a short distance from the terminal buildings.
The daily parking rates at Nashville International Airport vary depending on the parking option chosen, with Terminal Parking priced at $24 per day, Economy Parking at $14 per day, Valet Parking at $38 per day, Express Parking at $30 per day, BNA Express Park at $27 per day, and Long-Term Parking at $12 per day.
With Enjoy Travel the cost of parking for a week at Nashville International Airport varies depending on the parking option chosen, with Terminal Parking priced at approximately $168 for seven days, Economy Parking at approximately $98 for seven days, Valet Parking at approximately $266 for seven days, Express Parking at approximately $210 for seven days, BNA Express Park at approximately $189 for seven days, and Long-Term Parking at approximately $84 for seven days.
Explore popular airports in the US