Portland International Airport Parking
Find the best parking deals at Portland International Airport
With a massive choice from the biggest brands, Enjoy the best way to find the best prices for car hire in Portland International Airport.
Huge choice car parks to suit every budget
Save up to 70% compared to buying on the day
Working with the best partners in Airport Parking
Parking at Portland International Airport
Looking for the best parking deals at Portland International Airport (PDX), right?
Congrats – you've just landed in your internet sweet spot. Stick with us for advice on different types of onsite and offsite PDX parking, as well as airport amenities tips that help you plan your pre-flight time to perfection.
And if you're an out-of-towner with even more time to spare before flying, there are loads of great things to do in this awesome part of the nation. For instance, bibliophiles can lose themselves in Powell's City of Books for a few hours. This indie bookstore has over 1 million titles on its (creaking) shelves. And if you love visual art as well as literature, the Portland Art Museum has over 42,000 works to choose from, with pieces from local and global artists. If you're yearning for some thespian action meanwhile, the Portland Center Stage produces plays year-round and reviews are consistently positive. But what if you're more of a great outdoors fan? Forest Park has you covered with 100 miles of hiking trails, or you can hop on the ferry to Sauvie Island and have a chilled-out picnic in stunning scenery. And don't forget Columbia River Gorge – this preternaturally beautiful area has thundering waterfalls, verdant forests and breath taking vistas.
How about family fun? Try the Oregon Zoo (2,000 critters from around the globe), live NBA basketball at the Portland Trail Blazers or passionate MLS soccer at the Portland Timbers. The Portland Children's Museum will also earn you countless Brownie points – there are stack loads of interactive exhibits on everything from art to science. And the Oregon Children's Theatre has a calendar packed with family-friendly events year-round.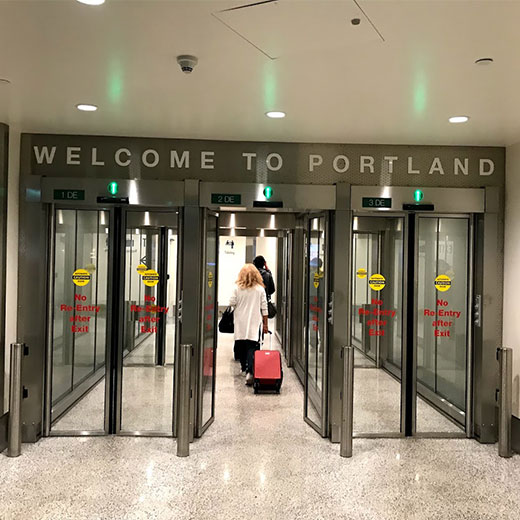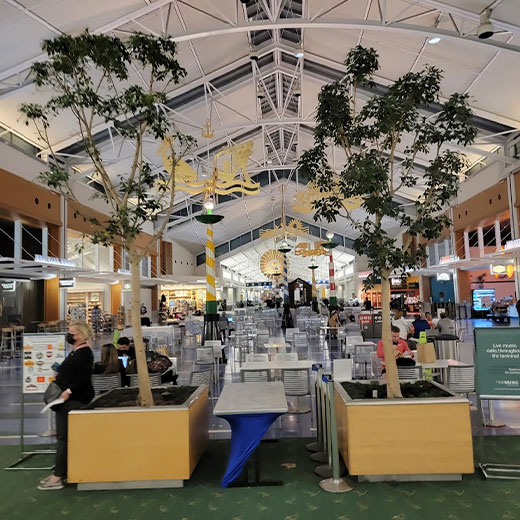 Find the best deals at Portland International Airport
If you haven't looked for Portland Airport parking for a while, how do you get started?
Well, you're doing something savvy right now by checking online – particularly with a reliable source (ahem, like this one). And other good principles to follow are booking in advance wherever possible (to bag cheap deals) and being open-minded bout off-site PDX parking (sometimes more affordable).
If you shop around, you may also find websites that offer special coupons and discounts for parking at PDX – worth a shot.
Admittedly, we're biased, but we reckon that reading a carefully-curated airport parking guide for your particular hub is the best plan overall. And that's the exact motivation behind us scouring the internet to bring you the info you need on a plate!
Compare parking at Portland International Airport
Portland International Airport has an impressive 11,200 spaces – so provided you plan ahead, you won't struggle to find a spot that suits you.
And on-point parking is part and parcel of an airport that's been years ahead of its time since way back when it was first built in 1926 – and started life at Swan Island Municipal Airport. It took on its Portland International Airport moniker in 1951 and moved to its present location 8 years later.
In 2018, PDX processed over 29 million passengers and it has also been named one of North America's greenest airports. Injecting $11 billion into the local economy annually and supporting over 50,000 jobs, this airport has lots of economic clout in this part of the US.
What parking is there at Portland International Airport?
If you're open to booking through a (reliable) third party, you can sometimes find good on- and offsite deals on comparison sites. APH and Looking4Parking are just two examples and as well as regular discounts on short-term, long-term, and economy parking, they often offer discounts for military personnel, seniors, and AAA members.
For now though, let's take a closer look at official PDX parking.
Short-term parking
The closest parking to the terminal, short-term parking is easy and convenient, with two short-term garages and a single short-term lot. Fees are charged at a flat rate and all facilities are safe and secure.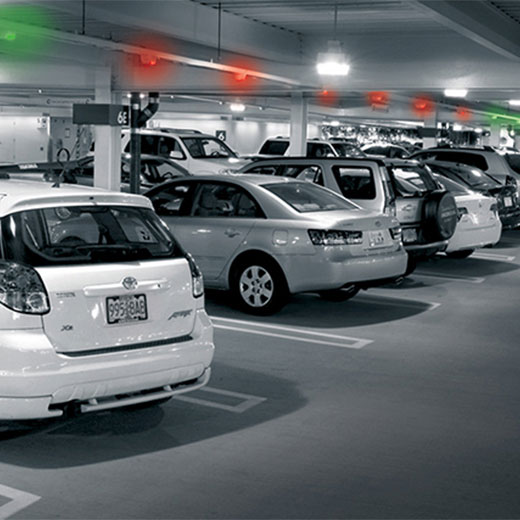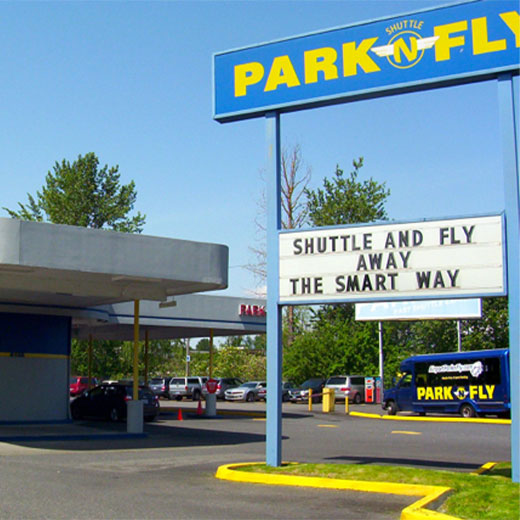 Long-term parking
Further away from the terminal (but considerably cheaper), Long-term parking at Portland International Airport is spread across two long-term parking garages and one long-term lot. Fees here are also charged at a flat rate.
Economy parking
If you're a thrifty traveler, economy parking is sure to appeal. It's the furthest official parking from the terminal and there's one lot available. When you want to save some Benjamins for something more exciting than parking, this is your best bet.
Valet parking
Want the VIP treatment? Maybe you're a corporate traveler who wants to minimize hassle? Choose Valet parking in front of the terminal and your car's parked for you as you skip inside.
Cell phone waiting lot
Free to use, the cell phone waiting lot is only for use if you're picking up or dropping off passengers.
Getting to Portland International Airport
Another great thing about PDX is how easy it is to drive to from neighboring cities and towns.
If you're leaving from Portland, take the I-84 East to I-205 North, exit onto the I-205 North and take Airport Way West exit off I-205, then follow Airport Way to the terminal.
From Beaverton, take the I-5 South to I-84 East, then the I-84 East to I-205 North, exit onto the I-205 North and take the Airport Way West exit, then follow Airport Way.
From Tigard, take the I-5 South to exit 217 TV Highway, follow TV Highway to I-205 West, then take I-205 West to I-84 East. After that, take exit 280A (Airport Way) and you'll soon be at your destination.
From Hillsboro, take I-84 East to exit 280 A, Airport Way, then follow the road to the terminal.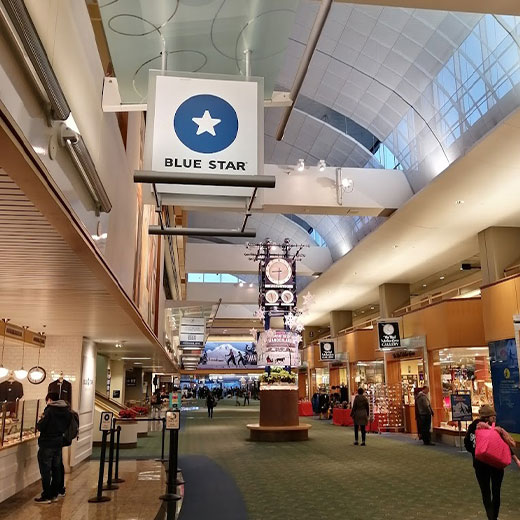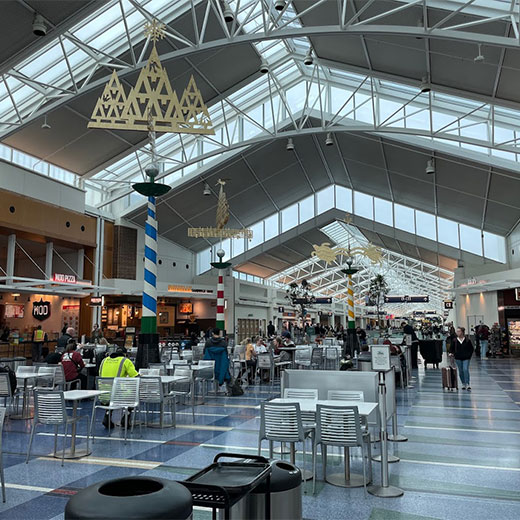 Facilities at Portland International Airport
If you're expecting the facilities, amenities and various pitstops at Portland International Airport to be excellent, you won't be disappointed. There's everything you need to make your pre-flight experience more pleasant and a lot more besides.
First off, there's free Wi-Fi throughout the terminal and plenty of power outlets to charge up those phones, PCs and tablets (this is a godsend when you're traveling with kids, trust us). There are plenty of restrooms located throughout the terminal (always good to know) and several currency exchange kiosks and ATMs too.
You'll find luggage storage facilities throughout PDX, several pet relief areas and lots of well-appointed baby changing areas (complete with changing tables, bottle warmers and nursing rooms). Medical assistance and help with wheelchairs are also available.
How about the shops though?
There's lots of retail therapy available at Portland International Airport, so be sure to leave space on your credit card! If you've got your eye on something sparkly for someone special (including yourself) Adorn has you covered, while Aeropostale is the place for trendy clothes and accessories. If you want beauty creams and balms meanwhile, make a beeline for Alchemy, and Apple is your trusty choice for top-end electronics.
If you're in the market for a new handbag, Beg, Borrow, or Steal is stacked floor-to-ceiling with designer items, and Banana Republic is the perfect place to pick up some stylish clothes for your trip. If you're a book bug who likes nothing better than the smell of a real paper tome, treat yourself to a holiday read from the bestsellers and classics at Barnes & Noble, Cascadia Trading Company specialises on Oregon-made gifts and Clarins is ace for designer cosmetics.
Need a gift for an outdoorsy pal (or a rugged new jacket for yourself)? Don't miss Columbia Sportswear. Then Disney has all your classic movie-themed toys and gifts. While Fossil is fantastic for designer wristwatches, Harrods is in a league of its own for luxury goods and INMotion specializes in entertainment, movies and electronics. And how could we forget the Nike store? The sportswear giant was born in this part of the world.
Belly rumbling? Set yourself up for a healthy trip with snacks, juices and smoothies from Jamba Juice, or tuck into some ocean-fresh fare at Mo's Seafood & Chowder. O'Charley's serves good old-fashioned American food and Potbelly Sandwich is the place for brilliant bread and hearty fillings.
If you love twisting your tongue round snacks, Aunty Anne's Pretzels is a must-visit, while Bistro PDX has salads and steak sandwiches, and Burgerville is the go-to emporium for fresh patties, fries and shakes.
When you need a caffeine fix, try Caffe Calabria (pastries are pretty good here too) and last but by no means least, Cha! Cha! Cha! is the top choice for spicy Mexican goods.
Got a Question? Chat with our US support team
Our online chat is available 8:30am to 5:00pm weekdays. Email: [email protected]
FAQs about car hire at Portland International Airport
Most frequently asked questions about hiring a car at Portland International Airport
If you opt to modify or annul your parking reservation at Portland International Airport, as long as you do it with a minimum of 48 hours prior to your scheduled trip, there will be no charges incurred. Nevertheless, if you make changes or cancel within the 48-hour timeframe, a fee of $5 will be applied.
According to Enjoy Travel, the most effective way to secure the greatest parking discounts at Portland International Airport is to utilize their online reservation system in advance.
Portland International Airport offers multiple parking choices, including short-term, long-term, economy, valet parking, and electric vehicle charging stations, catering to a range of needs and preferences for travelers.
To find a parking spot at Portland International Airport, the recommended approach is to adhere to the signs and directions provided within the airport grounds.
Portland International Airport ensures parking safety through measures such as surveillance systems, well-lit areas, security personnel, emergency call boxes, regular patrols, and vehicle assistance services.
The distance between the terminals and the different parking areas at Portland International Airport varies, with short-term parking located nearby for convenient access, long-term and economy parking situated farther with shuttle service provided, and valet parking typically positioned close to the terminal entrance.
Yes, you can charge your electric vehicle at Portland International Airport. The airport provides dedicated parking spots with electric vehicle charging stations to accommodate eco-conscious travelers. These charging stations allow you to charge your electric vehicle while parked at the airport.
Yes, it is allowed to park for an extended period overnight at Portland International Airport. The airport offers long-term parking options specifically designed for travelers who need to park their vehicles for an extended duration, including overnight stays.
It is recommended to make an advance reservation, particularly during busy times, to secure a parking space and take advantage of discounted rates.
There is a possibility of incurring additional fees based on the arrival time if you arrive early for parking at Portland International Airport, and payment for parking can be conveniently completed using a credit or debit card when exiting the parking facility.
The most economical parking option at Portland International Airport is typically the economy parking. This option is designed for longer stays and offers lower rates compared to other parking choices.
The daily parking rates at Portland International Airport are: short-term parking has a maximum daily rate of $27, long-term parking has a maximum daily rate of $24, and economy parking has a maximum daily rate of $10.
With Enjoy Travel the approximate weekly parking rates at the airport range with short-term parking costing up to $189, long-term parking costing up to $168, and economy parking costing up to $70.
Explore popular airports in the US