Kansas City International Airport parking | fly MCI
Find the best parking deals at Kansas City International Airport
With a massive choice from the biggest brands, Enjoy the best way to find the best prices for car hire in Kansas City International Airport.
Huge choice car parks to suit every budget
Save up to 70% compared to buying on the day
Working with the best partners in Airport Parking
Parking at Kansas City International Airport
Looking for Kansas City Airport (MCI) parking?
You've found the sweetest corner in all of the internet.
Keep it right here for all the best tips on parking at MCI, as well as sage advice on where to eat, where to shop and even where to stay.
But if you're rolling in from out of town and aren't in too much of a rush, why not leave early and spend a day exploring Kansas City?
Arty types love visiting the Nelson-Atkins Museum of Art, with its famous collection of over 40,000 works from around the world. And you can mix art with shopping at the Country Club Plaza, where fountains and sculptures complement the 150 stores and restaurants.
If music strikes a chord, you can learn all about the history of Jazz at the American Jazz Museum, located in the iconic 18th & Vine Jazz District, favorite hangout of many famous musos. And there's more history at the World War I Museum and Memorial, which recounts the story of the US in WWI via fascinating exhibits and artifacts.
Other Kansas City attractions include the Starlight Theatre in Swope Park, which hosts exciting performances spanning everything from Broadway shows to intimate concerts. Foodies will also know that Kansas City is renowned for barbecue and a barbecue tour takes you to some of the tastiest joints.
For family fun, the Kansas City Zoo has 1700 animals from all over the world, while the hip Westport neighborhood is the place to hang out and people-watch in boho bars, boutiques, art galleries and restaurants.
If you want to let your hair down a little more, The Peanut is a brilliant bar famous for its friendly atmosphere and tasty wings, while The Brickyard in the Crossroads Arts District has a superb selection of craft beers and The Rieger specialises in classic cocktails and a glam retro atmosphere.
Alternatively, Drum Room in the Hilton President Hotel boasts live jazz complemented by beautiful cocktails.
And if you're hungry in Kansas City, how's the cuisine scene? Q39 serves top-class barbecue with a contemporary feel, Sushi Tomi specialises in Japanese treats, and the Capital Grille serves succulent US meat dishes.
In terms of hotels, there are plenty of accommodation choices. For starters, The Raphael Hotel, Autograph Collection is a luxurious pad in the middle of downtown, while 21c Museum Hotel Kansas City in the Crossroads Arts District boasts a swish restaurant, cool bar and high-end museum.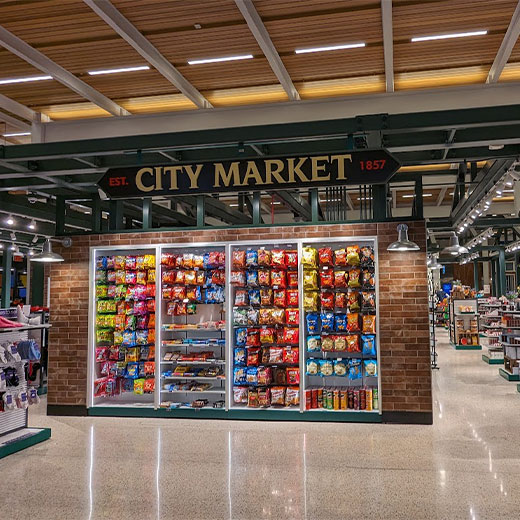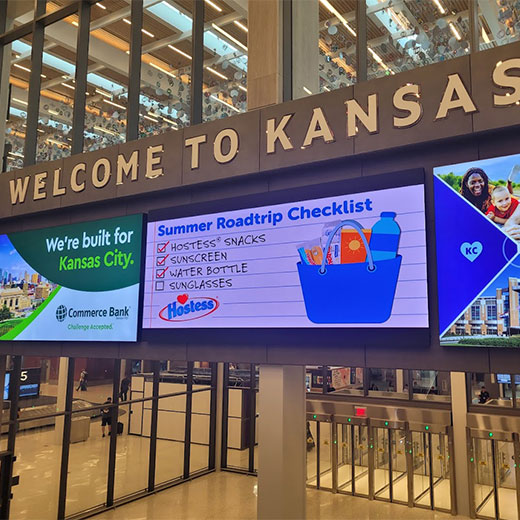 Find the best deals at Kansas City International Airport
Determined to exhaust all options in your quest for cheap Kansas City International Airport parking?
There are a few time-tested tactics you can try. For instance, lots of parking lots in the vicinity of MCI offer loyalty programs whereby you can access discounted prices and free days when you book a block of parking.
Then there's offsite parking – if you're prepared to park a little further from MCI and get a shuttle in to the airport, chances are you'll make savings compared to onsite parking. And another alternative is carpooling, which allows you to stick to a reduced budget and travel in a way that's kinder to the planet.
You should also remember to book your parking in advance if possible, shop around and compare rates, and search online for garages and lots offering deals for military personnel, seniors and AAA members.
Compare parking at Kansas City International Airport
With 12,000 spaces, you won't spend long finding the best bay at MCI (although it's always best to book ahead).
And the capacity for prompt parking is just one positive feature of this airport, which has a history stretching back to 1972, when it opened as Mid-Continent International Airport. Originally costing $250 million, it was designed as a replacement for Kansas City Municipal Airport and a hub for TWA.
MCI was actually a parking pioneer – its original 'drive to your gate' design allowed passengers to park vehicles right by their gates and walk onto flights. And its fully automated baggage handling provision was also the nation's first.
MCI rapidly rose to become one of the Midwest's busiest airport and remains a major gateway to this day – despite TWA's demise in 2001.
What parking is there at Kansas City International Airport?
It can sometimes be worthwhile checking airport parking comparison sites for cheap MCI parking deals. For instance, APH offers discounts on short-term, long-term and valet parking.
And you can also try Looking4Parking, which offers similar deals.
For now though, let's check out your official Kansas City International Airport parking options.
Park Garage
Right next to the terminal, this garage is the most convenient option at MCI but also the most expensive.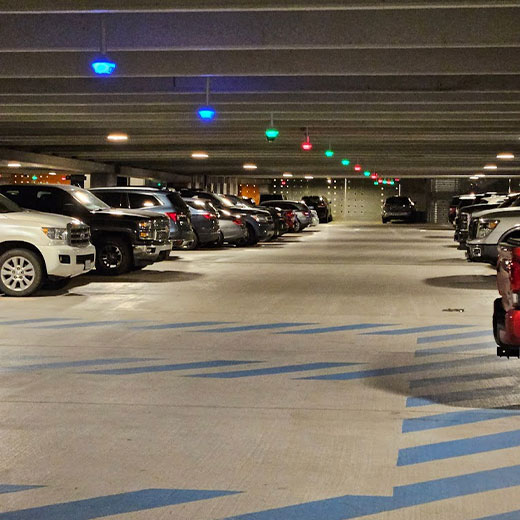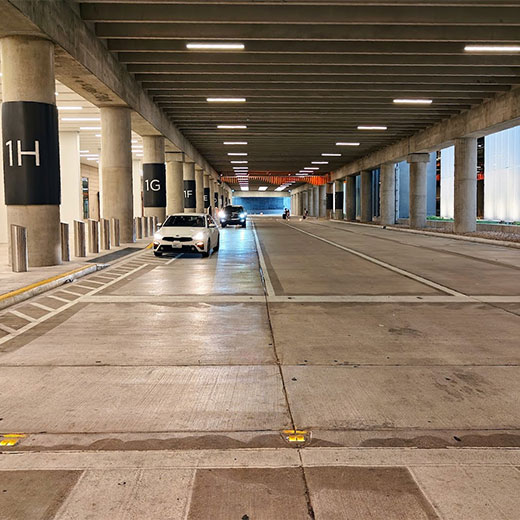 Circle Lots
A short stroll from the terminals, these lots are more affordable but still secure.
Economy Lots
The most affordable airport parking option at MCI, these lots are located further away but there's a free shuttle service.
Cell Phone Waiting Lot
Located just off the airport complex, this free lot is perfect for picking up and dropping off passengers.
Valet Parking
The ultimate in convenient parking, MCI's valet service allows you to roll up and step up while a pro parks your vehicle for you. It's not cheap, but you can decide if you're willing to pay a premium for the convenience.
Getting to Kansas City International Airport
MCI's easy to drive to from nearby towns and cities.
From Independence, take I-70 East to Exit 137B for MCI, then follow the airport line.
If you're driving in from Lee's Summit, take I-435 North to I-29 North, then Exit 12 for MCI and follow the airport signs.
Rolling in from Overland Park? Take I-35 South to I-29 North, then exit 12 for MCI and follow the signage.
From St Joseph, take I-29 South to Exit 12 for MCI and follow the airport signs. And from Lawrence, take I-70 West to Exit 137B for MCI, then follow the signs.
Plan ahead and allow for traffic, be aware that there can be construction near the airport and carefully follow the airport signs.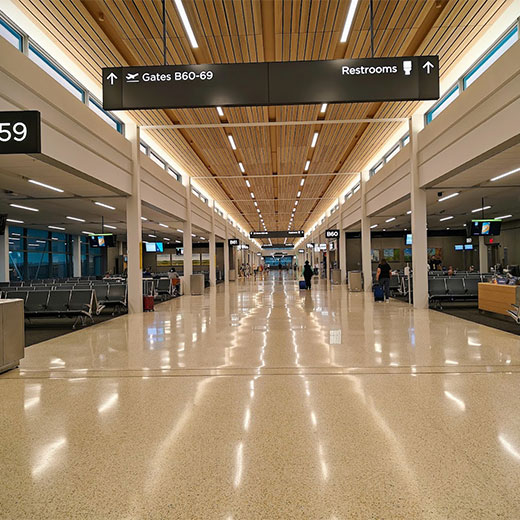 Facilities at Kansas City International Airport
Facilities at MCI are good. And no matter whether half an hour or facing unexpected delays, it's good to know your pre-flight experience will be as pleasant as possible.
If you need to withdraw cash, there are several ATMs located throughout the complex, and there's also a good currency exchange in the main terminal.
And when you need to check your email and social media accounts, there's free Wi-Fi throughout the airport. Want some respite from the busy airport concourse? There are several lounges offering amenities like comfortable seats and complimentary food and drink.
When nature calls, you'll find well-appointed family restrooms throughout the airport, and they have changing tables and various amenities for families with young kids.
There are also pet relief areas outside of the airport and various transport links, such as shuttles, buses and taxis.
When you're ready to shop at MCI, there are lots of good options. For example, made in KC sells local food, clothing, souvenirs and keepsakes, while Hudson News sells your favorite paperbacks, magazines, gifts and snacks.
Pop into Brookstone for electronics, gifts and travel gadgets, Duty Free Americas for high-quality alcohol and fragrances, and Victoria's Secret for lingerie and beauty products.
One way to mitigate arguments is to make sure you and your travel companions are flying on full stomachs – especially if you're traveling with teenagers in tow.
Eating options at MCI include Made in KC Kitchen specialises in tasty dishes crafted form local ingredients, such as sandwiches, pizza and barbecue, and Qdoba Mexican Grill spices up your life with quesadillas, tacos, and burritos.
Starbucks serves a vast variety of coffees as well as sandwiches and pastries, while Sbarro is an inspirational Italian featuring pizza and pasta like mamma used to make. Last but not least, if you're partial to a pre-flight beer or two, try Bar Louie, which serves burgers, salads and sandwiches too.
Kansas City Airport has one of the most unique public art collections, with over 100 pieces from local, regional and international artists. One of the most iconic pieces is 'Ornithology' by Willie Cole, a tribute to Jazz legend Charlie 'Yardbird' Parker.
As you can see, Kansas City Airport has a great parking provision and much more besides. Wherever you're flying to, have a safe trip.
Got a Question? Chat with our US support team
Our online chat is available 8:30am to 5:00pm weekdays. Email: [email protected]
FAQs about car hire at Kansas City International Airport
Most frequently asked questions about hiring a car at Kansas City International Airport
To prevent incurring any fees, it's necessary to adjust or cancel your booking for Kansas City International Airport parking no less than 48 hours prior to your intended journey. Yet, should alterations be conducted within this 48-hour timeframe, a charge of $5 will be applied.
Per Enjoy Travel's suggestion, the most optimal and effective approach to obtain significant parking savings at Kansas City International Airport involves utilizing their online booking platform with ample foresight.
Kansas City International Airport offers a range of parking choices including terminal parking, economy parking with shuttle services, long-term parking, valet parking, Park Air Express off-site parking with shuttle services, and a cell phone waiting lot for passenger pickups.
The simplest and most efficient way to locate parking at Kansas City International Airport is to follow the well-marked signs leading to the various parking choices, facilitated by the established road network within the airport grounds.
Kansas City International Airport implements a range of safety protocols for parking, including regular security patrols, well-lit parking areas, surveillance cameras, and collaboration with law enforcement agencies to ensure the safety and security of parked vehicles and passengers.
The terminal parking garages are located adjacent to each terminal, providing immediate access. Economy and long-term parking lots are a bit farther and are serviced by shuttle services that transport passengers between these lots and the terminals.
Yes, Kansas City International Airport provides electric vehicle charging stations for passengers who need to charge their electric vehicles. These charging stations are designed to accommodate the growing popularity of electric vehicles and offer convenient charging options for travelers.
Yes, parking for an extended period overnight at Kansas City International Airport is allowed. The airport offers various parking options, including long-term parking, which is suitable for travelers who need to park their vehicles for an extended period, such as overnight stays or longer trips.
To ensure you secure a spot and maximize the benefits of reduced rates, it's advisable to pre-book a parking spot in advance, especially during peak times.
Arriving at the Kansas City International Airport parking lot earlier than planned could lead to additional charges, the amount of which will vary based on the time of arrival. These parking fees can be settled using a credit or debit card upon exiting the parking facility.
The economy parking option at Kansas City International Airport is generally considered the most economical choice for travelers looking to save on parking expenses. It offers budget-friendly rates and, although it may be located slightly farther from the terminals, shuttle services are available to transport passengers between the economy parking lots and the terminals, ensuring a convenient experience.
The rates for economy parking are $7 per day, while the rates for terminal parking are higher, typically around $23 per day.
With Enjoy Travel the cost of parking for a week at Kansas City International Airport's economy parking lot was around $42 (7 days x $6/day).
Explore popular airports in the US