Memphis International Airport parking
Find the best parking deals at Memphis International Airport
With a massive choice from the biggest brands, Enjoy the best way to find the best prices for car hire in Memphis International Airport.
Huge choice car parks to suit every budget
Save up to 70% compared to buying on the day
Working with the best partners in Airport Parking
Parking at Memphis International Airport
Ah, Memphis. There's something lyrical about just saying the name of this famous Tennessee music city out loud.
If you're looking for airport parking at Memphis International Airport, you've landed in precisely the right corner of the internet. And if you're rolling in from out of town, you should definitely extend your vacay or business trip by at least a day to see the sights.
For starters, any serious music fan has to make a pilgrimage to Graceland, former home of The King himself. The lovely home has been kept much as it was prior to the music legend's passing in 1977 and you can explore the lovely grounds and famous interior spaces like the Jungle Room.
Continuing your music tour, you can take in Sun Studio where, as well as the King, iconic musicians like Johnny Cash laid down some of their seminal tracks. History buffs will also enjoy taking in the National Civil Rights Museum, which showcases the history of the US Civil Rights movement, while a trip to Beale Street is mandatory if you want to absorb the unique history of the Blues and hear otherworldly live music.
Meanwhile, when's the last time you saw a troupe of ducks quacking their way through a hotel lobby? If this sounds interesting, it happens every single day at the Peabody Hotel. And you can't mention Memphis without paying homage to the legendary Mississippi River, so take the chance of a riverboat cruise or fishing trip, while the Mud Island Riverwalk recreates the Mississippi River Delta in the form of a 1.5 mile walkway.
If you like animals, The Memphis Zoo has over 3500 of them from all over the world, and the Memphis Botanic Garden is the perfect botanical counterpoint, with its 100 acres of terrific trails and gardens.
If you're looking for something tasty to tempt your taste buds after all that excitement, Central BBQ is where locals throng for delicious pulled pork, ribs, brisket and pulled pork, and Gus's World Famous Fried Chicken has a serious claim to making some of America's best fried chicken, with a huge range of dipping sauces to boot.
For something a little alternative, The Beauty Shop serves classics like mac and cheese and meatloaf in a hip retro setting, and Marlowe's Tavern serves ocean-fresh seafood like shrimp, lobster rolls and fish and chips.
Would you like to sample some of the famous Memphis nightlife while you're in town?
There are lots of different nightspots to suit every taste. For instance, The Peabody Rooftop Bar serves specialist cocktails, and there's a daily happy hour and superb city views, while the Rum Boogie Café has a live music offering that spans country, rock and blues.
If you like retro video games, try the Arcade Bar for drinks accompanies by over 50 classic arcade and pinball machines, while Bluff City Brewery has beers from every corner of the Earth and the Flying Saucer Draught Emporium has over 300 beers on tap. Don't try them all in one session.
Need somewhere to stay? If you liked the duck experience, waddle on in to the Peabody Hotel and book a room, or alternatively try The Madison Hotel Memphis in the downtown area – it has a wide choice of suites and rooms as well as a bar and restaurant.
When you want to stay in tune with the music, choose The Westin Memphis Beale Street, while the Clarion Hotel & Suites Memphis Downtown is a welcoming establishment with surprisingly reasonable rates.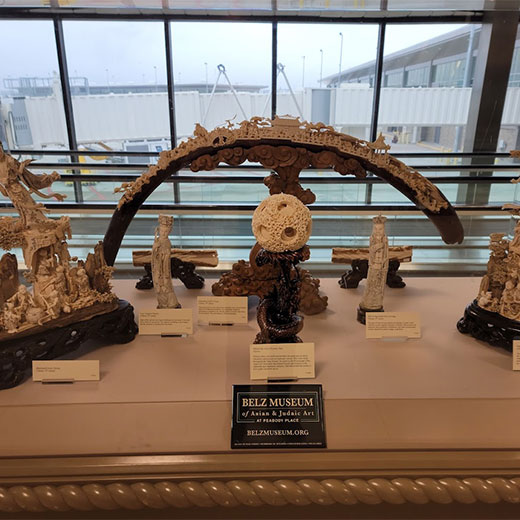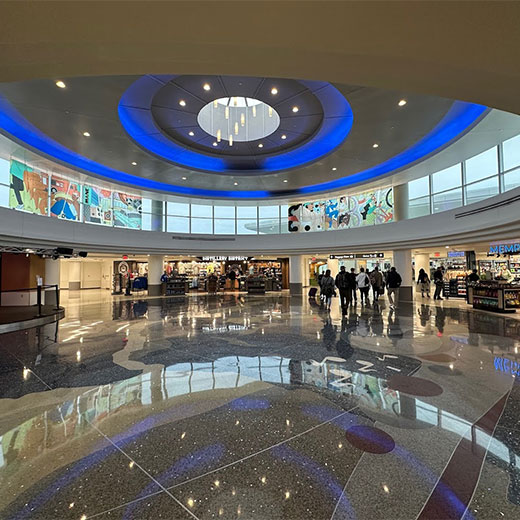 Find the best deals at Memphis International Airport
Not sure you've exhausted every option looking for the cheapest MEM parking?
Sticking right here to get the tea on the best official and unofficial options is your best bet (obviously) but you can also ask your airline directly, because some carriers offer airport parking discounts for regular customers.
If you can carpool or vanpool, you'll also save cash on parking and if you're prepared to try offsite parking, it's usually more reasonably priced than onsite. And don't forget good old coupons – you'll find them online as well as in local newspapers and magazines.
A note of caution: please remember that the cheapest option might not necessarily be the best. For instance, if you have mobility issues or are traveling with kids or elderly relatives, it might not be suitable to park far from the terminal.
Compare Parking at Memphis International Airport
11,500 parking spaces. Three main areas. Parking at Memphis is definitely well organized.
And the people who operate MEM had a plan from the start – way back in 1929 when it was named Municipal Airport. In 1943 it was renamed Memphis Municipal-McKellar Field (after US Senator Colonel John A. McKellar and took on its current moniker Memphis International Airport in 1963.
MEM has benefitted from many renovations, improvement, extensions, and expansions over the years, including a new terminal in 1963, an expansion to accommodate bigger aircraft in 1974, a new control tower in 1992 and more parking and gates in 2006.
Currently the busiest airport in Tennessee, MEM processes 10 million passengers annually via carriers like Southwest Airlines, Delta Air Lines and American Airlines.
What parking is there at Memphis International Airport?
Two airport parking comparison sites worth checking out for MEM parking deals are APH and Looking4Parking. Both these aggregator sites can offer significant discounts on airport parking and depending on your travel dates, they can be the best option.
Let's take a look at your official MEM parking options.
Economy Parking
As you'd expect, this is the most affordable parking option at MEM and it's a 10 minute walk from the terminal.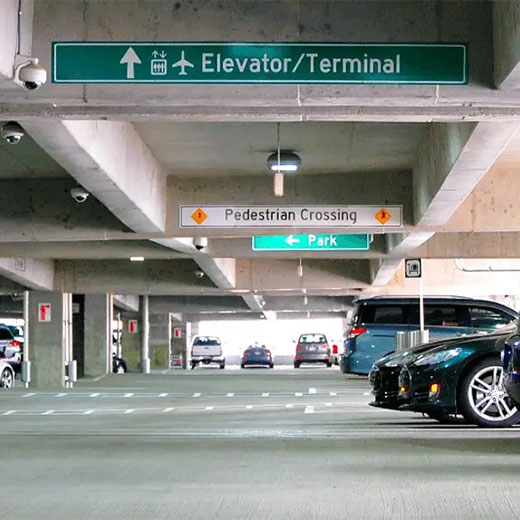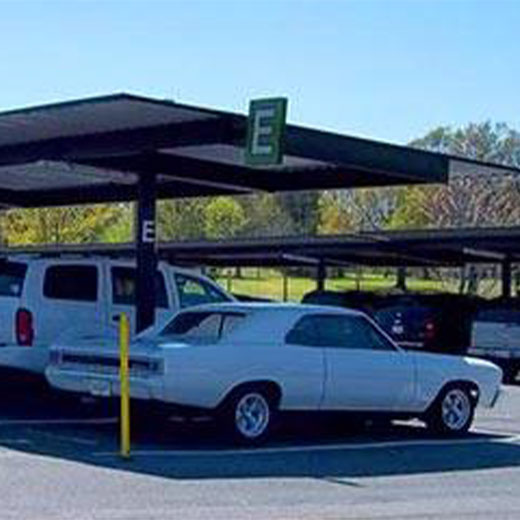 Long-term parking
Around 15 minutes' walk from the terminal, long-term parking rates are reasonable at MEM and it's ideal if you're away for more than a couple of days.
Short-term parking
Located right next to the terminal, short-term parking isn't the cheapest but it's the most convenient for picking up and dropping off passengers.
Ground transportation center
Located reasonably close to the terminal, this area offers very reasonable parking and although it's slightly further out, there's a free shuttle bus to and from the terminal.
Getting to Memphis International Airport
You won't struggle to reach MEM from nearby locations (which is obviously good news).
From downtown Memphis, take I-240 E to I-40 E, then take exit 20 to Airport Road, turn left onto Airport Road and follow it to the airport. Rolling in from Germantown, TN? Take I-240 W to I-40 E, then exit 20 to Airport Road and turn left onto Airport Road and follow it to the airport.
From Southaven, MS, take I-55 N to I-240 E, then exit 20 to Airport Road, turn left onto Airport Road and you'll soon be at MEM. And when you're driving in from Millington, TN, take I-40 E to exit 20 to Airport Road, turn left onto Airport Road and follow it to the airport.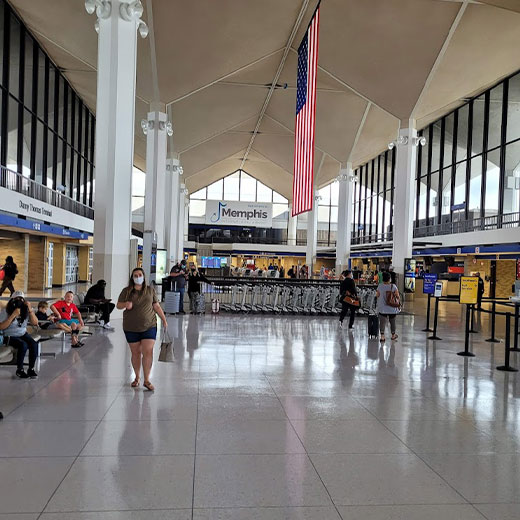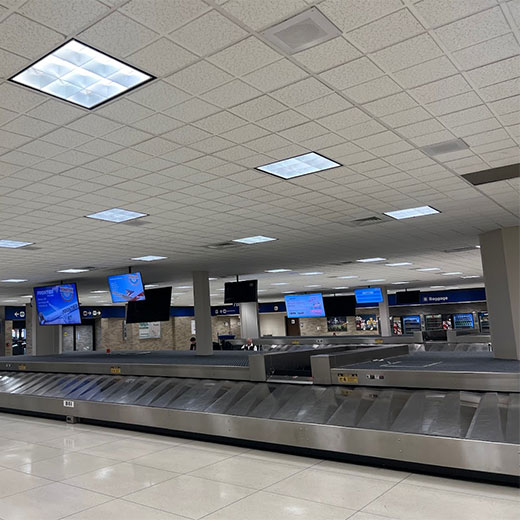 Facilities at Memphis International Airport
Thanks to good facilities and amenities, your pre-flight experience at MEM will be pleasant.
There's free Wi-Fi throughout the premises and a decent food and beverage offering. There are also plenty of restrooms, ATMs, and a good currency exchange.
MEM also has a pet relief area, and the Escape Lounge offers lush food and drinks as well as comfortable seating away from the main buzz of the airport.
Food options at MEM include the mind-blowing selection of specialty coffees from Starbucks, Subway has you covered with 6-inch subs and footlongs stuffed with your favorite ingredients, and Auntie Anne's serves pretzels that are simply divine.
You'll also find a variety of wraps, subs, and salad bowls at Lenny's Grill & Subs, while Stage Left Pizza, Bar & Grille excels at burgers and wings as well as pizzas.
If you appreciate a cold brewski before boarding, Memphis Made Brewing Company has a truckload of beers on tap, and you might also want to pop into Memphis Supply Co. to check out snacks, drinks, souvenirs, and gourmet food gifts from local suppliers.
In terms of shopping, there's a new stand where you can pick up everything from literary classics to the latest bestsellers and glossy magazines, while the pharmacy is perfect for travel essentials, first aid kits and non-prescription medications.
Last but not least, the MEM Duty Free is the ideal place for high end perfume, aftershave, and liquor.
Got a Question? Chat with our US support team
Our online chat is available 8:30am to 5:00pm weekdays. Email: [email protected]
FAQs about car hire at Memphis International Airport
Most frequently asked questions about hiring a car at Memphis International Airport
To avoid incurring any charges, it is essential to modify or cancel your Memphis International Airport parking reservation at least 48 hours before your planned departure. However, if changes are made within this 48-hour window, a fee of $5 will be imposed.
According to Enjoy Travel's recommendation, the best way to achieve substantial cost savings on parking at Memphis International Airport is by using their online booking system well in advance.
At Memphis International Airport, travelers have several parking choices, including short-term, long-term, economy, valet, and off-site parking, each offering various options in terms of convenience and cost.
The easiest and most effective method for finding parking at Memphis International Airport is to follow the clearly marked signs directing you to the different parking options, aided by the well-developed road system within the airport premises.
For parking at Memphis International Airport, safety protocols include surveillance cameras, well-lit areas, security personnel, controlled access, emergency call boxes, regular patrols, and vehicle safety recommendations.
The distance between the terminal and the various parking areas at Memphis International Airport varies: short-term parking is conveniently close, long-term parking is a bit farther with shuttle services, and economy parking, the most budget-friendly option, is the farthest with shuttle service provided.
Memphis International Airport offers electric vehicle charging stations to cater to passengers in need of charging their electric cars. These stations are strategically placed to accommodate the increasing use of electric vehicles and provide travelers with convenient charging solutions.
Yes, Memphis International Airport allows parking for extended periods, including overnight stays.
For the best experience and to take advantage of discounted rates, it's recommended to make a parking reservation in advance, particularly when traveling during busy periods.
Getting to the Memphis International Airport parking area ahead of schedule might result in extra fees, with the specific charges dependent on the arrival time. These parking expenses can be paid using a credit or debit card when leaving the parking facility.
The economy parking option at Memphis International Airport is generally considered the most economical choice for travelers looking to save on parking expenses.
The rates for economy parking are $24 for short-term parking and $6 for long-term parking.
With Enjoy Travel the cost of parking for a week at Memphis International Airport's economy parking lot is $168 for short-term parking and $42 for long-term parking.
Explore popular airports in the US