Knoxville McGhee Tyson Airport Parking
Find the best parking deals at Knoxville McGhee Tyson Airport
With a massive choice from the biggest brands, Enjoy the best way to find the best prices for car hire in Knoxville McGhee Tyson Airport.
Huge choice car parks to suit every budget
Save up to 70% compared to buying on the day
Working with the best partners in Airport Parking
Parking Knoxville McGhee Tyson Airport
You're flying from Knoxville McGhee Tyson Airport (TYS)?
You've decided to drive there?
And you need to find airport parking?
That's three smart moves right there. Followed by your fourth – finding this very guide.
Because by the time you've spent a few minutes in our company, you'll have learned everything that's worth knowing about parking at TYS – as well as the fabulous facilities and amenities that make your pre-flight experience relaxed and refreshing.
But before we dive right in to your TYS parking tips, remember that if you're rolling in from out of town, Knoxville itself is an amazing destination to explore.
For example, culture vultures flock to Market Square, with its welcoming Saturday morning market and inspirational art galleries, boutiques, and restaurants. The Sunsphere is a 600-foot tall tower affording amazing cityscape views. And then there's the Ijams Nature Center, a vast (300-acre) park crisscrossed by bike trails and boasting a dog park, swimming pool and rock climbing wall.
Meanwhile, you can enjoy the smell of the greasepaint and roar of the crowd at the Tennessee Theatre or relax a little while exploring the Museum of East Tennessee History. Alternatively, sports fans love watching the University of Tennessee Volunteers ('the Vols') take on rivals at Neyland Stadium and Knoxville Zoo's 100-animal offering includes tigers, lions, and bears. Don't forget the Great Smoky Mountains National Park either – it's peppered with pretty waterfalls and panoramic hiking trails.
If you're peckish after all those activities, there are plenty of tempting eateries in Knoxville too. For example, the Five Thirty Lounge offers Southern cuisine with a contemporary twist, the Preservation Pub has a warm atmosphere and live music every weekend, and Calhoun's on the River has a lovely waterfront location.
When you want to let your hair down, there are speakeasy vibes at the Peter Kern Library, Casual Pint has craft beers galore, and the Old City Pour House always has a buzz about the place.
For late-night vibes, try The Standard for a chic ambience and live DJ events, the Bijou for a trendy, exclusive atmosphere, and The Mill & Mine for live music in a hip industrial setting.
For overnight lodgings, try the Oliver Hotel for scenic city views, The Westin Knoxville for its plush indoor pool and gym, and the lovely Inn at West Town in the historic district.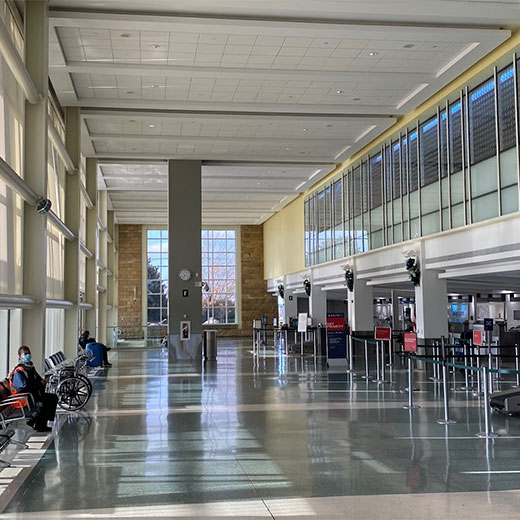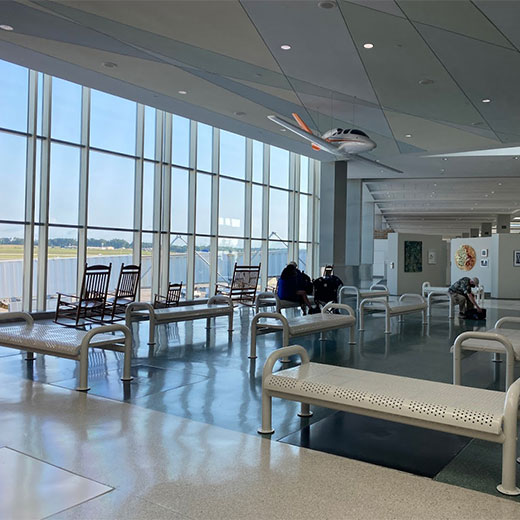 Find the best deals at Knoxville McGhee Tyson Airport
So how do dedicated TYS parking bargain hunters find great deals?
Booking in advance can usually help you save some money (especially for long-term parking) and if you're willing to choose off-site parking, the rates are usually lower than onsite.
If you're a member of the AAA (or another organization) then it's worth checking whether you're eligible for any Knoxville airport parking discounts, and if at all possible, being flexible with travel dates can help too.
you're open-minded, off-site parking is worth considering – there are several such lots near the airport and you hop on a shuttle bus to go to and fro.
Compare Parking at Knoxville Tyson McGhee Airport
With three main parking areas and 10,000 spaces, TYS airport is a well-designed, modern facility.
So it comes as a shock to many people when they discover its first incarnation opened in 1931, when it was named after legendary businessman and aviator Charles McGhee Tyson. That first site covered just 60 acres in the site of the current West High School, but in 1935, the city of Knoxville bought 351 acres in Blount County for the construction of the current airport.
The first commercial air flight (a 10-seat American Airlines Stinson Trimotor) landed in 1937 to kick off proceedings, then the airport was rechristened McGhee Tyson Municipal Airport in 1945. The airport was loaned to the military as a refueling base during the Korean War, and a new terminal was added in 1983. Several refurbishments and expansions followed and today TYS is the 58th-busiest airport in the US.
What parking is there at Knoxville Tyson McGhee airport?
Comparison sites can be another decent source of TYS parking bargains, and APH and Looking4Parking are two of the best. APH often offers cheap deals on economy, short-term and long-term parking, while Looking4Parking offers deals across several different categories and discounts for the likes of AAA members.
Now, it's time to check out your official Knoxville Tyson McGhee Airport parking options.
Short-term parking
Situated right in front of the terminal, short-term parking is very convenient but also your most expensive option at TYS.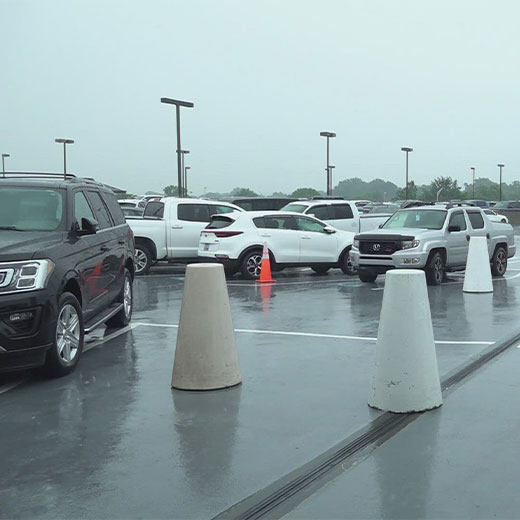 Long-term parking
A little further from the terminals, long-term parking is more reasonably priced and the obvious option when you're away for more than a couple of days.
Economy parking
The cheapest parking at TYS, Economy is also the furthest from the terminal.
Phone & Wait Lot
Designed for picking up and dropping passengers, this free lot is located on Airport Loop Road.
Valet parking
When you're in the mood for a little VIP treatment (or just want top levels of convenience), valet parking is the best choice.
Accessible parking
You'll find designated accessible parking at TYS in all of the three main areas.
Getting to Knoxville Tyson McGhee Airport
The good news when you're driving in to TYS is that it's reasonably easy to get to from nearby towns and cities.
From Maryville, take I-40 East to Exit 397, then turn left onto Lovell Road and follow it to the airport. And from Alcoa meanwhile, take I-40 East to Exit 393, then turn left onto U.S. 129 South and follow that road until you reach TYS.
Cruising in from Rockford? Take I-40 East to Exit 399 and then Turn right onto U.S. 129 South and continue along to the airport. And from Oak Ridge, take I-40 East to Exit 395. Then turn left onto U.S. 441 South and follow it to the airport.
Finally, from Knoxville take I-40 East to Exit 391, then turn right onto Lovell Road and follow it to TYS.
Driving time from all the above locations is 20-30 minutes, depending on traffic and weather.
The airport is in Blount County, Tennessee, and the address is 1100 Lovell Road, Alcoa, TN 37701.
TYS is open 24/7.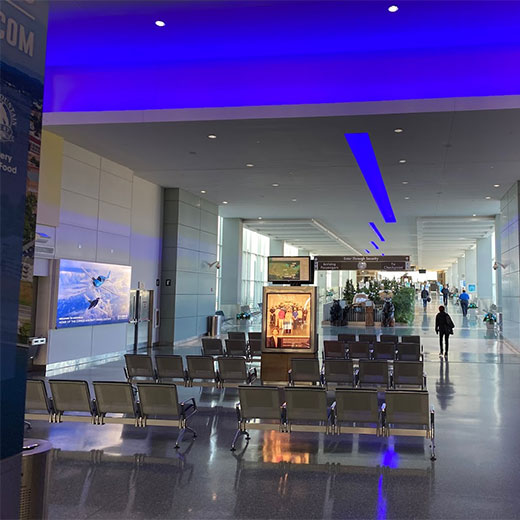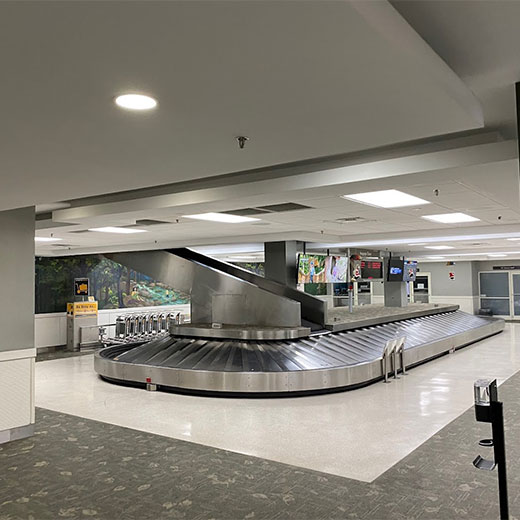 Facilities at Knoxville Tyson McGhee Airport
Whether you're spending a swift 15 minutes in an airport, or an unexpected 3 hours, great facilities and amenities always make it more enjoyable.
And TYS doesn't disappoint. For instance, free Wi-Fi throughout the complex means you can check all your vital messages, and there are plenty of power outlets to charge your favorite devices.
When nature calls, there are restrooms aplenty, and ATMs make it easy to withdraw cash. If you're traveling with small kids, there's a well-designed baby care room in the main terminal, and the food and drink options are good (more of which shortly).
TYS has a choice of comfortable airport lounges for passengers with certain airlines, and there's also a pet relief area outside the main terminal.
If you're hungry at TYS, you're in luck. Express by Uno serves salads, pasts and pizza, Quiznos Subs specializes in superb sandwiches and submarine salads, and Ruby Tuesday offers signature American cuisine. There's also Starbucks for your caffeine and pastry fixes and Tennessee Marketplace for local crafts, keepsakes, souvenirs and snacks.
In terms of shopping, there's a well-stocked convenience store with drinks, snacks and other handy goods, a bookstore selling newspapers, magazines and fiction and non-fiction books, and a duty free shop for cut-price liquor and fragrances.
TYS is also a much more pleasant place to spend time thanks to its public art program. Highlights include The Spirit of Flight by Edd Huckaby - a bronze sculpture of a soaring eagle, located in the main terminal near the baggage claim area, and The Journey by Michael Cole, a big mural highlighting the history of transport in East Tennessee. It's located in the ticketing area.
And there's also The Seasons by John Henry. This is a series of four paintings that represent the changing seasons in East Tennessee, and you'll find it in the security checkpoint area.
Also watch out for the biannual exhibition of rotating works by local artists called Arts in the Airport. This is an exhibition that features a variety of contemporary art, including paintings, sculptures, and photographs. It's held airside behind the security gate checkpoint, so it's open to view only by visitors flying in or out of the airport.
And there you have it – the definitive guide to TYS airport parking, with a whole lot more besides. Enjoy your flight!
Got a Question? Chat with our US support team
Our online chat is available 8:30am to 5:00pm weekdays. Email: [email protected]
FAQs about car hire at Knoxville McGhee Tyson Airport
Most frequently asked questions about hiring a car at Knoxville McGhee Tyson Airport
To avoid incurring any charges, it's essential to modify or cancel your parking reservation at Knoxville McGhee Tyson Airport at least 48 hours prior to your planned departure. However, if changes are made within this 48-hour window, a $5 fee will be imposed.
According to Enjoy Travel's recommendation, the most efficient way to attain substantial cost reductions on parking expenses at Knoxville McGhee Tyson Airport is to utilize their online reservation system well in advance.
Knoxville McGhee Tyson Airport provides various parking options, including short-term, long-term, economy, valet, accessible, cell phone waiting, and electric vehicle charging, to cater to the diverse needs of travelers.
The easiest and most effective method to find parking at Knoxville McGhee Tyson Airport is to follow the clearly marked signs that direct you to the different parking options, all conveniently accessible through the well-organized road system within the airport premises.
Safety protocols for parking at Knoxville McGhee Tyson Airport include security personnel patrols, surveillance cameras, well-lit areas, access control measures, emergency call boxes, regular security patrols, and clear signage to ensure passenger safety and protect vehicles.
The distances between the terminal and the different parking areas at Knoxville McGhee Tyson Airport can vary, with short-term parking being the closest and long-term and economy parking areas located farther away, typically serviced by shuttle transportation for passenger convenience.
Knoxville McGhee Tyson Airport offers electric vehicle charging stations to cater to passengers in need of charging their electric cars.
Knoxville McGhee Tyson Airport generally permits travelers to leave their vehicles overnight for extended periods, offering a range of parking options, including short-term and long-term, to cater to diverse parking needs, including overnight stays.
To ensure the best experience and take full advantage of discounted rates, it's recommended to pre-book your parking, particularly when traveling during busy times.
Coming to the parking facility at Knoxville McGhee Tyson Airport earlier than your scheduled time could lead to extra fees, which will depend on how early you arrive. You can pay these parking charges by using a credit or debit card when you leave the parking facility.
The most economical parking option at Knoxville McGhee Tyson Airport generally depends on your specific needs and duration of stay, but economy parking lots often offer the most budget-friendly rates for extended stays.
The daily parking rates at Knoxville McGhee Tyson Airport vary depending on the parking option chosen, with short-term parking costing around $24 to $26 per day, long-term parking ranging from approximately $12 to $14 per day, and economy parking offering rates of about $9 to $10 per day.
With Enjoy Travel the cost of parking for a week at Knoxville McGhee Tyson Airport can vary depending on the parking option chosen, with short-term parking typically costing around $168 to $182 for seven days, long-term parking ranging from approximately $84 to $98 for the same duration, and economy parking offering rates of about $63 to $70 for a week..
Explore popular airports in the US