Dallas Love Field Airport parking
Find the best parking deals at Dallas Love Field Airport Parking
With a massive choice from the biggest brands, Enjoy the best way to find the best prices for car hire in Dallas Love Field Airport Parking.
Huge choice car parks to suit every budget
Save up to 70% compared to buying on the day
Working with the best partners in Airport Parking
Parking at Dallas Love Field Airport
If you're a little out of practice, searching for parking at Dallas Love Field Airport (DAL) can start to feel like an epic quest.
But when you find a guide like the one you're reading right now, your troubles are over. Because you get not only the latest and greatest DAL airport parking info, but also plenty of useful guidance on the best places to eat, shop, and generally make your pre-flight experience much more pleasant.
And if you live out of the area and haven't been to the big smoke for a while, it might be worth bookending your vacay or business trip with a couple of days exploring Dallas and its environs.
White Rock Lake Park isn't a bad place to start, especially if you love the great outdoors. With 1800 acres of biking and hiking trails, as well as boating and fishing areas, it's a splendid place to while away a day. And sticking with the natural theme, Dallas World Aquarium boasts over 20,000 amazing creatures from the African savannah, Amazon rainforest and Pacific coral reef.
Moving in to the city meanwhile, Highland Park is a wealthy, leafy neighborhood blessed with bijou boutiques and gorgeous mansions, while The Sixth Floor Museum at Delaney Plaza brings JFK's assassination back to vivid, visceral immediacy. For some light relief, try the Irving Arts Center's ballet, theater and classical music program, or the Toyota Music Factory's lively mix of music hall productions, ballet, and classical music.
And for more arty attractions, head to the Mustangs of Las Colinas – a mind-blowing sculpture park centered round the inspirational life-sized equine statues created by Robert Glen.
If all that sightseeing makes you hungry, try Dragonfly for New American fare with an Asian twist and a labyrinthine wine list, or The Mansion Bar for contemporary US classics with sublime views of Turtle Creek. And if you prefer modern soul food, Harlem Social is worth checking out, while Pedernales is a high-end steakhouse serving dry-aged beef and fresh seafood.
Dallas is no slouch when it comes to nighttime hotspots either. Head to The Rustic for rooftop drinks with stunning city skyline views, Clyde's for beers and cocktails, Midnight Rambler for imaginative beverages in a chic, cozy setting, and The Tippler for a bar bulging with over 100 different whiskeys.
You'll probably want to let your hair down next. In which case, Sambuca 360 is a popular Italian restaurant with its own nightclub, Stereo Live Dallas hosts hip-hop parties and EDM nights, and The Epic lives up to its name with a floor-shaking sound system and DJs that permanently keep the dancefloor packed and pumping.
Next, you'll need somewhere to rest your buzzing head. W Dallas Victory Hotel in Victory Park is a plush pad with perfect city views, The Joule in downtown Dallas is comfy and stylish, and Omni Dallas Hotel offers several superb dining options and a revitalizing spa.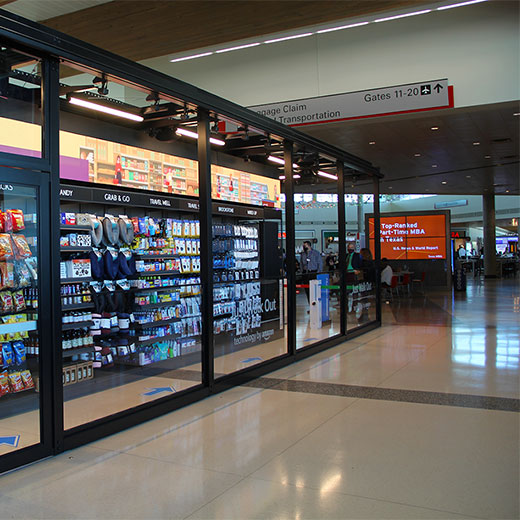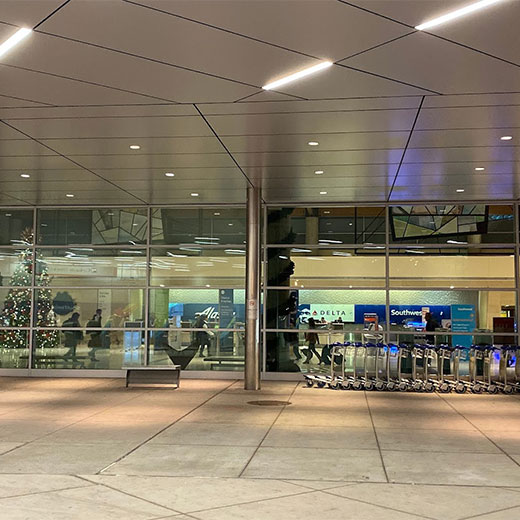 Find the best deals at Dallas Love Field Airport
Now you've found this great guide, your DAL parking woes are over (in our humble opinion).
But in the spirit of transparency, there are lots of time-tested tips you can try. For example, it's often worth checking airport comparison sites and apps for onsite and offsite spots (more of which later). And if you can book in advance, you'll usually bag an early bird bargain (plus you really should reserve your spot if you're traveling at a peak time of the year).
Then, there are good old local magazines and newspapers – remember those? You can sometimes find discount coupons for DAL parking in these types of publications. And if you're willing to try off-site parking (hopping in a shuttle to the terminal) then this can also be very economical.
Compare Parking at Dallas Love Field Airport
With four parking garages, two surface lots and 5,200 spaces in all, the parking provision at Dallas Love Field Airport is generous and aligns perfectly with all of the facilities you expect at a modern air hub.
But actually, the history of Dallas Love Field stretches way back to 1917, when it was commissioned as a US Army training base during WW I. It's named after Lt Moss Lee Love, an Army aviator who sadly passed away during flight training.
DAL kept operating as a military facility right up until 1927, when it was bought by the City of Dallas for civilian use. In 1932, paved runways were constructed, and commercial air activity expanded through the decade.
By the early 1940s, the airport was in action for the military again, and civilian passenger growth boomed once again in the post-war years, with new terminals and another runway built in the 1960s.
Passenger movements at DAL were severely restricted by legislation after Dallas Fort Worth airport was opened in 1974 and these restrictions weren't fully lifted until 2014, after which passenger numbers from DAL immediately rose considerably.
Today, DAL is America's 31st-busiest airport and busiest medium-hub airport, breaking through the 8 million annual passenger barrier in 2018.
What parking is there at Dallas Love Field Airport?
When you want a variety of Dallas Love Field Airport parking, it's also worth checking out parking aggregator sites and apps like Looking4Parking and APH. Sometimes you can find deals for remote parking, garage parking and surface lots that are as much as half price off official rates (depending on the time of year).
For the moment though, let's take a look at the official DAL parking options.
Garages
The four garages at Dallas Love Field Airport are denoted A-D and all offer covered parking a stone's throw from the terminal. It's convenient and rates depend on your duration of stay and choice of garage.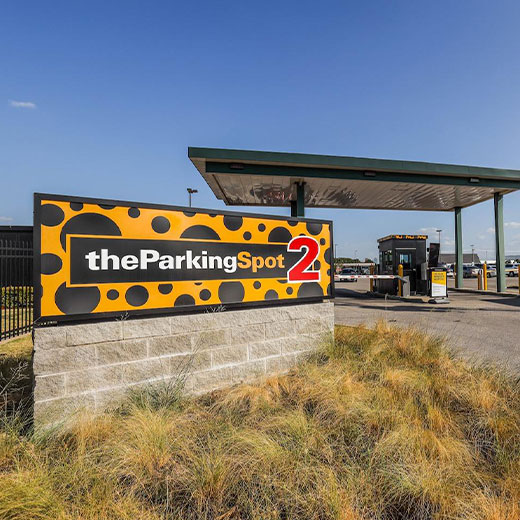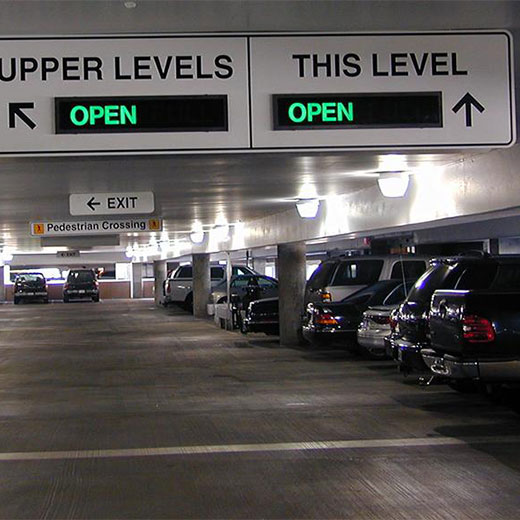 Surface lots
DAL's two surface lots are A and B. The parking is uncovered but still secure, and rates here are cheaper than in the garages.
Valet parking
If you're prepared to pay for the ultimate convenience and luxury, valet parking is your best choice. This is the most expensive option but might be worth it if you want a completely hassle-free experience. You'll find valet parking in the Departures Hall and it's covered, so your vehicle is protected from the elements.
Remote parking
You'll find several remote lots near the airport and the rate for these offsite lots is less than the onsite equivalents. Provided you're willing to hop on a shuttle bus, this can be a great deal for thrifty travelers.
Getting to Dallas Love Field International Airport
Fortunately, DAL is reasonably easy to get to from nearby towns and cities.
If you're driving in from Forth Worth, take I-35 South to I-30 East, then merge on to the airport freeway via exit 4B and follow the signs from Love Field Airport.
Cruising in from Arlington? Take I-30 east to Airport Freeway and follow the signs. And if you're rolling in from Plano, take I-35E South to I-30 East, then take exit 4B onto the Airport Freeway.
When you're driving from Irving, take I-30 East to Airport Freeway and follow the airport signs. And from Richardson, take I-30 East to Airport Freeway and follow the good old signs.
Drive time from all of these locations is 20-30 minutes (depending on traffic).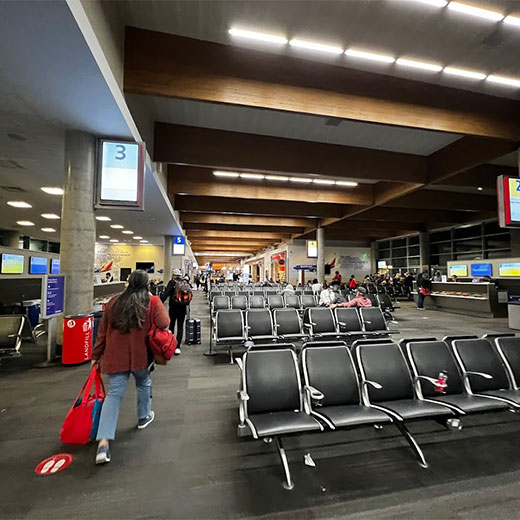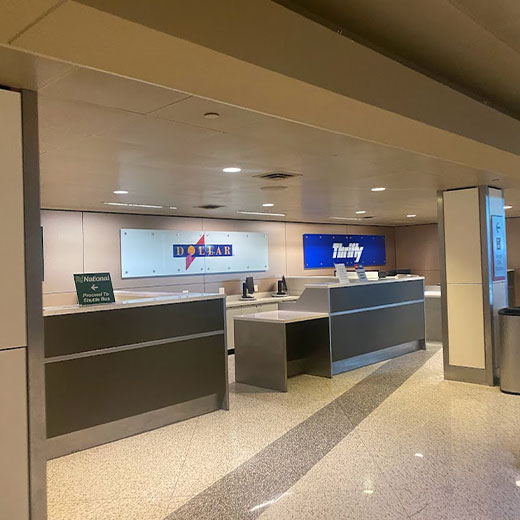 Facilities at Dallas Love Field International Airport
You'll also be glad to know that airport facilities at Dallas Love Field are also pretty good too.
For instance, there are several cafes, restaurants, coffee shops, bars, and lounges where you can take on all your essential vitamins and minerals (or just relax before you board). The choice of shops is good too and the retail choice includes duty-free shops, gift shops and newsstands.
Other amenities include a meditation room, kid's play area and business center.
Shop choices at DAL include Hudson News (grab your papers and gifts before boarding), USO Love Field (snacks, drinks, Wi-Fi, and comfy lounge chairs), Tech on the Go (electronics) and Hudson Nonstop (convenience store).
In terms of eating options, there's the Love Field Café, Bruegger's Bagels, Dunkin Donuts, Fly Bar and Texpress Gourmet.
And last but not least, DAL has some lovely public art pieces, including the 20-ft high LoveBird avian sculpture by Ed Carpenter, and Blueprint of Flight, a 10-foot aluminum sculpture by Paul Saenger, located in the baggage claim area.
And voila – all your Dallas Love Field Airport parking information and much more to chew on besides.
Wherever you're traveling, fly safely!
Got a Question? Chat with our US support team
Our online chat is available 8:30am to 5:00pm weekdays. Email: [email protected]
FAQs about car hire at Dallas Love Field Airport
Most frequently asked questions about hiring a car at Dallas Love Field Airport
To avoid incurring any charges, it is essential to modify or cancel your parking reservation at Dallas Love Field Airport at least 48 hours prior to your planned departure. However, if changes are made within this 48-hour window, a fee of $5 will be imposed.
According to the guidance offered by Enjoy Travel, the most efficient way to realize substantial reductions in parking expenses at Dallas Love Field Airport is to utilize their online reservation system well in advance.
Dallas Love Field Airport offers a variety of parking choices, including terminal parking, garage parking, express parking, remote parking, valet parking, economy parking, and a cell phone waiting area, catering to different traveler preferences and needs.
For a straightforward and efficient way to find parking at Dallas Love Field Airport, just follow the clearly marked signage directing you to the different parking facilities, all conveniently accessible through the well-designed road network on the airport premises.
Safety measures for parking at Dallas Love Field Airport include security personnel patrols, surveillance cameras, well-lit areas, access control points, emergency assistance options, regular security patrols, and in some cases, vehicle registration requirements, all working together to ensure a secure parking environment.
The distances between the terminal and the different parking areas at Dallas Love Field Airport vary, with terminal parking, garage parking, and express parking being the closest, typically within a few hundred feet, while remote and economy parking options require a shuttle ride of approximately 5-15 minutes to reach the terminal.
Dallas Love Field Airport offers electric vehicle charging stations to cater to passengers in need of charging their electric cars.
Yes, Dallas Love Field Airport typically allows parking for extended periods, including overnight parking.
For the best experience and to take full advantage of reduced rates, it's recommended to secure a parking reservation ahead of time, especially when traveling during high-demand periods.
If you arrive at the Dallas Love Field Airport parking facility earlier than your scheduled time, extra fees may apply, and the amount of these charges will be based on how much in advance you arrive. You can pay for these parking costs by using a credit or debit card when leaving the parking facility.
The most economical parking option at Dallas Love Field Airport is typically the Economy Parking area.
The daily parking rates at Dallas Love Field Airport vary depending on the parking option chosen, ranging from approximately $12 to $24 per day.
Enjoy Travel offers various parking options at Dallas Love Field Airport ranging from approximately $84 to $192.
Explore popular airports in the US