San Francisco International Airport Parking
Find the best parking deals at San Francisco International Airport Parking
With a massive choice from the biggest brands, Enjoy the best way to find the best prices for car hire in San Francisco International Airport Parking.
Huge choice car parks to suit every budget
Save up to 70% compared to buying on the day
Working with the best partners in Airport Parking
Parking at San Francisco International Airport
So you're flying from San Francisco? Be sure to wear some flowers in your hair. Actually, scrap that: be sure to read this guide to SFO parking. Because it'll arm you with all the knowledge you need to compare and choose the perfect parking spot at this prestigious airport – and then fly with complete peace of mind. From cheap parking options to specialist spaces, onsite and offsite, when it comes to SFO parking, you've landed in one of the sweetest spots possible.
Whether you're jetting off on a vacay, business trip, or combination of both, it'll be tough for any destination to top Frisco's beauty and perpetually blossoming culture. There are very few cities on Earth where seeing a jaw-dropping view of iconic bridges, a gorgeous bay, hills, mountains and stiletto skyscrapers is so easy. There are plenty of spots in SF where you step out your car or walk a few paces and this heavenly vista materializes before your very eyes.
A creative seedbed with a rich countercultural legacy, San Francisco has inspired writers like Ambrose Bierce, Joaquin Miller, Jack London, and Diego Rivera, as well as Beat Generation icons Jack Kerouac and Allen Ginsberg. In the 1960's, its Bohemian Haight-Ashbury area was a global epicenter of the Hippie movement, with the Bay Area bands like The Grateful Dead, Jefferson Airplane, Sly & The Family Stone and Creedence Clearwater Revival.
Great things to do in San Francisco include visiting the world-famous Golden Gate Bridge with its 746-foot-tall orange-red towers, the Notorious Alcatraz Island (also know as 'The Rock'), and PIER 39, where there's a whole colony of charming California sea lions. Meanwhile, Golden Gate Park is even bigger than the Big Apple's Central Park and, as well as being stunning, hosts institutions like the Academy of Sciences and sparkling glass Conservatory of Flowers. Don't forget the legendary Lombard Street, with its multiple hairpin bends twisting their way down Russian Hill. And fans of architecture love 'The Painted Ladies' – pretty pastel-colored Victorian and Edwardian houses that pepper the Cole Valley, Lower Haight, Haight-Ashbury and NoPa neighborhoods.
So, San Francisco is a tough place to tear yourself away from – but a magical one to return to.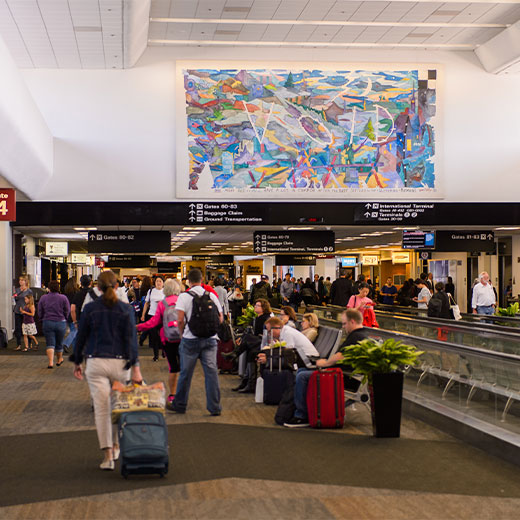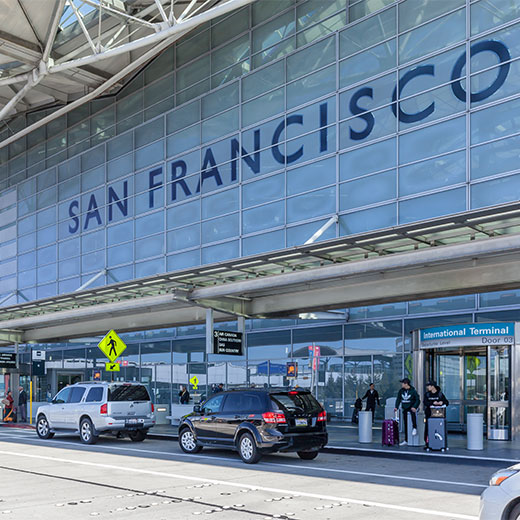 Find the best deals at San Francisco International Airport
How exactly do you find the best deals at SFO? Sure, you can ask friends and colleagues, trawl the depths of the internet, seek advice from your buddy at the bar. And the main metric usually boils down to price. But there's much more to finding the ideal airport parking space than merely seeking the lowest number. Because an attractive price is just one part of the puzzle. You have to be sure that the type of parking you're paying for meets your requirements – and that all depends on the purpose of your trip and the makeup of your travel party.
Relax though- we've done the research so all there's left for you to do is read, think and click a couple of buttons once you've decided. Finding SFO airport parking just got blissfully easy.
Compare Parking at San Francisco International Airport
San Francisco International Airport has 15,200 public parking spaces, plus countless more when you consider the many offsite parking options available.
And the generous parking provision joins a host of other stats that make SFO a seriously good airport. In the last recorded year, SFO processed 16.4 million passengers. 3.29 million of these were international, with the most popular overseas destinations being Asia, Europe, Canada, Latin America, Australia/Oceania, and the Middle East. And SFO is a big hitter when it comes to cargo too, with a total of 439, 358 metric tons of cargo loaded and unloaded – 243,000 metric tons of which was international.
Air travel at SFO stretches back to 1927, when the City and County of San Francisco first leased 150 acres of land for what was planned to be a temporary airport installation. When United Airlines was former in 1934, it became a major SFO carrier, With international flights starting in the 1940s and the airport expanding exponentially ever since.
What parking is there at San Francisco International Airport?
SFO has plenty of official parking options but (if you've got a keen eye for a bargain) it's also worthwhile considering what's on offer from reliable airport parking comparison sites. Take Looking 4 Parking as an example. This provider has excellent deals on Burlingame Airport Parking – Self Park – Uncovered, Crowne Plaza San Francisco Airport – Self Park – Uncovered, Anza Parking – Valet -Uncovered, and more.
If that doesn't float your boat, let's consider your official options.
Early bird booking
The best way to save an official parking spot at San Francisco International Airport is to book online via the official website. And do it as far in advance as possible. The booking system is smooth and hassle free, and it's a contactless system whereby you receive a personalized QR code to enter and exit the garage. Booking is also very flexible – you can cancel or amend it up to two hours before your planned arrival time and the airport also regularly provides discount offers you won't find anywhere else.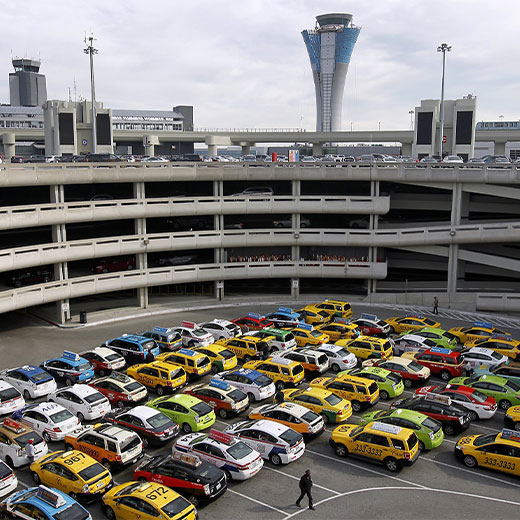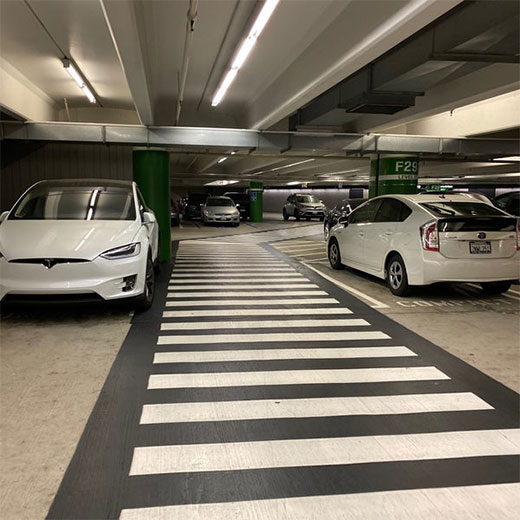 Domestic garage
The domestic garage at SFO had 2540 spots available and there's a maximum vehicle height of 6'6". You simply can't park any closer to the terminals and the garage is covered by CCTV and regular foot patrols.
International Garage A
With an 8'2" maximum vehicle clearance height, International Garage A suits taller vehicles and there are 925 spots available. Booking is flexible and there are no hidden fees, it's safe, secure and very convenient – again, it's conveniently close to the terminals.
International Garage G
This garage for international travelers has the same large clearance height as Garage A and there are 934 spaces in total. With contactless entry and exit and solid security, it's a good option for anyone who wants a relaxed pre-flight parking experience.
ParkFAST
This exclusive space with its own dedicated entry and exit system is located in the Domestic Garage. There are 137 spots available, and parking is at its most relaxing and convenient in this area.
Long Term Garage
Flying out from SFO for an extended trip? Long-term parking is your friend. There are a total of 1144 long-term parking spots across Garage 1 and 2. Please note that Garage 1 has a maximum height of 6'10" and it's 8'2" in Garage 2.
Accessible parking
If you've got a DP (Disabled Person) or DV (Disabled Veteran) license plate or Disabled Parking placard, you'll find convenient accessible parking at SFO. Accessible spaces are located close to the elevator lobbies in the Domestic and International garages and Long-Term parking has accessible spaces on every floor. The AirTrain at SFO is also wheelchair accessible.
Getting to San Francisco International Airport
If you're driving in to SFO from outside the city, the address for GPS is San Francisco international Airport (SFO), 806 s Airport Blvd, San Francisco, CA 94128.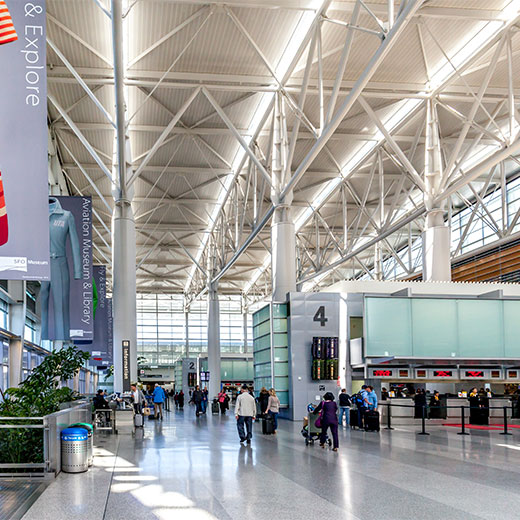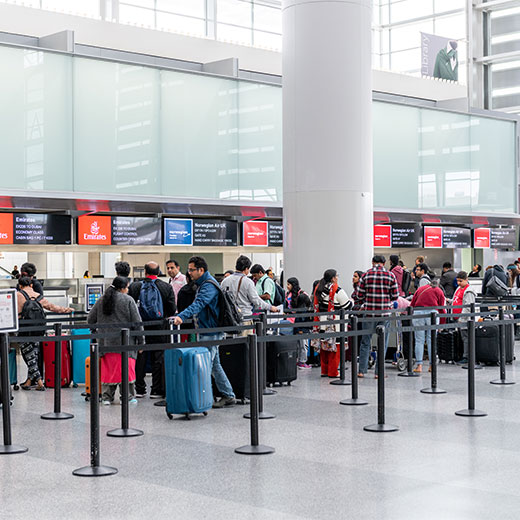 Facilities at San Francisco International Airport
You'll be glad to hear that airport services at SFO are of an excellent standard. There's a medical clinic for all your last-minute medical questions, showers to help you feel refreshed before you board, and even therapeutic yoga rooms (in Terminals 2 and 3).
There are also lots of rewarding cultural and historical attractions, like the museum galleries, video arts rooms, and aviation library and museum, while the Sky Terrace Observation Deck is a magnet for plane spotters.
And there's plenty of choice when you want to shop and relax. Treat yourself to a new pair of shades At NYS eyewear, have a cold beer or delicious cocktail at Bourbon Pub, sample fresh fayre at Napa Farms Market or hot coffee at Starbucks. There's also designer goods at Gucci, magazines and souvenirs at Ingenuity, sweet treats at The Chocolate Market and luggage at PACK-N-GO.
The Kids' Spot at Terminal 3 is also a treat for your young ones – an interactive exploration zone with a crawling apparatus and weather-themed exhibits from the Exploratorium of San Francisco.
SFO also has plush lounges from Air France, Alaska, American Airlines, American Express, British Airlines, Delta, Emirates and Japan Airlines. If you want to stay overnight at SFO, the official recommended hotel is Grand Hyatt at SFO, which has luxurious rooms and lovely views of the Bay and airport from its plus-sized windows.
There you have it – a comprehensive guide to SFO parking and lots of tips on amenities and facilities – you're more than welcome.
Got a Question? Chat with our US support team
Our online chat is available 8:30am to 5:00pm weekdays. Email: [email protected]
FAQs about car hire at San Francisco Airport
Most frequently asked questions about hiring a car at San Francisco Airport
As long as you make changes or cancel your San Francisco Airport parking reservation at least two days before your planned travel, you won't be charged any fees. However, if you modify or cancel your reservation within the 48-hour window, a $5 fee will be imposed.
According to Enjoy Travel, the most efficient method of securing the best parking discounts at San Francisco Airport is to use their online reservation system to book your parking in advance.
San Francisco Airport offers several parking options for travelers, including Hourly, Daily, and Long-Term Parking located close to the terminals, as well as premium ParkValet services, Domestic and International Garages, designated Motorcycle Parking areas, and a free Cell Phone Lot for those waiting to pick up arriving passengers.
The best way to locate a car park at San Francisco Airport is to follow the signs indicating the various parking options. As you approach the airport, you will see signs directing you to the appropriate parking facility.
San Francisco Airport has implemented several safety protocols for parking to ensure the safety and security of its customers. These measures include 24-hour security patrols, CCTV monitoring, and gated parking facilities that require access cards for entry and exit.
The Hourly Parking facility is located directly across from the terminals, making it the closest parking option. The Daily Parking facility is located a bit farther away, and the Long-Term Parking lots are located further still. However, all of these parking facilities provide free shuttle service to and from the terminals.
Yes, San Francisco Airport provides electric vehicle charging stations in its parking facilities. The airport has partnered with ChargePoint to offer over 100 Level 2 charging stations, which are compatible with most electric vehicles.
Yes, it is allowed to park overnight at San Francisco Airport in the designated parking facilities.
During busy periods, it is advised to book a parking spot in advance to ensure availability and to take advantage of reduced rates.
In the event of an early arrival for parking at San Francisco Airport, additional charges may apply, with the amount varying depending on the time of arrival. Payment for parking can be made using a credit or debit card at the exit gate.
The most economical parking option at San Francisco Airport is the Long-Term Parking lot. It is designed for travelers who need to park for several days or longer, and offers a reduced daily rate compared to the Hourly or Daily Parking options.
The Hourly Parking rate is $2 every 15 minutes, with a daily maximum of $36. The Daily Parking rate is $2 every 15 minutes, with a daily maximum of $36. The Long-Term Parking rate is $2 every 15 minutes, with a daily maximum of $25.
With Enjoy Travel the Long-Term Parking rate is $25 per day with a weekly maximum of $150. However, the hourly and daily parking rates are higher and can cost up to $36 per day, resulting in a total cost of $252 for a week.
Explore popular airports in the US