Richmond International Airport Parking
Find the best parking deals at Richmond International Airport
With a massive choice from the biggest brands, Enjoy the best way to find the best prices for car hire in Richmond International Airport.
Huge choice car parks to suit every budget
Save up to 70% compared to buying on the day
Working with the best partners in Airport Parking
Parking at Richmond International Airport
Hey, heard you're looking for parking at Richmond International Airport (RIC)?
Relax, because you've just found your internet happy place: stick with this guide and we'll fill your brainbox with everything you need to know about RIC parking – as well as some useful complementary info about airport facilities, amenities, and great places to eat and drink.
But if you're rolling into Richmond from out of town, you might want to spend some time exploring this super-cool city.
For starters, any fan of literature, poetry or all things Gothic should definitely visit the Edgar Allan Poe Museum – it's his birthplace and has an amazing collection of his memorabilia and personal effects. Meanwhile, history buffs will appreciate a stroll through Hollywood Cemetery, where lots of famous figures are buried – including several Civil War generals, two Supreme Court judges and two Presidents of the USA.
Culture vultures get lots of pickings at the Virginia Museum of Fine Arts, which is one of the largest art museums in the whole of the US, with over 33,000 works including sculptures, artefacts, and paintings from every corner of the Earth. And if comedy acts, live music and Broadway shows are more your bag, you can catch them all at The Altria Theater.
Alternatively, a cathartic space to wander around is the Maymont estate – it's a sprawling property which James and Sallie Dooley once lived in and it's now home to an arboretum and animals like bears, deer, and peacocks. You can also wander around the Canal Walk – a lovely 2.5 mile path that skirts the Kanawha Canal and James River, with sublime cityscape views.
In the city proper, the Carytown district is great when you need some retail therapy – there are lots of super boutiques and bars to people-watch. Alternatively, the Manchester district is a little livelier and there's a definite boho vibe, with lots of cool cafes and pubs. And Richmond is no slouch when it comes to sports events too – there's pulse-racing basketball at the Richmond Spiders, USL League 1 soccer courtesy of the Richmond Kickers and minor league baseball with the Richmond Flying Squirrels (which also might just about be the best sports team name ever).
Fancy some more history? The Virginia State Capitol is an elegant building built in 1788 that's very popular with tourists and the American Civil War Museum is always worth consideration too.
If you're one of those people who aren't happy until they're terrified, Richmond is one of America's most haunted places so there are ghost tours aplenty. After that, you might want to calm yourself down with a brewery tour – there are some excellent craft breweries around Richmond, so find a designated driver for a day and dive in!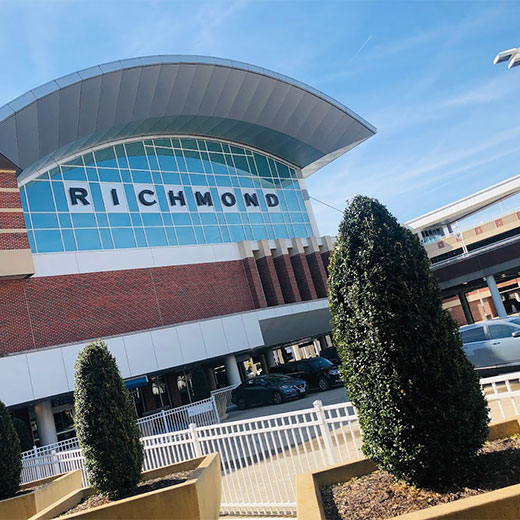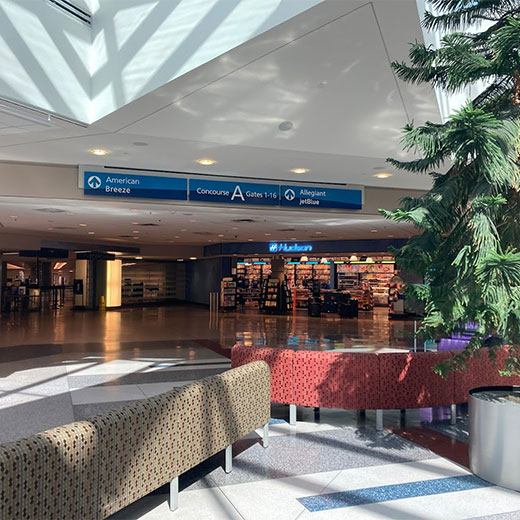 Find the best deals at Richmond International Airport
We'll get into your unofficial and official RIC airport parking options in good time. Meantime, how about some alternative ways to find great parking deals?
For instance, there are several park & ride lots near RIC that offer a free shuttle ride to the airport and they're typically more affordable than the onsite parking options. Alternatively, you can often park at a nearby hotel at a discounted rate and (if you're lucky) you might even have a good friend or relative nearby who you can park with. And if you're environmentally conscious, perhaps you can carpool with friends who are also flying out of RIC at the same time?
Apart from that, it's always good form to book RIC parking in advance (usually cheaper), compare prices before you book and search the internet and local newspapers and magazines for discounts and coupons. Furthermore, if you can be flexible with the type of parking, you can also make savings.
Compare parking at Richmond International Airport
There are 7000 airport parking spaces in total at Richmond International Airport and these are divided into cell phone parking, valet parking, daily parking, and economy parking.
And amazingly, the history of this air hub stretches back to 1927, when cars themselves were a rarity for many people in the US. First named Richard Evelyn Byrd Flying Field as a tribute to pioneering pilot Richard E. Byrd, it grew during World War II, when it was used by the Army Air Force. Interestingly, the 936th Camouflage Battalion built a fake runway four miles away at Elko Tract, in an attempt to fool any Axis Forces bombers that might attack Richmond.
In the post-war years, Byrd Field returned to civilian duties, and it was renamed Richard E. Byrd Airport in 1950. A new terminal building followed in 1968 and in 1984 it was renamed Richmond International Airport. Improvements continued with a new runway in 1997 and by 2007 a major transformation project was complete, which included a brand new terminal building and cutting-edge baggage-handling system.
Today, RIC typically serves 3 million passengers annually and supports 12,000 jobs. It's a major hub for Delta Air Lines and American Airlines, as well as serving carriers like Southwest Airlines and United Airlines.
What parking is there at Richmond International Airport?
It's also worth considering what airport parking deals are on offer from comparison sites and apps. For example, Looking4Parking and APH often have deals on valet parking, daily parking, and economy parking, as well as discounts for senior travelers and AAA members.
The following official Richmond International Airport parking options are great though.
Daily Parking
The closest of all official parking options to the airport, Daily Parking is convenient and charged on an hourly basis up to a maximum 24 hour fee.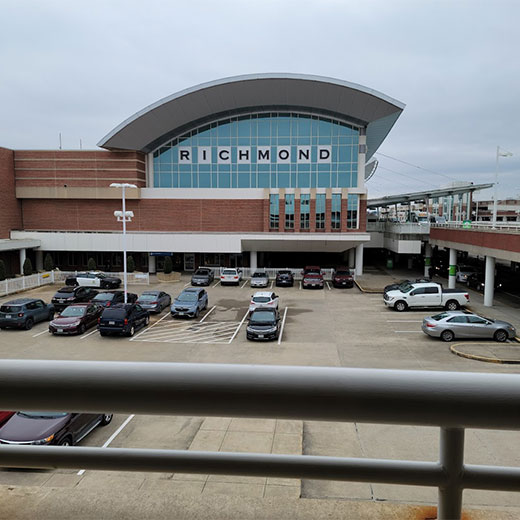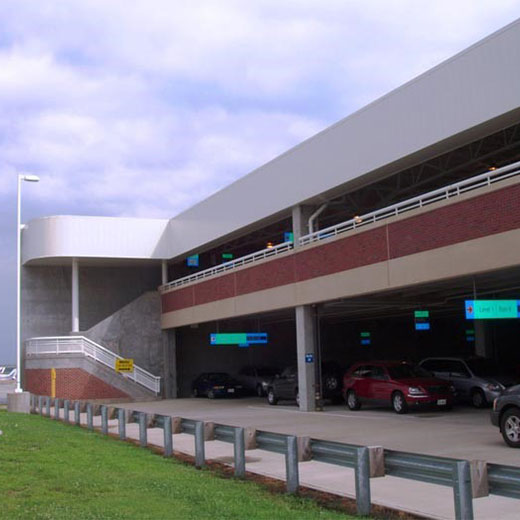 Economy Parking
This parking option is a little further from the terminal but still within walking distance. As you'd expect, the price is very reasonable, with a low hourly and maximum daily rate.
Valet Parking
This is the most expensive parking option at RIC, but it's also by far the most convenient and the daily rate is actually reasonable considering the level of service.
Long-term parking
When you're away for more than a couple of days, this is your best parking option. It's located a little further away from the terminal but is very good value for money.
Accessible parking
There's accessible parking for people with disabilities in designated areas near the terminal and it's free of charge.
Cell phone parking
This ultra short-term parking is for 30 minutes to two hours maximum and is designed for picking up and dropping off passengers.
Getting to Richmond International Airport
With good road links to Richmond and its surrounding areas, RIC is easy to drive into.
From Downtown Richmond, take I-95 S to Exit 144A (Airport Boulevard) and follow this road to the airport. And if you're coming in from Henrico County, take I-64 E to Exit 154A (Airport Boulevard), whereas drivers from Chesterfield County should take I-295 S to Exit 15 (Airport Boulevard).
Driving from Mechanicsville? Take I-64 W to Exit 154A (Airport Boulevard) and Ashland drivers can follow the same route too.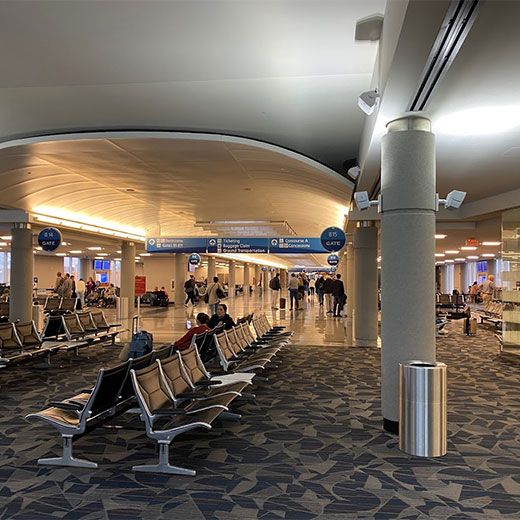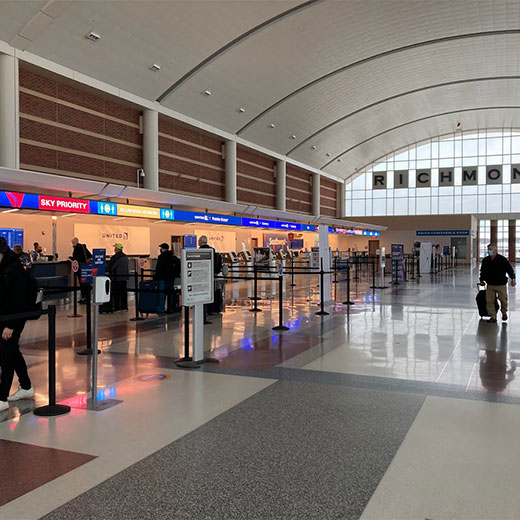 Facilities at Richmond International Airport
The facilities at RIC are fantastic and one of the standout features of this airport is its public art. Some exceptional pieces on display include 'The Spirit of Flight' sculpture by Robert Indiana and James Seawright's 'The River' painting (which represents the iconic James River).
Meanwhile, 'The Virginian' by Edward Steichen is a famous photograph depicting a cowboy riding a horse and 'The Welcome to Richmond' is a fine mural by Paris Allen and Christian Kyle Harris which showcases the city itself.
In terms of less beautiful but more practical features, there's free Wi-Fi throughout the airport, family restrooms and nursing rooms are in abundance and there are several lounges here, for United Club, Delta Sky Club and Priority Pass lounge customers.
If you're jetting off for a corporate trip, you'll be glad to know that there's also a business center at RIC, which includes printers, computer, and fax machines (as well as the free Wi-Fi).
There's also a currency exchange in the airport, several ATMs and wheelchair assistance is available at the curb and baggage claim. You'll also find a pet relief area outside the terminal and there's a chapel for passengers who want to pray, meditate, or simply spend some time in a calm, quiet space.
Meanwhile, there's lots of retail therapy available at RIC. You can grab some reading material at Books-A-Million or Hudson News, treat yourself to new shades at Sunglass Hut or shop for souvenirs and gifts at The Market on Broad.
Great dining options include Applebee's for pasta and burgers, Cross Grain Brewhouse for sandwiches and salads, and Ironclad Coffee Roasters for your caffeine hit accompanied by tasty pastries.
Got a Question? Chat with our US support team
Our online chat is available 8:30am to 5:00pm weekdays. Email: [email protected]
FAQs about car hire at Richmond Airport
Most frequently asked questions about hiring a car at Richmond Airport
If you opt to modify or cancel your parking reservation at Richmond Airport, as long as you do it with a minimum of 48 hours prior to your intended trip, there will be no charges. Nevertheless, if you make changes or cancel within the 48-hour timeframe, a $5 fee will be applied.
According to Enjoy Travel, the most effective way to secure optimal parking discounts at Richmond Airport is by utilizing their online booking system in advance.
Richmond Airport offers a variety of parking choices, including short-term, long-term, economy, valet, and disabled parking.
The most effective method to locate a car park at Richmond Airport is by following the signage and directions provided within the airport premises.
Richmond Airport ensures parking safety through measures such as surveillance systems, adequate lighting, security personnel, access control, emergency assistance, and clear signage.
The distances between the terminal and the different parking areas at Richmond Airport vary, with short-term parking being within a short walking distance, long-term parking a bit farther requiring a shuttle ride, economy parking located at a greater distance with shuttle service, and valet parking offering the closest proximity to the terminal.
Yes, Richmond Airport provides electric vehicle charging stations for travelers who need to charge their electric vehicles. These charging stations are available to use, allowing you to charge your electric vehicle while parked at the airport.
Yes, it is generally allowed to park for an extended period overnight at Richmond Airport. The airport offers long-term parking options specifically designed for travelers who need to leave their vehicles parked for an extended duration, such as during vacations or business trips. These long-term parking areas are suitable for overnight parking.
To ensure a parking space and take advantage of discounted prices, it is recommended to make an advance reservation, particularly during busy periods.
If you arrive early for parking at Richmond Airport, you may incur extra fees depending on the arrival time. Payment for parking can be conveniently made at the parking facility's exit using a credit or debit card.
The most economical parking option at Richmond Airport is usually the Economy Parking. Economy parking is designed to offer budget-friendly rates for longer stays.
The daily parking rates at Richmond Airport typically range from $10 to $25, depending on the parking option chosen. Short-term parking rates are usually higher, while long-term and economy parking options offer more affordable daily rates.
With Enjoy Travel the cost of parking for a week at Richmond Airport can range from approximately $60 to $150, depending on the parking option chosen.
Explore popular airports in the US