Parking at Tucson International Airport | TUS
Find the best parking deals at Tucson International Airport
With a massive choice from the biggest brands, Enjoy the best way to find the best prices for car hire in Tucson International Airport.
Huge choice car parks to suit every budget
Save up to 70% compared to buying on the day
Working with the best partners in Airport Parking
Parking at Tucson International Airport
Searching for parking at Tucson International Airport (TUS)?
Relax, because you've landed in exactly the right corner of the internet. Grab a hot cup of joe, chilled beer, or ice cold soda, take a load off and spend a few minutes with us for great advice on TUS parking and the excellent facilities, amenities, eateries and watering holes available at this awesome airport.
And if you're cruising into Tucson from another location, bookend your vacay with a couple of days exploring the local area, because there are lots of interesting and unusual things to do.
For instance, the Arizona-Sonora Desert Museum is a one-of-a-kind facility that combines a natural history museum, botanical garden, and zoo. With over 3000 animals and plants from the Sonoran desert, there's something fascinating to see in every crevice and corner.
Meanwhile, there are more great outdoors delights at Saguaro National Park, where you can hike, camp under the stars and gaze at the iconic saguaro cactus. And the Sabino Canton is a perpetually popular area for picnics, hiking and swimming.
For something a little different, visit the Pima Air and Space Museum, which boasts brilliant exhibits ranging from the Space Shuttle back to the Wright Brothers' Flyer, or try the Old Tucson Studios, an old movie studio which has been cleverly converted into a thrilling theme park.
For western-themed shows accompanied by tasty cuisine, try Gaslight Theater, while El Charro Café serves up some of the tastiest Mexican food this side of the border, and Revel Pub is a particularly good place to let your hair down, with live music at the weekends and a vast selection of beers on tap.
The Playground is another nice nighttime venue, especially for drinks and dancing the night away, while Baja Café is a Mexican joint with sumptuous seafood and Vivace is an Italian eatery featuring a legendary wood-fired oven.
If your preference is meat-free, Wildflower has earned an enviable reputation for creative vegetarian dishes, while 5 Points Market and Restaurant has a laid-back ambience and fantastic farm-to-table food.
When you're soaking up Tucson's atmosphere and culture, you'll need somewhere comfortable to stay. For a touch of luxury, the Hacienda Del Sol Guest Ranch Resort has multiple restaurants, a spa and golf course, while Lodge On The Desert has been entertaining guests since 1931 thanks to its great service, and outdoor pool and stone fireplace.
And don't forget the Westin La Paloma Resort & Spa, a high-end resort with a 27-hole golf course and no less than five swimming pools! Meanwhile, Loews Ventana Canyon Resort is a luxe abode with dreamy Catalina Mountain views.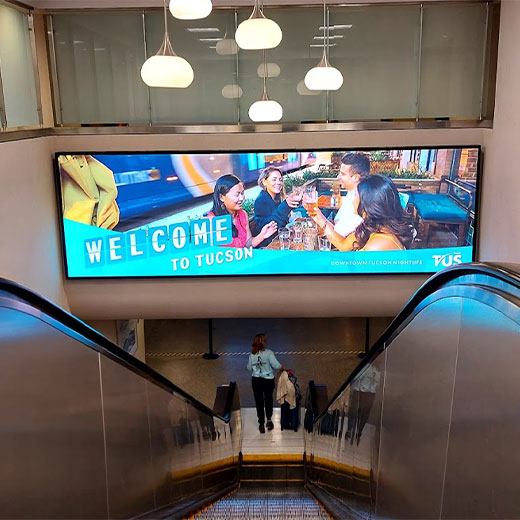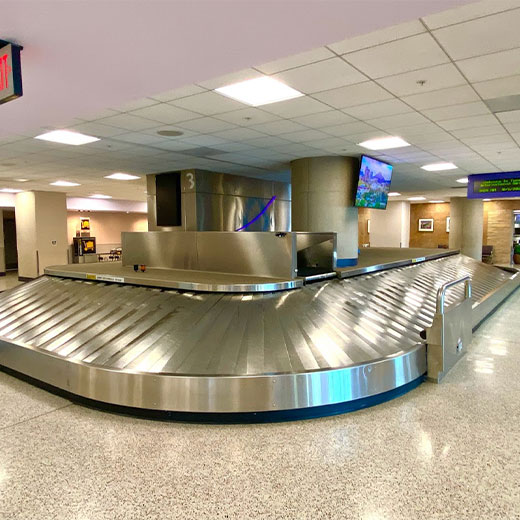 Find the best deals at Tucson International Airport
When you're really determined to find a great parking deal at Tucson International Airport, you want to leave no stone unturned.
One easy inroad is checking and comparing prices for different parking companies online (which is possibly how you landed on this very page) and if you have the time, you can call too. Remember also to look for discounts for certain groups like military personnel, senior citizens, and AAA members.
If you're open to off-site parking, it's usually cheaper than on-site and only a little less convenient as most provide a shuttle service into and out of TUS. And booking as soon as possible means you might grab an early bird bargain from certain providers.
Compare parking at Tucson International Airport
One thing's for sure, provided you plan ahead you'll find a parking space at TUS, because there are 7500 of them!
And Tucson International Airport has moved with the times since it was first opened as the first US municipal airport in 1919 (then named Tucson Municipal Airport). Commercial flights commenced nine years later and by 1930 an airmail service was running too.
Used by the USAAF Air Technical Service Command during WWII, the airport returned to mixed use in the post war years and benefitted from a huge expansion project in the 1960s (including a brand new runway and terminal expansion). This project allowed TUS to handle large aircraft like the famous Boeing 747 Jumbo Jet and after embracing the jet age, it never looked back, expanding right up until the present day.
These days, TUS is southern Arizona's largest airport and typically processed over 4 million passengers annually. Flying to over 30 destinations, the airport is served by major carriers such as Southwest Airlines, Delta Air Lines and American Airlines.
What parking is there at Tucson International Airport?
Another useful option when you want to find the best airport parking at Tucson is looking at parking comparison sites. For instance, Looking4Parking and APH offer deals and discounts for online bookings, groups like senior citizens, referral discounts and seasonal reductions for weekends and special events.
All well and good, but it's worth considering the official TUS parking options too:
Short-term parking
The closest option to the terminal, Short-Term parking is the most convenient option and ideal if you're only away for a couple of days, but it's not the cheapest choice.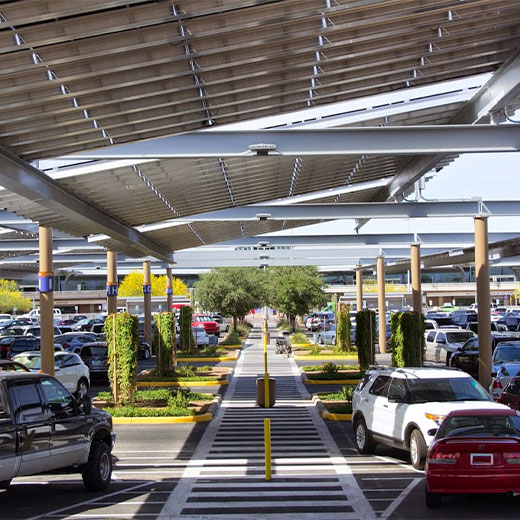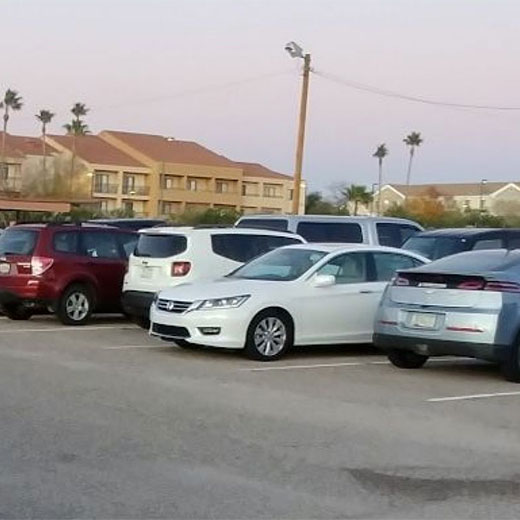 Daily Parking
Need to park for a little longer? Daily parking is perfect and it's only a short stroll from the terminal.
Economy Parking
The most economical option at TUS, Economy Parking is 10 minutes from the terminal and rates are very reasonable.
Economy Covered Parking
This option is similar to Economy Parking except (you guessed it) your car is protected from the elements.
Valet Parking
The most expensive TUS parking option but the most convenient, Valet Parking is the ultimate in parking luxury.
Getting to Tucson International Airport
You'll be glad to know that TUS is a breeze to drive to from nearby towns and cities.
From Phoenix, take I-10 East to Exit 255B for Valencia Road, then turn left onto Valencia Road and drive for around 10 miles to the airport.
If you're rolling in from Mesa, take I-10 East to Exit 223 for Broadway Boulevard, then turn left onto Broadway Boulevard and follow it for about 10 miles to the airport.
Driving from Scottsdale? Take I-10 East to Exit 202 for Scottsdale Road, then turn left onto Scottsdale Road and you'll be at TUS in around 15 miles. And from Tempe, take I-10 East to Exit 193 for Baseline Road. After which, turn left onto Baseline Road and follow it for about 10 miles to the airport.
Cruising in from Peoria? Take I-10 East to Exit 210 for 7th Avenue, then turn left onto 7th Avenue and follow the road for about 15 miles to TUS. And from Oro Valley, take I-10 East to Exit 240 for Houghton Road, then turn right onto Houghton Road. After this, continue straight and you'll be at the airport in 5 miles.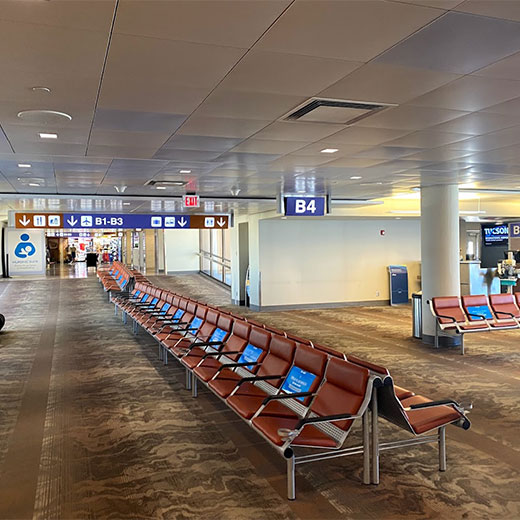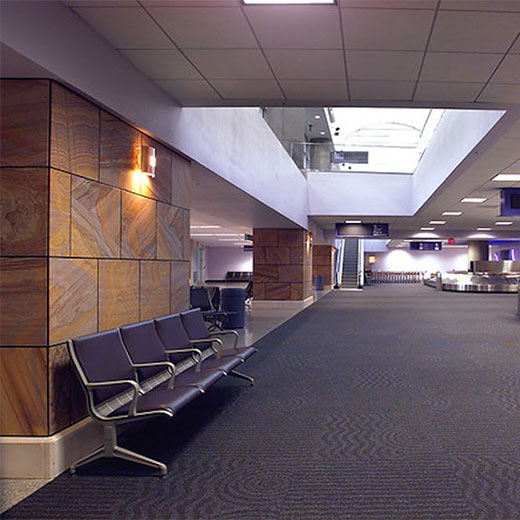 Facilities at Tucson International Airport
Whether you're spending 20 minutes at TUS, or your pre-flight period extends to hours, you'll be well looked after.
There's free Wi-Fi across the entire complex, so you can stay in touch with colleagues, friends, and relatives before you board, and you'll find ample power outlets that allow you to top up the charge on all your electronic devices.
You won't be caught short, because there are restrooms peppered throughout the property, and when you need to withdraw cash, you'll find ATMs aplenty. If the busy concourse feels a little hectic, you can settle in to one of the lounges and enjoy sumptuous food and drink as well as comfortable seating.
Ready to flex your credit card? Shopping options at TUS include a souvenir shop (hats, t-shirts, magnets and the like), several convenience shops selling drinks, chips and candy, and a well-stocked bookstore selling classics and bestsellers.
Finally, there's a popular gift shop selling watches, gifts, and fancy goods.
One way to prevent a fractious pre-flight experience is by ensuring everyone in your group flies with a full belly, and you're spoiled for choice at TUS.
There are several restaurants offering American grilled classics and spicy Mexican fare, and coffee and snack emporiums like Dunkin Donuts and Starbucks.
Another pleasant aspect of TUS is its renowned public art program. One popular piece is 'The Path of the Sun', a huge stainless steel edifice made of countless steel rods in an unusual arrangement. There's also a 'Sonoran Desert' mural in the baggage claim area, a 'Wings of Flight' sculpture before security, and a touching mural named 'The Journey' located airside.
As you can see, a superb parking setup is just part of a very positive picture at Tucson International Airport. Wherever you're flying, stay safe and have a fabulous time!
Got a Question? Chat with our US support team
Our online chat is available 8:30am to 5:00pm weekdays. Email: [email protected]
FAQs about car hire at Tucson International Airport
Most frequently asked questions about hiring a car at Tucson International Airport
To avoid incurring any charges, it's essential to modify or cancel your parking reservation at Tucson International Airport at least 48 hours before your planned departure. However, if changes are made within this 48-hour window, a fee of $5 will be imposed.
According to the recommendation from Enjoy Travel, the best way to achieve substantial savings on parking at Tucson International Airport is by making use of their online booking system well in advance.
Tucson International Airport offers a variety of parking choices, including hourly, daily, economy, valet, cell phone waiting, accessible, covered, and long-term parking options to cater to different traveler needs and preferences.
The easiest and most efficient method for finding parking at Tucson International Airport is to follow the well-marked signs that lead you to the different parking options, all of which are easily accessible via the well-organized road system within the airport premises.
Tucson International Airport implements safety protocols for parking, including security personnel patrols, surveillance cameras, adequate lighting, access control, emergency call boxes, regular security patrols, vehicle inspections, public awareness campaigns, and well-designed parking structures to ensure passenger safety.
The distance between the terminal and the various parking areas at Tucson International Airport varies, with the hourly parking garage being the closest, followed by the daily parking lot, while the economy parking lots are typically the farthest and may require a shuttle ride.
Tucson International Airport offers electric vehicle charging stations to cater to passengers in need of charging their electric cars.
Yes, you are allowed to park for an extended period overnight at Tucson International Airport. Tucson International Airport.
To ensure a great experience and take advantage of discounted rates, it's recommended to reserve your parking ahead of time, particularly when traveling during busy periods.
If you arrive at the Tucson International Airport parking lot earlier than scheduled, there may be extra fees, and the specific charges will depend on your arrival time. You can make payment for these parking expenses using a credit or debit card when leaving the parking facility.
The most economical parking option at Tucson International Airport is the Economy Parking Lot.
The rates range from $9 to $12 per day in the economy parking lots.
With Enjoy Travel the cost of parking for a week at Tucson International Airport is approximately $54 to $84.
Explore popular airports in the US