Raleigh-Durham International Airport parking
Find the best parking deals at Raleigh-Durham International Airport Parking
With a massive choice from the biggest brands, Enjoy the best way to find the best prices for car hire in Raleigh-Durham International Airport Parking.
Huge choice car parks to suit every budget
Save up to 70% compared to buying on the day
Working with the best partners in Airport Parking
Parking at Raleigh-Durham International Airport
Searching high and low for parking at Raleigh-Durham International Airport (RDU)?
You've just landed in your perfect hotspot. Because we've got all the information on RDU parking you need and lots more too – like insider tips on facilities and amenities.
But you might also be flying from RDU to take advantage of a certain deal or route. So if you're not based in the area, it might be a plan to arrive a little earlier and explore the local area. As well as absorbing the delights of North Carolina, you'll take the pressure off by arriving in town in plenty of time for your flight.
So what is there to do in this lovely part of the US?
For starters, there's the North Carolina Museum of Art. If you're a culture vulture, while away an hour or three exploring its 40,000 artworks (including sculptures, paintings, and decorative arts). And if your synapses are sizzling after all that stimulation, relax in the museum's beautiful gardens.
Then there's the North Carolina Museum of Natural Sciences. Showcasing the natural history of the region and world at large, it has stunning interactive exhibits on plants, animals, the environment, and dinosaurs (every kid's favorite). As if that wasn't enough, there's also an observatory and museum.
North Carolina is no slouch when it comes to the great outdoors either. For instance, Umstead State Park (a stone's throw from downtown Raleigh) has lakes for boating, fishing, and swimming, as well as an extensive 20-mile network of hiking routes. Alternatively, Eno Rivers State Park (on the Durham outskirts) offers tubing, canoeing and kayaking on the Eno River. And you can enjoy the scents and colors of a wide variety of flora at the Sarah P. Duke Gardens, as well as the onsite tropical conservatory, rose garden and Japanese garden.
Meanwhile, nature lovers like strolling around the Duke Lemur Center and meeting its burgeoning population of 250 lemurs. And sports fans can check out a minor league baseball game at Durham Bulls Athletic Park, where the atmosphere is always buzzing.
If you're a foodie, there's plenty to tempt your taste buds. The Triangle is the main culinary hotspot, and you'll find everything from local and regional dishes to international fare, with favorites including Crooks Corner, The Durham and Mateo Bar de Tapas.
Want to catch a show while you're in town? The Durham Performing Arts Center has a packed calendar including dance performances, live music concerts and Broadway Musical Theatre. And you can always venture further to explore charming nearby towns, like Cary, Carrboro and Hillsborough.
Want to have a few social drinks? Bars like Trophy Brewing, Bittersweet, The Haymaker and Death & Taxes are popular in Raleigh, while Durham has Kingfisher, Fullsteam Brewery, Bull Durham Beer Co. and Ponysaurus Brewing. And you can dance the night away in Raleigh's Club Velocity and The Flying Saucer, or Durham's Luna Night Club and The Pinhook.
After all that excitement, you'll need somewhere to stay. Try Kimpton EPIC Hotel at Raleigh, The Unscripted Durham or The Carolina Inn at Chapel Hill.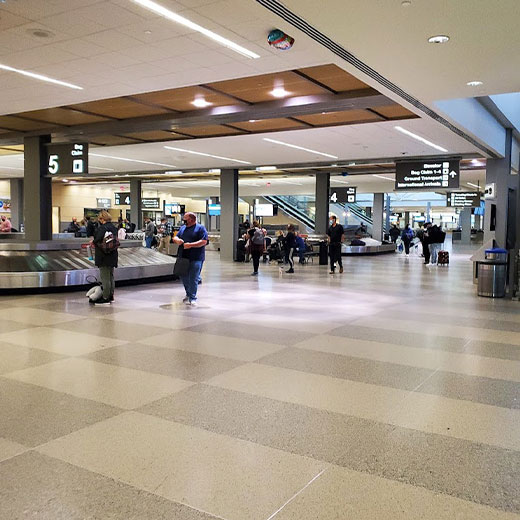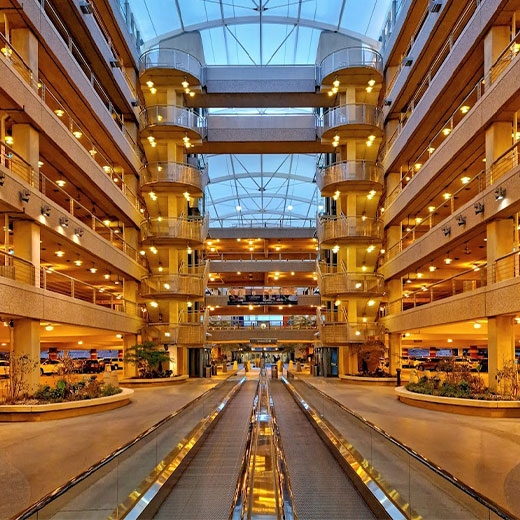 Find the best deals at Raleigh-Durham International Airport
As a dedicated RDU parking bargain hunter, what can you do to secure the best spot possible – apart from reading this dedicated guide?
Well, you can start with booking your parking in advance. RDU actually offers discounts on parking reservations if you make them at least a day in advance (by phone or online).
But if you don't want to go the direct, official route, there are also several third-party websites that let you compare prices and grab discounts (more of which a little later).
And if you're willing to park off-site, it's usually cheaper than onsite (at the airport). Bear in mind though that you'll have to arrange your transport to and from RDU – some offsite parking lots offer shuttles as part of the package, but please confirm ahead of time.
Yet another RDU parking option is finding a hotel park-and-fly package. Plenty of hotels near airports offer this and the deals comprise a night's hotel stay, shuttle to and from the terminal and parking for the duration.
Lastly, if you don't mind mixing your travel bubble, a ride-sharing service (like Uber or Lyft) is another affordable option.
Compare parking at Raleigh-Durham International Airport
With 19,000 parking spaces, you're spoiled for choice at RDU, and the provision actually includes onsite and offsite facilities.
And parking is only one part of an evolution that started from the moment RDU was first conceived back in the 1940s, when the North Carolina General Assembly tasked the Raleigh-Durham Aeronautical Authority with building and running a bigger airport between Raleigh and Durham. The project was supported by Eastern Air Lines chairman Eddie Rickenbacker, whose vision was to use the airport as a pitstop on the carrier's prestigious NY to Miami route.
Building began in 1941 but was stalled by US entry to WWII. However, the government commandeered the site and used it as a US Army Air Corps training base. RDU returned to commercial use in the post-war years when Eastern Air Lines resumed their partnership, after which traffic of only a handful of flights a day grew exponentially during the 1950s and 1960s. Several extensions and refurbishments were completed in the decades that followed.
RDU is presently one of the Southeast's busiest airports and typically processes over 11 million passengers annually. A major transport hub, it makes a significant contribution to the economy in the Research Triangle.
What parking is there at Raleigh-Durham International Airport?
Firstly, (as promised), here's a little more information about third-party RDU parking comparison websites. APH and Looking4Parking are two good examples and these apps (and sites) offer discount deals on parking made in advance (the further in advance, the better), as well as reductions for groups like AAA members and serving military personnel.
Now, let's take a look at the official RDU parking options.
ParkRDU Central
You'll find this parking garage between Terminals 1 and 2. It has 10,000 parking berths and it's the closes parking options, but the most expensive.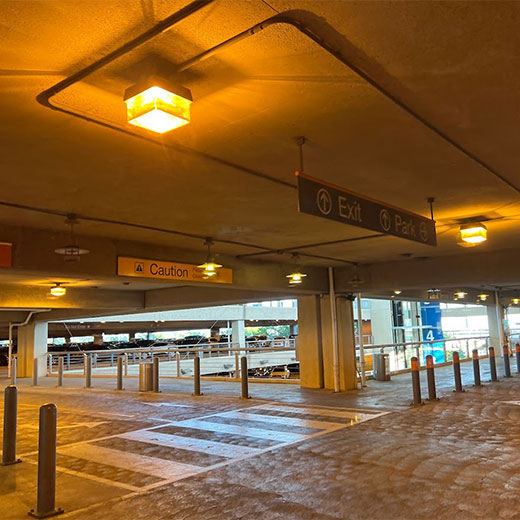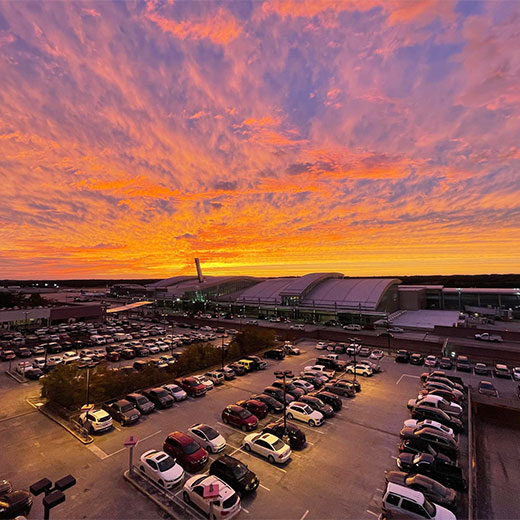 ParkRDU Premier
This garage is on the ground floor of ParkRDU Central and comprises 1,000 covered spaces. It's a little further from the terminals but priced more affordably.
ParkRDU Economy
Located off-site, this lot had 8000 spaces. It's the furthest from the terminals and you'll need to hop on a shuttle bus, but it's the cheapest option.
ParkRDU 3 and 4
These lots are also affordable and served by a shuttle bus, but they're even further from the terminal.
RDU Valet Parking
This is the most convenient RDU parking option and the most expensive. If you want hassle-free parking and a touch of luxury, your car is parked for you and brough back for you when you return. Then all you have to do is hop in and head home.
Getting to Raleigh-Durham International Airport
Conveniently, it's reasonably easy to drive to RDU from nearby towns and cities.
The main road to take is Interstate 40 (I-40), a major highway that runs through the Raleigh-Durham area.
To get to I-40 from Raleigh, take US-70 East or US-1 South. And to reach I-40 from Durham, take US-70 West or US-1 North.
Once you're on I-40, follow the signs for RDU Airport, which is located about 10 miles east of Raleigh and 10 miles west of Durham.
From Raleigh, take US-70 East or US-1 South to I-40 East, then follow I-40 East to Exit 288 for RDU. Next, turn left onto Airport Boulevard and continue to the airport terminal.
Cruising in from Durham? take US-70 West or US-1 North to I-40 West, then follow I-40 West to Exit 288 for RDU Airport, turn right onto Airport Boulevard and you'll soon be there.
When you're leaving from Cary, take Cary Parkway to I-40 East, follow I-40 East to Exit 288 for RDU Airport, then turn left onto Airport Boulevard.
Meanwhile, from Chapel Hill, take US-15 South to I-40 East. Then follow I-40 East to Exit 288 for RDU Airport and take a left turn onto Airport Boulevard.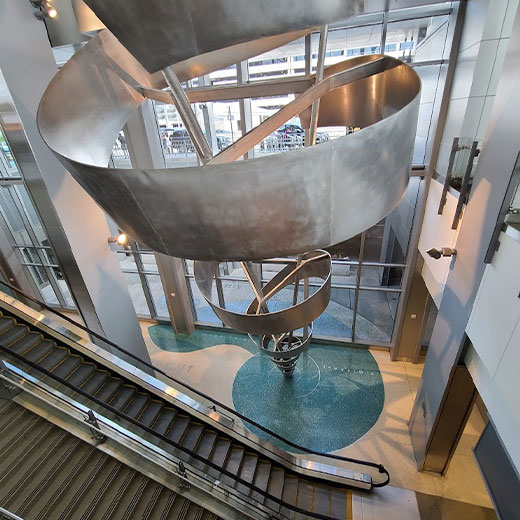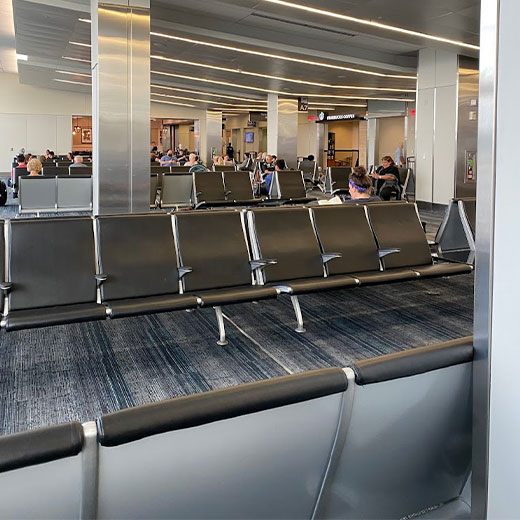 Facilities at Raleigh-Durham International Airport
Facilities and amenities at RDU are good, which is a relief whether you're spending an hour there before your flight, or a little longer.
For starters, there are over 30 cafes and restaurants serving food of all stripes, as well as over 50 stores and shops selling everything from keepsakes and clothing to electronics. Other passenger services include baggage storage, currency exchanges and ATMs. And you'll also find play areas for children, free charging stations and Wi-Fi.
Food options at RDU include Starbucks, La Tapenade, ACC American Café and Salsarita's Fresh Cantina. And you can also try 42nd St. Oyster Bar, Beyu Caffe and La Farm Bakery Café.
And in terms of shops, there's Brookstone, CNBC News Store, InMotion Entertainment, Yankee Candle and Tumi.
Got a Question? Chat with our US support team
Our online chat is available 8:30am to 5:00pm weekdays. Email: [email protected]
FAQs about car hire at Raleigh-Durham International Airport
Most frequently asked questions about hiring a car at Raleigh-Durham International Airport
To prevent incurring any fees, it's crucial to adjust or cancel your parking reservation at Raleigh-Durham International Airport with a minimum of 48 hours' advance notice before your scheduled departure. Nevertheless, if modifications are made within this 48-hour timeframe, there will be a $5 fee applied.
Per the advice provided by Enjoy Travel, the most effective method to achieve significant cost savings on parking costs at Raleigh-Durham International Airport is to make use of their online booking system well ahead of time.
Raleigh-Durham International Airport offers a range of parking choices, including short-term, long-term, economy, and valet parking options to cater to diverse traveler needs.
For an easy and hassle-free method to locate parking at Raleigh-Durham International Airport, simply follow the clearly designated signage that guides you to the various parking facilities, thanks to the efficient road layout within the airport premises.
Safety precautions for parking at Raleigh-Durham International Airport encompass the presence of security staff, surveillance cameras, well-illuminated zones, restricted access points, emergency support choices, routine security patrols, and, occasionally, vehicle registration mandates, all collaborating to guarantee a safe parking environment.
The distance between the terminal and the various parking areas at Raleigh-Durham International Airport varies, with short-term parking located closest to the terminal, followed by long-term and economy parking areas, while valet parking is typically the most convenient option in terms of proximity.
Raleigh-Durham International Airport offers electric vehicle charging stations to cater to passengers in need of charging their electric vehicles.
Raleigh-Durham International Airport typically allows passengers to leave their vehicles parked overnight for extended durations and provides a variety of parking options, encompassing both short-term and long-term selections, to accommodate a wide range of parking requirements, including those involving overnight stays.
For an optimal experience and to make the most of discounted rates, it is advisable to make advance parking reservations, especially when traveling during periods of high demand or peak traffic.
Should you arrive at the parking facility of Raleigh-Durham International Airport earlier than your designated time, it may result in additional charges, with the exact fees contingent upon how much in advance you arrive. These parking costs can be settled by utilizing a credit or debit card upon exiting the parking facility.
The most cost-effective parking option at Raleigh-Durham International Airport typically depends on individual preferences and the duration of your stay, but economy parking lots are often associated with the most budget-friendly rates, especially for longer stays.
The daily parking rates at Raleigh-Durham International Airport vary depending on the parking option chosen, ranging from $2 per hour for hourly parking, $12 per day for economy parking, $20 per day for daily parking, and $27 per day for premium parking.
Enjoy Travel offers various parking options at Raleigh-Durham International Airport, ranging from $84 to $168, depending on the parking option you choose
Explore popular airports in the US