New York LaGuardia Airport Parking | LGA
Find the best parking deals at New York LaGuardia Airport Parking
With a massive choice from the biggest brands, Enjoy the best way to find the best prices for car hire in New York LaGuardia Airport Parking.
Huge choice car parks to suit every budget
Save up to 70% compared to buying on the day
Working with the best partners in Airport Parking
Parking at New York LaGuardia Airport
So you're on the hunt for parking at New York LaGuardia Airport (LGA)?
Keep it right here if you want all your arrangements to end up fine and dandy – we've got all your essential LGA parking info, as well as insider tips on shopping, dining and generally making your pre-flight experience as relaxing as possible.
But don't forget the awesome attractions in and around the borough of Queens (where LGA is located). If you're driving from out of town, it might just be worth arriving a little early to explore.
If you want to stretch your legs after the drive, head to Astoria Park, a lush and expansive waterfront park with a pool, playgrounds, and a chic marina. And don't miss Flushing Meadows Corona Park, which hosts the Queens Museum, the Unisphere and the US Open tennis tournament.
It's lights, camera, action for film buffs at the Museum of the Moving Image, which showcases the history and art of digital media, TV, and film. And Jackson Heights is a cool neighborhood with tons of alternative restaurants and stores.
Meanwhile, foodies who like to spice up their lives shouldn't miss a taste tour of the Little India neighborhood, and fans of stage shows love watching performances at Queens Theatre in the Park in Flushing Meadows Corona Park.
Fancy something more active? Try hanging 10 with a surfing lesson on Rockaway Beach or treat yourself to a bike ride on the Queensway Greenway, a waterfront path that snakes through Astoria, Woodside, and Sunnyside. And there's also hiking in the 70-acre Alley Pond Environmental Center, a gorgeous nature preserve with a bird sanctuary, pond, and trails.
Furthermore, culture vultures find rich pickings in the Noguchi Museum, with its awe-inspiring sculpture collection by Japanese American artist Isami Noguchi, as well as the Louis Armstrong House Museum, the former home of the iconic jazz legend.
Discovering city delights often stirs your appetite. So you can treat your taste buds to freshly made pizza and pasta at perpetually popular Astoria Italian spot Alidoro, or graze on Spanish Tapas at the Casa Enrique bar in Jackson Heights.
Meanwhile, Grand Sichuan in Flushing specializes in authentic Chinese fare, and Trafi has been a Greek institution in Astoria for half a century.
For some light refreshment, try The Commodore Bar in Astoria (famous for its tap beer selection) or the Bohemian Beer Garden in Flushing Meadows for its hot food and cold beer.
But for something a little different, duck into The Queens Kickshaw in Astoria for creative cocktails or the Wyckoff Bar in Jackson Heights for sports washed down with fresh beer.
When you want to unwind all the way, strut your stuff on the dance floor at Revel Bar in Long Island City, take in live music at The Bitter End in Greenwich Village, or the rooftop bar at The Standard, High Line, a hip Meatpacking District hotel.
Need somewhere comfortable to rest your head? Try the Carlyle on the Upper East Side for a taste of luxury, The Modern in the Museum of Modern Art (with its Michelin-starred restaurant) or The trendy NoMad Hotel with its rooftop bar.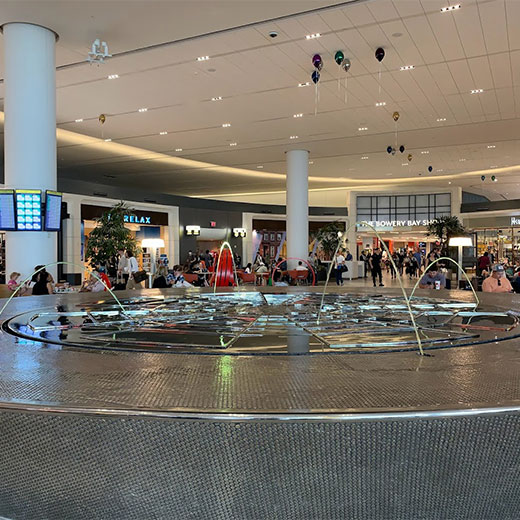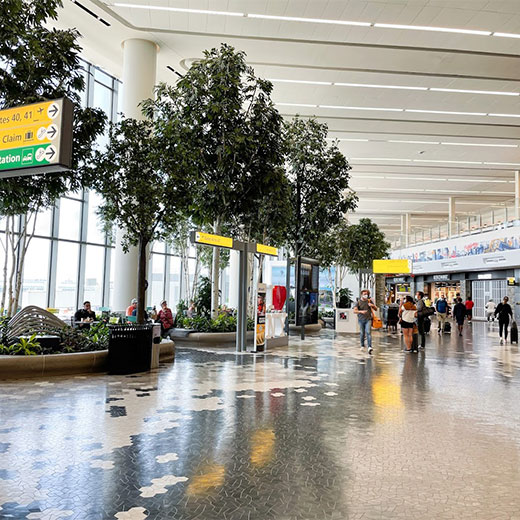 Find the best deals at New York LaGuardia Airport
Want some recommendations for alternative ways to find great parking deals at LGA?
First off, why not ask your airline? Most people don't, which is a shame because it might mean missing out on a good deal.
You can also ask your hotel if they offer discounted LGA parking for guests, or consider stowing your vehicle in an off-site lot, which is usually cheaper. Additionally, prebooking in advance can save you cash and if you're able to be reasonably flexible with your dates, you can avoid peak rate times like weekends and school holidays.
Compare parking at New York LaGuardia Airport
At the moment, there are 7,500 parking berths at LaGuardia Airport. But after extensive renovations are finished, the total of spaces is expected to be around 17,000.
And this expansion is just the latest in a long list of improvements made at this innovative, forward-looking airport, which first opened as Glenn H. Curtiss Airport back when it opened in 1939, before being renamed as North Beach Airport shortly later.
After New York City assumed control of the airport, it was renamed New York Municipal Airport-LaGuardia Field and in 1953 this was shortened to simply LaGuardia Airport. The name LaGuardia is in honor of former New York mayor, Fiorello La Guardia.
LGA soon became a main hub for Pan American World Airways and Eastern Airlines, and today it's the busiest air hub in the New York City metro area, typically processing over 30 million passengers annually. It's currently served by carriers like Spirit Airlines, Southwest Airlines and JetBlue Airlines, flying to several global locations.
What parking is there at New York LaGuardia Airport?
Don't forget to check out parking comparison sites and apps in your search for the best LGA parking. For instance, Looking4Parking often offers discounts for guests at selected hotels and for pre-booked parking. Alternatively, APH offers discounts for AAA members and long-term parking.
Now, it's time to take a look at your official LaGuardia Airport parking options.
Short-term parking
If you're dropping off or picking up passengers, short-term parking is ideal. It's not the cheapest option but it's certainly convenient. Terminal A short-term parking is in Lot A, Terminal B parking is in Lot B and (you guessed it), Terminal C parking is in Lot C.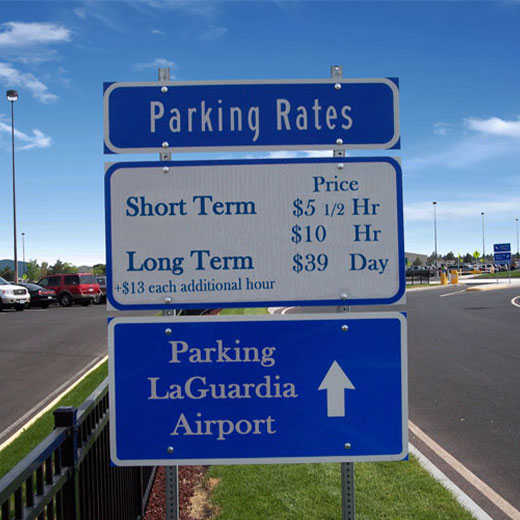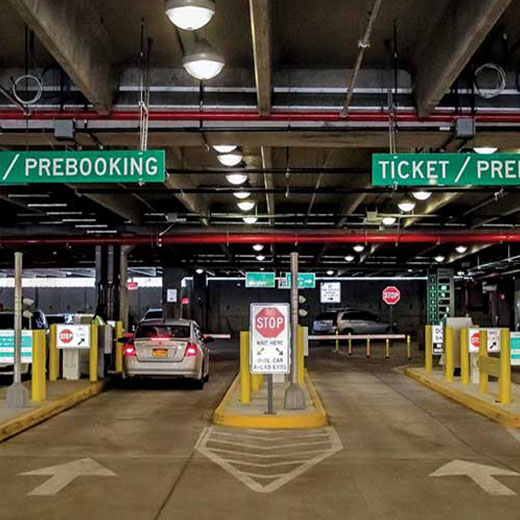 Long-term parking
When you're leaving your car at the airport for more than a couple of days, long-term parking is the natural choice. It's reasonably priced and spread across the various terminals. Terminal A long-term parking is in Lot P, you'll find Terminal B long-term parking in Lot Q and Terminal C long-term parking is in Lot R.
Valet parking
With this top-class service, your car is parked for you and brought back to you personally. Valet parking is a luxury you might want to splash out on if you want that smooth and relaxed experience.
Getting to LaGuardia Airport
Driving from LaGuardia Airport to nearby towns and cities is a breeze.
From Manhattan, take the Grand Central Parkway East to the Van Wyck Expressway South, then take the Van Wyck Expressway South to the exit for LaGuardia Airport.
If you're rolling in from Brooklyn, take the Brooklyn-Queens Expressway East to the Van Wyck Expressway South, then the Van Wyck Expressway South to the exit for LaGuardia Airport.
Driving from Queens? Take the Grand Central Parkway East to the Van Wyck Expressway South, then take the Van Wyck Expressway South to the LaGuardia Airport exit.
From the Bronx, take the Major Deegan Expressway East to the Cross Island Parkway East. Then take the Cross Island Parkway East to the Van Wyck Expressway South. After that, take the Van Wyck Expressway South to the exit for LaGuardia Airport.
And from Staten Island, take the Staten Island Expressway to the Verrazano-Narrows Bridge. Take the Verrazano-Narrows Bridge to the Belt Parkway. Take the Belt Parkway East to the Van Wyck Expressway South, then take the Van Wyck Expressway South to the exit for LaGuardia Airport.
The driving time to LaGuardia Airport from these locations varies depending on traffic conditions, but it's usually about 30-60 minutes from Manhattan and Brooklyn, and from 45-90 minutes from Queens and the Bronx.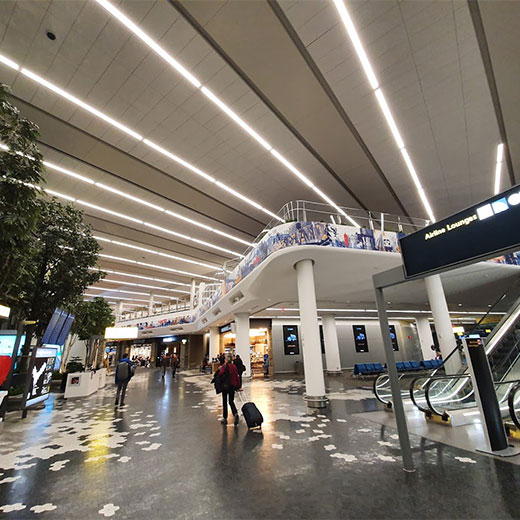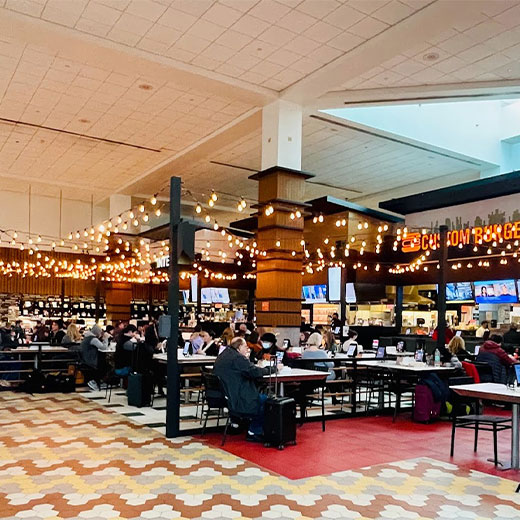 Facilities at New York LaGuardia Airport
Amenities and facilities at LGA are good and you'll find all the modern conveniences you expect. For starters, there's Wi-Fi throughout the airport, and a good choice of cafes and restaurants.
You'll find ATMs throughout LaGuardia to draw cash, a selection of currency exchange kiosks, and baby care rooms in every terminal. If you want to escape the hustle and bustle of the concourse, several airport lounges are available, there are pet relief areas in each terminal and there's a shuttle bus to take you to and from each terminal too.
Eating choices in Terminal A include Starbucks, Shake Shack, Dunkin Donuts, Blue Bottle Coffee, and Villa Italian Kitchen.
Meanwhile, the Terminal A shop selection includes The Metropolitan Museum of Art Shop, Hudson News and Duty Free LaGuardia.
At Terminal B, the food and drink selection features Villa Italian Kitchen, Bar Veloce and The Capital Grille, while your shopping choices include CIBO Express Gourmet Market and WH Smith.
In Terminal C, you have Zaro's Bakery, Chuko Ramen and Starbucks, while shopping options include Duty Free LaGuardia and Hudson News.
Got a Question? Chat with our US support team
Our online chat is available 8:30am to 5:00pm weekdays. Email: [email protected]
FAQs about car hire at New York LaGuardia Airport
Most frequently asked questions about hiring a car at New York LaGuardia Airport
To avoid incurring any charges, it's essential to modify or cancel your parking reservation at New York LaGuardia Airport with at least 48 hours' notice before your planned departure. However, if changes are made within this 48-hour window, a fee of $5 will be imposed.
According to the guidance offered by Enjoy Travel, the most efficient way to realize substantial savings on parking expenses at New York LaGuardia Airport is to utilize their online reservation system well in advance.
New York LaGuardia Airport provides a range of parking choices, including terminal parking for short visits, economy and long-term parking for extended stays, short-term parking for quick access to terminals, off-airport parking facilities with shuttle service, and a cell phone waiting area for quick pickups, catering to various parking needs.
For a convenient and straightforward way to find parking at New York LaGuardia Airport, just follow the clearly marked signs directing you to the different parking facilities. These signs make it easy to access the parking areas, thanks to the well-designed road system within the airport grounds.
Safety measures for parking at New York LaGuardia Airport include the presence of security personnel, surveillance cameras, well-lit areas, controlled access points, emergency assistance options, regular security patrols, and, in some cases, vehicle registration requirements, all working together to ensure a secure parking environment.
The distances between the terminal and the different parking areas at New York LaGuardia Airport can vary, with terminal parking being the closest, typically within walking distance, while economy and long-term parking options are farther and accessible via shuttle services, which usually take around 5-10 minutes to reach the terminals.
New York LaGuardia Airport provides electric vehicle charging stations to accommodate passengers requiring a charge for their electric vehicles.
New York LaGuardia Airport generally permits passengers to park their vehicles overnight for extended periods and offers a range of parking options, including both short-term and long-term choices, to meet diverse parking needs, including those necessitating overnight stays.
To ensure the best experience and take full advantage of reduced prices, it is recommended to book your parking in advance, particularly when traveling during busy or peak periods.
If you arrive at the New York LaGuardia Airport parking facility earlier than your scheduled time, it could lead to extra fees, and the exact charges will depend on how much in advance you arrive. These parking expenses can be paid by using a credit or debit card when you exit the parking facility.
The parking choice that delivers the most value at New York LaGuardia Airport typically depends on your specific needs and the duration of your stay. Nonetheless, economy parking lots are often associated with the most budget-friendly rates, especially for extended stays.
The daily parking rates at New York LaGuardia Airport vary depending on the parking option chosen, with terminal parking potentially costing around $59 per day, economy parking at approximately $39 per day, and long-term parking at roughly $18 per day.
Enjoy Travel offers various parking options at New York LaGuardia Airport, with terminal parking possibly costing around $413 or more per week, economy parking at approximately $273 or more per week, and long-term parking at about $126 or more per week.
Explore popular airports in the US