San Jose Mineta International Airport parking
Find the best parking deals at San Jose Mineta International Airport parking
With a massive choice from the biggest brands, Enjoy the best way to find the best prices for car hire in San Jose Mineta International Airport parking.
Huge choice car parks to suit every budget
Save up to 70% compared to buying on the day
Working with the best partners in Airport Parking
Parking at San Jose Mineta International Airport
Searching for parking at any airport can be frustrating and SJC is no different, but luckily you've landed in exactly the right place.
In this guide, you'll get the latest tips on parking at San Jose Mineta International Airport as well as lots of useful guidance on the best places to shop and eat, and other passenger amenities. Basically, everything you need to park hassle-free and have a pleasant pre-flight experience.
And if you don't live in San Jose, why not take some extra time to explore the area before your vacay or business group?
There are lots of interesting and unusual sights here and one of the weirdest is the Winchester Mystery House. This impressive pile was constructed over many years by Sarah Winchester, widow of firearms industry giant William Winchester. According to legend, she was convinced by a medium that the house was haunted and filled it with features like windows facing brick walls, and false stairs. Spooky.
Then there's the Rosicrucian Egyptian Museum: With a collection of over 4,000 Egyptian mummies, sarcophagi, and jewelry, it's a seriously cool place to visit. Plus, it also has a planetarium and library with over 10,000 Egyptology books.
If you (or your kids) are interested in STEM subjects meanwhile, try Tech Interactive. This lively science museum is the perfect place to learn about tech and science in a way that's anything but boring. Think robots, virtual reality, and everything else mind-blowing.
Then to chill out in Zen-like ambience, visit the San Jose Japanese Friendship Garden. This gorgeous green spot is a world away from the city bustle and features traditional Japanese landscaping, a koi pond, and a tea house.
Is there anything for culture vultures? You bet. Take the San Jose Museum of Art for example. With over 15,000 paintings, sculptures, and photographs, there's something for everyone. Alternatively, if you're more of a great outdoorsy type, don't miss Los Gatos Creek Trail. Running for 10 miles along Los Gatos Creek, it's a scenic spot to walk or cycle that's also popular with birdwatchers.
Provided you've got a couple of bucks in your wallet, you'll never go hungry in San Jose. For instance, The Village Pub is a popular British spot where locals and tourists alike enjoy classic pub grub like fish and chips and bangers and mash.
Alternatively, there's Med-style pasta and seafood at Zeni, or legendary late-night burgers and chili dogs at local favorite, The Original Tommy's Joynt.
Fancy a refreshing drink (if you've got a designated driver)? The Old World Tavern boasts a brilliant selection of German beers, This German restaurant offers a wide selection of German beers, and The Old Wagon Saloon is a historic tavern serving beers, wines, and cocktails. And for something chic and creative, Paper Plane specializes in imaginative cocktails.
You might be in the mood to let loose after visiting those hot spots. In which case, Arena Club has all your hip hop and EDM bangers, with a big dance floor and well-stocked bar, and The Usual also attracts a buzzing crowd with popular DJ sets.
Last but not least, when you're finally ready to rest your head, Fairmont San Jose offers a touch of luxury downtown, with its rooftop pool and spa. The Westin San Jose is another popular four-star choice in the same area, and This four-star hotel is located in downtown San Jose. And the comfortable Four Points by Sheraton San Jose Airport provides a free airport shuttle.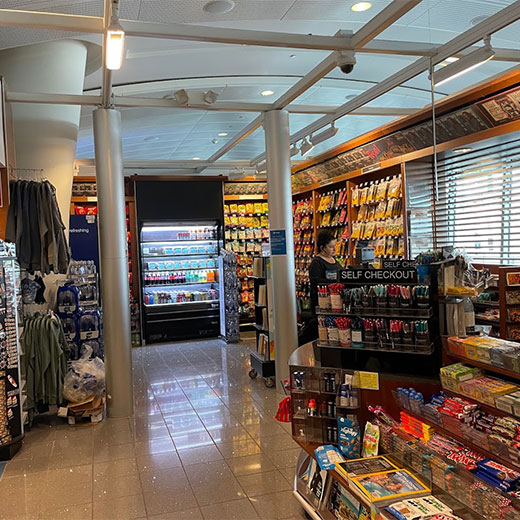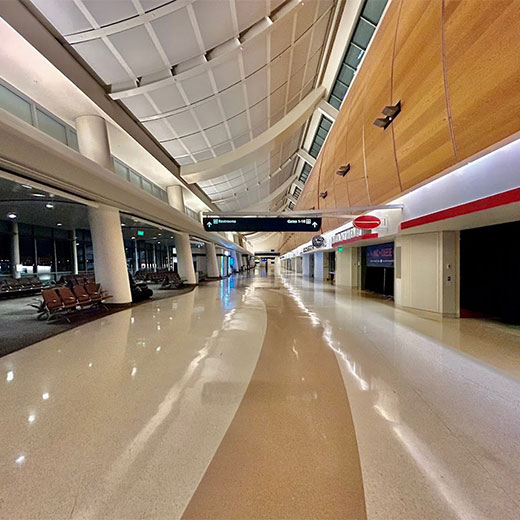 Find the best deals at San Jose Mineta International Airport
Want to explore every angle when finding good parking deals at SJC airport?
Being flexible with your parking dates and times helps. So avoid parking during peak times like weekends and holidays if at all possible. And if you can book far in advance, you'll secure a spot and often get the best rate.
Meanwhile, with their industry connections, parking brokers can often get you lower rates than you'll find yourself. And you can weigh up prices online with comparison apps and sites (more tips on this shortly).
Furthermore, many parking lots offer discounts for seniors, AAA members and military personnel, and parking in one of the off-site lots near SJC can be cheaper (there's also usually a shuttle bus provided).
Compare parking at San Jose Mineta International Airport
You won't struggle to find parking at San Jose Mineta International Airport.
There are over 5000 spaces split between five different lots and this is an airport that's had a vision for success since it was first planned way back in the early 1940s. A group of local businessmen led by Ernie Renzel bought the land for SJC from the local Crocker family and construction started in 1948.
Opened as The San Jose Municipal Airport on November 13, 1949, a Southwest Airways DC-3 was the first commercial flight to land, and it was mainly used for general aviation and military flights at first. However, SJC expanded as commercial air service grew in the 1960s.
After San Jose Mayor Norman Y. Mineta was elected to Congress in 1974, he became the airport's biggest supporter and in 1981 it was renamed in his honor. Further expansion followed in the 1980s, 1990s and 2000s, and today, SJC is the tenth-busiest airport in California and 30th-busiest in the US United States. As a gateway to San Jose and Silicon Valley, it attracts visitors and businesspeople from all around the world to the area.
What parking is there at San Jose Mineta International Airport
Two great SJC parking comparison sites are APH and Looking4Parking. And if you're open to third-party parking, these partners offer a number of different deals.
For example, there are weekly and monthly discounts, AAA discounts, and military discounts.
For now though, let's look at your official SJC parking options.
Economy Lot 1
The largest parking lot at SJC airport, Economy Lot 1 offers the lowest rates. But it's also the most remote and you'll need to hop on a shuttle ride to the terminals.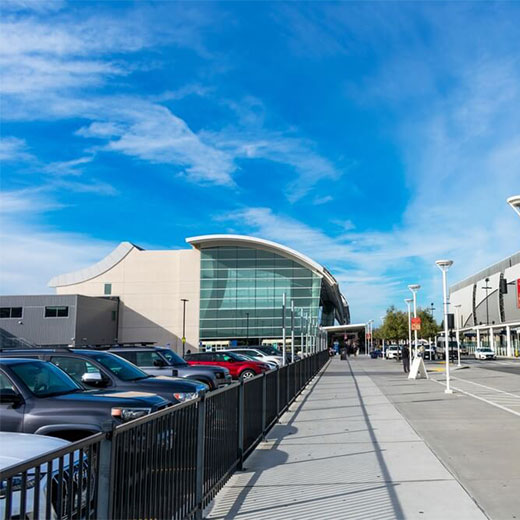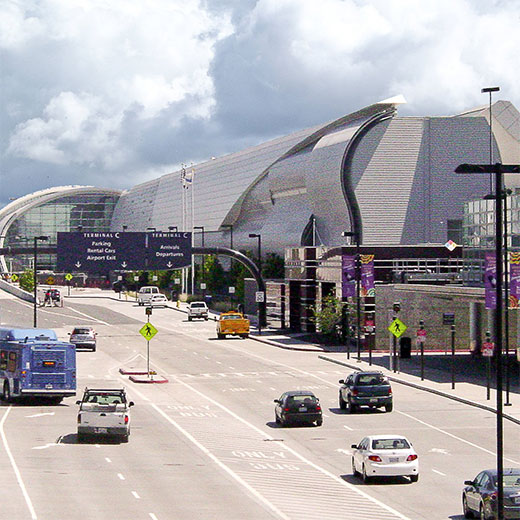 Hourly Lot 2
This lot is next to Terminal A and offers hourly and daily parking rates. Not the cheapest option.
Hourly Lot 3
Again, this isn't the cheapest option, but if you're dropping off or picking up from SJC, it can be convenient.
Daily Lot 4
Located between Terminals A and B, this is the best place to park by the day (as you'd expect).
Hourly & Daily Lot 5
Located next to Terminal B, this lot does exactly what it says on the sign.
Additionally, you'll also find two cellphone waiting areas. They're free to use and allow you to wait for arriving passengers without paying a penny.
You can book official SJC online in advance or roll up and pay on the day – credit cards and cash accepted.
Advantages of choosing official SJC parking include the convenience, security, and close proximity to all airport amenities.
Getting to San Jose Mineta International Airport
SJC airport is easy to drive to from nearby towns and cities.
From San Jose, take Highway 101 North or Highway 880 North to Highway 85 South, then take exit 13 for SJC.
Rolling in from Santa Clara? Take Highway 101 North or Highway 880 North to Highway 85 South. Then take exit 13 for SJC
From Sunnyvale, take Highway 101 North to Highway 85 South, then exit 13 for SJC.
Cruising in from Mountain View? Take Highway 85 North to Highway 101 North. Then take exit 13 for SJC.
Remember to leave plenty of time to get to SJC – traffic can be congested during peak travel periods.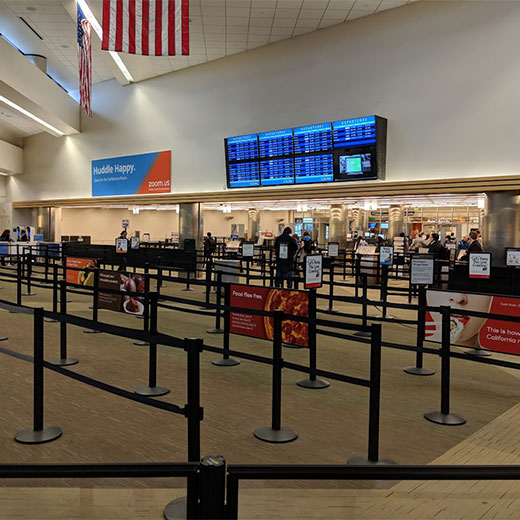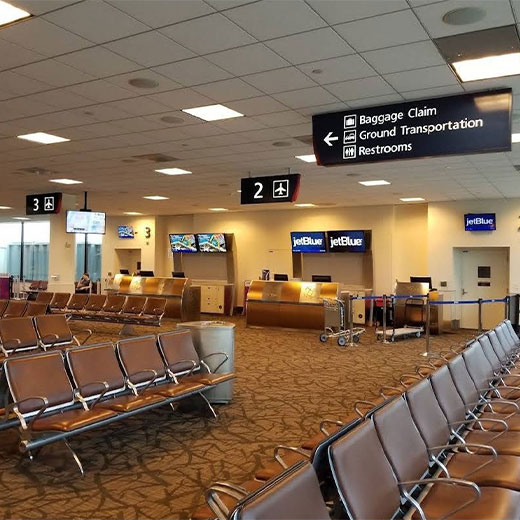 Facilities at San Jose Mineta International Airport
San Jose Mineta International Airport (SJC) offers a good standard of facilities.
You'll find ATMs, currency exchange, baggage storage and even a business center (located in Terminal A).
Other amenities include ample restrooms, well-appointed baby care facilities, and charging stations. And if your kids are feeling antsy, take them to the children's play area in Terminal B to blow off steam.
There's also free Wi-Fi throughout SJC and the airport is accessible to passengers with disabilities, with adapted bathrooms, wheelchair ramps and elevators throughout.
Edible treats include Chick-fil-A, Gordon Biersch Brewery Restaurants, Island Brews and Jamba.
Shopping options include Hudson News, Discover San Jose, Sunglass Icon, Rip Curl and the duty free store.
Wherever you're flying to from SJC, drive safe, park secure and have a great trip.
Got a Question? Chat with our US support team
Our online chat is available 8:30am to 5:00pm weekdays. Email: [email protected]
FAQs about car hire at San Jose Mineta Airport
Most frequently asked questions about hiring a car at San Jose Mineta Airport
To avoid incurring any charges, it's essential to modify or cancel your parking reservation at San Jose Mineta Airport with at least 48 hours' notice before your planned departure. However, if changes are made within this 48-hour window, a $5 fee will be imposed.
According to the guidance offered by Enjoy Travel, the most efficient way to attain substantial savings on parking expenses at San Jose Mineta Airport is to utilize their online reservation system well in advance.
San Jose Mineta Airport provides various parking choices, including hourly parking for short visits, daily parking for short or extended stays, economy parking with shuttle service for budget-conscious travelers, valet parking for convenience, a cell phone waiting area for quick pickups, long-term parking options, and accessible parking spaces for passengers with disabilities.
For a straightforward and efficient way to find parking at San Jose Mineta Airport, just follow the clearly marked signs directing you to the different parking facilities, all conveniently accessible via the well-designed road network on the airport premises.
Safety protocols for parking at San Jose Mineta Airport include the presence of security personnel, surveillance cameras, well-lit areas, controlled access points, emergency assistance options, regular security patrols, and, in some cases, vehicle registration requirements, all working together to ensure a secure parking environment.
The distances between the terminal and the different parking areas at San Jose Mineta Airport can vary, with hourly and daily parking being the closest, typically within a few hundred feet, while economy and long-term parking options require a shuttle ride of approximately 5-10 minutes to reach the terminal.
Yes, you can typically charge your electric vehicle at San Jose Mineta Airport, as they provide electric vehicle charging stations in their parking areas to accommodate travelers with electric cars.
San Jose Mineta Airport typically permits passengers to park their vehicles overnight for extended periods and offers a range of parking options, including both short-term and long-term choices, to suit diverse parking needs, including those requiring overnight stays.
To enhance your experience and take full advantage of reduced rates, it is recommended to secure a parking reservation in advance, particularly when traveling during high-demand times.
If you arrive at the San Jose Mineta Airport parking facility earlier than your scheduled time, it could lead to extra fees, the amount of which is determined by how much in advance you arrive. You can pay these parking charges by using a credit or debit card when you exit the parking facility.
The most economical parking option at San Jose Mineta Airport is typically the Economy Parking area.
The daily parking rates at San Jose Mineta Airport vary depending on the parking option chosen, with hourly parking costing approximately $2 per 20 minutes, daily parking at around $24 per day, and economy parking at approximately $18 per day.
Enjoy Travel offers various parking options at San Jose Mineta Airport, with hourly parking possibly costing around $210 or more per week, daily parking at approximately $168 or more per week, and economy parking at roughly $126 or more per week.
Explore popular airports in the US