Dulles International Airport Parking
Find the best parking deals at Dulles International Airport Parking
With a massive choice from the biggest brands, Enjoy the best way to find the best prices for car hire in Dulles International Airport Parking.
Huge choice car parks to suit every budget
Save up to 70% compared to buying on the day
Working with the best partners in Airport Parking
Parking at Dulles International Airport
Need to find parking at Dulles International Airport (IAD)?
Spend a few minutes with this guide and you'll not only leave with the info you need on IAD parking, but also some terrific insider tips on eating, shopping and amenities at this great airport.
And if IAD is your air hub of choice but you don't actually live in the vicinity, why not start your vacay a little early and spend a day in and around Washington?
There really is something for everyone in this lively city, so you definitely won't be bored.
For instance, if you've always fancied yourself as a super-snooper, visit the International Spy Museum to play spy games and see the biggest collection of espionage artefacts on Earth – everything from disguised to code-breaking machines and secret cameras.
You can also try horse riding, biking and hiking at the lush, wooded Rock Creek Park (with guided rides for people of all aptitudes), or (moving from natural to supernatural), Washington ghost tours. And Great Falls Park is a preternaturally beautiful green space peppered with magical trails and waterfalls.
Meanwhile, if you love history and entertainment, seeing a show at the historic Ford's Theatre is a good call and this is also where President Abraham Lincoln was assassinated in 1865. Another tourist hotspot is the National Cathedral, a stunning Gothic-style building with sublime sculptures and stained glass windows.
Last but not least, the National Mall is home to world-famous attractions like the US Capitol, the Lincoln Memorial and the Washington Monument.
And you might want some recommendations for accommodation in Washington. The Lansdowne is around 20 minutes from IAD and has a scenic rooftop pool, gym and spa, while Haymarket, Virginia, is also close to the airport and has a friendly atmosphere and plush restaurant.
Alternatively, The Jefferson at Great Falls has superb Potomac River views and a relaxing atmosphere, while the Ritz-Carlton at Tysons Corner has a spa, fitness centre and plush suites.
There are also plenty of family-focused hotels in the vicinity. Take Homewood Suites by Hilton Dulles Town Centre for instance, which has kitchenette suites that are ideal for families with young kids, or the Fairfield Inn & Suites Dulles Airport, which has a games room, playground and pool.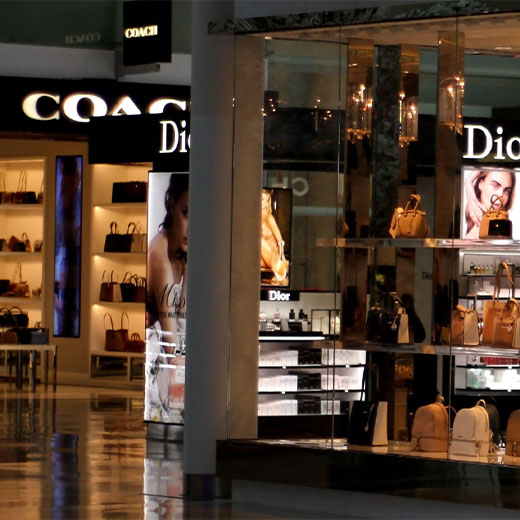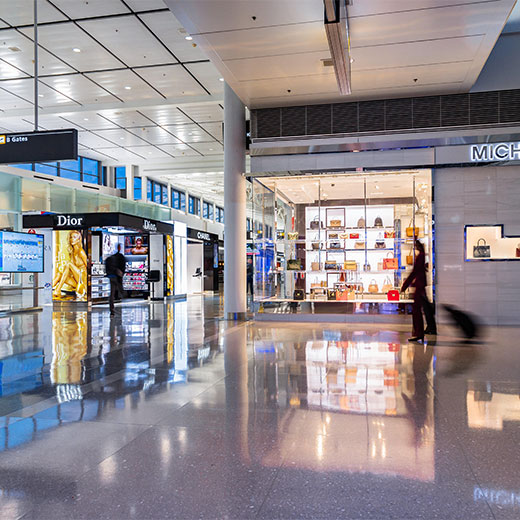 Find the best deals at Dulles International Airport
So getting down to the nitty gritty, what do seasoned pro parking bargain hunters do when they want to find the best deals at Dulles International Airport?
They turn to some tried and tested tactics, that's what. Like being flexible with your parking needs – car parks further from the terminal tend to be cheaper, for instance. Another smart move is looking for promotions on parking for the likes of AAA and Armed Forces members (if these are applicable), as is considering cheap off-site parking (which often has an airport shuttle).
And if you can book in advance, you usually get your parking for a better rate than if you merely roll up on the day.
Compare parking at Dulles International Airport
With 5 different parking facilities and 24,000 spaces, the parking provision at IAD is generous.
But this is hardly surprising given Dulles International's history of forward-thinking air travel. Originally built in 1962 to replace Washington National Airport (later rechristened Ronald Reagan), it was named after US Secretary of State John Foster Dulles.
IAD's sweeping silhouette is an early adventure of transplanted Scandi style – the main terminal was designed by Finnish-American architect Eero Saarinen, who also designed the St Louis Gateway Arch and JFK's TWA Flight Center.
Originally built to process up to 6 million annual passengers, several expansions were needed for IAD to process a peak 23 million – including a new international arrivals facility and new concourses. Nowadays Dulles is one of the busiest airports Stateside and a major gateway to the DC Metropolitan region.
What parking is there at Dulles International Airport?
If you're open to suggestions other than the official IAD parking options, it's often worth taking a look at parking comparison sites and apps. For instance, APH offers several airport parking options at Dulles, and discounts and promotions for groups like AAA members. Meanwhile, Looking4Parking also sometimes has IAD parking offers such as discounts for group bookings.
Now, let's take a look at your official Dulles International Airport parking options.
Terminal parking lot
Your closest self-parking option at IAD, this lot is located directly opposite the terminal and has 2022 spaces. If convenience is your priority, this is a great choice.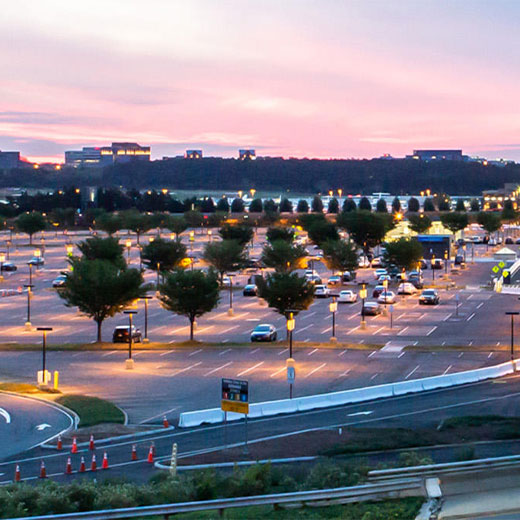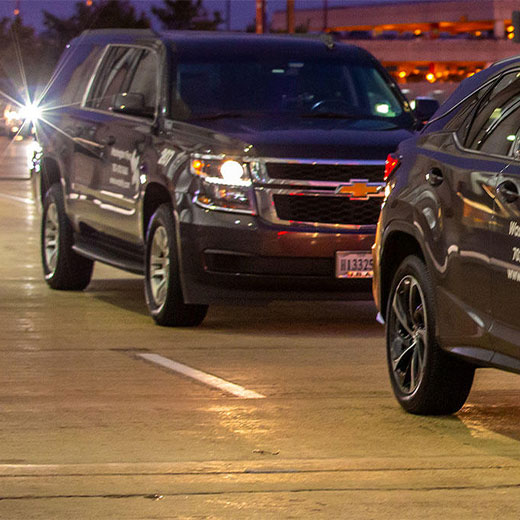 Garage 1
With 4508 spaces, Garage 1 is just south of the terminal and it's another popular choice.
Garage 2
Just west of the terminal, Garage 2 has 3,727 spaces and it's a similar setup to Garage 1.
Economy Parking Lot
The cheapest option at Dulles International, Economy is around 10 minutes' walk from the terminal and boasts 9318 spaces.
Valet Parking
If you want a luxury service where a pro parks your car and you sashay into the terminal, Valet parking has your name on it. There are 200 of these high-end spaces at IAD.
Seasonal parking rates at Dulles can vary but you can find out the latest prices on the official airport website.
Getting to Dulles International Airport
When you're driving to the airport, the last thing you need is stress getting there.
And the good news is that IAD is easy to drive to from nearby cities and towns.
If you're driving from Washington D.C., take I-66 West to Exit 15A, follow the IAD signs, and take Virginia Route 267 North to the airport.
Rolling in from Frederick, Maryland? Take I-270 South to I-66 East, then continue to Exit 15A, then follow the same final instructions as above.
From Leesburg, Virginia, take Virginia Route 7 East to Virginia Route 267 North, then continue to the airport.
Plan your route ahead and use GPS if you have it. IAD is located in a rural area so usually traffic isn't congested, although it can get busier during peak time. There are also several toll roads in the area, so bear this in mind.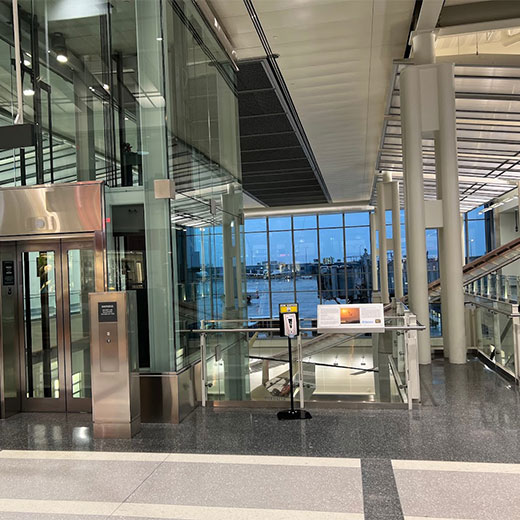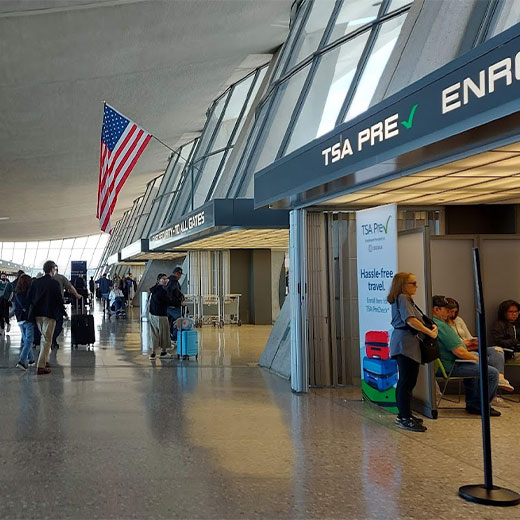 Facilities at Dulles International Airport
Facilities and amenities at Dulles International Airport are very good and there's everything you need to make your pre-flight experience perfectly pleasant.
Public transport links are good – IAD is connected to Washington Metrorail's Silver Line and there are several connecting bus lines, taxi services and ride-sharing services.
As you now know, the parking provision is excellent, as is the food and retail offering (more of which shortly).
If you want a comfortable space away from the hustle and bustle of the regular concourse, there are various air carrier lounges at Dulles International and there's also a lounge that's open to the general traveling public.
When nature calls, you won't struggle to find restroom, because there are several throughout the facility. There are also plenty of currency exchange booths in the airport, several ATMs, and free Wi-Fi.
You'll also find two pet relief areas, a well-designed children's play area, meditation area for quiet contemplation, or prayer room if you appreciate a spiritual space.
But what's on offer at Dulles International Airport if you're hungry?
There are plenty of cuisine choices, including the popular Banh Mi Ba Le Vietnamese restaurant, with its pho and banh mi sandwiches, and Mediterranean cuisine specialist Cava Grill, which has salads and poke bowls.
There's also the Capital Grille, which serves upmarket American classics like lobster and filet mignon, Shake Shack with its succulent burgers and shakes, and the obligatory Starbucks, where you can grab your caffeine and pastry fix.
If your credit card is burning a hole in your pocket or you just need to grab some essentials, there are several retail outlets too.
Browse Duty Free Americas for high-end liquor, designer fragrances and cosmetics, choose Hudson News for the latest newspapers, glossy magazines and bestseller books, and take a look at Dulles Marketplace for clothing, jewelry and electronics.
There's also the Washington Post Store (think Washington Post mugs, souvenirs, t-shirts and mugs, and Dulles USO, which has souvenirs, snacks and drinks (with profits going to the USO).
If you're a culture vulture, Dulles also has a fine collection of public art. Notable pieces include 'The Beacon' by Alice Aycock (which resembles a large steel birdcage) and 'The Dulles Fountain' by Isamu Noguchi (an elaborate and impressive fountain).
Got a Question? Chat with our US support team
Our online chat is available 8:30am to 5:00pm weekdays. Email: [email protected]
FAQs about car hire at Dulles International Airport
Most frequently asked questions about hiring a car at Dulles International Airport
In order to avoid any charges, you must make changes or cancel your Dulles International Airport parking reservation at least 48 hours before your planned trip. However, if modifications are made within the 48-hour period, a fee of $5 will be imposed.
According to Enjoy Travel's recommendation, the best and most efficient way to secure substantial parking discounts at Dulles International Airport is to make use of their online reservation system well in advance.
Dulles International Airport offers various parking choices, including hourly parking, daily parking, economy parking with shuttle service, valet parking, premium reserved parking, and a free cell phone waiting lot.
The easiest and most effective method to find a parking space at Dulles International Airport is to simply follow the clearly indicated signs that guide you to the different parking options, thanks to the well-established road network within the airport premises.
Dulles International Airport ensures parking safety through measures such as surveillance cameras, well-lit parking lots, security patrols, emergency call boxes, access control, and the presence of parking attendants.
The distance between the terminal and the different parking areas at Dulles International Airport varies, with hourly and daily parking lots being relatively close, economy parking lots located farther away with shuttle service, and valet and premium reserved parking offering closer proximity to the terminals.
Dulles International Airport provides charging stations for electric vehicles (EVs) in certain parking areas.
Yes, it is generally allowed to park for an extended period, including overnight, at Dulles International Airport. The airport offers various parking options to accommodate travelers who need to leave their vehicles for longer durations, such as during trips or vacations.
To guarantee availability and make the most of discounted prices, it is recommended to reserve a parking space ahead of time, particularly during busy periods.
Getting to the Dulles International Airport parking lot ahead of time might result in extra fees, which will differ depending on the arrival time. These parking charges can be paid using a credit or debit card when exiting the parking facility.
The most economical parking option at Dulles International Airport is typically the Economy Parking lot. Economy Parking is designed for longer stays and offers more affordable rates compared to the Hourly and Daily Parking options, making it a budget-friendly choice for travelers who need to leave their vehicles for an extended period, such as during vacations or business trips.
The daily parking rates at Dulles International Airport for the Economy Parking lot are around $10-12 per day.
With Enjoy Travel the cost of parking for a week at Dulles International Airport typically falls within the range of approximately $70 to $84 in the Economy Parking lot.
Explore popular airports in the US