Spokane International Airport Parking | GEG
Find the best parking deals at Spokane International Airport Parking
With a massive choice from the biggest brands, Enjoy the best way to find the best prices for car hire in Spokane International Airport Parking.
Huge choice car parks to suit every budget
Save up to 70% compared to buying on the day
Working with the best partners in Airport Parking
Parking at Spokane International Airport
Feeling antsy because you're struggling to find parking at Spokane International Airport (GEG)?
Relax. Because you're just found (arguably) the best spot on the internet to satisfy your needs.
And as well as tips on types of onsite and offsite parking and where to find the best bargains, we've included useful advice on pre-flight shopping, eating and other amenities.
But that's not all, because if you're an out of towner rolling in to Spokane for a flight, this is a wonderful part of the world to spend a little time exploring.
Riverfront Park is a great place to start. A 100-acre park bang in the middle of downtown Spokane, it's home to awesome attractions like the Spokane Riverwalk, Numerica SkyRide, Look Carousel and Spokane Falls.
But don't forget Manito Park and Japanese Garden – a 90-acre park that's a horticulturalist's dream, complete with a Lilac Garden, Rose Garden and (naturally) Japanese Garden.
Meanwhile, if you're feeling more active, try biking or hiking the Centennial Trail, a 32-mile scenic route from the middle of town to the border of Idaho, or (for the really adventurous), a skiing or snowboarding trip to 5,800-foot Mount Spokane.
Alternatively, history fans flock to the Northwest Museum of Arts and culture, which showcases the culture, history, and art of the Pacific Northwest. And the Martin Woldson Theater at the Fox has a packed performance calendar including plays, musicals, and concerts.
Fancy some retail therapy? Downtown Spokane boasts a wide variety of superb shops and chic boutiques. And Spokane is also home to several breweries, so take a tour and sample some of the refreshing local beer.
When you're feeling hungry, Spokane is no slouch when it comes to eateries. For instance, The Melting Pot is a popular fondue restaurant (with a name that's *chef's kiss*) and wild Sage American Bistro serves sumptuous modern American cuisine.
Meanwhile, Frank's Diner does what it says on the sign (and very well too), Mizuna Restaurant & Wine Bar specializes in quality Japanese cuisine, and The Flying Goat is famous for pasta and wood-fired pizzas.
If you're fond of a tipple or two, the Volstead act is a stylish speakeasy-style bar, and The Steam Plant serves refreshing cocktails in a former power plant.
You'll also find fine wine and sophisticated cocktails at Bistro Bardo and craft beer and pub food at The Post Street Ale House.
When you really want to unwind all the way, the Big Dipper is a lively nightclub with bar, dance floor, and VIP area. The Mint unwraps fresh love music, and The Hive has a buzzing college vibe.
And you won't struggle to find somewhere comfortable to lay your head. The Davenport is a historic hotel with spa, fitness center, and rooftop bar, Hotel Indigo in the University District with has a vibrant ambience, and The DoubleTree by Hilton is a stone's throw from the airport and has its own gym and pool.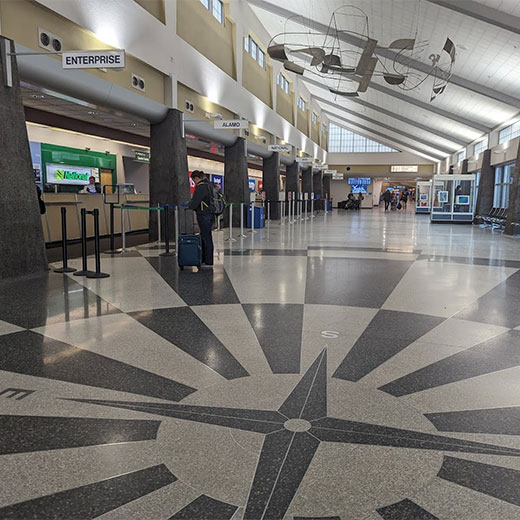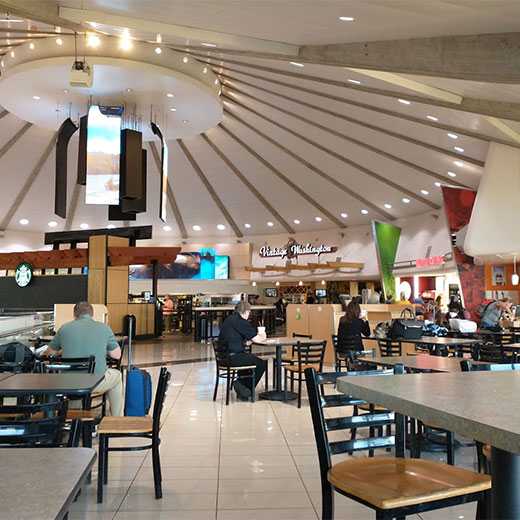 Find the best deals at Spokane International Airport
If you're serious about finding great GEG airport parking, keep it right here.
But if you're curious about exhausting every possible option in your epic parking quest, there are a few old school tactics to try.
First, simply check the airport website – some official sites offer parking discounts and coupons. And if there are none available, check elsewhere online with a good old search engine session.
If you book in advance, you can take advantage of early bird discounts, offsite lots are usually cheaper than onsite, and if you're willing to choose economy parking and able to walk a little further to the terminal, you can tighten those purse strings that way too.
Compare parking at Spokane International Airport
With 5,500 parking spaces spread across several parking lots, Spokane International Airport is always accommodating.
And it's been that way since 1938, when Spokane County bought 2 square miles of West Plains land for a "super-airport" to be called Sunset Airport. The airport was originally supposed to be commercial airport, but World War II had other plans.
In 1941, the airport was renamed Geiger Field after Major Harold Geiger, an Army aviation pioneer. It was a major wartime training base, and it was also used for aircraft maintenance. In the post-war years, Geiger Field was renamed Spokane International Airport. It had a major expansion in the 1960s, and it has continued to grow and develop in the years since.
Today, Spokane International Airport enjoys serious economic clout in the region and serves as a gateway to the Pacific Northwest. You can fly from GEG non-stop to a variety of destinations, including Seattle, Portland, Denver, and Las Vegas.
What parking is there at Spokane International Airport?
Parking comparison sites and apps can also be worth exploring when you want to leave no stone unturned in your search for Spokane International Airport parking.
APH and Looking4Parking are a couple of longstanding parking aggregator sites which can often serve up special deals on parking that you don't find elsewhere. Both sites currently offer GEG discounts and they're also worth checking for deals on everything from economy to luxury parking.
Here are the official GEG parking options to choose from.
Economy parking lot
The top pick if you're a thrifty Spokane traveler, the economy parking lot is the most affordable and it's still pretty convenient.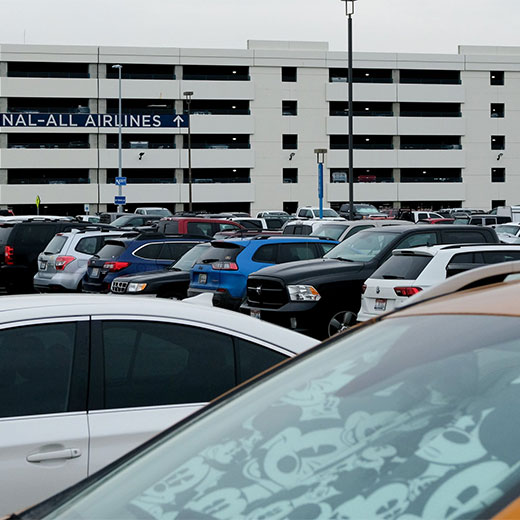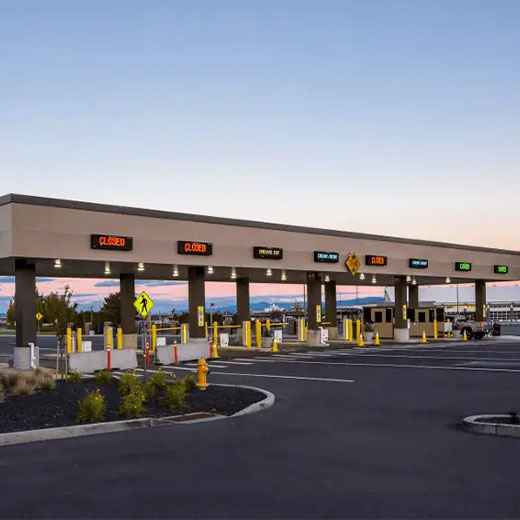 Concourse C parking
Super-close to the terminal, Concourse C parking is very convenient, and the price is middle to high range compared to other GEG options.
Garage Parking
If you prefer covered parking and are willing to pay a little extra, then garage parking is a nice, hassle-free option.
Parking Express
Really want to save some cash? Parking Express is very keenly priced and although it's a little further out, a shuttle service makes it manageable for many travelers.
Ultimately, your decision about Spokane International Airport parking will hinge on balancing your requirements with budget and factors such as the duration required and convenience.
Getting to Spokane International Airport
Good news – GEG is easy to drive to from nearby locations.
From Coeur d'Alene, Idaho, take I-90 East to Exit 288B and follow the signs to the airport. It's a 30 mile drive.
Driving in from Cheney, Washington? Take I-90 West to Exit 275 and follow the signs to the airport. The drive's around 15 miles.
Meanwhile, from Spokane Valley, Washington, take I-90 East to Exit 262 and follow the signs to the airport. It's around a 10 mile drive.
And from Airway Heights, Washington, take I-90 East to Exit 257 and follow the airport signs. It's only a 5 mile drive.
Please remember that GEG is on the west side of Spokane and traffic can be heavy during peak travel times like early morning and evening.
There's also a toll on I-90 between Coeur d'Alene and Spokane.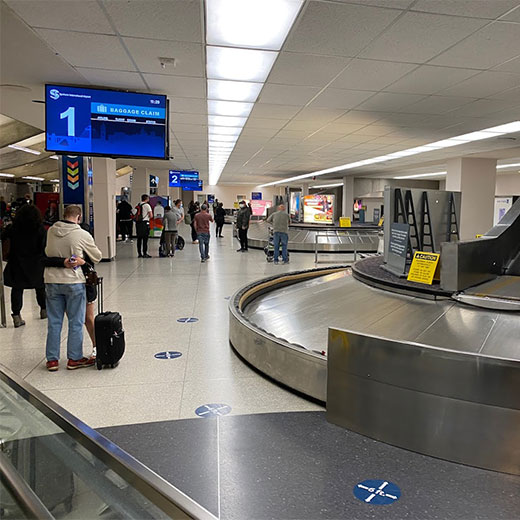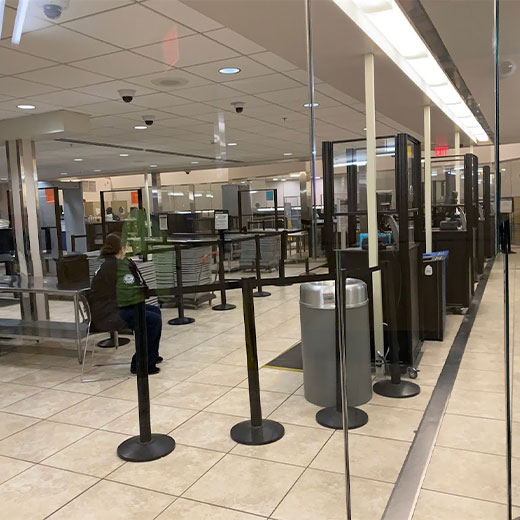 Facilities at Spokane International Airport
Don't worry if you're stuck in Spokane airport a little longer than planned. Facilities are decent, so you'll be well taken care of.
For instance, there are two baggage claim areas, one for concourses A/B and another for concourse C. The choice of food is also good (more of which shortly) and there are plenty of shops if your credit card's burning a hole in your vacay shorts.
If you need to withdraw cash, you'll find several ATMs, and the airport's generous restroom provision includes several family restrooms.
Free Wi-Fi throughout the complex means it's easy to keep in touch with friends, family, and colleagues, while nursing suites make GEG more inclusive for travelers with babies.
If you've got a furry friend in tow, there's a pet relief area near the economy parking lot, just outside the airport.
Hungry? Try Quiznos for perfectly toasted, tailor-made subs, salads and soups, or Vintage Washington for iconic American dishes like succulent burgers, crisp fries and thirst-quenching shakes.
You can also satisfy your caffeine craving at Starbucks, grab your favourite burger from McDonald's and sample stir-fry, noodle, and rice dishes from Panda Express.
How about that retail therapy? The Spotted Road Newsstand has all your newspapers, books, and magazines, the GEG Gift Shop is packed with airport souvenirs and all manner of stylish merch, and the Duty Free shop is the place to pick up good deals on high-end perfume and liquor.
And that's that – everything you always wanted to know about Spokane airport parking and a whole lot more fascinating travel advice. Park smooth and fly safe!
Got a Question? Chat with our US support team
Our online chat is available 8:30am to 5:00pm weekdays. Email: [email protected]
FAQs about car hire at Spokane International Airport
Most frequently asked questions about hiring a car at Spokane International Airport
In order to prevent any fees, it is crucial to adjust or cancel your parking reservation at Spokane International Airport with a minimum of 48 hours notice before your scheduled departure. Nonetheless, if modifications are made within this 48-hour timeframe, a $5 charge will be applied.
Based on Enjoy Travel's advice, the most effective method for achieving significant savings on Spokane International Airport parking expenses is by using their online reservation system with ample lead time.
Spokane International Airport offers various parking choices, including short-term, long-term, economy, valet, and accessible parking, as well as a cell phone waiting lot and electric vehicle charging stations.
The most straightforward and efficient way to locate parking at Spokane International Airport is to simply follow the well-labeled signs that guide you to the various parking facilities, all conveniently accessible via the airport's efficiently designed road system.
Safety protocols for parking at Spokane International Airport include security personnel patrols, surveillance cameras, well-lit areas, controlled access points, emergency call boxes, and regular security checks to ensure passenger safety and protect vehicles.
The distances between the terminal and the different parking areas at Spokane International Airport vary, with short-term parking being the closest and long-term and economy parking areas located farther away, typically serviced by shuttle transportation for passenger convenience.
Spokane International Airport offers electric vehicle charging stations to cater to passengers in need of charging their electric cars.
Spokane International Airport typically allows overnight parking for travelers who need to leave their vehicles for extended periods. They offer both short-term and long-term parking options to accommodate various parking needs, including overnight stays.
For the optimal experience and to make the most of discounted prices, it is advisable to make a parking reservation in advance, especially when traveling during peak periods.
Arriving at the Spokane International Airport parking facility before your designated time may result in additional charges, with the specific fees determined by how early you arrive. You can settle these parking expenses by using a credit or debit card when exiting the parking facility.
The economy parking option at Spokane International Airport offers the most economical rates for extended stays.
With the rates short-term parking being more expensive, typically around $25 per day, while long-term parking is more economical, ranging from $9 to $13 per day, and economy parking offering the most budget-friendly rates, typically between $6 and $10 per day.
With Enjoy Travel short-term parking typically costing around $175 or more, long-term parking ranging from approximately $63 to $91, and economy parking offering rates of about $42 to $70 for seven days
Explore popular airports in the US