Reno-Tahoe International Airport parking | RNO
Find the best parking deals at Reno-Tahoe International Airport Parking
With a massive choice from the biggest brands, Enjoy the best way to find the best prices for car hire in Reno-Tahoe International Airport Parking.
Huge choice car parks to suit every budget
Save up to 70% compared to buying on the day
Working with the best partners in Airport Parking
Parking at Reno-Tahoe International Airport
Driving to Reno-Tahoe International Airport (RNO) is a smart move for several reasons.
First off, you get to travel in your own social bubble. Second, you can set your own schedule. And last but not least, you get to blast your own vacay playlist without anyone complaining.
All there's left to do is arrange your parking – which is exactly why you're here. Grab yourself a cup of joe and settle down for all the facts you need about RNO airport parking as well as info on airport facilities and amenities that lets you plan your ideal pre-flight experience.
And since you're driving and possibly have a more flexible schedule, it's a great idea to stick around Reno before you fly – if you live elsewhere, it's a great opportunity to remind yourself how great this city really is.
Your first can't miss attraction is the Terry Lee Wells Nevada Discovery Museum, a vast science center with no less than 67,000 square feet of fascinating exhibits.
If you prefer the great outdoors meanwhile, head to the sublime Truckee River to stroll around the 49-acre Idlewild Park or for something more thrilling, try whitewater rafting or heading into the Mount Rose Wilderness for hiking and mountain biking.
Other ace activities include seeing a performance and maybe even trying your luck at Silver Legacy Resort Casino (although don't gamble what you can't afford to lose) and seeing the historic vehicles at the National Automobile Museum.
You can also try wine tasting in the Truckee Meadows (provided you arrange a designated driver) and naturally, you can't leave the area without enjoying a day trip in Lake Tahoe.
If all that action has made you hungry, The Peppermill casino resort has a choice of several restaurants – for example, there's a seafood eatery, steakhouse and buffet. If you're a carnivore, The Capital Grille is a hotspot for iconic grilled American cuisine, while The Black Cat kitchen serves New American dishes, and The Depot is a popular spot for comfort food and a friendly atmosphere.
If you're partial to a social drink, Reno also has its fair share of bars. If you like live music, The Pioneer Saloon is a great pick, while connoisseurs head to the Eldorado Resort Casino for its martini bar, tequila bar and whiskey bar.
Got the stamina to stay out a little later? Wild things head for The Peppermill Fireside Lounge for live music, drinks and dancing, The Eldorado Resort Casino boasts a dance club and hip-hop club, and the wonderfully named Dirty Bird is another hip spot with thumping bass and a heaving dancefloor.
If you're staying overnight, The Renaissance Reno Hotel & Casino has plush rooms and suites and a pool and spa, while the Grand Sierra Resort is also a well-appointed home from home.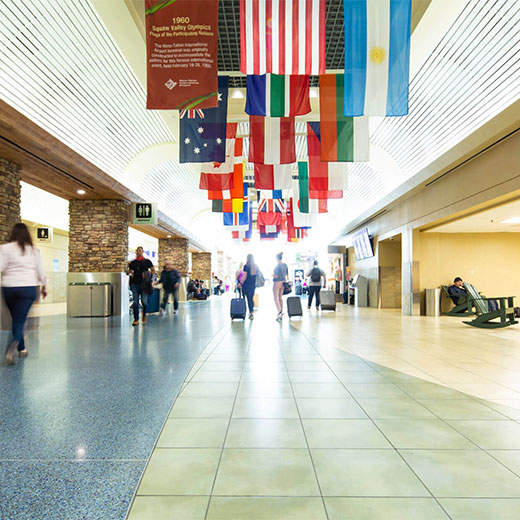 Find the best deals at Reno-Tahoe International Airport
Obviously, continuing to enjoy this carefully prepared guide is the best way to find great deals on parking at RNO (if we say so ourselves).
But please feel free to try other tactics. Firstly, if you can be flexible with your parking requirements (for instance by parking a little further out), you can save money. You can also keep an eye out for RNO parking specials on the airport and parking companies' social channels and websites, and park entirely offsite for a thrifty deal.
Compare parking at Reno-Tahoe International Airport
Can you guess how many parking spaces there are at Reno-Tahoe International Airport (RNO)?
If you're thinking 3,200, you're bang-on and your guessing skills are superb.
And as impressive as an ample parking provision split across three areas is, there's a lot more to RNO – in fact, it has a storied history that stretches back to 1929. First constructed by Boeing Transport as Hubbard Field in 1929, it was bought by United Airlines in 1936 and then in 1953 ownership passed to the City of Reno.
RNO's first terminal was completed in 1960 in time for the Squaw Valley Winter Olympics, and the current concourse and ticket hall dates from 1979. In 1994, the airport adopted its current name (after its home city and neighboring Lake Tahoe) and in 2013 a $1.2 billion renovation was completed and comprised a new parking garage, new runway, and new terminal. With further improvements already underway, RNO is now Nevada's second-busiest airport, serving over 5 million passengers annually.
What parking is there at Reno-Tahoe International Airport?
Checking out parking comparison sites can be a worthwhile endeavor when you really want to make sure you're getting the best RNO parking deal. Looking4Parking and APH are two of the best and often offer great deals on long-term, short-term and valet parking, as well as discounts for AAA members, seniors, and military members.
Now let's consider your official airport parking options:
Short-term garage
The closest parking to the terminal, the short-term garage is designed for stays of up to 24 hours and has 152 spaces.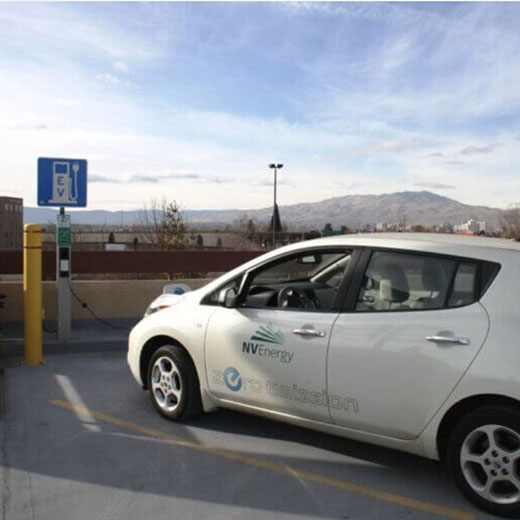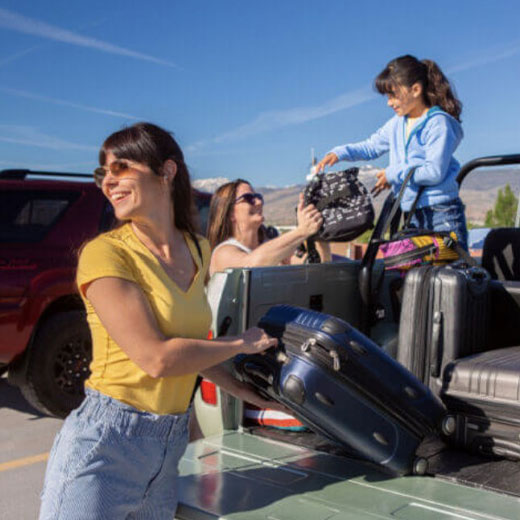 Long-term garage
Situated further from the terminal, the long-term garage is ideal when you're away for more than 24 hours and it has 1900 spaces.
Surface Lot
You'll find the surface lot on the airport's south side, it's ideal for all day parking and boasts 1450 spaces.
Valet Parking
Available at the short-term and long-term garages, valet parking offers the ultimate luxury and convenience (albeit at a premium price).
Getting to Reno-Tahoe International Airport
Reno-Tahoe International Airport is super-simple to drive to from nearby towns and cities.
From Sparks, take I-80 East to Exit 11A, then follow the signs for the airport. The distance is about 8 miles and takes about 15 minutes.
Rolling in from Reno? Take I-80 East to Exit 11A, then follow the signs for the airport. Again, the drive takes around 15 minutes
From Virginia City meanwhile, take US-395 North to I-80 East, then take Exit 11A. Follow the signs for the airport and the journey takes about 50 minutes.
If you're cruising in from Incline Village, take US-50 East to I-80 East, then take Exit 11A. Follow the airport signs and the drive is about 25 miles.
Driving from South Lake Tahoe, take US-50 West to I-80 East and then take Exit 11A. Follow the signs for the airport and your journey will take about 50 minutes.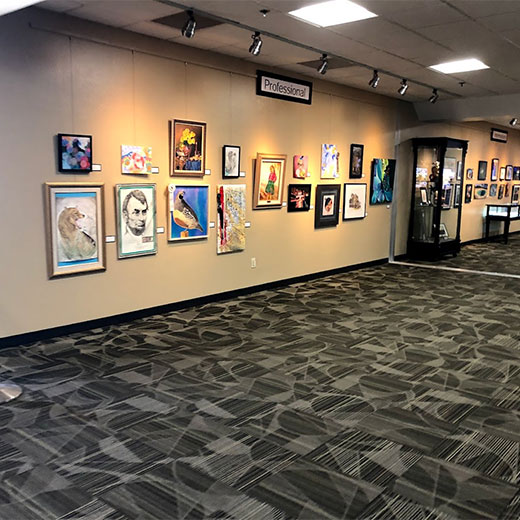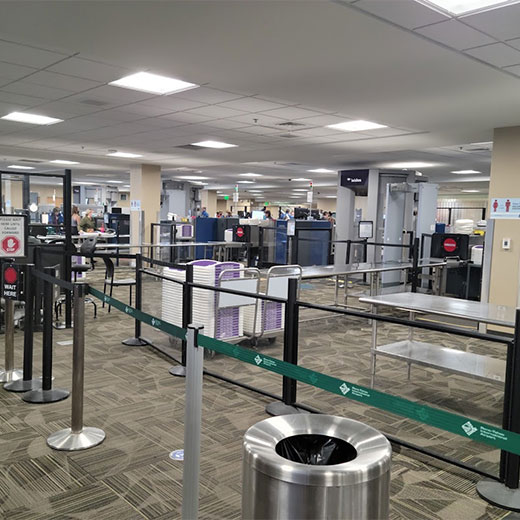 Facilities at Reno-Tahoe International Airport
RNO is a pretty efficient airport, but a great choice of facilities and amenities means you'll feel comfortable even if your pre-flight experience is a little longer than expected.
For instance, free Wi-Fi available throughout the airport means you can keep in touch with friends and colleagues easily, and lots of family restrooms makes the concourse welcoming if you're traveling with young ones in tow – these WCs are stroller and wheelchair accessible, with changing tables too.
The terminal building also has 5 ATMs when you need to draw cash, and a currency exchange to swap those Benjamins for something more exotic. Food and shopping choices are great (more of which shortly) and there's a well-designed business center complete with computers, fax machines and printers.
RNO also has two nursing pods (private areas with comfortable chairs, fridges and changing tables) and there are customer service desks throughout (ask about anything from lost items to flight information and wheelchair assistance).
If you're in serious need of some retail therapy, Reno is no slouch when it comes to shops. For example, the airport's two duty-free shops in the terminal building are brilliant for bargain deals on high-end alcohol, cosmetics and fragrances, and there are a few fantastic gift shops selling accessories, clothes, souvenirs, and keepsakes.
When your belly's rumbling, there's a nice choice of cuisines too. Throughout the airport you'll find Asian, Mexican, Italian, and American food, and lots of lovely cafes serving salads, sandwiches, pastries, and salads.
And last but not least, RNO has an inspirational public art program that showcases the region's unique culture, history and natural beauty and celebrates its living community.
Highlights include The Passage by Dale Chihuly, a kaleidoscopic glass sculpture located in the main terminal atrium, and Wings of Change by Michael Singer, a dramatic steel sculpture in front of the main terminal.
Then there's A Dream Made Real by Burning Man artists. This is a mini-exhibition of art cars and sculptures in the depARTures Gallery. And don't miss Spirit of the Sierra by Dale Lampert, a stunning bronze of a Native American woman, located in the baggage claim area.
Got a Question? Chat with our US support team
Our online chat is available 8:30am to 5:00pm weekdays. Email: [email protected]
FAQs about car hire at Reno-Tahoe International Airport
Most frequently asked questions about hiring a car at Reno-Tahoe International Airport
In order to prevent any fees, it is crucial to adjust or cancel your parking reservation at Reno-Tahoe International Airport with a minimum of 48 hours notice before your scheduled departure. Nonetheless, if modifications are made within this 48-hour timeframe, a $5 charge will be applied.
Based on the advice provided by Enjoy Travel, the most effective method to achieve significant savings on parking costs at Reno-Tahoe International Airport is to make use of their online reservation system with ample lead time.
Reno-Tahoe International Airport provides various parking choices, including short-term, long-term, economy, valet, accessible, cell phone waiting, and electric vehicle charging, catering to a range of traveler needs.
To locate parking at Reno-Tahoe International Airport with ease and efficiency, simply follow the well-labeled signs that guide you to the various parking facilities, all conveniently accessible via the well-structured road system within the airport grounds.
Safety protocols for parking at Reno-Tahoe International Airport include security personnel patrols, surveillance cameras, well-lit areas, access control measures, emergency call boxes, regular security patrols, and clear signage to ensure passenger safety and protect vehicles.
The distances between the terminal and the different parking areas at Reno-Tahoe International Airport can vary, with short-term parking being the closest, long-term parking farther away, and economy parking typically the farthest, often serviced by shuttle transportation for passenger convenience.
Reno-Tahoe International Airport offers electric vehicle charging stations to cater to passengers in need of charging their electric cars.
Reno-Tahoe International Airport typically allows passengers to leave their vehicles overnight for extended durations, providing a variety of parking choices, such as short-term and long-term, to accommodate various parking requirements, including overnight stays.
For the optimal experience and to make the most of discounted prices, it is advisable to make a parking reservation in advance, especially when traveling during peak periods.
Arriving at the Reno-Tahoe International Airport parking facility before your designated time may result in additional charges, with the specific fees determined by how early you arrive. You can settle these parking expenses by using a credit or debit card when exiting the parking facility.
The parking option that offers the best value at Reno-Tahoe International Airport typically varies based on your particular requirements and the length of your stay. However, economy parking lots commonly provide the most cost-effective rates for longer durations.
The daily parking rates at Reno-Tahoe International Airport vary depending on the parking option chosen, with short-term parking typically costing around $24 to $26 per day, long-term parking ranging from approximately $12 to $14 per day, and economy parking offering rates of about $9 to $10 per day.
Enjoy Travel offers various parking options at Reno-Tahoe International Airport, and the weekly parking rates can fluctuate based on your choice. Typically, short-term parking may range from $168 to $182 for seven days, long-term parking may cost approximately $84 to $98 for the same period, and economy parking rates can be around $63 to $70 for a week. However, it's recommended to check their latest rates for the specific parking options.
Explore popular airports in the US