Sydney to Cairns Drive – 10 Of Best Road Trip Stops
Port Stephens
Hamilton Island
Mission Beach
Atherton Tablelands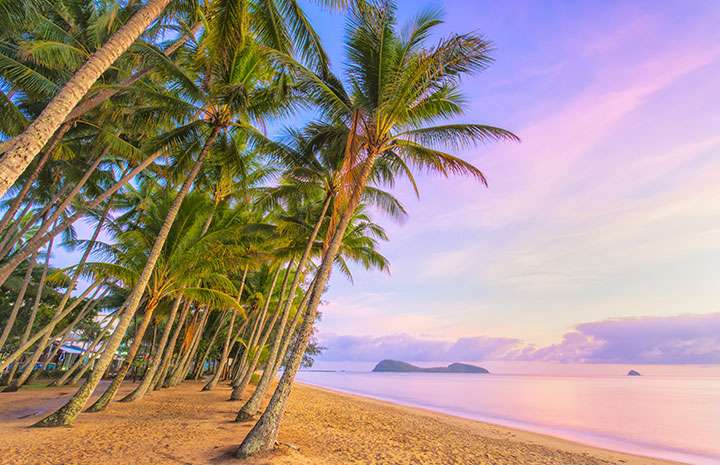 10 scenic road trip stops between Sydney and Cairns
Planning a drive up the Aussie east coast between Sydney and Cairns?
Great choice – this 2500km road trip (more depending on your itinerary) claims the top spot on many motorists' bucket list and takes you through some mind-blowing scenery between two of Australia's greatest cities.
With its romantic harbour, iconic Harbour Bridge and Opera House, Sydney is one of the world's most distinctive cities and its elegant urban attractions are perfectly complemented by beautiful beaches and lush national parks. As well as watersports, sunbathing and sightseeing, Sydney has a lively cultural scene with fascinating museums and gorgeous galleries, with chic cafes, bustling bars and cool clubs packed with friendly locals and visitors from all over the world.
Queensland's Cairns is the prize at the other end of your epic journey and it's a glittering gem indeed. The most popular base for exploring Far North Queensland and the gateway to the wonders of the Great Barrier Reef, this laid-back tourist town is the traditional home of the Yirrganydji and Yidinji Indigenous peoples and is blessed by a laid-back ambience and attractions like the Pier marina and Esplanade lagoon.
Your journey from A to B on this rollicking road trips takes you on a rollercoaster through blissful beaches and azure waters, lush subtropical land, and charming towns and cities on and off the beaten track. Set aside 14 days to complete your journey in comfort and extend your excursion to 30 days or more if you want to take your time and add more magical stops. Whichever duration you choose, hire a car from Enjoy Travel in Sydney and take advantage of low rates from top-notch national and international rental partners, with plenty of vehicles to suit your needs and taste from deep and diverse fleets.
With Enjoy Travel, you're ready to hit the road in this delightful stretch Down Under!
Tips for driving between Sydney and Cairns
Your 10 best Sydney to Cairns road trips stops will be here in two flicks of a dingo's tail but take a brief pause for some useful driving tips that can save you time and trouble.
First off, think carefully about the type of rental vehicle that's right for your trip – while you might like to whizz down the highway in a slick convertible, it might be tough squeezing gran and gramps in those bucket seats in back, so a roomy SUV or saloon might be better!
Next, plot your trip beforehand – this blog can serve as your blue print but if you want to customize it with more stops in between our suggestions, you'll need to extend your time and plan to refuel more often. And be generous with timescales – this means that you won't get frustrated by unexpected delays and also have time to make ad hoc stops when you discover surprise beauty spots that are simply too good to pass by. Buying the Camps Australia Wide Book is also a wise move – you can find it easily online, and it lists free and low-cost campsites all over Australia as well as inside tips on points of interest along the way.
Make sure that you've got plenty water and provisions – it's unlikely that you'll be stranded between stops, but you should always be prepared, and no one wants to deal with dehydration and hunger under the hot Aussie sun.
Last but not least, observe the relevant speed limits and if possible, try to avoid driving through the night – poor visibility at these times means that you might not react as quickly as necessary to various hazards, which can include bulky wild animals like kangaroos.
Now you're armed with some cracking refresher driving tips, time to get stuck into your legendary Sydney to Cairns road trip!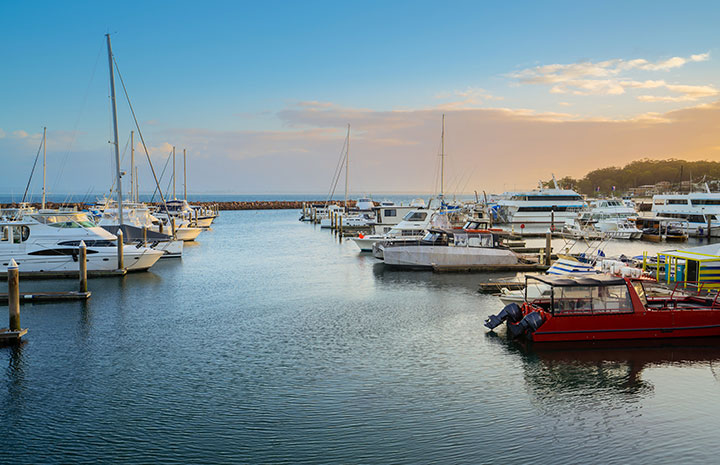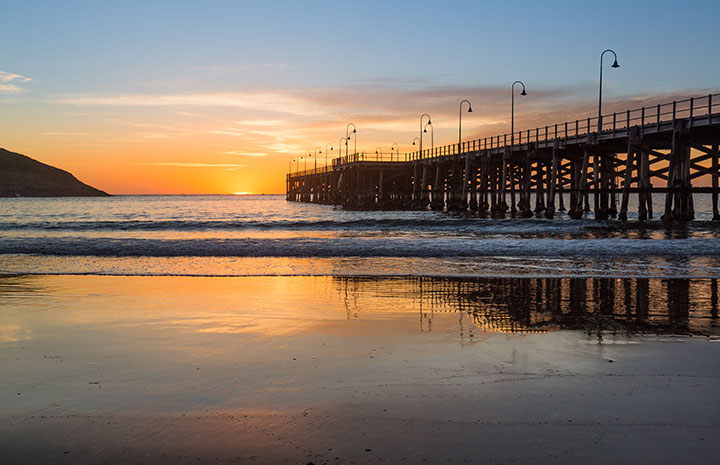 Newcastle
A friendly city with thousands of years of rich human history in its surroundings, Newcastle is a fantastic place to visit for beautiful waterfront views and cheap but satisfying activities. Take time for a swim in the famous Bogey Hole, an iconic ocean pool build back in the 1890s, and if you want to stop off for a few days you can even explore the Hunter Valley region with its verdant vineyards.
Port Stephens
Your next stop in the scenic Central Coast area is Porth Stephens – not too far from Newcastle but definitely worth taking in. This popular tourist spot has no less than 26 pristine beaches to explore and is also bordered by varied terrain including mountains and rainforest. Awesome activities include sand dune quad biking and whale watching boat tours.
Coffs Harbour
The A1 road out of Port Stephens to Coffs Harbour is a superb, scenic drive where you can take in the joys of Port Macquarie on the way. You'll skirt sublime beaches, national parks buzzing with biodiversity and luscious lakes, while Port Macquarie boasts several beaches as well as the Billabong Zoo Koala & Wildlife Park. Coffs Harbour meanwhile is home to the famous Big Banana landmark and several exceptional beaches including Emerald, Moonee, Diggers and Campbells.
Byron Bay
You'll head out of New South Wales after this stretch of your road trip and stopping at Byron Bay is a brilliant way to say goodbye. This chilled-out surf town has a definite hippie vibe and apart from the superb surfing conditions, you can charter a boat and spot dolphins, or even try hang-gliding or skydiving if you've got the intestinal fortitude! Take a hike to Cape Byron Lighthouse for scenic views of the bay or explore the rainforests and wildlife of the hinterlands – lovely.
Brisbane
Next up, Brisbane welcomes you to Queensland with its cool vineyards, sensual, subtropical beaches, chic galleries and charming cafes. This is a great city to stop and take stock for a day or more and as well as its ample urban attractions, the area around Moreton Bay to the east boasts soft sand beaches and electric blue waters where you'll see turtles and whales – bliss!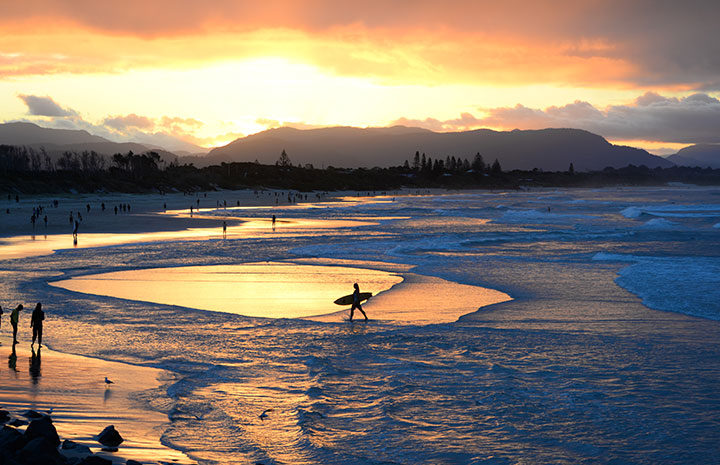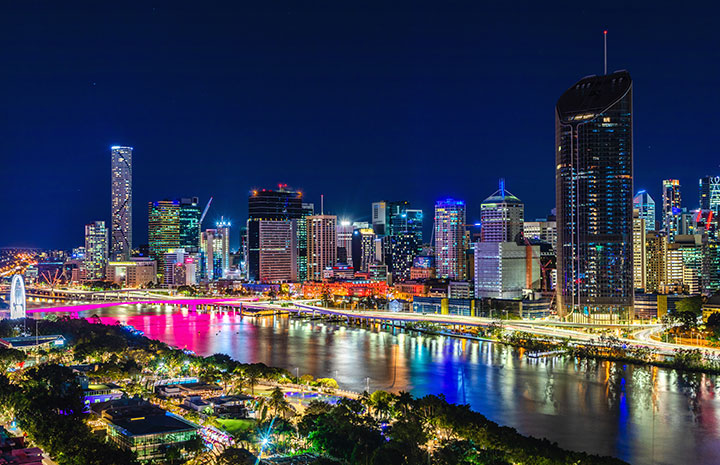 Noosa
Roll on up the Sunshine Coast on this next spectacular stretch of your trip – between Brisbane and Noosa you'll see national parks with oceanside views, prehistoric volcanic peaks and atmospheric rainforests. At Noosa, you can relax in plush spas, set your pulse racing with a seaplane ride or adventure rafting, stroll around the elegant marina or shop and dine at The Village at Peregian Beach.
Airlie Beach
This long leg of your trip between Noosa and Airlie Beach covers 1000km, so you'll want to split it over a couple of days to be comfortable. You'll pass Bundaberg on the way (pick up a bottle of the legendary local rum), as well as Rockhampton, which has brilliant botanical gardens and swish galleries. At Airlie Beach, expect palm-fringed beaches and awesome snorkelling in the immaculate Coral Sea.
Hamilton Island
While you're at Airlie Beach, build in time for a day trip to Hamilton Island before moving on to the last stages of your trip – you deserve it! One of the most popular Whitsunday Island destinations, you can get there in a ferry in just one and a half hours and there's plenty to see and do. For instance, try stand up paddleboarding on Catseye Beach, taking a romantic sunset cruise, hiking to picturesque Passage Peak or even a half-day speedboat trip to Whitehaven Beach in the heart of the Great Barrier Reef, which has jaw-dropping luminescent sand that's 98% white silica.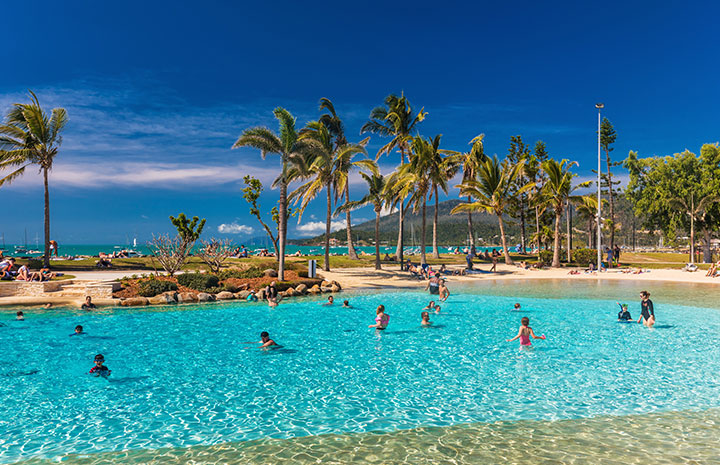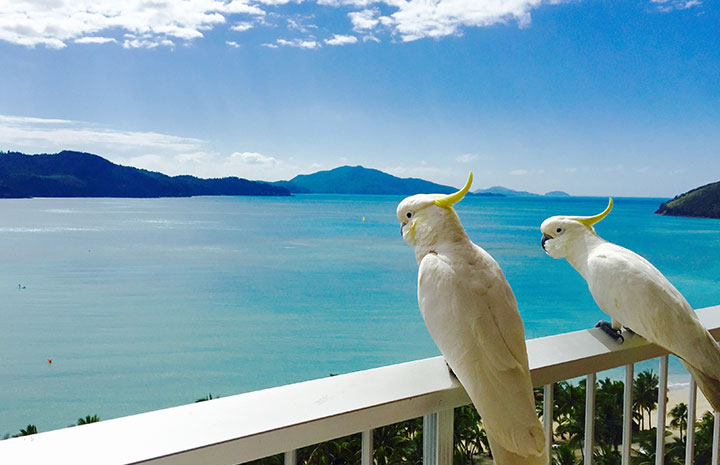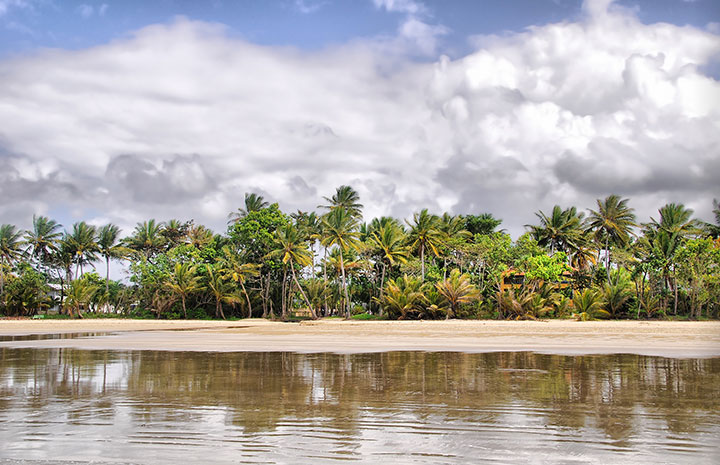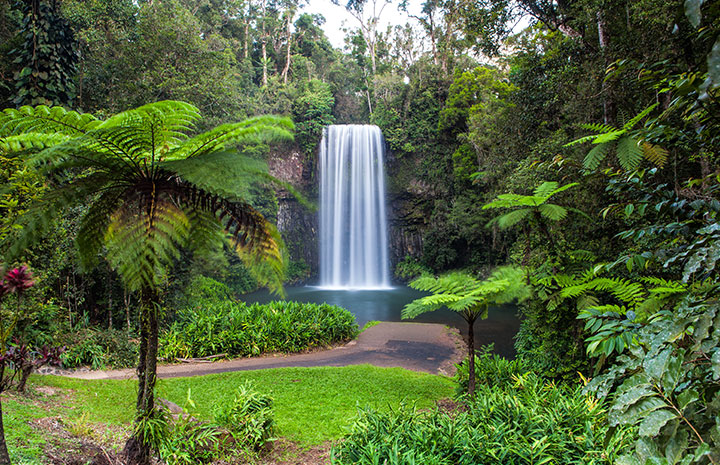 Mission Beach
This brilliant beachside town is sandwiched between the Great Barrier Reef and a UNESCO-accredited rainforest, so the scenery is as sublime as it sounds. It comprises four villages linked by 14 miles of golden sands and activities include trekking to the top of Bicton Hill in Clump Mountain National Park, white water rafting at Raging Thunder Adventures, Great Barrier Reef diving and fine dining at one of the many excellent restaurants.
Atherton Tablelands
A couple of hours from Mission Beach, Atherton Tablelands offers your last slice of paradise before your final stop in Cairns – and with serene hot springs, captivating wildlife, plummeting waterfalls and vertiginous mountains, you won't want to miss it. The local food and wine here is delectable and you can even enjoy a bird's eye view of the varied terrain on a private helicopter tour.
These 10 best road trip stops between Sydney and Cairns help you capture the best of the east coast – hire a car from Enjoy Travel and the delights of Down Under are ready and waiting!